Dry and chapped lips do not look good and they can be also painful. Most of us would like to have luscious, smooth and moisturized lips that look beautiful. It's not that dry lips look bad but they are embarrassing and irritating for many. Applying the best lip balm for dry lips would help you in reducing the dryness and get back the natural lip color. Yes, it's true that other than sun exposure, smoking and lip biting, dryness can also contribute to the lip darkness. Here we're sharing this list of the best rated lip balms for dry and cracked lips in the market. These dry lips correcting lip balms are extremely helpful to get back the lusciousness of dry lips and to keep then naturally pinkish.
During summers, excessive UV rays damage makes the lip skin to turn darker and drier. Dryness causes peeling which can further lead to bleeding.  This is why using good quality lip balm with extra moisturizing formula is highly recommended by the skin care specialists. In fact, when one applies lip balms with SPF, it not just treats dryness but premature wrinkling over the lips and pigmentation too.
What makes lips to get dry and cracked?
First, let's know what causes lips to become dry and cracked. Cracked and chapped lips can be quite frustrating and irritating especially for men. Women also faces the same problem as whatever lip product they apply on their dry and peeling lips, the lip product doesn't look as polished and nice.
How to care for the Lips?
Also, bleeding lips is a condition that even men and teenagers experience. The best way to put up with this, is to drink a lot of water and take ample quantity of vitamins. Keeping your body hydrated and taking enough of the vitamins helps to get back the lost moisture, making the lips super smooth. With the help of protective and nourishing lip balm, you can surely treat dry and cracked lips.
Best and Popular Lip Balms for Dry and Cracked Lips in India
Let's go ahead and check which are the best lip balms for dry lips available in India? These are the trending and most popular lip balms for dry cracked lips because they are made with the moisturizing ingredients with added SPF for the day time.
The handy packaging of these effective lip balms are easy to keep in your pocket and apply them whenever you feel like. So if you are getting really frustrated with your flaky and peeling skin of the lips, these best lip products would give you healthy and kissable lips. Check this list of the most effective and top rated lip balm for dry lips in India.
1. Burt's Bees Beeswax Lip Balm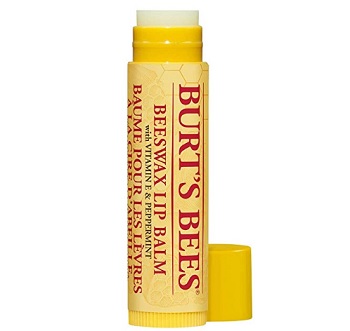 This is the best beeswax lip balm available in the Indian market at reasonable price, coming from a very popular brand. Burt's Bees lip balm is extremely moisturising as they are made with coconut oil and Sunflower oil that we use hydrate along with beeswax. So it is appropriate for both boys and girls. It is one of the best lip balms for curing the dryness and chapped lips condition.
2. SebaMed SPF 30 Lip Defense Stick Lip Balm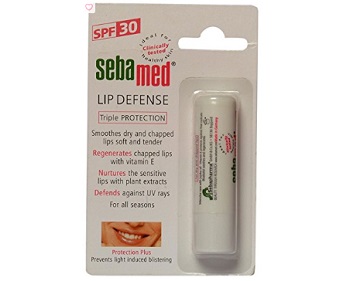 Sebamed lip balm contains SPF 30. So while smoothening the dry and chapped lips, it also protect them from the ultraviolet rays. Perfect for all the seasons, it is a suitable lip balm for men and women for summers, when more sunlight hits your lips and can cause lip darkening and pigmentation. To protect the premature lip wrinkling and aging, SPF 30 does really good job. It contains Vitamin E and chamomile extracts that helps to soothe the lips and makes it the best lip balm for dry lips in India.
3. Soultree Lotus and Kokum Butter Lip Balm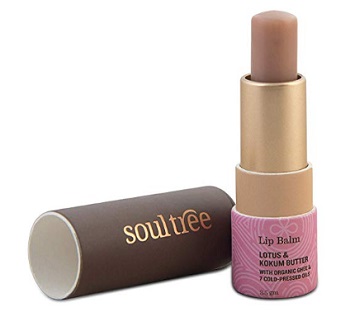 Soultree Lotus and kokum butter lip balm is yet another one of the most hydrating lip balms for dry and cracked lips in India. The best thing about this product is its herbal formula which is 100% natural and certified. It is a cruelty-free brand that does not have parabens, silicones, salads, SLS and mineral oils. With no fragrance that can irritate the lips, it is suitable for everyone out there. Kokum butter along with seven organic Essential oils makes it a powerhouse to keep your lips soft and supple. Undoubtedly, this is the best organic lip balm for dry and cracked lips in the market.
4. Himalaya Natural Soft Vanilla Lip Balm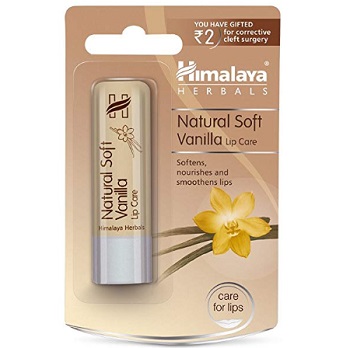 If you want an affordable lip balm to soothe your dry lips, then Himalaya lip balm in the vanilla variant is suitable to try. With vanilla fragrance, it is loaded with Vitamin E and other antioxidant ingredients. Free from the preservatives and petroleum jelly it is a Mineral oil and silicone free product. The 100% natural product is an organic lip balm for all age groups. It reduces the lip dryness and improves the softness. Therefore, to heal the chapped and damaged lips during all the Seasons it's really one of the best lip balms  at budget friendly prices and easy availability.
5. Neutrogena Norwegian Formula Lip Moisturizer SPF 15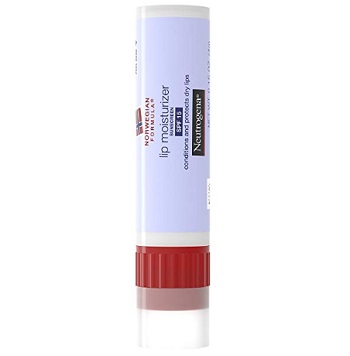 Neutrogena lip balms are yet another popular brand of Lip balms in India. It not just conditions but also protects the dry lips from getting cracked and peeling. In fact, this is one of the best lip balms for dry and peeling lips for both men and women. Kids can also try this lip balm as it is loaded with SPF 15. With no color, it only has hydrating formula. Swipe it over your dry lips at night and ensure that they stay all day moisturised.
6. Greenviv Natural Lightening & Brightening Lip Balm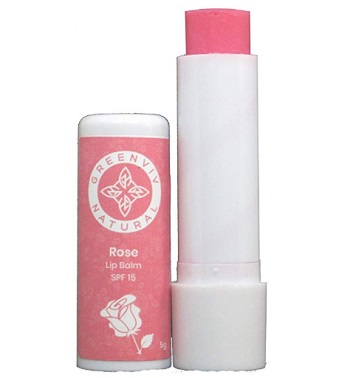 If you want hydration and dryness treatment along with lip pigmentation removal, then this natural Rose lip balm is a good product. Another variants are also there, however the rose variant is almost colorless that even men can try. Naturally, it is safe for everyone and you can apply it before putting on the makeup or even before you go to bed. With no harmful ingredients it is yet another organic lip balm for dry and flaky lips in India.
7. Nivea Lip Balm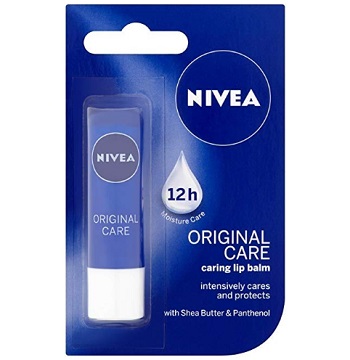 If you are looking for the best affordable lip balm for intense dry lips care, Nivea lip balms are one of the most reasonably priced and affordable products to try. It is a lip caring product that has intense formula which helps to safeguard the dryness. Men and women both can try this product.
8. Biotique Bio Fruit Whitening Lip Balm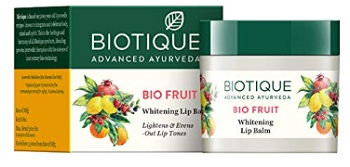 This next option is also amongst the best hydrating lip balm and a double beneficial product. Other than providing deep moisturization to the treat dry and flaky lips, it also helps in whitening the lips. When the lips has gotten dry because of smoking, ultraviolet rays damage, lip biting, this product can heal all that. It is a De pigmentation lip balm that visibly lightens lips for a fairer skin tone.
9. Himalaya Herbals Natural Moisturizing Lip Butter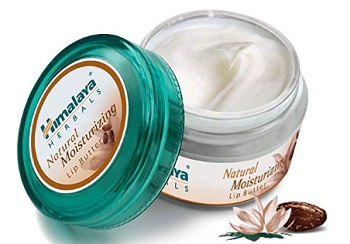 Lip butters are always beneficial because of their extremely hydrating formula. This lip butter contains cocoa butter, Sal butter and Vitamin E that moisturizes the lips and combats the dryness pretty fast. While taking care of the pigmentation and any other issues that you have on your lips, this is a reasonably priced lip butter for men and women in India.
10. Blistex Medicated Lip Balm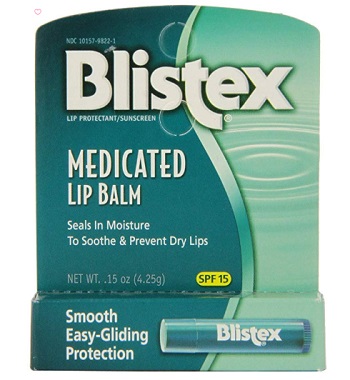 This lip balm is a medicated lip balm available in the market that suits and prevents the dry lips. It's easy gliding formula, rich in SPF 15 that's why it is one of those effective lip balms with SPF in India. You can re-apply it, whenever you need during the winter season.
Given the guide of the best lip balms for dry and chapped lips, it won't be difficult to find the best product to heal your cracked lips effectively. Applying the lip balms at night, gives the most efficient and fast results as the entire night, the lip balm can work more effectively to treat it from the core that before going out of your home applying lip balm can also ensure that lips does not get dry during cold winter season or even the scorching summer season so always choose the best lip balm for dry lips in India.