Lip balm is not only a women's thing. However, men also struggle with dry and peeling lips. Using the best lip balm products for men becomes essential to heal the dryness and cracked lips. It's amongst the lip care for dry lips. Lip dryness and chapped lips is a very common problem that many young boys and men experience. It can be from pollutants and sun rays that men get dry lips. The dry winter cold air blows and dries out the lips even more. Men take care of their skin and body, but lip balm for boys is also an important product. Undoubtedly, lip balms keep the lips moisturized while decreasing the lip pigmentation.
For men who smoke or stay a lot in the sun can get dark lips seen as bluish or dark brown color on the lips. Therefore, to soften the lips, it's better that men should apply the best lip balm for guys. Lip balms are made with beeswax and other essential oils which are moisturizing enough to beat the multiple lip problems for men.
These best lip balms for men in India are helpful to keep the lips soft and to protect from the environmental conditions. It doesn't matter whether it is cold or dry or winters, lip balms should be with you.
How to Apply Lip Balms?
If you do not know how to use a lip balm then check below. It is very easy to apply lip balms for men as the tube is very easy and handy to use. First of all, you need to take the lip balm and swipe it over the lips. Swipe the lip balm in the desired quantity and evenly on the lips. Make sure the product is spread across the lips well. Re-apply a lip balm whenever you need. Using the lip balm regularly two to three times in a day would keep the lips fresh and moisturized. If you have dry and cracked lips, apply the lip balms at least two to three times and once before going to bed. Generally, the lip balms are so small that men can keep them in their pocket or even their gym bags. They are really the best dry lips treatment at home.
10 Best Lip Balms For Men In 2023 to Get Soft And Moisturized Lips
Let's take a look at the best lip balm for men that will help you in making your lips better and hydrated. Lip care products for men are also available online at easier prices and discounts.  Check out the best lip balms for men's lips men below.
1. Beardo Choco Mint Lip Balm For Men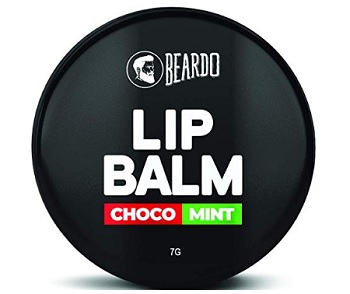 Beardo choco mint lip balm is specially made for men. It is a very affordable and reasonably priced lip product for men that corrects the chapped and cracked lips. While protecting the lips from dryness, specially caused by sun exposure and cold air, it hydrates the lips without any shine or gloss. So, all you get is moisturised lips without any artificial pink colour for long hours and instantly relieves the dry and flakiness. Even for smokers lips that tend to get dark over the time, this lip balm is a magic. It contains the fragrances of chocolate and mint and hence, lightens the lips. Applying it really helps to get rid of dry dead looking lips. Certainly, it can be added in any man's lip care routine to get the perfect kissable lips. The very effective lip balm product for men contains Shea Butter, Argan Oil, Mango Butter and Vitamin E oil. The best thing about this product is the non greasy feel that many men really like about it.
2. Neutrogena Norwegian Formula Lip Moisturizer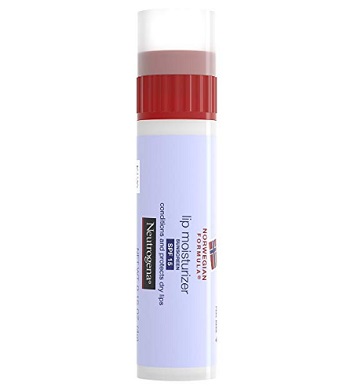 Neutrogena Norwegian lip moisturizer comes with SPF 15, therefore if you stay a lot longer under the sun exposure, this lip balm will help you to protect from the dryness and lip darkening. The best thing is that the product is fragrance-free and colourless. Suitable for men and women, just apply it on your lips to heal the dry and cracked lips. The product helps rejuvenate the lips skin and keeps them soft and healthy. So no more winter dry cracked and chapped lips with this extreme dry lip treatment, just healthy and supple lips. Out of the lip balms for dry lips in India, this is very effective.
3. Nivea Men Active Care Lip Balm with SPF 15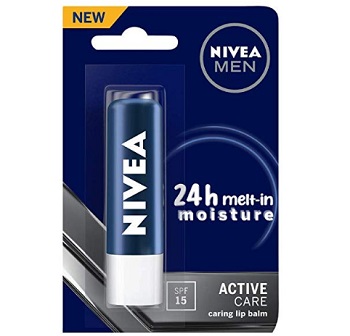 Nivea men active lip balm for men works in all weather conditions. This men's lip balm is long lasting moisture and shine free matte feel. Loaded with SPF 15, it protects the lips from UV A and UVB rays. These rays are to be blamed for lip darkening, when you spend long duration under sun exposure. The lip balm for cracked lips is a skin compatible product that is dermatologically approved. The blue and white packaging also looks pretty attractive. With its small size and good amount of product is easy to carry around even in your pocket. It's the best lip balm for dry lips men. Nivea men lip balm comes with SPF 15 which makes it the best lip balm for men that protect the lips from high sun exposure. IApply it before going to sleep and with its provitamin B5 formula, it moisturises and leaves a shield on the lips. Non-greasy texture give the matte look to the lips and it also works on the lip pigmentation, if that happens because of smoking.
4. Saint Beard-Lip Balm (Coffee) For Men With SPF 30
This coffee men's lip balm shields your lips from heavy sun exposure with SPF 30. The balm nourishes and protects to keep your lips to make them smooth and supple. However, this lip balm for men does not come in the regular roll up top packaging but small tab packaging. The best thing is SPF 30 that acts as an additional shield against the sun rays. If you're experiencing tired, peeling and chapped lips which are painful and embarrassing, this lip balm would be surely helpful for you. Fragranced with the caffeine and antioxidant properties, it also protects from the free radical damage.
5. Urbangabru Lip Balm For Men For Lightening & Brightening Dark Lips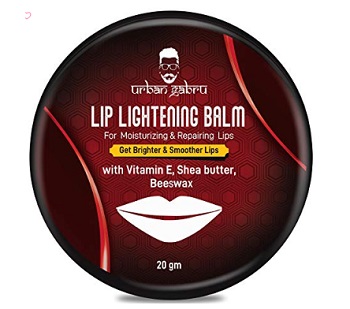 Urban Gabru is a lip balm that repairs and moisturizers the lips with its Vitamin E, Shea butter and beeswax formula. It effectively exfoliates the dead skin cells or flaky layer from the lips and with regular use, it restores the natural pink lip colour. Urban Gabru lip lightening balm is made scientifically with the blend of shea butter, beeswax and Vitamin E that boost the collagen and aids to treat the lip wrinkling. Use of product like this daily couple of times, protects your lips and creates a shield that also fights environmental damage. With no side effects, parabens and sulphates, this is completely safe option for daily use. Most users have given it high ratings, however the price can be a bit higher for a lip balm but it's truly worth it.
6. Pro Man Lip Lightener For Smokers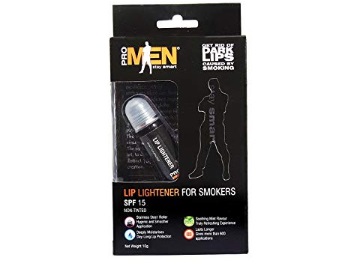 This is one of the best rated lip lightener products for smokers who have dry and pigmented black lips. With regular application, it lightens dark pigmented lips and removes the dead skin cells. It gives the extreme moisturization without that sticky feel that men dislike. It supplies enough of the moisture to the lips and makes them soft and supple.
7. Biotique Bio Fruit Whitening Lip Balm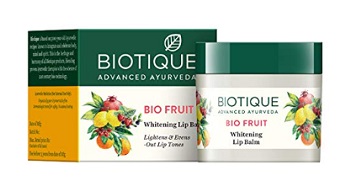 It's a whitening lip balm for men, who are struggling to lighten their lip colour. Lip darkness can be seen because of heavy sun exposure, lip biting and even smoking. This lip lightening lip balm is a de-pigmentation balm that visibly lightens the lips to give a natural pink tone. It has a fruity flavour with a transparent color. The natural lip balm contains ingredients such as Liquorice, Almond, Sunflower Oil, Grape extracts. It's a natural lip balm for dark lips that makes you conscious about your appearance. Applying the lip balm 2-3 times, they would surely decrease the darkness of the lips.
8. Vaseline Lip Therapy Original Chapstick Lip Balm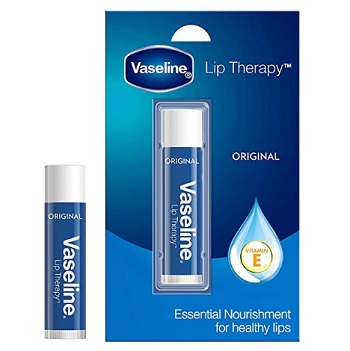 This is the original chapstick that comes with basic formula that repair the dry and cracked lips within just few minutes. The easy rollup tube makes it use and apply. It's one of the most moisturizing lip balms. With 24 hours moisturization, as per the claims, however still gives decent 2 to 3 hours. It's also available in other formulas however, for men this transparent formula is really good. Apply this lip balm on the severely dry lips by gently rubbing the tube against the upper and bottom lips. Using this overnight lip treatment, before going to bed keeps the lips softer, when you wake up the next morning. It's also the best lip balm for peeling lips.
9. Bioayurveda Ultra Moist Lip Restorative Cream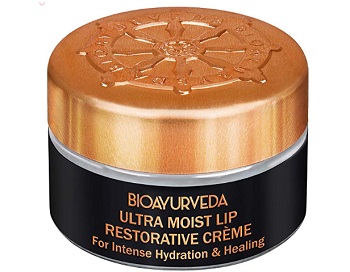 A lot of people would like to try organic and natural lip balms. This natural lip balm contains the natural and Ayurvedic properties of organic ingredients. When you apply it on regular basis, it's bound to eliminate the lip darkness and the painful chapped lips condition. Use it whenever you feel like. It has a light texture and gets applied on the lips easily. At times, it can leave some gloss on your lips therefore, it's best to be applied at night so that, you wake up with soft and moisturized lips.
10. Ustraa Double Mint Lip Balm For Men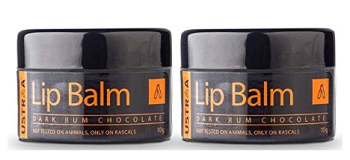 Ustraa Double Mint lip balm is a natural beeswax and shea butter based formula. Double mint formula is the only way to apply a lip balm with this. It does not only fix your dry and chapped lips but also promises to give you reduction in lip darkening. The men's effective lip balm protects your lips from sun damage, dryness and keeps them ready.
The best part is the lip balm product for men, is a paraben and sulfate free balm, which is free of chemicals includes natural ingredients. Using it at night would give you the best results. However, it lacks SPF, so if you want to have SPF rich lip balm, then try the other options that we have shared above. It also comes in a tub packaging, that's why we feel this lip balm is best suited when you're at home or for your night time skin care routine.
11. SebaMed SPF 30 Lip Defense Stick Lip Balm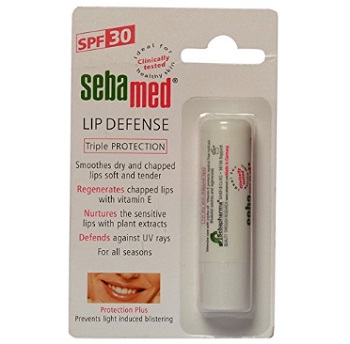 Men who have to spend long duration under sunlight shall try high SPF lip balms. This lip balm has SPF 30 that smoothen the dry and chapped lips to make them soft and supple. It shields the skin from UV rays all year round and the best lip balm for winter. In fact, the product also prevents light induced blistering of the lips. The chapstick format is easy to apply and to carry around by keeping it in your pocket. It includes natural plant extracts such as Jojoba. It's the best lip balms or lip lightening lip balm for extra moisturization.
12. Malibu Tropical Flavour Lip Balm with SPF 30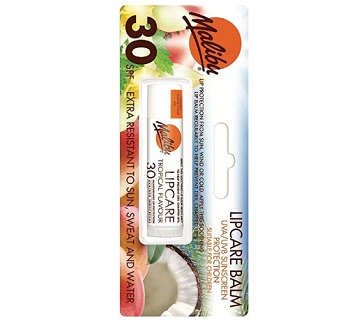 Malibu tropical flavour lip balm has high SPF 30 and is suitable for men and women. It's sweat resistance and even water resistant. So even if you are going for a beach or into the pool, the lip balm stays stuck on the lips. It gets rid of the dark coloured lips with regular use. It does not add a glossy tint, however gives you a matte and smooth finish that protects the lips from ultraviolet rays. The tinted lip balm does not color your lips, but can reduce the discolored or pigmented lips. Pigmentation can be due to various reasons like smoking, peeling, lack of hydration, lip biting and over exposure to sun. So this effective lip balm for men help in relieving the natural lip colour for men. It is a dermatologically tested product that can be applied by even the small kids.
13. The Blessing Tree Lip Lightening Balm for Dark Lips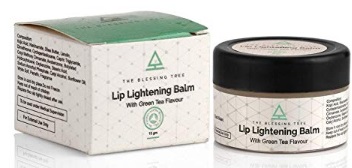 Men who smoke a lot often gets dark and dull lips. Lip darkening is quite common so there is nothing to worry about but you can surely reduce it by using the effective lip lightening balm. This lip lightening lip balm for dark lips comes with green tea and shea butter along with Sunflower oil.  Packaged in a small tab packaging, it is easy to apply and can also be used at night to restore the smoothness of your lips. To get the natural pink colour of your lips back this is one of the best lip balms that you can try. In fact it also contains kojic acid, which is known to reduce the darkness over the lips, hence, an effective lip balm for dry and dark lips.
14. Mamaearth Natural Lip Balm For Women & Men With Cocoa Butter & Chocolate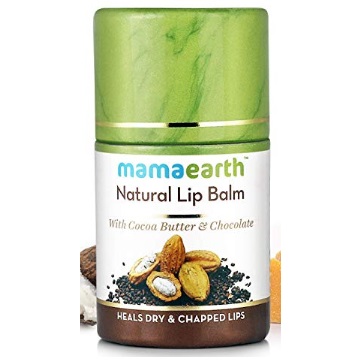 Natural lip balms for men and women comes with cocoa butter and chocolate formula. It is one of the best lip balms for healing dry and chapped lips. Chocolate gives extra condition and moisturising properties to this product. It is 100% natural and made with natural oils and butters. So devoid of any harmful chemicals it is a clinically and dermatologically tested product. You can save lips because it is not have any parabens, silicones and fragrances. So whether you are fighting dryness for pigmentation this is a good lip balm for dry lips.
15. Khadi Natural Peach Lip Balm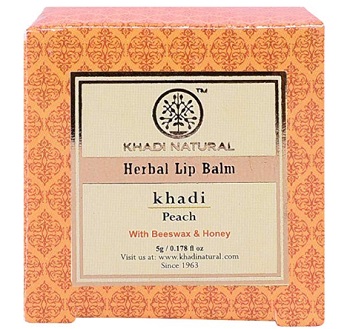 Khadi products are known for their natural ingredients and sulphate and paraben free formulations. The Khadi lip balm is made with beeswax and honey and is totally free of chemicals and artificial ingredients. It contains the goodness of Vitamin C also which makes it a good and effective product to fight the dryness and brown color. During winter season, when your lips are mostly dry and peeling, a product like this would surely help. The dry cracked lips refresh the lips with a sweet hint of citrus and moisturizes for getting lustrous lips even for the cold weather.
This is the list of the best men's lip balm in the market and choosing the best product for you. Most of these are made with natural and organic ingredients, therefore helps in keeping your dry lips smooth and supple. You can use them regularly or whenever you require. So it's very easy to say bye-bye to your dryness and lip pigmentation. These medicated lip balm for chapped lips would surely address lip problems and issues with effective ingredients. Apply the lip balms, whenever you feel like as there is no good or best time to use a lip balm, however applying them before going to bed at night gives good results. After the bath when you are getting ready for your work, college for outdoors a lip balm application makes sure that the lips stay hydrated all day long. During the day whenever you feel your lips are getting dry or fast then you can apply the product. Lip balms are generally made with organic ingredients so they will not harm your lips in anyways. Rather they are made to hydrate the lips with good ingredients. The brands that we have mentioned above are best men's lip balm brands in India that are made with dermatologically tested and good brands, but in case of any irritation or itching then discontinue using that product.