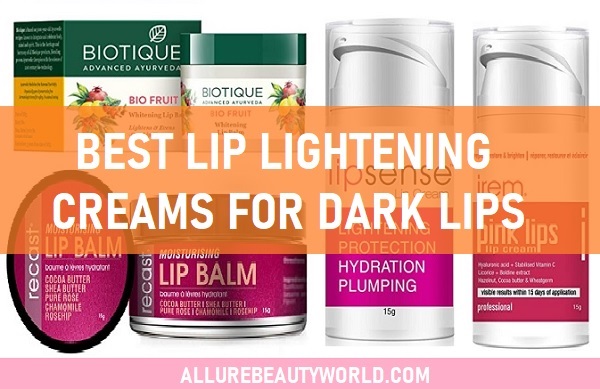 Lip darkening can be as a result of hyper pigmentation. Lip pigmentation is caused by excess melanin synthesis. The lip hyper-pigmentation is by excessive smoking, exposure to sun, medical conditions, pigmentation and other skin conditions. So while, there can be lots of different causes of lip darkness, lip lightening creams available to remove darkness of lips, spots, wrinkles over the lips and discoloration. Therefore, if you would like to make your lips pink and remove the darkness, the first thing that you have to do is to ensure that you are not staying under sun for too long. Smoking, lip biting and drinking lots of caffeinated drinks also cause lip darkness. So even if you don't smoke but you have dark lips, these lip balms are going to help you out.
Best Lip Lightening Creams for Dark Lips in India (2022)
To make your lips healthy and pink, here is the best lip lightening creams available in India. These best lip balms for dark lips are available at affordable prices online and at some discounts, so you can check it out.
1. Biotique Bio Fruit Whitening Lip Balm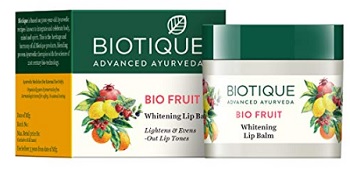 Biotique Bio Whitening Lip Balm is loaded with fruits. It contains fruit extracts like grapes, liquorice, almond, sunflower and other. It is a parabens-free and natural lip balm that is suitable to make your lips softer. It helps to re-establish the blood circulation and maintains the lips smooth. With essential oils this lip balm prevents dryness, darkness and moisture loss from the lips in winters. Bio fruit lightening lip balm is the best whitening lip balms in India for smooth and pink lips.
2. Finn Cosmeceuticals Lipsense Lip Lightening Cream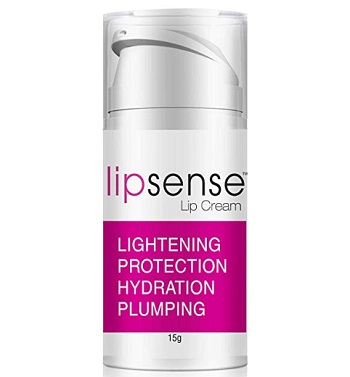 Lipsense lip lightening cream is made for dark lips. It protects the lips and repairs the damage caused by sun and environmental stressors. It is a superior quality lightening product that is used in case of dark lips. Dark lips can be caused because of smoking, hereditary, sun damage and any other reason. So whatever is the reason that has caused lip darkening in your case, you can surely make them pink again by using this lip balm. It's also one of the best lip balms for smokers in India.
3. Irem Pink Lips Lip Cream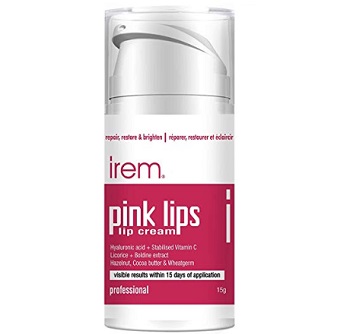 Irem lip balm helps restore and repair the dark lips. It moisturises the lips with its hyaluronic acid, Vitamin C and licorice infused formula. The lip cream claims to give you visible results within 15 days of regular application. It also contains hazelnut, cocoa butter and wheat germ that helps to moisturise the lips. So it acts as a perfect moisturizer for your lips that you can try twice to in a week.
4. Namyaa Natural Lip Balm For Lip Lightening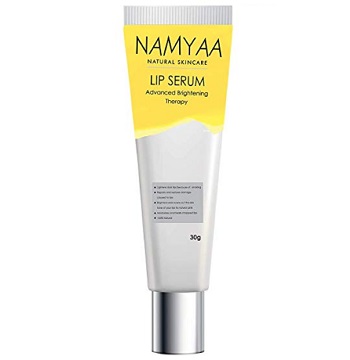 Namaya natural lip serum or balm is a lip lightener product for dark lips. With its lip lightening activity, it lightens the dark lips to become pink again. So the product repairs and restores the damage caused due to sun exposure and smoking. It is 100% natural and organic product that helps even tone the lips and to achieve the natural pink tone. For lip darkness because of smoking, this is the best efficient lip balms in India.
5. Beardo Lip Lightener For Men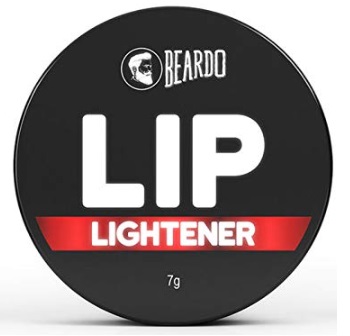 Beardo lip lightener is specially made for men's lips. It lightens the tone of darkened lips due to smoking and as a protective shield all layer over the lips. So apply this lip balm before smoking to keep the lips smooth and supple. It also heals the cracked and peeling lips. If you have dark spots over the lips, then it can also fade those. It's the best lip lightening products for men. This lip lightening balm for men hydrates and gives natural tone of the lips. It is blended with sweet almond oil, Shea butter, mango butter and sunflower oil. Apply it before smoking and before going to bed for best results.
6. The Blessing Tree Lip Lightening Balm for Dark Lips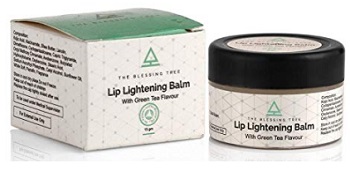 The Blessing tree lip lightening balm is for dark lips and comes with green tea and Shea butter along with Sunflower oil. This is another lip lightening product that has received full ratings from the customers who have applied it. The lip balm helps in lightning the lip colour and restores the original natural pink colour. It is the best lip balm for lip lightening for both men and women in India. Available at affordable and reasonable price, it has a green tea flavour. As it is enriched with organic oils, it locks the moisture and gives total nourishment to the left. It can be applied during the daytime multiple times even before going to bed for best results.
7. Trycone Lip Lightening Balm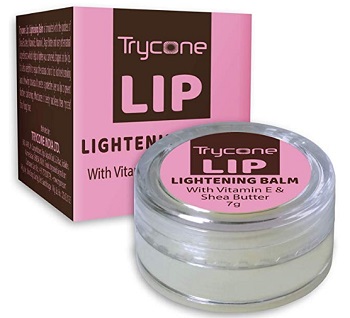 The lip lightening balm for dark lips is infused with Shea butter and Vitamin A. It also contains vitamin C, hyaluronic acid, argan butter, mango butter and some premium quality essential oils. Free from sulphate and chemicals, this is the best paraben free lip lightening balm for smokers and problem of dark lips because of sun damage. It regains your original tone of the lips and makes them lighter and supple. It is a Unisex product that can be used by men and women both.
8. Recast Moisturising Lip Balm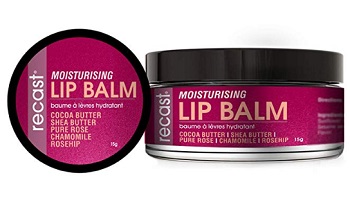 Recast moisturizing lip balm is a lip lightening and lip moisturising balm. It contains shea butter, pure Rose, chamomile, cocoa butter and rosehip oil. The ultimate luxurious balm has high quality oils that nourish the lips and prevents the lip peeling. Apply it regularly for two weeks to reduce the darkness around and over the lips. This product is yet another paraben free lip balms in India.
 9. Vital Organics Lip Lightening Cream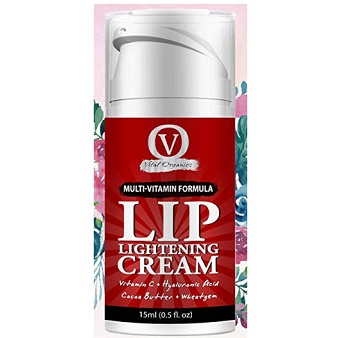 The lip lightening cream balm for dark lips contains vitamin C, hyaluronic acid and liquorice. It also contains cocoa butter and wheatgerm oil. It heals the cracked and dry lips during the winter season. As the skin over your lips is thinner than your facial skin, it gets dry quite often. This lip balm ensures proper hydration of the dry lips and keeps them softer. With effective ingredients in it naturally lightens the lip pigmentation and inhibits the excessive melanin production.
10. Swosh Lip Cream for Dark Lips and Lips Brightening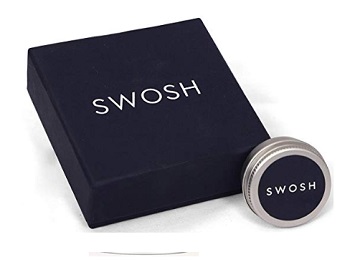 The lip cream for dark lips is a vegetarian product which is available at discounted and reasonable prices online. It protects the lips from cigarette smoke and effectively protect the lips in cold weather conditions. It also releases the peeling, flaky lips and dryness and chapped lips. It is a chemical and paraben free lip balms in India.
Dark and Pigmented Lip Care Tips
Other than applying the lip balms for tackling the darkness of lips, you need to take care of these tips to keep your lips smooth and softer.

Do not lick your lips as that can cause lips to become dry and dark over the time.

Use a lip balm with SPF when you are under extreme sun exposure.

That contains parabens and mineral oils along with harmful chemicals.

For cracked lips, use a lip balm to smoothen the lips.

Eat foods rich in Omega 3 and Omega 6 fatty acids.

Do not use cheap lip products or lip makeup products.

Once in a while or at least once in a week, apply a lip scrub to exfoliate the dead skin cells and peeling skin from your lips.