When it comes to skincare, L'Oreal Paris products are very popular. The high quality products are reasonably priced, while we agree that some of them can be a bit higher as compared with the other skin care brands' products. L'Oreal Paris brand offers various skin care, hair care and even the makeup products. Here, we will talk about the best L'Oreal Paris skin care products available in the market.
List of the Best L'Oreal Skin Care Products in India
1. L'Oreal Paris Revitalift Laser X3 Renewing Anti-Ageing Serum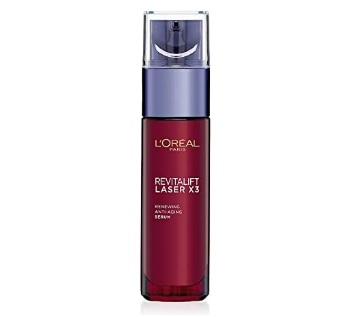 It's an anti-aging serum, which is made to dramatically reduce the wrinkles fine lines and aging signs from the skin. The product when applied and blended well on the skin, refines the skin texture and smoothen the wrinkles by boosting the natural elasticity and collagen synthesis. This product contains 3% Pro-Xylane and Adenosine, which helps in giving the results faster. It is one of the best anti aging face serums, which is suitable for all skin types, because of non-sticky texture. This facial skin serum also comes in a packaging very hygienic to use.
2. L'Oreal Paris Skin Perfect 40+ Anti-Aging Cream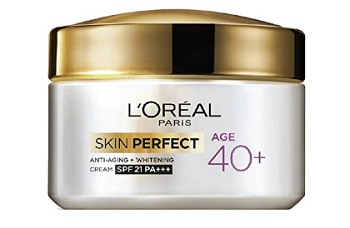 This is one of the best anti aging face creams with SPF 21 for men and women above 40 years of age. L'Oreal has launched this skin perfect range a couple of years ago and this range has different products for different skin type, depending on the age. This is the day cream that contains SPF 20 and has anti-aging plus skin lightening benefits. It is packaged with Pro-retinol because of which it removes the wrinkles and revitalizes the dull patchy looking complexion. Use it twice in a day for best results. It's another affordable retinol creams available in the market from a good brand. It also has vitamin B3, Vitamin E and Vitamin C. So, it gives visible results within just 4 weeks of usage. As the texture of the cream is pretty moisture retaining yet, non sticky it can be used by people who have oily skin other than the dry skin.
3. L'Oreal Paris Revitalift Crystal Micro-Essence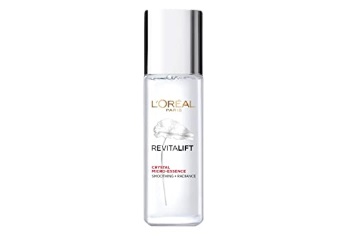 The light serum like Essence has the smoothening and Radiance giving properties. It contains salicylic acid because of which skin not just become hydrated but also glowing and blemish free. Salicylic acid also helps to combat the acne and keep the pimples away. Apply it on the skin twice in a day to replenish lost moisture and to smoothen the skin. The light and water texture gets quickly absorbed in the skin layer and its active ingredients help to give clear skin. It removes the dead skin cells and eventually accelerates the skin cell renewal. The fast absorbing formula of this product is really good even when you have oily and acne prone skin. It is also a good product to use before makeup. application.
4. L'Oreal Paris White Perfect Day Cream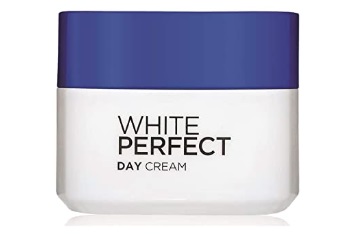 To remove the tanning and to visibly lighten the skin, this white perfect day cream is a perfect combination of suitable skin lightening ingredients like Melanin Vanish and Tourmaline Gemstone. This product gives more glowing and transparent dewy complexion. Use it every day and soon the skin gets brighter. It also contains salicylic acid and reduces the dark spots and enhances skin's clarity. It's a day cream for all skin types.
5. L'Oreal Paris White Perfect Milky Foam Face wash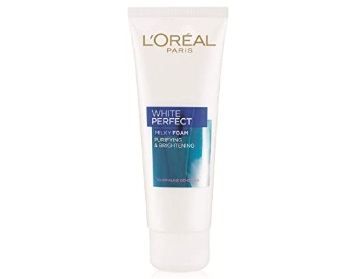 The milky foaming face wash is suitable for everyone and has the innovative Tourmaline, Melanin Vanish and Vitamin C. The foaming cleanser removes the excessive sebum and dead skin cells that make skin darker and rough. To boost the skin's natural clarity and glow, this increases the cell renewal process and keeps the skin clean and impurities-free. It is the perfect face wash at quite affordable price, which men and women both can use.
6. L'Oreal Paris UV Perfect Even Complexion Sunscreen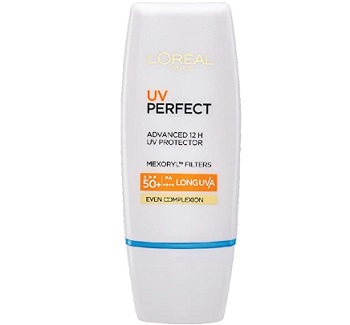 With SPF 40, this moisturising product has to give a protection against wide variety and broad spectrum UVA and UVB rays. It has an antioxidant rich Complex and Active cell technology that reinforces protection against free radicals. It fortifies the skin against free radicals and pollution while making the skin matte and flawless. As this product is ultra fine and non-greasy in texture, it blends really nicely on the skin. The will stop the light peach colour of this product looks really nice and it does not give matte finish but a bit sticky. If you have very oily skin, then skip this product otherwise as a sunscreen and moisturizing lotion, it is suitable for normal to dry face.
7. L'Oreal Paris White Perfect Anti-Dullness Scrub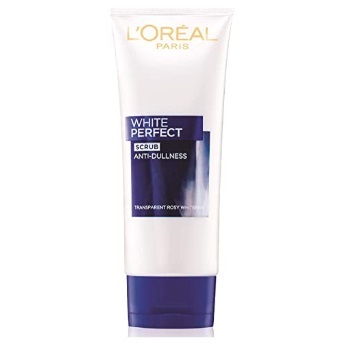 The anti-dullness face scrub combats the shallow and dull skin. It gently unclogs the clogged pores to unfold more dazzling looking complexion. Combining the active ingredients, it enhances the complexion by slowing of the uppermost dead skin and impurities. So it is one of the best skin lightening and complexion renewing face scrubs in India. It's also available at pretty nominal prices. Using it regularly helps in encouraging skin complexion by refining the skin and minimising the pores.
8. L'Oreal Paris Men Expert Hydra Power Duo Foam Cleanser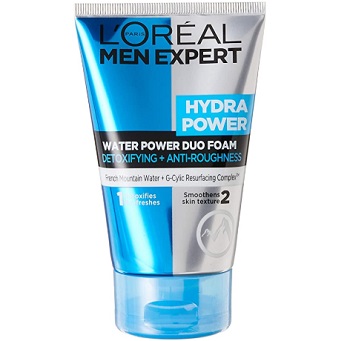 The forming cleanser for men is one of their best rated products. It has detoxifying and anti roughness formula.  The face wash for men washes away the dust and impurities with superior formula and smoothens the skin like a primer. Men who have dry and rough skin, can try this face wash. It brings freshness on the skin and gives cool and soothing sensation afterwards. Just two drops amount is enough to use this facial cleanser. It is also suitable for all skin types, however we feel that the product is better for normal to dry skin.
9. L'Oreal Paris Men Expert White Activ Oil Control Fluid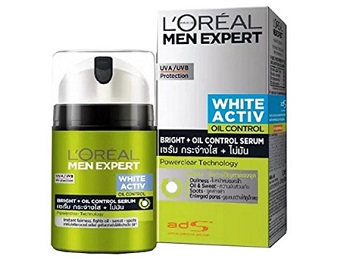 L'Oreal Paris men white active oil control serum is one of the best serums for men for oily and acne prone skin. It contains a combination of two different ingredients like Vitamin C and Melanoblock Technology. It regulates the production of excessive melanin in the skin layers to make the skin visibly illuminated and gleaning. With SPF 20 it defends the bad effects of sun from damaging the skin. It is safe to be used by sensitive oily skin as well. The active defence system is powerful and rich with antioxidant. The oil control face wash controls the oils for 4 to 5 hours which is decent amount of time considering most of the products fails after 2-3 hours only.
10. L'Oreal Paris Men Expert White Activ Oil Control Charcoal Foam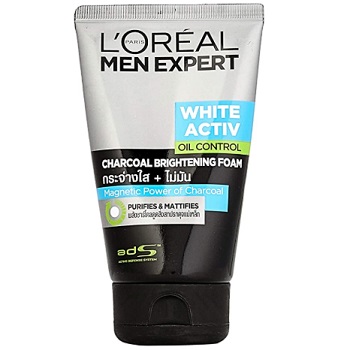 L'Oreal Paris charcoal forming face wash contains the power of active charcoal to draw out impurities and making the skin absolutely clean. The product is also rich in salicylic acid that put a stop at the formation of pimples and blackheads, on the skin areas like nose, cheeks, chin etc. The active defence system is a powerful soothing active ingredient that helps to strengthen the skin's natural resistance against the daily wear and tear. With foaming texture and fine bubble formula, it gaurds the skin from impurities and is one of the best facial cleansers for men with excessive oily and acne prone skin.
11. L'Oreal Paris Men Expert Barber Club, Long Beard & Skin Oil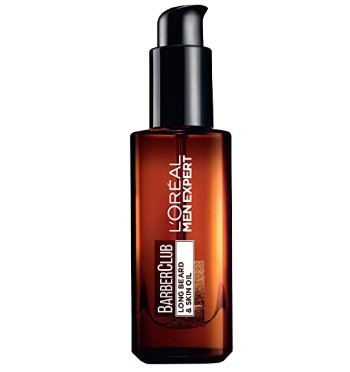 The Men's beard and skin oil is a wonderful product which many men with beard can try. This budget friendly product for men aids in taming the long beard and conditioning them. While thickening the facial hair, it also reduces the beard dandruff and hair fall. Its gentle formula is non greasy and gets blended in the hair and skin underneath nicely. To keep your long beard hair in pretty good condition, manageable and smooth, remember to apply this beard oil two times in a day. Apply it in the morning and once while going to the bed. Take 2-3 drops and apply on the beard and gently massage.
12. L'Oreal Paris White Perfect Night Cream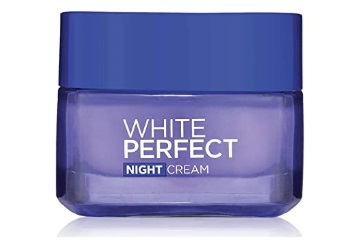 L'Oreal Paris whitening night cream is one of the best skin whitening products for night time. The powerful skin brightening product is a facial moisturizer that has Tourmaline Gemstone and Vitamin E rich formula. It works upon the existing dark cells and pigmentation. It increases the skin glow and health by fighting the skin damage. Using the product everyday amplifies the fairness and brightness. Using this cream makes a way to reduce the dark spots and to create a visibly brighter blemish- free skin complexion. This night fairness cream product also contains salicylic acid as a part of its ingredients.
13. L'Oreal Paris Pure Clay Detoxify with Charcoal Clay Mask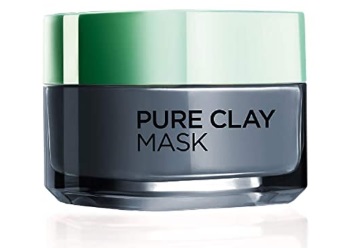 L'Oreal Paris clay mask is one of the best facial mask for combating oils and sebum off the skin. The product claims to transform the skin in just 10 minutes and instantly add brightness and freshness. It is a detoxifying and skin brightening face mask for dull and tired sagging skin. The product is a specially made for oily and acne prone skin, because of the ingredients like 3 pure clays and red algae. Energizing the dull skin, one can surely observe the skin gets even toned and matte.
14. L'Oreal Paris UV Perfect Aqua Essence Gel Sunlotion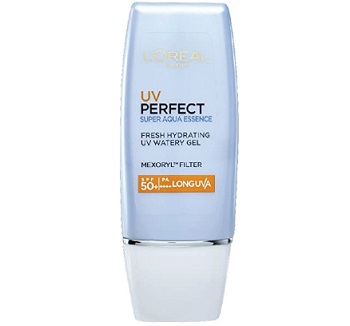 This lightweight and watery gel essence is one of the best high SPF sunscreens for oily combination acne prone skin in India. It is a unique sunscreen with a light watery gel formula, which is also very hydrating in nature. It gives you 12 hour protection and leaves the skin moisturised without the greasy feel. SPF 50 helps to give broad spectrum sun protection against UVA and UVB rays. Its formula is rich with antioxidant complex to defend from free radical damage. You must already know that free radicals are responsible for premature aging and wrinkling of the skin.
15. L'Oreal Paris Hydrafresh Anti-Ox Grape Seed Hydrating Aqua Balm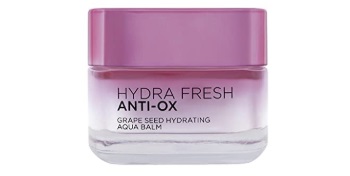 For extremely dry skin, a hydrating cream product is essential. This is a powerful antioxidant rich cream that neutralizes the effect of free radicals. While making your skin smooth and hydrated it also get rid of the darkness. The naturally rich in minerals face cream help to stimulates vitality and reinforces the skin natural barrier against damage. It keeps skin hydrated and Resilient. This product helps to fight against dryness dullness and fragility.
These are the best L'Oreal Paris products for skin available in the market.