Lotus is a well-known brand in India. In fact, the brand is so popular that most of their products are worth trying and they work for most of the skin types and people. Similarly, Lotus facial kits are equally popular amongst the youth and people with the aging skin. The products are affordable, in budget and are of good quality. Here, we have compiled this list of the best Lotus home facial kits available in India. So, if you're still confused which is the best Lotus facial kit that you should use for your skin type then the post would help you in deciding the best Lotus facial kits  for different issues and skin type. Read till the end friends to know. Let's go ahead.
Best Lotus Facial Kits in India For Instant Glow and Fairness
1. Lotus Herbal Radiant Gold Cellular Glow Facial Kit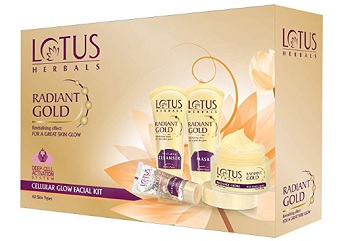 Lotus gold facial kit is really a popular product and gold facials are worth trying, when you've lifeless and dull skin tone. The biggest advantage of a gold facial kit is that they impart healthy glow on your skin by minimising the melanin accumulation and too much of sun tanning. This kit contains 24 carat pure gold leaves along with other Botanical ingredients that maintain skin glow and improve texture.  Lotus gold facial home kit contains four products that are used one by one directions given on the pack.
How to Use Lotus Gold Facial Kit:
Apply the Creamy cleanser and massage for 2 to 3 minutes. Wash it off with water. Apply Radiant gold activator and massage for 2 to 3 minutes. Wipe it off. Apply the radiant gold massage cream and massage for at least 5 to 10 minutes. Apply the radiant gold mask and allow it to get completely dry. When it dries, rinse it with clear water.
2. Lotus Herbals Radiant Platinum Facial Kit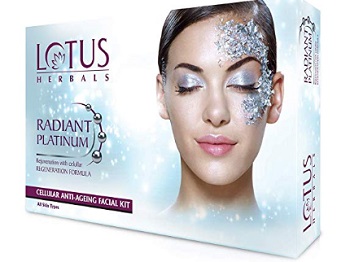 Platinum has equally beneficial effects on the skin just like gold facials. Platinum is a metal that detoxifies your skin and calms it. In fact, when your skin is sensitive or irritated, Platinum facial can soothe it. Lotus Herbals Platinum facial kit is very easy to use and is an anti aging facial kit for all skin types. It has four steps that you need to perform. It's the best lotus facial for sensitive skin.
3. Lotus Herbals Natural Glow Kit Skin Radiance Facial Kit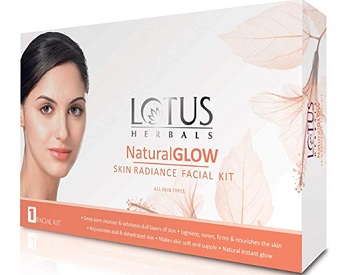 Lotus Herbal natural glow kit is for glow and radiance naturally. It contains multiple products that help to make the skin beautiful. Cleanse the skin with the lemon pure cleanser, then apply the orange peel and Alpine salt scrub. After that use the frujuvenate face pack and wash after 15 minutes. Apply the Lotus Herbals cocoa moist cream and the facial is done. This lotus cleanup kit for oily skin can be applied once in two weeks, even for all skin types.
4. Lotus Herbals White Glow Insta Glow Fairness Facial Kit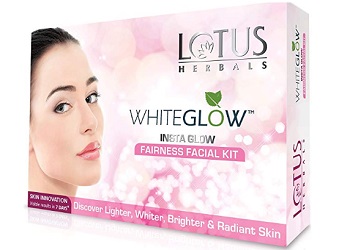 Lotus Herbals insta glow fairness facial kit is for lighter, whiter and brighter radiant skin. It contains a deep cleansing whitening foam, whitening face scrub, massage gel cream and face whitening face pack. The Lotus facial kit for glowing skin is excellent for fairness and works for all skin types.  This can be used once in a week without any problem. It's also the best lotus facial kit for dry skin or all skin types.
5. Lotus Professional Instafair Melanin Control and Skin Lightening Facial Kit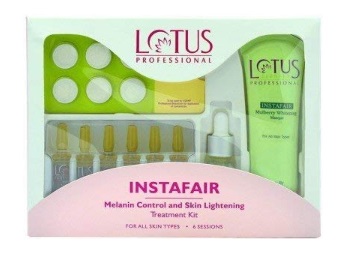 Lotus professional instafair melanin control skin lightening Facial is for excessive Sun darkening and melanin accumulation that makes your skin darker. It is one of the best skin lightening treatment kit that contains 6 sessions and is suitable for all skin types. Ingredients such as Orange peel, almond oil, lettuce, Mulberry, cucumber, avocado, milk enzymes and lavender along with grapeseed are used in this kit. This lotus facial kit for oily skin is highly beneficial in the skin darkness removal and dullness elimination.
6. Lotus Professional Promen Intensive Repair Whitening Facial Kit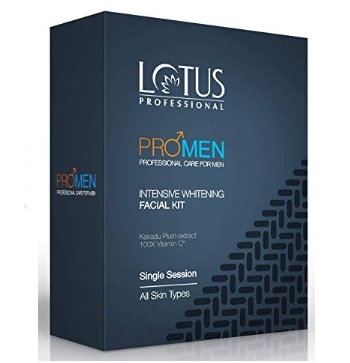 Lotus professional promen intensive repair whitening facial kit is for men's skin whitening. It's suitable for men with all skin types and gives beautiful glowing skin. It contains a cleanser, face Scrub, Massage Cream and Moisturizer. Apply all the steps, one by one and that is rich in vitamin C. It improves the appearance of wrinkles and boosts the skin radiance. It is yet another best Lotus facial kit for men.
7. Lotus Herbals Radiant Pearl Facial Kit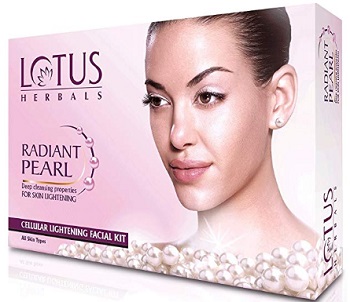 Lotus Herbals Pearl facial kit is for facial skin lightening and deep cleansing properties. This Lotus home facial is suitable for all skin types. Pearl facial kits are best to remove the sun tanning effects and depigment the skin. For pigmented skin to, pearl facials are considered the best. The kit comprises of four steps that you have to apply.
8. Lotus Herbals Professional Hydravitals Facial Kit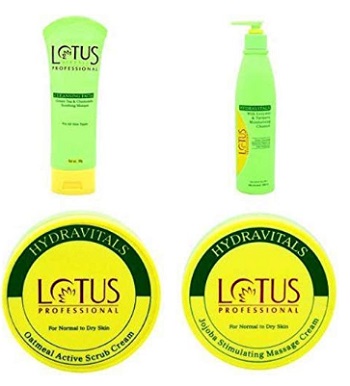 Lotus Herbals professional hydravitals facial kit is for keeping the skin soft and supple. As the name suggests "hydravitals" it nourishes the skin and is made for normal to dry skin. The lotus facial kit for dry skin contains four steps of facial like a creamy cleanser cream with jojoba and chamomile soothing skin mask. This is definitely the best facial kit for dry and normal skin.
9. Lotus Safe Sun Anti Tan Whitening and Glow Facial Kit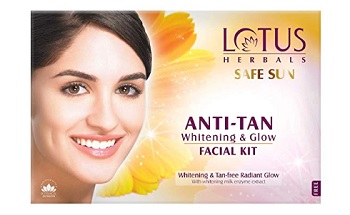 When tanning is your major concern that's troubling you then using anti tanning facial kit would do the job. Lotus Herbals anti tan whitening and Glow facial kit is for tan-free radiant glow. It contains whitening milk enzymes that are known to lighten the 10 and to reveal your original skin complexion. The timing kit removes tan and gives whitening glow at the comfort of your home. It penetrates the deepest skin layer and gives u tan free skin in summer season. It is one of the best facial kit for summers.  This kit contains a cleanser, face Scrub, anti tan massage cream and anti tan pack. It can be used once in a week or twice in a month for better results.
10. Lotus Herbals Radiant Diamond Cellular Radiance Facial Kit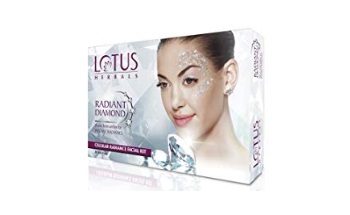 Lotus Herbals Radiant Diamond cellular facial kit is for complete detoxification and glowing skin.  Containing 4 steps of facial you can apply this kit and make your skin beautifully glowing. This special kit is suitable for all skin types. In fact, if you've sensitive skin, you can use the other facial kits by Lotus. Use it once or twice in a month to ensure that your skin stays beautiful, glowing and free of flaws. In fact, this lotus diamond facial kit is for oily skin.
These are the best Lotus facial kits in India, that one can use to make your skin beautiful and flawless. Home facial treatment is quite simple and when you do it timely and regularly, once in a week, you would ensure that your skin stays healthy and glowing. Most importantly your face looks glowing. Most of these Lotus facial kits can be used once in two weeks or once in a month. These are easy to do at the comfort of your home and within four to five steps of application, you would see good results in your skin tone.