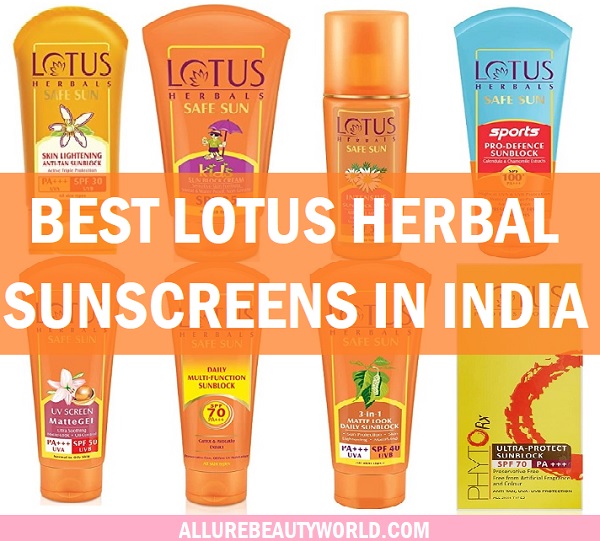 Prolonged exposure to Ultra violet rays can cause the skin to become dark, parched, red, dry and itchy. Regular exposure to sun rays, results in skin darkening, and premature ageing for your skin. As a matter of fact, it also increases the risk of various skin conditions. If you reside in hot, humid or tropical area, it's also better that you try sun-blocks on daily basis. In this post, we've compiled the list of the best Lotus Herbals sunscreens in India.
It's best to have a suitable sunscreen lotion and the brand Lotus Herbals is one of the best that provides, variety of different sunscreen lotion.
List of Best Lotus Herbals Sunscreens in India (2022)
Just a pro-tip while choosing the right sunscreen for you, always go for the light-weight and matte sunscreens for oily-acne prone skin, while creamy formulas for the skin dry to normal skin.
1. Safe Sun Skin Lightening Anti -Tan Sunblock SPF 30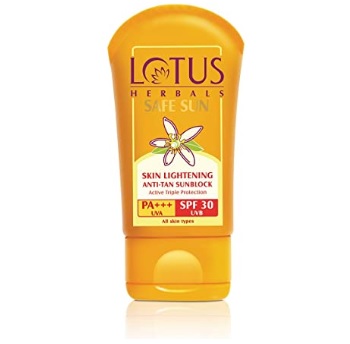 It's a skin lightening sunscreen lotion that contains anti-tan sunblock with SPF 30. Coming with the active triple protection, the sunscreen is suitable for all skin types. The very affordable sunscreen contains lime blossom and kiwi extracts. Apply it on your face and body to protect it from the sun. This product helps to reduce and prevent the tanning, premature aging and even skin cancer. The product is lightweight and is one of the best sunscreen lotions in India.
2. Lotus Herbals Safe Sun UV Screen Matte Gel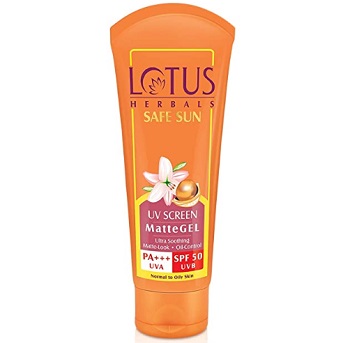 The gel sunscreen lotion is the best product for oily skin in India. It helps oily skin by protecting it from the harmful ultraviolet rays. It has an oil controlling formula with SPF 50.This contains the soothing Horse Chestnut and sebum controlling Vanilla. The product is suitable for men and women and has a very light gel based texture. Excessive melanin production happens because of over exposure to the sun rays as a natural mechanism to safeguard the skin from damage and cancer. So The Lotus sunscreen for oily skin, is an effective solution to the skin tanning and also works effectively for delaying age lines. This is the best summer sunscreen lotion for oily and acne prone skin.
3. Lotus Herbals Safe Sun Daily Multi Function Sunblock SPF 70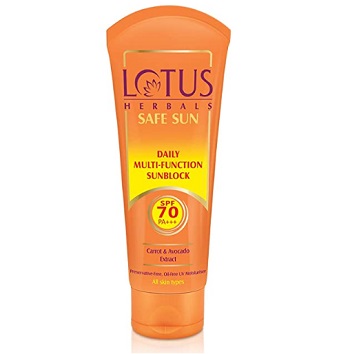 Loaded with carrot and avocado extract this product is with SPF 70. The high SPF sunscreen lotion is a physical sunscreen that gives you the much-needed protection. It is not for oily and acne prone skin for the face but it is more of a dry to normal skin type sunscreen lotion. The product is suitable for the beaches, where you are more likely to hit by the sun rays for long time.
4. Lotus Herbals Safe Sun 3-In-1 Matte Look Daily Sunblock SPF-40
The Safe Sun sunscreen lotion from Lotus has SPF 40. This is an ideal sunscreen lotion that has a skin lightening and mattifying properties. It is a soothing sunscreen with anti inflammatory features. This sunscreen is very affordable and can be used on the face and body. It is not waterproof sunscreen, therefore, it gets washed in water easily. So, it's not for the heavy summers or tropical areas and for the beaches and swimming pool. It's suitable for all skin types, however for the very oily skin it can be a tad greasy.
5. Lotus Safe Sun Kids Sun Block Cream SPF 25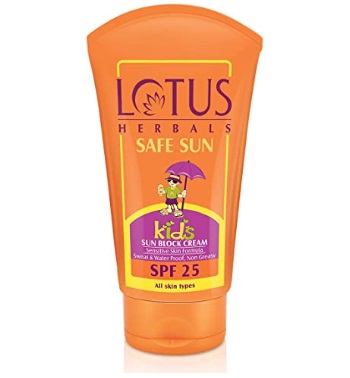 The kids sunblock cream has SPF 25. The suitable sunscreen lotion is perfect for the sensitive skin formula. It's a sweat and waterproof sunscreen lotion, which has a non-greasy texture. So, you can apply this sunscreen on kid's skin, without worrying about the itching and irritation. It contains chamomile extracts that has anti-inflammatory and soothing properties. Therefore, it's good for sensitive skin like the baby's delicate skin. It is a physical sunscreen which has zinc coated microfine Titanium Dioxide. So, it has to be applied liberally on the body parts like face and exposed body areas. Sweat and waterproof sunscreen therefore, it's safe for the pool side and beaches. The product is dried by dermatologist and paediatricians. This is a best baby and kids sunscreen in India at affordable prices.
6. Lotus Herbals Safe Sun Intensive Sunblock Spray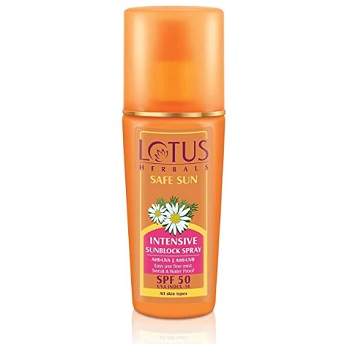 The Lotus Herbals sunblock comes in a spray format with SPF 50. Product is a fine mist which is sweat-proof and water-proof. It protects the skin from environmental damage, daily wear and tear of the skin and sun damage. It shall be sprayed directly on the exposed body parts, like neck, arms, hands, legs and etc. This is an innovative product, which is a water based sunscreen with a mist formula. So this gives broad-spectrum protection without stickiness. The product safeguards the skin from the harmful effects of ultraviolet exposure and skin irritation.
7. Lotus Professional Phyto Rx Ultra Protect Sunblock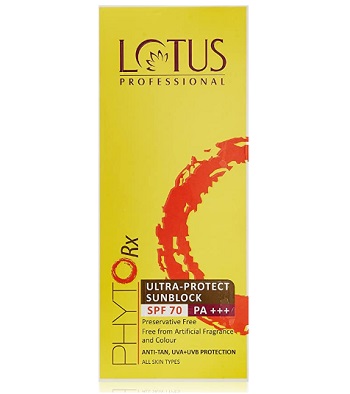 The high sunblock SPF 70 is the highlight of this Lotus Sunscreen product. It is free from parabens and artificial fragrances. It protects the skin from UV-A and UV-B rays. While, adding a protective layer on the skin, the product protects the skin from the damage and pollution other than the ultraviolet rays. The product is lightweight and gets absorbed in the skin layer nicely. The product is a bit sticker therefore is suitable for normal to combination skin. It has to be applied really well so that it can get absorbed in the skin nicely. It is a physical sunscreen that contains zinc oxide.
8. Lotus Herbals Safe Sun Men Advanced Daily UV Shield SPF 30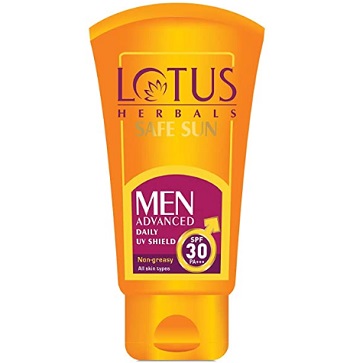 The sunscreen lotion is design for men and contains SPF 30. It is an all skin type sunscreen lotion which is non-greasy and has matte finish. So, it helps you win the battle against the environmental damage caused by the sun rays. First the product feels like a little powdery and can leave a whitish layer on the skin, this is why you have to make it blend really nicely.
9. Lotus Professional Phyto Rx Sunblock Mist SPF 50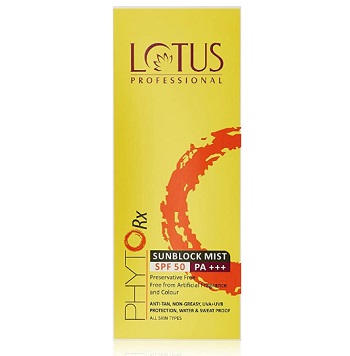 The mist based sunscreen lotion has SPF 50. It protects the skin from sun burning, tanning and premature aging. Lotus professional phyto RX Ultraviolet Sunblock Mist has SPF 50 with triple protection. It is a great spray mist which is very easy to apply. Just spray the mist and massage gently. It is an ultralight sunblock formula that contains carrot oil and Vitamin E. It is non greasy and has a water and sweat proof formula. The product is suitable for all the skin types and does not make the skin sticky or greasy.  Blending the product would be beneficial as at times it can leave a white layer.
10. Safe Sun Sports Pro-Defence Sunblock SPF 100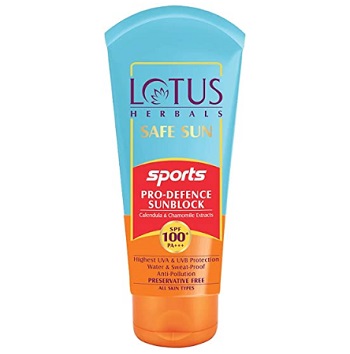 The sports sunscreen lotion contains a very high SPF 100. It is the highest ultraviolet quality protection. The product is sweat and waterproof and also has an anti pollution product. Free from the preservative the sunscreen lotion with SPF 100, is for all the skin type. At once, it comes across as very thick and greasy so, it may not be for the oily skin. So you can try the matte or gel based sunscreen, when your skin is oily and acne prone. Otherwise for normal to dry and combination skin, this sunscreen looks much better.
These are the best sunscreen lotions available in the market at affordable prices. These are the best Lotus Herbal sunscreens that people with different skin types can try.