While searching for a good brand for men, we come across so many products. Earlier, there weren't too many products for men, but these days lots of brands are offering men's grooming and skin care essentials. Man Arden is a brand that is fully organic and free of paraben, sulphates, mineral oil and other skin irritating chemicals. As a matter of fact, the products are also not tested on animals. So, when looking for a cruelty free brand, this can be surely tried.
This is why, we really like this brand and recommend it. So, if you searching for men's skin care and hair care products brand which should be organic, then definitely consider man Arden Products. Reviews online says a lot about the brand and its products. And thanks to the organic and natural formula that they ensure for each and every product of their brand.
List of The Best Man Arden Products in India (2023)
Let's take a look at the best Man Arden products for men available in India.
1. Man Arden 7X Beard Oil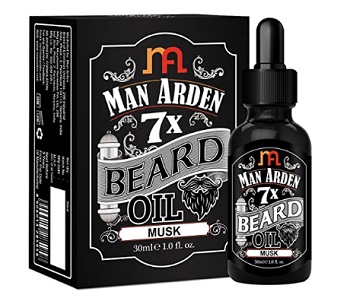 When you love to flaunt beard and its your current styling for yourself, then managing it without the suitable products can be tricky! Having said that, a beard growth oil is a MUST have product in the beard care routine. Product has a musky smell that keeps your beard smell amazing. It's an easy-to-use super hydrating formula that supports the growth of beard and also helps to moisturize and smoothen the beard hair. It's a beard and moustache oil with the power formula infused with seven super organic ingredients. Promoting the faster growth of beard, it conditions the rough and dry hair. Formulated with the organic oils and without the harsh chemicals like paraben, sulphate and phthalates, it's a really helpful product for the beard. It contains the key ingredients like Almond Oil, Grapeseed Oil, Rosemary Oil,  Jojoba Oil, Argan Oil, Olive Oil and Castor Oil.
2. Man Arden Skin Boosting Vitamins Shot Face Serum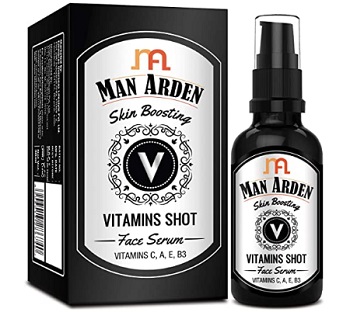 It men's face serum is rich in vitamin C, Vitamin A, Vitamin E and B3. It is a product that boosts the skin's vitality and increases the cell renewal. It protects the skin and detoxifies it deeply by getting rid of the harmful free radicals. While rebuilding and repairing the damages skin, it helps to restore the healthy and radiant looking skin. It defends the skin from the harmful effects of the day to day weather. The product helps to minimise the damage that is caused by free radicals through the oxidation stress. Rich in vitamins and minerals, the product is really light-weight. It has a light texture that blends nicely on the skin, simultaneously shrinking the enlarged pores on the face. The product is rich in natural ingredients and is free of mineral oil, sulphates, paraben and chemicals.
3. Man Arden Sunblock Sport Sunscreen SPF 50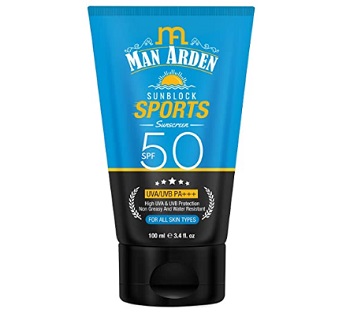 The men's sports sunscreen with SPF 50 is ideal for daily use. Suitable for athletes, sports people and for men who spend long time under the sun exposure, it has a formula that protects from varied ultraviolet rays, i.e. UVA and UVB. One need not to worry about the texture as this being water resistant, protects the skin for long hours and does not get wiped off. The product is light and non-greasy. Even though the product has final matte finish though at times, it can become slightly greasy, thus, best for combination to normal and dry skin. It can also be applied before swimming and while going for water sports. The packaging is good and the product works really well to cure the skin from the sun rays. Not to forget the sun tanning that this product helps to safeguard the skin from.
4. Man Arden Hair Fiber Wax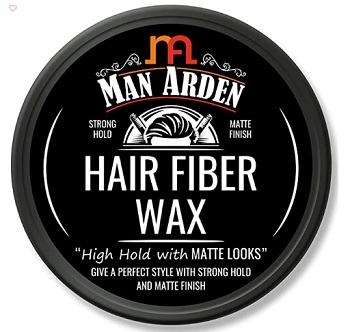 A Hair fibre wax is a much needed product to get matte look and to able to carry different hairstyles. It gives you a perfect hairstyle that requires the stronghold with matte feel. Devoid of the paraben, phthalates and sulphates, it's safe for the hair. It gives you good amount of strong hold that makes you style be with till the end of the day. The product comes in a jar packaging, which is easy to use. So it holds the hair all through the day and even during the workout sessions. Pea size amount of this product works really well. And unlike some of the hair wax, which may take a lot of time to rinse the product out, this has a formula which works all day long. Therefore, it gets washed out easily with the regular shampoo, so no special shampoos would be required.
5. Man Arden Caffeine De Tan Coffee Face Scrub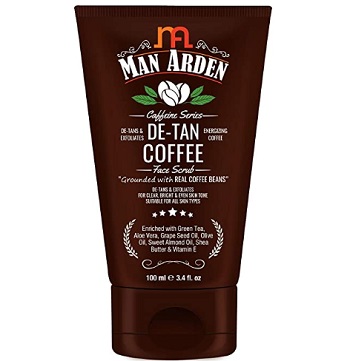 The anti tan coffee scrub is one of the most reviewed and rated products from this brand. It is rich with the key ingredients such as Green Tea, Grapeseed Oil, Olive Oil, Aloe Vera, Sweet Almond Oil, Shea Butter and Vitamin. The light moisturizer is nourishing and it also removes the dead skin cells and it is also ideal for men's thicker skin. It is rich with natural ingredient also does not contain the sulphates, paraben and mineral oils. Just apply it on your damp face and massage in circular motion for 2 to 3 minutes. Wash off with water. It is a product that gives you squeaky clear skin. Use it twice in a week and get even tone and clear complexion. The product is a very effective and also clears the unwanted extra oils from the skin. For oily skin, this is an excellent face scrub that also determines the skin.
6. Man Arden 7X Activated Charcoal Peel Off Mask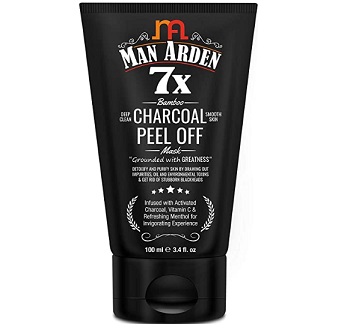 The charcoal peel off face mask is like an effective skin care routine that keeps the oily-acne prone skin clear. The product is very easy to apply, which you can do with in just 15 minutes. It takes around 15 minutes to get completely dried. Once the product gets dry on your face, peel it off. It detoxifies and purifies the pore clogged skin and draws out the impurities like bacteria, dead cells and pollutants. In the process of removing the blackheads and whiteheads it keeps your skin healthy and glowing. If in case, you are not able to peel it off at certain areas of your face, because of facial hair, you can wash away with mild lukewarm water.
7. Man Arden Beard Softener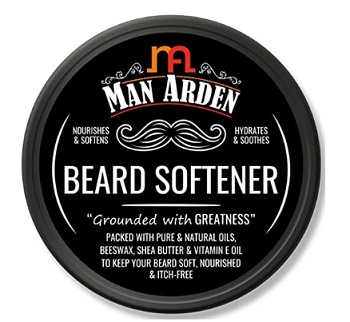 The beard softener is a great product that helps to tame down the dry and rough frizzy beard hair. At times, you may have noticed, how some men have smooth and manageable beard. Either they have naturally soft beard hair or they use a good beard softening products. A beard softener is a product that is rich with essential oils and hydrating ingredients that give you smooth beard hair. If you have fairly thick beard and you require something that can make the unruly hair smooth, then this product is really recommended. Harsh climate and hot weather condition at times makes beard hair dry. It has a pleasant mild smell that lasts for long time. Apply it on your beard and then comb the hair. It's 100% natural and organic product free of paraben and fillers and contains natural ingredients only such as shea butter, Vitamin E beeswax and more.
8. Man Arden Hydrating Face Cream For Men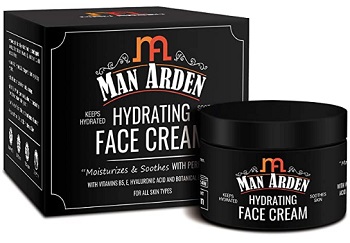 This hydrating face cream for men has very skin conditioning ingredients. The key ingredients are Vitamin B5, Green Tea, Sweet Almond Oil, Avocado, Strawberry, Cucumber and Shea Butter. It also contains Hyaluronic acid, which is well known to retain the moisture in your skin. It is a non-greasy product that gives the much required hydration. It is one of the best men's face creams for dry and dull skin. Apply two times in a day and feel the smooth and supple glow on the skin. So it keeps your skin free from the pollution affect and does not let it get dry. So this is one of the best creams for natural glow as well especially during the winters, when the dry skin gets even trying.
9. Man Arden 7X Activated Charcoal Face Wash Brightening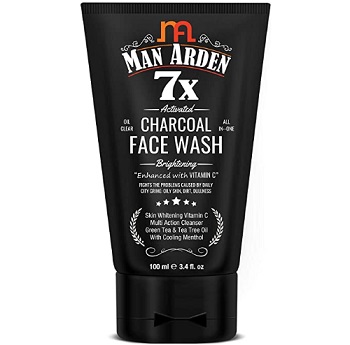 Charcoal face wash is an excellent product for men and women with oily and acne prone skin. This product contains activated charcoal, Vitamin C, Green tea, Tree oil and cooling menthol. The product fights the problem caused by everyday dirt, dust, pollutants and oils. Rich with Vitamin C, it provides maximum clarity of your skin. With 100% organic formula, the product is safe for all skin type. It removes the harmful pollutants of the skin and oily skin just becomes clear and clean. The charcoal face wash because of its texture helps to clear the oils.
10. Man Arden Activated Charcoal Shampoo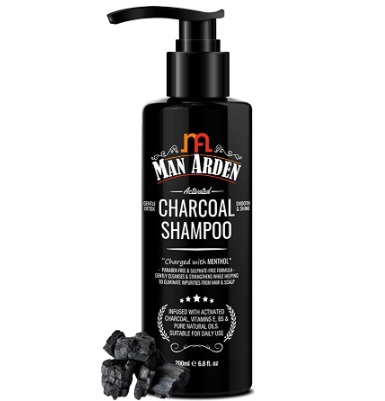 Activated charcoal shampoo with Argan oil makes this product a high rated. A blend of herbal and organic ingredients including Organic Argan Oil, Avocado Oil, Coconut Oil, Vitamin E and Almond oil, this product helps to repair and strengthen the hair. Charcoal is known to draw out the sebum built up, product residue and even the dirt and dust. The product works extremely well for dry thinning hair and even for the oily hair. For oily hair this product can be applied on daily basis because it is also free of chemicals. It is one of the best sulphate free shampoos for men available in the Indian market.
11. Man Arden Strong Hold Hair Spray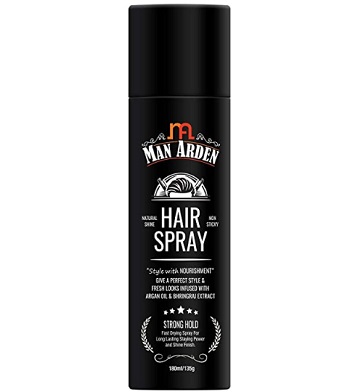 You can style the desired hairstyle, using this easy to apply hair spray. It is rich with ingredients such as Argan oil and Bhringraj, therefore while it helps to keep the hair in place; it also gives them an nourishment of the organic ingredients. Free of chemicals, that are harmful for your hair, it is a product that is safe for application on a daily basis. However as the product is loaded with Argan oil Bringraj oil and Vitamin E, it helps to improve and accelerate the hair health over the time. Argan oil creates the layer on the hair cuticle which also prevents the damage.
12. Man Arden 7X After Shave Balm Spearmint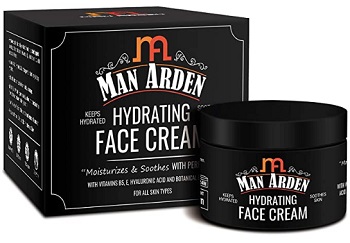 This after shave balm is a product that suits the irritated skin. While keeping your skin clean and smooth, this product helps to safeguard the skin against the stinging and burning sensation. You can apply this product and leave it. It is excellent after shaving lotion that has pleasant fragrance and cooling menthol. Application is really easy and you just need a little bit of the product. Rashes, burns and irritation is a common thing that men experience. Using this shave balm can definitely help. It also contains Hyaluronic Acid, which works against the shaving, burns and gives relief to the skin.
So these are the best Man Arden products available in the Indian market.