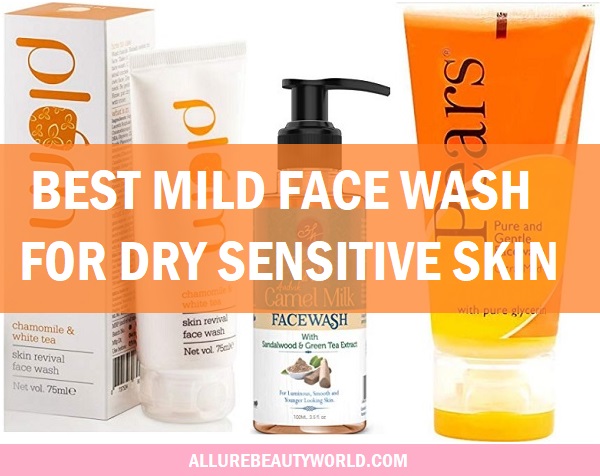 Mild face wash can be the best bet for your dry and sensitive skin type. Choosing the good face wash for your sensitive skin is critical. Cleansers play a big deal in making your skin care routine. In fact, half of the skin battle is won, when you pick up a suitable skin cleanser. In today's post, I will talk about the best mild skin face washes for the dry and sensitive skin type in India. When the weather is cold or very hot and harsh, the skin changes and gets some specific issues. Like during summers, your sensitive skin may experience sunburn, therefore, you need to have a mild face wash that can soothe the skin. While during the winters, a facial cleanser which hydrates yet combat the effect of chilly weather is suitable.
Even if you are struggling with acne on your dry sensitive skin, these can help you out.
Best Mild Face Wash Brands for Sensitive and Dry Skin in India (2022)
So, here are the gentle or mild face wash for women and men that will certainly help you and dealing with your skin issues.
1. Plum Skin Revival Chamomile and White Tea Face Wash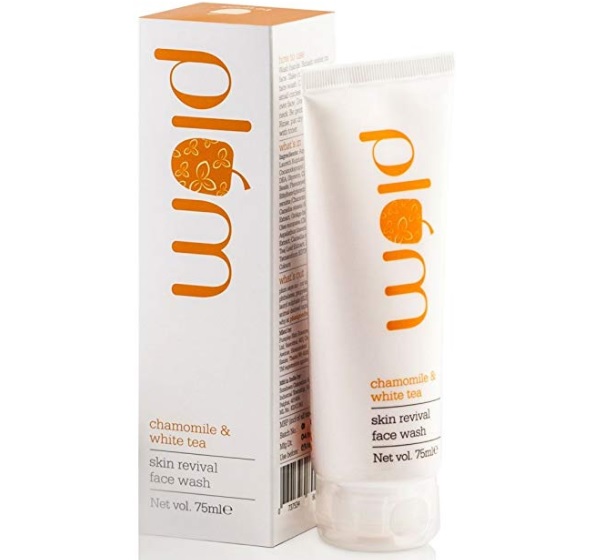 The cleanser is rich in chamomile and white tea. It basically works to purify skin with soap-free and natural herbs rich formula. The chamomile flower extracts present in this cleanser soothe and calm your sun-burnt and irritated skin. Therefore, this is the best facial cleanser you can use for summers, in case you have extra sensitive dry skin. And the most important thing, it's free of parabens, SLS and harmful chemical products which can be harsh for men and women with sensitive skin. It's the best mild face wash for combination skin to dry face.
2. Aadvik Camel Milk Face Wash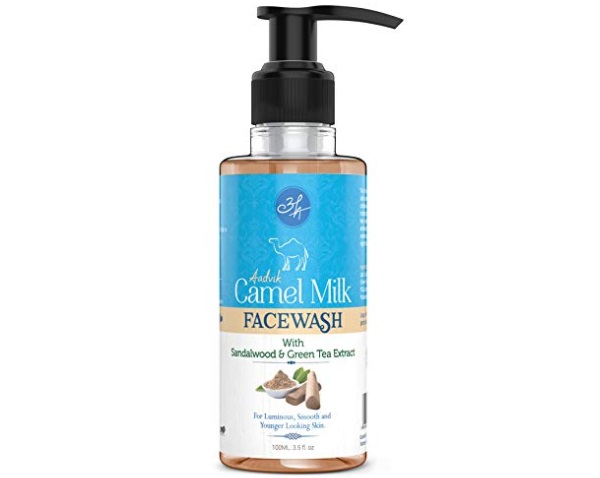 What about camel milk in a facial cleanser? Yes, this fights off free radicals and boosts your skin with freshness. High in antioxidants, this cleanser replenishes your skin and calms any issues that you have. Additionally, it contains sandalwood which is a known ingredient for encouraging the skin's natural repair mechanism. It maintains the right amount of pH balance, it makes your skin appear glowing and bright. The gel textured face wash works to get rid of the impurities. Your complexion gets bright and clear yet no dryness. It's the best mild cleanser for face in India, which is purely herbal.
3. Nivea Milk Delights Face Wash Caring Rosewater for Sensitive Skin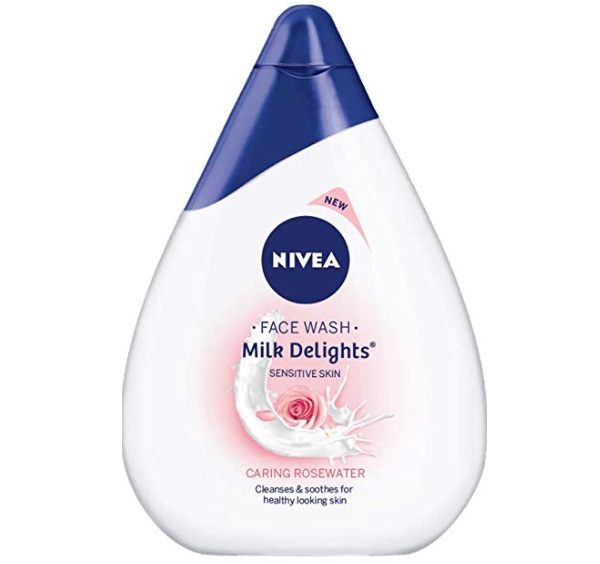 The latest launched from the house of Nivea, the product is exclusively formulated for sensitive skin. It contains rose water with milk, known to care for sensitive skin type. The extra gentle and soothing face wash gives complete hydration to dry skin. The skin moisturizing ingredients in this cleanser help your skin to stay healthy without the dry flakiness. Milk gently cleanses and rose water improves the tone and fights the itching and inflammation. It's the best mild face wash for sensitive skin.
4. Cetaphil Gentle Skin Cleanser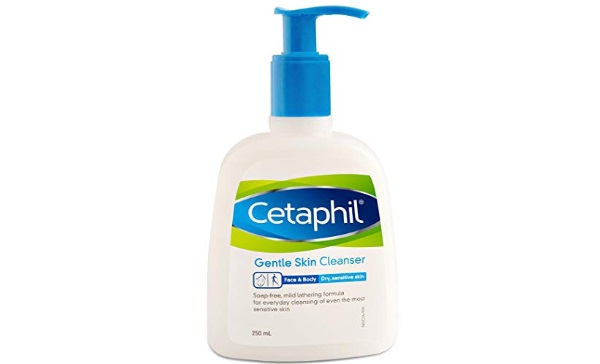 What can we say about this extra gentle skin cleanser? It is a dermatologist recommended product for people who have sensitive, dry or Acne prone skin. The non-irritating, soap free creamy cleanser is known to clear any dirt and residue from your skin. It's a non comedogenic cleanser that does not glow your pose. It can be applied daily twice on your dry sensitive skin or as required. It's the best mild face wash for dry skin in India.
5. Pears Pure & Gentle Face Wash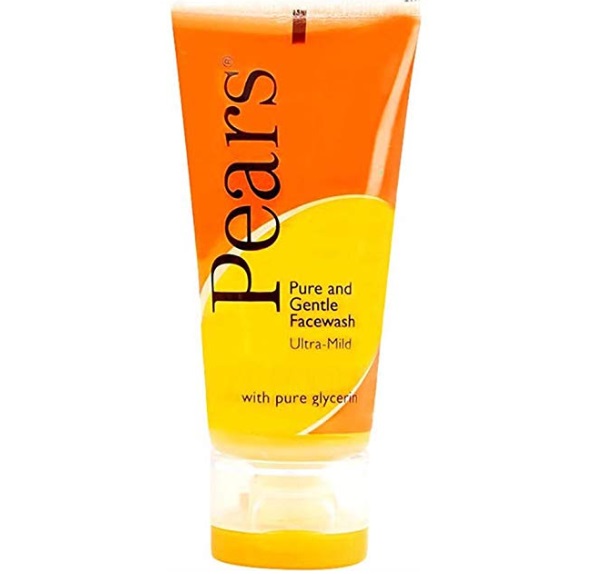 Pierce is one of the most popular and best gentle face wash in India. It's made to combat the issues that one experiences when they have dry and extra sensitive skin. It reality moisturizes the skin for a smooth feel and deeply cleanses away the dead skin cells and impurities. It is a soap-free formula which does not dry your skin after application rather hydrated with glycerin extracts. It gives you fresh and renewed skin without the itchiness or dry patches. It can be applied twice in a day for better results. It contains natural oils and glycerin that are known as skin healer and nourishing agents.
6. MCaffeine Naked & Raw Coffee Face Wash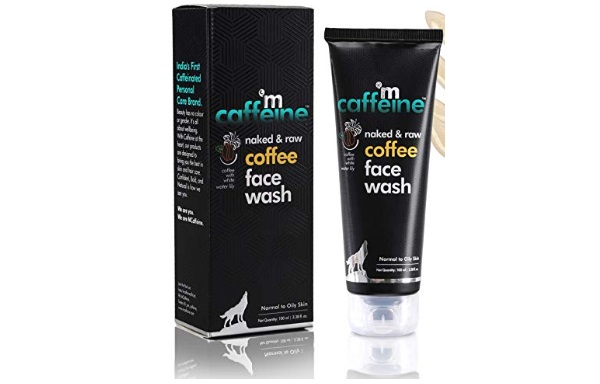 The mild face wash is made for normal to oily skin. It contains coffee to ensure dead skin free skin complexion. It also minimizes the chance of acne formation and other skin issues like blackheads, whiteheads and blemishes. Every cleansing formula of this coffee face wash scrubs away dust and dirt along with the excessive oils. It reveals beautiful clear skin. It also increases the quality and production so that we can get to enjoy youthful skin. While it is light on pocket, it also ensures that this face wash is SLS, paraben and Mineral oil free. The cruelty free product is one of the best face wash for sensitive skin with mild acne.
7. Lakme Blush and Glow Strawberry Gel Face Wash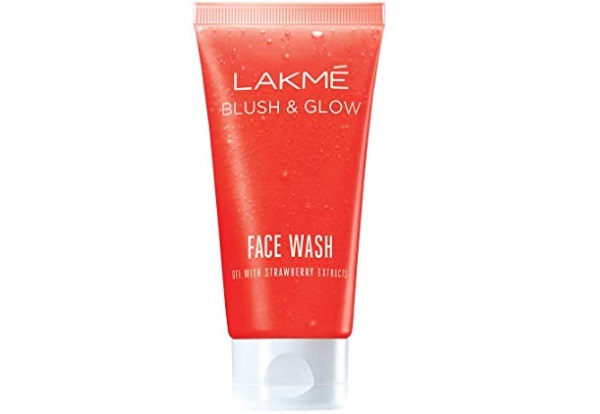 With strawberries as the main ingredient, Lakme face wash, is bound to give you glowing skin. Formulated by the Lakme salon experts, this is enriched with rich strawberry extracts. Loaded with antioxidants and fruit extracts, it cleanses your skin washing away the dirt and impurities while making sure that the skin stays glowing and fresh. It also gives a boost of brightness to your skin, while maintaining the hydration. You can apply it twice in a day.
8. The Moms Co. Natural Vita Rich Face Wash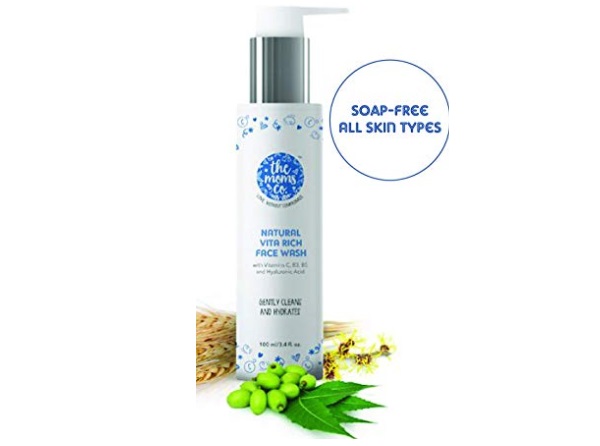 It comprises of Hyaluronic acid, Vitamin C, B3 and B5, this is mild facial cleanser for dry skin with Neem extracts and witch Hazel. It is open pores and keeps your pores clear. In humid weather, it ensures your skin stays soft and free of the dirt and dust. You can also expect to see improve the complexion. Vitamin richness makes it one of the best soap-free and gentle face washes in India. It contains olive oil as a base and hydrolyzed oat proteins. I would recommend it for the oily to acne prone skin. Packaged in a pump dispenser, it is extremely easy to use. The product is free of mineral oil, sulphates, parabens, synthetic fragrances.
9. Himalaya Moisturizing Aloe Vera Face Wash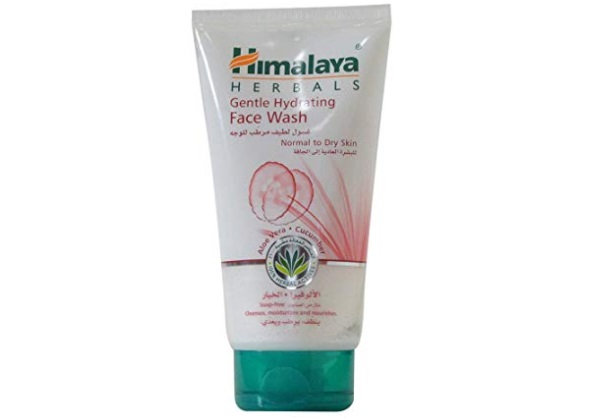 The gentle cleanser contains aloe vera with Vitamin E.  Aloe vera is considered the best keep the itch and irritation prone skin smooth. It can be used twice in a day to keep it soft. It is the best mild facial cleanser for winter dryness and sensitive skin. The soap-free formula replenishes the lost moisture from your skin and eradicate stretchy skin condition. With cucumber, it lightens and tones your skin.
10. Greenberry Organics Rose and Jojoba Oil Foaming Face Wash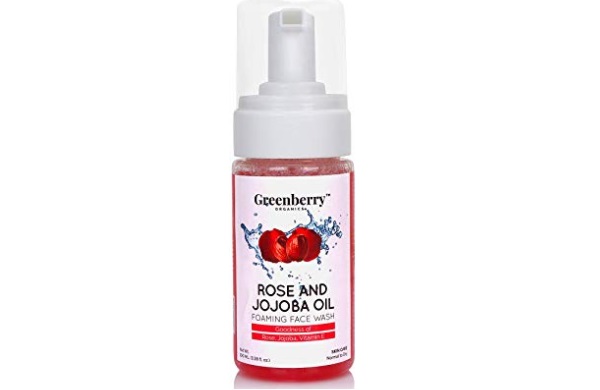 The organic mild face wash is a foaming one that contains the goodness of Rose, Jojoba, Vitamin E. The product is known to effectively cleanse your skin without the dryness which is a must have for your facial cleansers. It is suitable for extremely dry and sensitive skin that is prone to breakouts. It's astringent properties help to heal the skin and prevent the acne on dry face. Even for sun burnt skin, this facial cleanser works by maintaining the softness and preventing the itching and burning sensation. The ultra gentle formula is suitable for even the most sensitive skin types. 100% free of soap and parabens this foaming cleanser maintains pH level.
Hope this, list of the best gentle face washes in India for dry and sensitive skin, help you out. The best mild face wash in India is that we have shared above are mostly for sensitive dry face type, however, few of the options work for oily sensitive skin that were mentioned as well.