Neem powder has been used since ages to improve the skin and hair related issues. It has both beauty and health benefits, though here we're more focussed on the beauty benefits of neem powder. We've created this list that talks about the best Neem powders available in the market from reputed brands. You can make Neem powder yourself at home, but we agree that the process can be time consuming. Therefore, it's better that you get readymade Neem powder and use it for your beauty recipes. The best beauty benefit that Neem powder gives you is to prepare face packs and hair masks. It can deal with dandruff, acne, pimples, itchy scalp and even dark spots.
To heal acne quickly from the face and body, applying neem packs regularly not just minimizes the inflammation but the scars and marks left by the acne breakout.
Having said that, let's take a look at the best Neem powder brands in India
List of The Best Neem Powders in India (2020)
1. Heilen Biopharm Neem Powder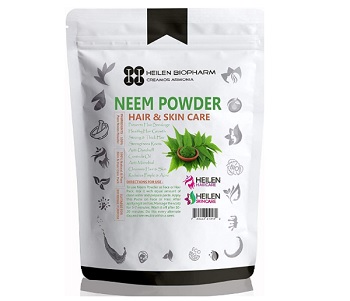 The Powder is 100% pure and is used for hair pack and anti acne face packs. You can apply the paste of this powder with rose water on your hair and face to get rid of dandruff and acne faster respectively. Apply the paste on the face and wash it after 20 minutes. It's a sure shot remedy to get rid of dark spots and acne without doing a lot.
2. Organic Neem Leaves Powder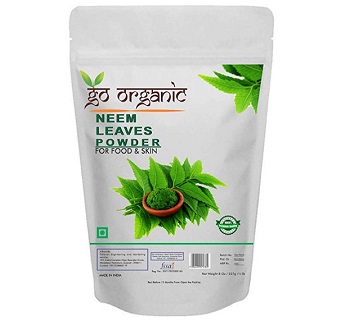 The Neem leaves powder is for food and skin. It's a premium quality product which is a fine powder made of wild neem. Rich in vitamin C and antibacterial properties, it's a miracle product for people with sensitive and oily skin. When you're dealing with excessive oily skin, applying Neem and fullers Earth powder pack helps to decrease the oil production.
3. HA&F 29 Organic Neem Powder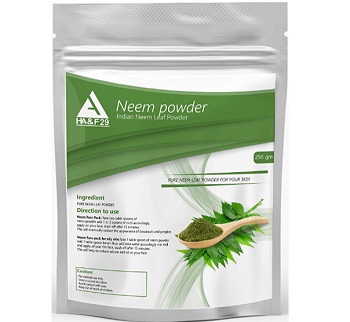 The product is pure and organic without any chemicals. Make a paste of two spoons of neem powder with yoghurt. Apply on the skin and keep it for 15 minutes then wash. Perform this remedy to three times a week until your face gets clear of pimples and breakouts. This is one of the best ways to clear excessive oil and acne from the skin.
4. Indus Valley Neem Powder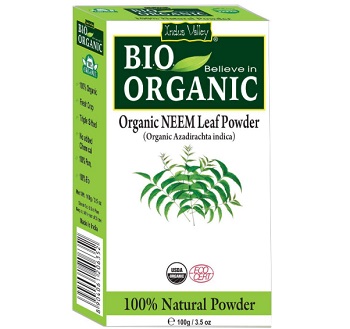 The organic neem leaf powder is suitable for skin and hair care recipes.  It contains natural ingredients without any chemicals and fillers. It reduces the skin pigmentation and removes the blemishes faster. In fact, one can also utilise the power of neem leaf powder to get rid of the lice and itchy scalp condition. Neem powder and orange peel powder together works as an excellent face scrub for oily skin to get rid of the blackheads.
5. Natural Health And Herbal Product Neem Leaves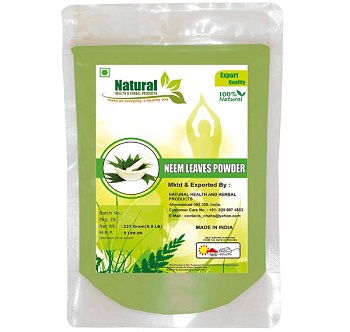 The natural Neem leaves powder is made with organic and pure neem leaves without the use of any fillers or chemicals. It prevents blackheads and treats acne and pimples on the skin. While the product controls the excessive oils on the skin, it also moisturizes the skin. Neem powder is also wonderful in preventing acne and infections that are common when you have oily and acne prone skin.
6. Elemensis Naturals Pure & Natural Neem Powder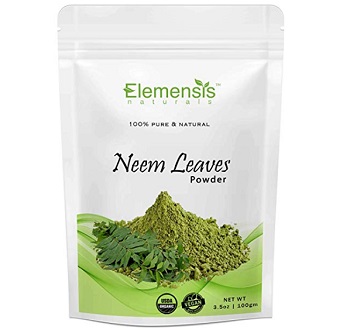 Powder has a good quality Neem leaves powder and assurance of a reputed brand. It comes in a zip pouch pack however it's better that you transfer the contents in an airtight container. Neem has been proven to be miracle for your skin and scalp. The antifungal and antibacterial properties of neem help to cure oily and acne prone skin. Neem oil kills the pimple causing bacteria hence, healing the infection within few days.
7. Healthvit Pure Organic Neem Peel Powder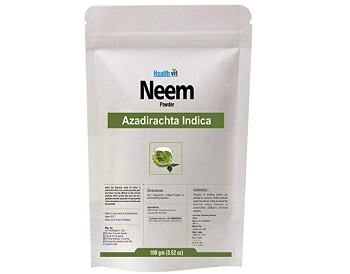 The organic Neem powder comes from a reliable brand. It's quite effective for skin and hair problems. Neem powder not just strengthens the hair roots but also controls the hair problem. In fact as per multiple researchers it has been shown that neem minimise hair loss related to DHT hormone in males. Therefore, it can be applied once in a week on your itchy and dandruff prone scalp.
8. Garlico Herbal Neem Powder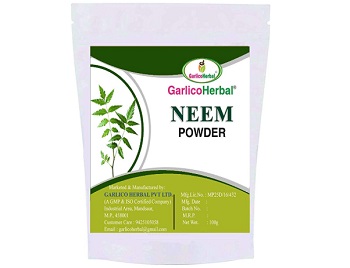 This neem powder is free of fillers and chemicals, colorants or preservatives. It has the natural Aroma and colour that maintains the effectiveness of this product. Right from taking care of your itchy dandruff loaded scalp to clearing the breakouts and pimples, it's one of the best neem powder for making homemade neem face packs.
9. Herb Essential Neem Leaves Powder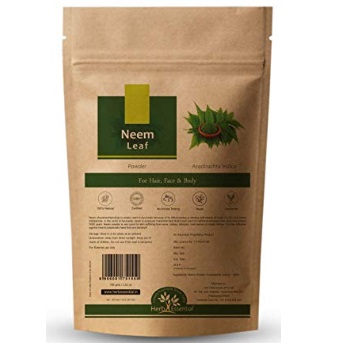 Herb Essential Neem powder is a high-quality powder which is suitable for face, hair and body. Your body can also get acne and boils, especially during summer season. It happens because of sweat and dead skin cells used by bacteria to thrive. Therefore, to get rid of all those problems, you can also apply neem body pack while you are in the shower. It's 100% natural, certified and vegan product that is not tested on animals.
10. Foodherbs Vepam Poo/Neem Flower Powder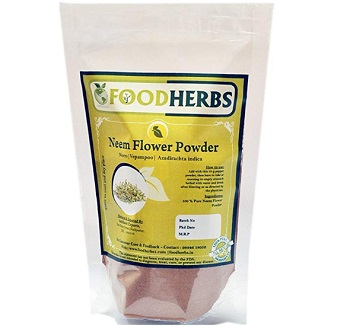 The neem flower powder is 100% herbal and does not contain chemicals, pesticides or artificial additives. It's a premium grade product that can be used for enhancing your beauty for skin and hair.
These are the best neem powder brands in India. You can buy any of these and they would ensure that you are getting a high quality product free of those fillers and paraben or even the preservatives.
Just to let you know Neem powder goes really well with other herbal ingredients like multani mitti also known as fuller's Earth, Orange peel powder, sandalwood powder. With multani mitti, neem makes a wonderful oil regulating face pack. Whereas, with the orange peel powder, it excellently removes blackheads and whiteheads. Applying neem and sandalwood paste makes skin fair and reduces dark spots.