Once you reach your 30s, the quest to find the perfect anti aging night cream for 30s becomes intense. This is the time when both men and women must focus on the anti aging skin care. It's the time when collagen and elastin protein synthesis tends to decrease. Using anti aging night creams in your thirties helps to promote the growth of collagen which diminishes fine lines, wrinkles and discoloration of the skin. People using night creams for aging prevention measure should look for the creams that contain antioxidants like Vitamin C, Vitamin E, Collagen, Retinol, Hyaluronic acid, Ceramidea, Niacinamide,  Elastin and more. There are so many different skin care and anti aging products that contains potential age preserving ingredients.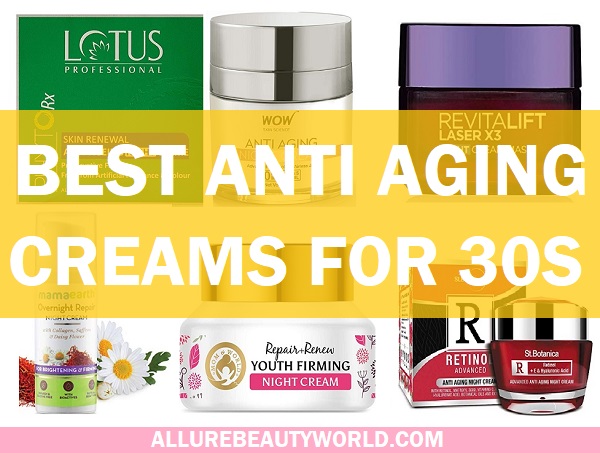 List of Best Night Creams For Women and Men in 30s in India
1. Lotus Professional Phyto Rx Skin Renewal Anti Ageing Night Cream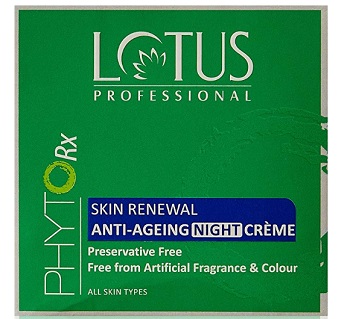 The anti aging night cream is preservative free and does not contain any chemical that can harm your skin once applied regularly. Rich in Amlaberry and punarnava root extract, this helps to diminish dullness, uneven skin tone and discoloration. So when you wake up in the morning, you get a dewy looking skin. People in their 30s can try this anti aging night cream. It can be applied by both men and women and it safe to be used as an premature age delaying product which will give natural glow on the skin and is slightly on the moisturising side therefore, it's best suitable for normal to dry skin.
2. WOW Anti Aging Night Cream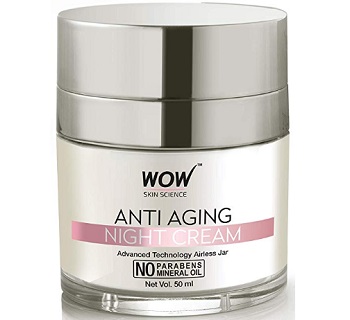 Wow anti aging cream is free of parabens, minerals and chemicals, when it's safe for even the sensitive dry skin. As it is totally free of chemicals, it maintains pH balance and it's perfect to be used as an anti aging cream for normal, oily to sensitive skin. With reviving the skin, it boosts the skin elasticity and minimise fine lines, crow's feet and deep wrinkles over the forehead. Using the product daily at night works on the skin layers to stimulate collagen synthesis, required to maintain supple and tight skin complexion. The budget anti aging night cream gives good results within the first two continuous application.
3. Mamaearth Skin Repair Night Cream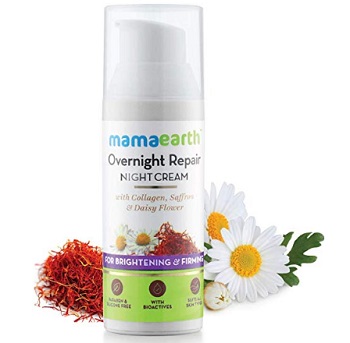 With an intense creamy and moisturizing formula, the product is suitable for normal to dry skin. With collagen, saffron and daisy flower extracts the repairing night cream is perfect once you hit 30w. Free of the minerals, petroleum, paraben and sulphates, the anti aging product is dermatologically tested and hypoallergenic. In fact, the brand is one of the first Asia as a certified brand, free of all the above mentioned chemicals. As it is loaded with almond oil, olive oil and other essential oils, it's best kept for dry skin.
4. Pond's Age Miracle Wrinkle Corrector Night Cream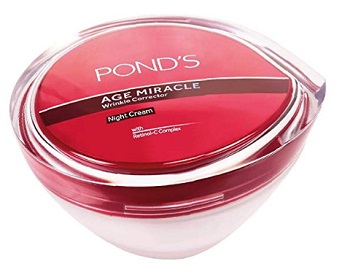 Anti Wrinkle Corrector Night Cream comes with retinol C Complex. So once you step in early thirties, this is the high time, you start using retinol products. Retinol helps to act on the upper skin layers to promote cell renewal and the cycle at which the dead skin cells shed and new cells renew. The anti aging cream is actually a night fairness cream that also has age control properties. Apply it every night after cleansing the skin and rinse in the morning. As it has light texture, it's also suitable for oily to combination skin.
5. Lotus Herbal Nutranite Skin Renewal Nutritive Night Cream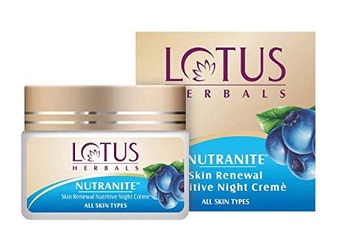 For people with extra dry skin in their early thirties, this Lotus Night Cream is excellent with moisturising properties. With extremely creamy and hydrating formula, it helps to repair the damage caused by pollutants and environmental factors. In fact, the damage caused by photo damage and toxins is also reversed with the help of these anti-aging cream. It is actually a very popular choice for people with extremely dry skin. With the skin tissue regeneration, it restores the firmness of your skin. You wake up with the dewy and velvety skin.
6. Mom & World Repair + Renew Youth Firming Night Cream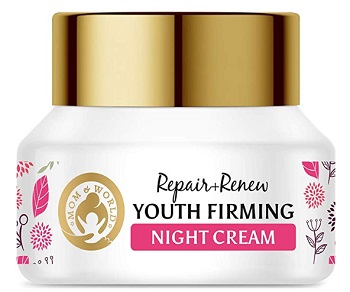 The youth firming night cream is actually one of the best rated skin tightening creams in India. Suitable for people in their mid twenties, it helps to lighten the dark spots and hyper pigmentation. Rich in lemon and orange essential oils, the cream renews and gives clarity to patchy skin. It contains shea butter, cocoa butter, avocado oil, grapeseed oil, wheat germ Oil and sea buckthorn along with aloe vera. So these potential ingredients work on your skin's hydration and boost the elasticity. This anti aging night face cream is suitable for all skin types according to the brand however the product works better on normal to dry to combination skin. With safe ingredients, it's suitable for people with extremely sensitive skin.
7. Himalaya Herbals Revitalizing Night Cream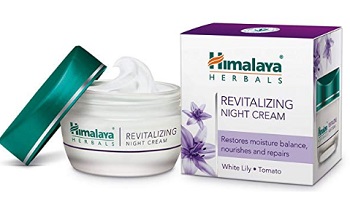 If you are looking for a very affordable anti wrinkle night cream with enough of the moisture for dry skin, Himalaya revitalizing night cream is a good option to try. With white lily and tomato, this antioxidants and Vitamin C rich product is an excellent choice if you have dry skin with spots. It firms the skin to erase the signs of aging and gives glow and refreshed skin complexion. This anti wrinkle cream also acts as a natural barrier against moisture loss during the dry winter nights.
8. Nuray Naturals Vegan Night Cream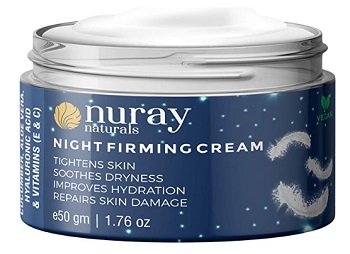 If your skin starts to sag even during 30s, a night firming cream would be the best option. This cream tightens the skin and soothes dryness. With a formula rich in aloe vera, cucumber, Vitamin C and  hyaluronic acid, it improves fine lines and sagging skin. The cream stimulates the  collagen production and restores the moisture loss all through the night. The ingredients are rich and intensely hydrating because of which it treats dryness during cold winter season as well. Use it on your face and neck.
9. StBotanica Retinol Advanced Anti Aging Night Cream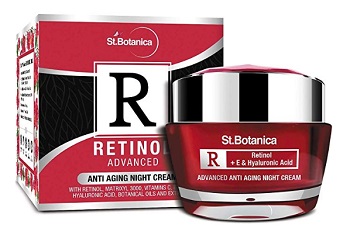 The retinol loaded anti aging night face cream comes with Vitamin C and Hyaluronic acid. So once you reach your 30s, this product helps to make your skin younger for long. Not only it reduces fine lines, but also acts on your damaged skin to repair it. With that it means it treats the photo damage and environmental induced damage. With no parabens and perfumes, it's a creamy and hydrating product.
10. L'Oreal Paris Revitalift Laser X3 Night Cream Mask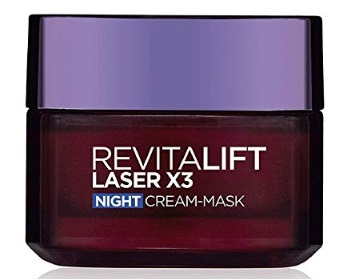 L'Oreal Paris Revitalift night cream is an intense moisturizing mask for dry skin. It stimulates your skin cells and refines the texture. As you age, skin pores start to get enlarged. This can be tackled by using this rich cream. It fights the skin overnight and gives you visible smooth and wrinkle free look the next day.  The product is dermatologically tested and is suitable for all skin types and that includes dry and oily skin both. With 3% Propoxylane, it stimulates skin fibre synthesis and shrinks the pores.
Once you step in your early 30s, it's the time when you must start to invest in good anti aging skin care. By doing so, you would definitely ensure that your skin stays younger even when you reach your fifties. This is the phase when by using the suitable anti-aging creams and products , one can keep his/her skin supple and smoother. Not just that, these products also make skin capable to combat  the day-to-day stress, damage, environmental stress and even the damaged because of chemically loaded products use.