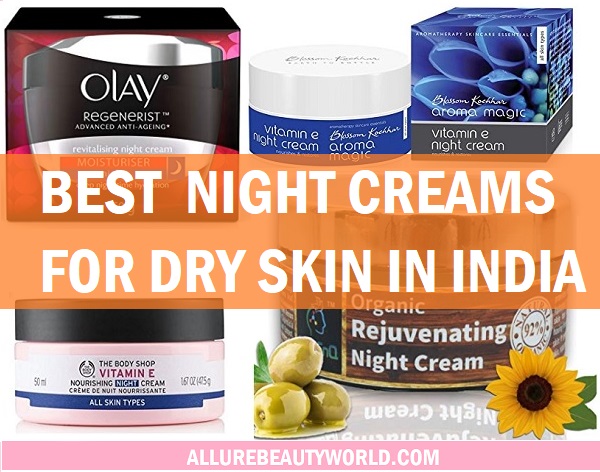 Dry skin looks chapped and flaky, a night cream for dry skin can definitely help. The problem of dryness gets exaggerated during winter season. When your skin is dry, it also gets more prone to get fine lines and wrinkles. Other than that, what about the glow? This is why; it becomes extremely important that you use a night cream that helps to maintain glow and hydration on your skin. And when I say night creams, it means that the entire night the creams are going to repair and reinforce the moisture in your skin layers. Out of the so many night creams available in Indian market, I've picked up the best night cream for dry skin in India. And when we say, dry skin it also means that you might be someone in your 30s. Therefore, you should be using anti-aging night creams for dry skin. So, depending on this, we have listed different night creams for dry skin that you can choose based on your age and skin preference.
Top 10 Best Night Creams for Dry Skin in India (2022)
Harsh winters and hot summers snatch moisture from your skin, making it dull and lifeless. Dryness is a condition that no one of us would like to see on our face. Therefore, these dry skin night creams and lotions in India will aid in the moisturization and anti aging benefits.
1. Olay Total Effect 7 IN 1 Anti Ageing Skin Cream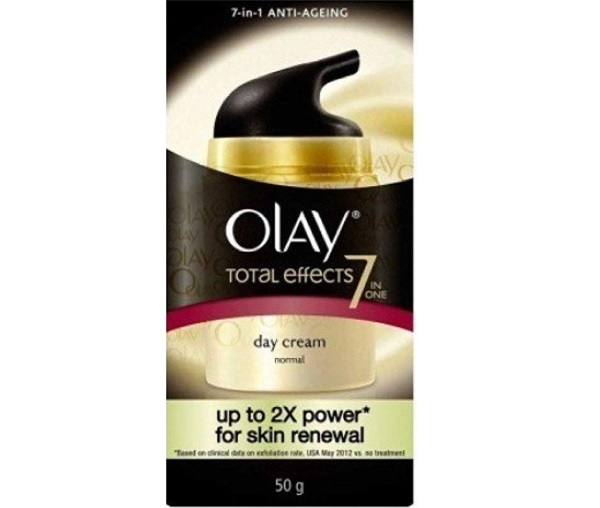 Olay Total  Effects Anti-aging night cream is primarily for people with dry to normal skin. It comes in a pump dispenser that is really easy to use and a lot hygienic. The only downside is that, you won't be able to use the entire product and there is no way that you'll known when the product to going to finish. The cream comes with a well-balanced formulation that keeps your skin tone supple and plump. While it works on the 7 signs of aging, it also ensures that your skin stays moisturized for a long time. When applied every night, it reduces the dark spots and pigmentation. On applying the product, it gets inside the skin layers easily and doesn't leave a sticky layer. Having said that, it is one of the best night creams for dry skin in India. I would definitely advice it for the people who are in their late 20s to mid 30s.
2. Mamaearth Skin Repair Night Cream for Glowing Skin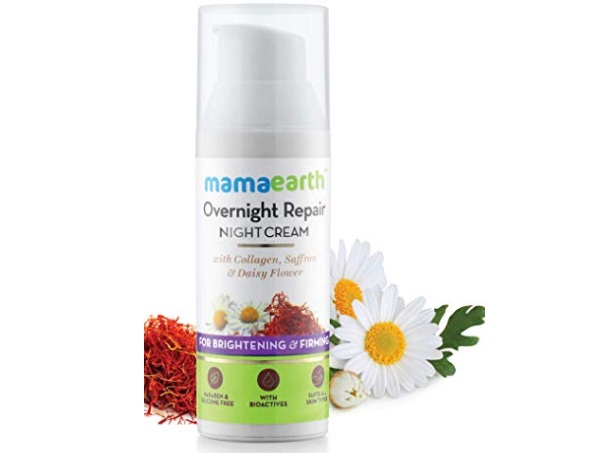 When your skin is dry and lackluster, the first thing that you would want is the glow. This cream contains Saffron and Daisy flowers extract along with collagen. You must know how important collagen is to maintain a healthy skin tone. This protein is known to bound the skin layers together and resulting in a well toned skin. Therefore, the skin cream has received high rating from the users who've have used it. Honestly, this is a wonderful night cream for curing dry face. Other than that, it contains the bioactive that nourishes the skin layer. Products like shea butter, almond oil, olive oil repairs the skin while retaining the moisture balance. It lightens the age spots and decreases the pigmentation. It's the best hypoallergenic and paraben-free night cream for mature and aging skin in India. I would recommend it to people over 30 years of age.
3. Lotus Herbals YouthRx Anti-Ageing Nourishing Night Creme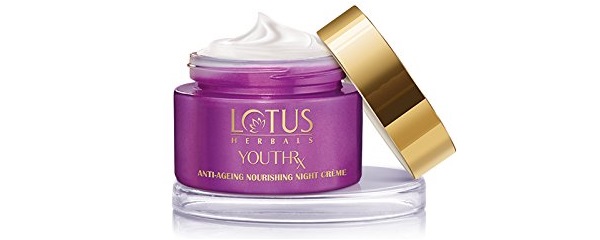 This cream has all the rich vitalizing nutrients which is effective enough to hydrate your dry and rough skin. While it works on dry skin, it also reduces the fine lines and wrinkles. It gives you younger looking skin every morning by plumping it up. My mom used this cream's multiple packs and she was quite satisfied until she switched over to a new option. To remove dry patches and firm your skin overnight, you can use it daily. Apply at every night and notice the results the next day. The affordable night face cream for dry skin has been rated high by the users who have used it. This is just to make you sure that you choose the best for yourself. It can be used by both men and women over 30s and mid 20s.
4. Plum Green Tea Renewed Clarity Night Gel
–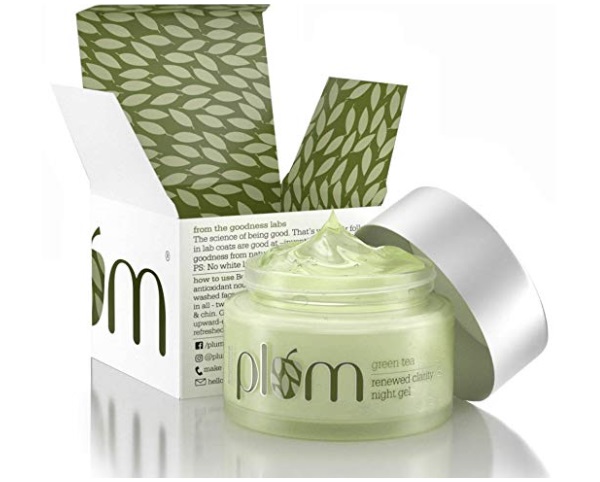 Plum green tea renewed clarity night gel is a gel cream that can be applied by people of all skin types including the oily skin. Due to its hydrating nature and argan oil as key ingredient, this is also a suitable night cream for dry skin. It doesn't have any parabens, SLS and other harmful ingredients which can disrupt the pH balance. Made with the goodness of green tea, clearly the night gel is best for skin repair and in keeping the skin glowing.
5. Lotus Herbal Nutranite Skin Renewal Nutritive Night Cream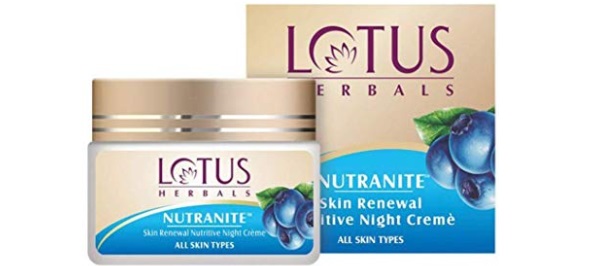 Lotus Herbal Nutranite skin renewal night cream for dry skin contains Blueberry extracts. These are rich in Alpha Hydroxy Acids, which are natural antioxidant and provide astringent and antiseptic properties to this product. Furthermore, it contains skin lightening and toning features. Just dot it all over your face and neck and massage gently. It can be applied every night for people with dry skin to get the immense moisture supply and to minimize dry patches. During winter season when your skin get extra dry due to weather harshness, you can certainly include this night cream in your skincare regimen for dry face. I bought this once as it says, it's for all skin types but I could not use this for more than 2 days because of my oily skin. So, people with dry face even in their 20s can try it.
6. Olay Regenerist Advanced Anti-Ageing Revitalizing Night Skin Cream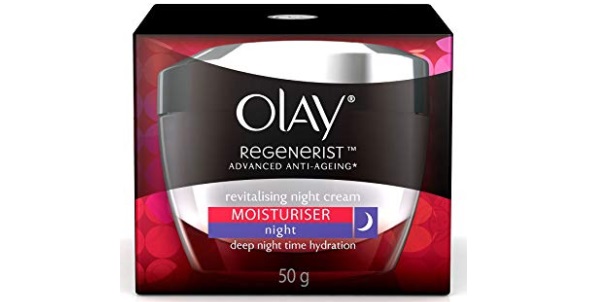 The next product is again from Olay. The brand is surely promising. This might be an expensive product but with a strong and powerful anti-aging ingredients, truly it is a night moisturizer that tightens the sagging skin. It is loaded with advanced amino peptide Complex that regenerates the skin surface cells and tissues. It delivers anti-aging ingredients 10 layers deep in the skin surface to retain a youthful look. It also contains Hyluronic Acid and Pentapeptide which works to target the wrinkles and lines. I would highly recommend this cream for aging dry skin and for people who are over 30 years of age. If you are in your forties then it is the best anti aging night cream for dry skin to fight the aging signs. After 40s, you seriously need efficient night creams for age control.
7. The EnQ 92% Natural 92% Organic Rejuvenating Night Cream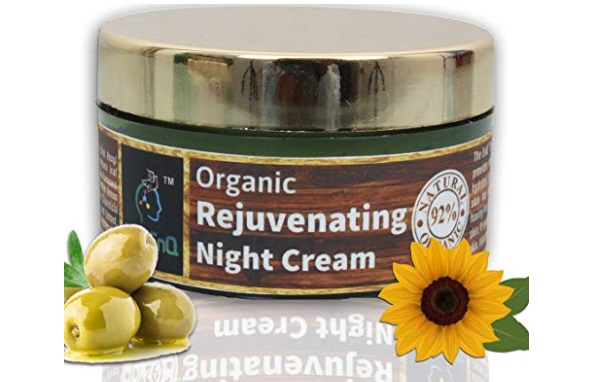 If you check the online reviews, you'll notice that this organic night cream is suitable for all skin type especially when your skin is dry. It has sunflower extracts along with olives which rejuvenate your skin. It is a paraben and mineral oil- free night cream for dry skin. It doesn't block the pores, yet it keeps the skin tone clear. As it is infused with antioxidants and ingredients like kokum butter and coconut oil, you can expect it to prevent stretchiness. It is one of the best night creams for extra dry skin in India.
8. Plum Grape Seed and Sea Buckthorn Nurturance Night Cream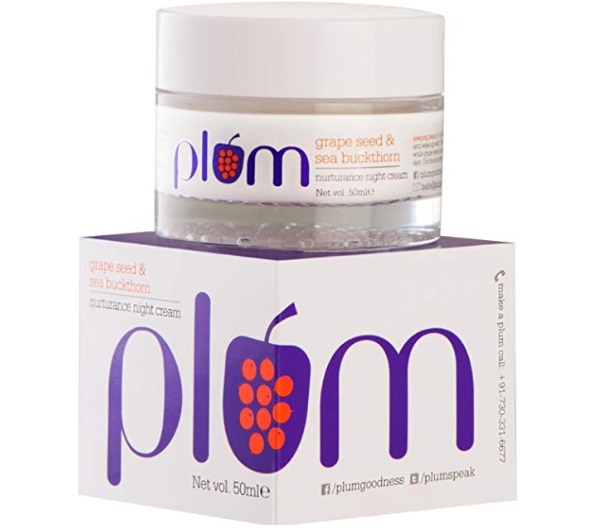 Plum Grape Seed and Sea Buckthorn Nurturance Night Cream is for dry-sensitive skin type in India. The night cream unleashes the power of sea buckthorn and grapeseed. Both of these ingredients are well known for their high beta carotenes and anti-oxidants like polyphenols. These are effective antioxidants containing the vitamins like A, C and E. As Plum products are PETA certified and paraben-free, this cream does not cause any type of irritation or rashes, even if you have sensitive skin. It is recommended for sensitive, normal, combination and dry skin. Sea buckthorn oil helps a micro level skin damage. The cream has highly moisturizing and heavy texture, this is why if your skin is very dry then it would be better however, if you are seeking a light textured cream then this may not be the best option.
9. The Body Shop Vitamin E Nourishing Night Cream 

The Body Shop Vitamin E nourishing night cream is best for dry skin in India. It's made for normal to dry skin as vitamin E in this cream is highly moisturizing. It prevents premature aging and damage from the free radicals. Therefore, clearly the cream gives superior moisture during winter season. It comes with the light and pleasant smell and nothing that overwhelms you. The only this is the price as The Body Shop products are expensive. Men and women in their 20s and 30s can use it.
10. Aroma Magic Vitamin E Night Cream

When it comes to Vitamin E night creams, I've have got another option for you. It is Aroma magic Vitamin E night cream. People looking for an affordable paraben and toxin free night cream with Vitamin E must try it. Having said that the product price is very affordable and due to its chemical free nature, it is one of the best night moisturizer for dry skin in India. It contains natural oils of sunflower seeds, grapeseed and peaches. Clearly, it'll give you silky and smooth skin when you apply it. It can be used by people of all age groups though 20s and 30s is the right age group.
These are the best night creams for dry skin in India, that you must try depending on your budget, age and preference. When your skin is dry Then extra care needs to be taken else you must notice that fine lines starts to emerge. And this become even more crucial When You Hit late twenties. This is why to maintain the glow and suppleness of your skin, use of night creams should be essential in your skin care routine.