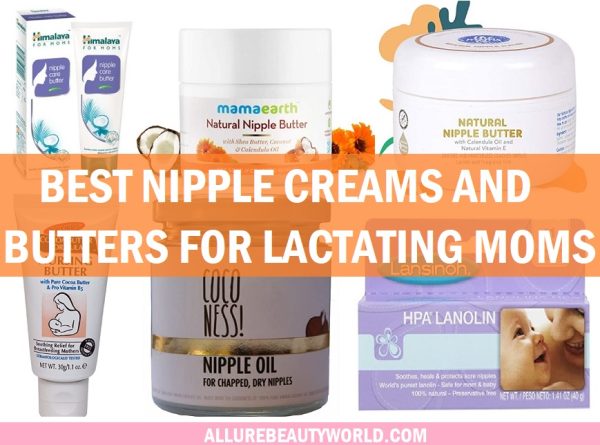 Breastfeeding mothers can experience problems like cracked nipple and soreness. Sometimes, harsh soap is used to clean nipples during breastfeeding. Enzymes from baby's saliva, water or even soap residue can remove moisture from sensitive nipple skin, thus making them sore and cracked. This can be really painful and irritating. This is why, applying something that can give relief is mandatory. A lot of women with painful nipple condition are willing to use a good nipple butter. Their easy application is what makes them good for nursing mother to get quick relief in the cracked, dry, sore and painful nipple condition.
How to Apply Nipple Care Butters
If you're wondering how do you use a nipple butter or cream, then here's the simple idea.
Take a pea-sized amount of nipple cream or butter onto the fingers and rub over sore areas.
Let it get absorbed for at least 10 minutes before wearing clothes.
Ideally use these soon after baby finishes nursing, or at night for better and faster healing.
Best Nipple Cream and Butters in India for Sore and Cracked Nipples
1. Himalaya For Mom Nipple Care Butter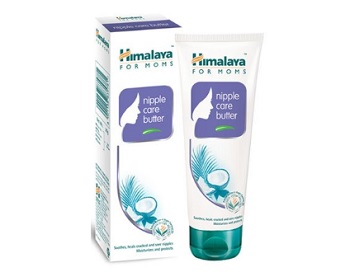 Himalaya Nipple care butter is a herbal formulation with the goodness of 100% natural oils. If one of the best nipple care product which is easily found in the market. Not only the product is affordable, it's also  non clogging but effective in treating the cracked nipples. The non-sticky formula is good for everyday use. It's also safe for the mother and baby while the mom is breastfeeding. The price of this product is extremely affordable and you can get it online and from stores. For breastfeeding mom's who are facing cracked or sore nipple problem, this is one of the best solutions available in the market.
2. Mamaearth Nipple Butter For Sore And Cracked Nipples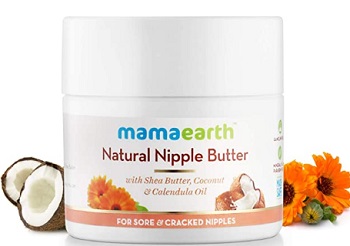 If you have sore and cracked nipples, then you can opt for this next product, Mamaearth Nipple Butter. It's a lanolin free non-sticky and 100% genuine and organic nipple care butter for breastfeeding women. While curing the common problems like sore and cracked nipples during breastfeeding, it keeps the nipple softer and any pain away. This is why, a soothing emollient base nipple care butter relives sore and cracked nipples. This product is rich in coconut oil, vanilla extract and shea butter which are widely accepted as great skin conditioners. As it's lanolin-free, breastfeeding mothers can safely apply this paraben free natural nipple care better.
Pros and Cons
Natural product

No harmful parabens

Lanolin free

A bit expensive

Availability can be an issue

Can be bought from online

Heals the sore nipples faster
3. The Moms Co. Natural Nipple Butter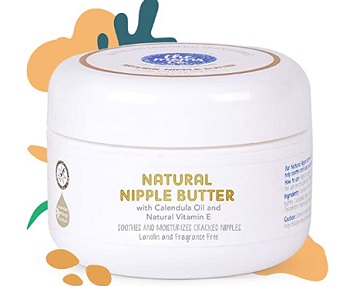 Next nipple butter is an all natural and safe product, that happens to be free of fragrance and lanolin. This is an Australian brand that is free of the toxins and allergens. The product is considered safe for nursing mothers and babies. The nipple butter is made using Calendula, Wheatgerm, Olive Oil, Vitamin B6 along with Vitamin E. It also has kokum butter but naturally restores skin elasticity.
Pros And Cons
Contains skin soothing calendula extract

Has wheatgerm oil along with Vitamin B6 and Vitamin E

Suitable for babies and mother

Lanolin free and fragrance free formula

Does not contain harmful chemicals
4. Palmer's Cocoa Butter Formula Nursing Butter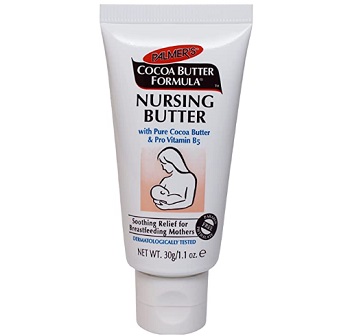 Palmer's cocoa butter formula is one of the best nipple butter that is rich in cocoa butter for breastfeeding mums. The nipple care product is rich in cocoa butter and Provitamin B5. It heals the dry nipples and quickly relives the peeling cracked skin. Cocoa butter gives extra nourishment. It's also a dermatologically tested formula that does not have any side effects. Price is also in budget and affordable.
Pros and cons
Affordable price

Available online easily

Easy to apply

Safe for babies

No harmful chemicals

Dermatologically tested formula
5. Lansinoh Nipple Cream for Breastfeeding Moms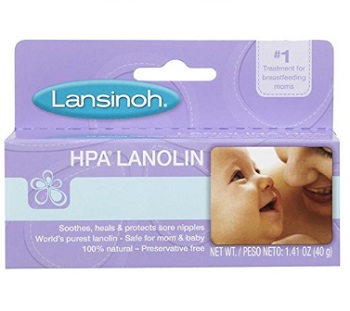 The product is BPA and BPS free and free of parabens, hence a natural product on your way. It cures and protects the irritated sore nipples and cracked skin. This cream is one of the best sellers in US and UK for breastfeeding mums. As the cream is safe, you do not have to remove it before breastfeeding. The reason, it's safe for the babies, because of its fragrance and colorants free formula.
Pros and Cons
BPA free product

Free of parabens

Cares for cracked nipples

Safe for babies

Free of artificial colours

Price is a bit higher
6. Coconess Mother's Ayurvedic Natural Skin Nipple Balm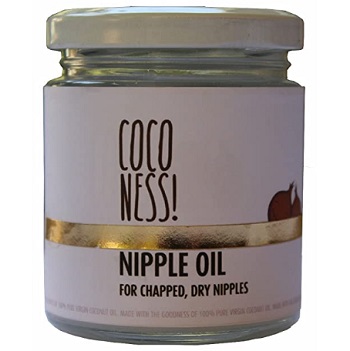 To heal those sore and cracked nipples that make the breastfeeding painful, this next product is extremely effective. This is a nipple balm which is safe as it's made from the natural preparation. Being rich in coconut milk and lauric acid, this product is edible and has food grade material. Therefore, it's safe for babies even when ingested along with the breast milk while breastfeeding. This nipple butter is made from 100% natural ingredients. Coconut milk along with coconut oil heels the cracked and dry nipples faster and mother feels no or less pain while breastfeeding.
Pros and cons
Easy to apply oil based formula

Perfect for dry cracked nipples

Ideal for lactating mothers

Food grade and edible

No mineral oil in this petroleum free product

Very affordable price
7. Earth Mama Angel Baby Natural Nipple Butter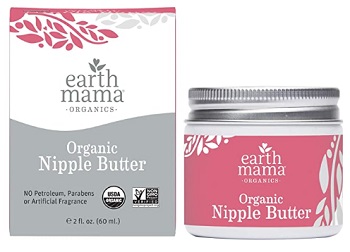 This next nipple butter is clinically tested. It's an organic nipple care product that is lanolin-free and has zero chemicals in it. Rich in the skin conditioning and healing calendula extracts, it soothes dry nipples. Mothers can apply it on after every feeding to ensure that the dryness can be cured easily and quickly. You do not have to wash it before breastfeeding. This butter can also be applied over dry elbows, knees and heels.
Pros and Cons
100% natural organic ingredients

No harm if swallowed

Safety product

No need to remove it off

100% lanolin free formula

Price is not that affordable
8. The Honest Company Organic Nipple Balm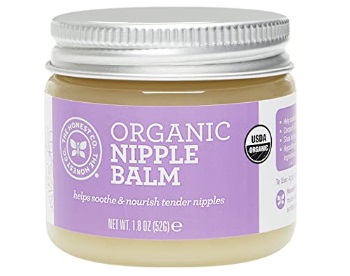 The Honest Company organic nipple care balm is made with the Food grade ingredient. The organic butter for both breastfeeding mother and the baby. Even if the baby swallows it or accidentally or it goes into the mouth, don't worry ! the product is safe.
Pros and cons
Natural product

Safe and reliable

Food grade ingredients

Expensive

Easy to blend

Relieves irritation
9. The First Years Lanolin Free Nipple Butter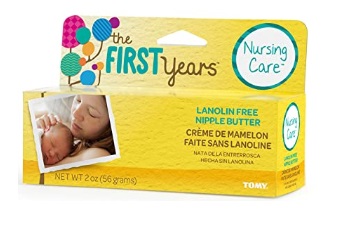 This nipple butter is a plant based alternative to linoleum yes, it's a gentle formula that is made from 100% Food grade ingredients. It's dermatologically tested and made formula, hence is considered safe. It really helps relieve sore nipples with a plant-based alternative to lanolin. In fact, the formula is also rich in essential milk proteins for advanced healing.
10. Mother Sparsh Nipple Butter Cream for Breastfeeding Moms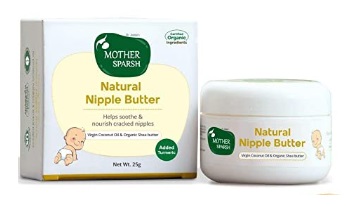 Mother Sparsh Natural Nipple Butter cream heals cracked, painful nipples of breastfeeding mother. The presence of essential oils in this organically made product for nursing mother, is highly soothing. Coconut oil and turmeric increases the healing process of sore and cracked nipples. As it doesn't contain petroleum, parabens and artificial fragrances, it is very safe. This Natural butter provides relief from irritation and cracked nipples and is safe for nursing mom and baby.
So, we hope this list of the best nipple butter and creams will really help you ease the problem of cracked nipples and peeling skin faster without affecting the breastfeeding or being harsh or harmful for the baby.