O3+ products have become really popular in a short span of time. Reader gets confused about the best products from O3+, this is why we created this post about the best O3+ products in India. 
Best O3+ Products in India
1. O3+ Plunge Natural Bright Glow Serum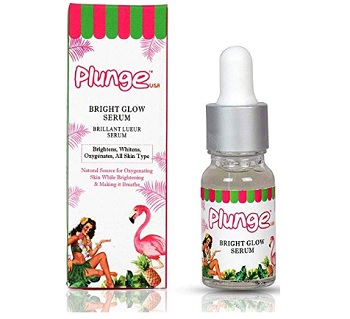 It contains the purest flower extracts & Vitamin C, helps in boosting the natural radiance and glow of all types of skin. It is a brightening serum that works to make skin even tone and fading the fine lines that ages you. It has Alpha hydroxy acids and hyaluronic acid. The serum is one of the best products to lighten the skin. It is known to treat the sunburn, suntan, pregnancy darkness and even acne breakouts.  Use it twice in a day to increase the skin tone clarity. It's Ideal for dull to dry skin types, it contains a blend of ingredients such as lactic acid from Greek Yogurt, Niacinamide and Natural Glycolic Acid to give multiple benefits of skin brightening and moisturizing.
2. O3+ Vitamin C Glow Peel Off Mask 2030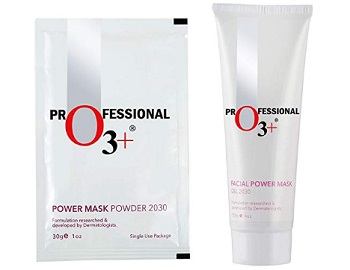 O3 plus Vitamin C peel off mask is yet another best rated product from this brand. It's suitable for all skin types. Vitamin C mask helps to cure blemishes, freckles, pigmentation and has whitening effect. Women who are experiencing blemishes and pigmentation after pregnancy find it really effective. The unique botanical blend helps to improve blood micro-circulation and easily absorbed in the skin layers. It is loaded with Vitamin C along with vitamins and proteins. It also absorbs the dirt and excessive oil to keep the skin refreshed and feel better.
3. O3+ Radiant Whitening Day Cream SPF 30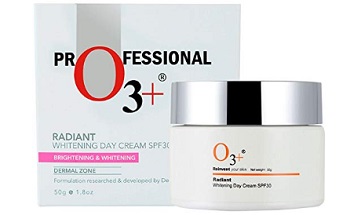 O3+ whitening day cream SPF 30 is the best whitening day cream that immediately makes the skin look brighter and moisturized. It reduces the pigmentation, red spots and blemishes on the skin within 7 to 8 weeks. Your skin becomes smoother with clarity. It doesn't have sticky or greasy residue therefore, is suitable for oily and other skin types. If you're looking for the best whitening day cream with SPF, this is the best option that you can go for.
4. O3+ Mattifying Gel Cream SPF 50 for Preventing Sun Tan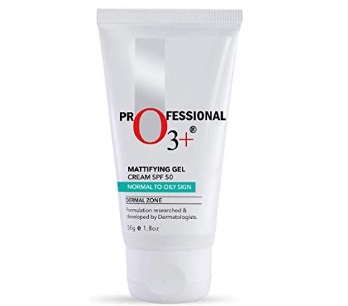 O3+ mattifying gel cream contains SPF 50. It is best for normal to oily skin as it gives you just the right amount of hydration and skin whitening benefits. So, basically it's has skin lightening effects and a matte formula that is very easy to absorb. So, this is the best gel cream with SPF in summer season for teenagers and people in their 20s. In fact, it also prevents the future acne and is a Dermatologist formulated product.
5. O3+ Blueberry De Tan Cream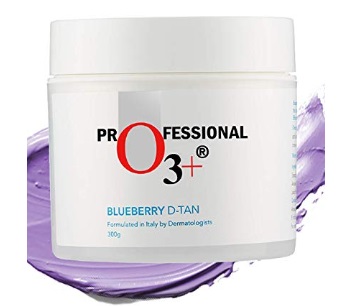 It is the best tan removal product in India. The reason being it contains Blueberry, essential oils and aloe vera extract that works on the dance and smoothen the fine lines. It is formulated in Italy and is perfect for all skin types. It's easy to apply and calms the skin. So the product lightens the skin and brightens it. It is suitable for dry to normal skin. Oily acne prone skin then you can try Cranberry D tan cream that is for sun tan removal.
6. O3+ Plunge Chocolate Glow Mask for Tan Removal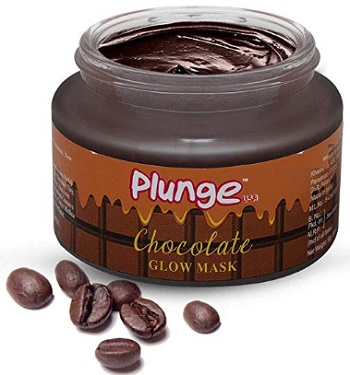 The chocolate glow face mask is for tan removal and brightening the dull skin. Rich in cocoa butter, shea butter and vitamins, it has detoxifying action on your skin. The dermatologically tested product is safe for sensitive and all the other skin type. It makes the skin clean and clear and loads it with natural nutrients.
7. O3+ Volcano Scrub for Exfoliation, Deep Cleansing, Blackhead Removal and Pore Minimization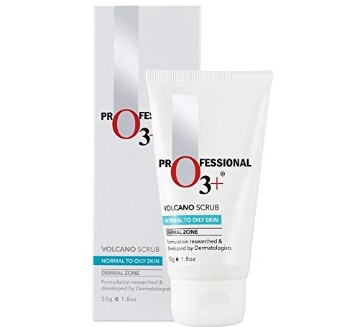 O3 plus volcano Scrub is the best blackhead removal face scrub for the dull and dead skin cells containing dirt and dust. So your skin becomes a fresh and radiant as ever. The antibacterial ingredients shield to protect the skin from pollution effects.
8. O3+ Agelock SPF 40 Multi-Vitamin with Flower and Herb Extracts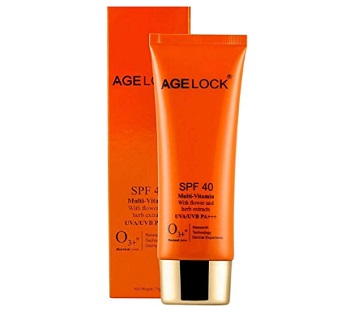 It's an age control product which contains multivitamin with flower and herbal extracts. It protects the skin from the harmful sun rays. It's a dermatologically tested product with SPF 40. The broad spectrum formula gives you total prevention from sun tanning and damage. It's a bit oily so if your skin is oily and acne prone then this may not be the best option to try rather you can try the matte gel cream that we shared above.
9. O3+ SPF 15 Day Cream Sun Protection Formula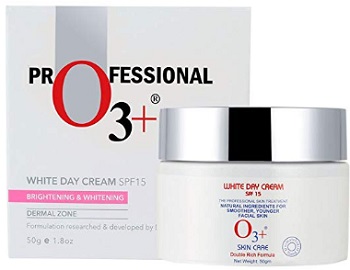 The day cream has SPF 15 and is for normal to dry pigmented skin. If you are looking for the best day cream for your pigmented skin then this is the best option. The cream hydrates and nourishes the skin without clogging the pores and gives you sunscreen protection with natural white look.
10. O3+ Skin Care Whitening Massage Cream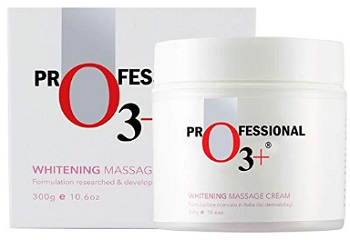 A lot of people would like to use skin whitening massage cream. So this is a best whitening massage cream that we have and is suitable for all skin types. The reason is the effective ingredients in this product like lactic acid from milk, hyaluronic acid, Vitamin C. All these helps to even out the blemished and patchy skin tone and improve the overall clarity and texture of the skin. It can be applied before going to bed week at night to improve the skin condition. Massage gently on your face and neck for 10 to 15 minutes then leave it. This is the best whitening products for both men and women.
So these are the best O3 plus products in India. Which is your favorite? Do comment.