As many beauty products are coming up in the Indian market, there is no dearth of good brands. But, when it comes to cruelty-free brand, there are very few.
Organic Harvest makes skin care and hair care products which are made from organic and certified natural ingredients, which is are 100% organic with no inclusions of sulphates, parabens or mineral oil. If you'd like to use Organic products for your skin and hair, then let's check this list of the best Organic Harvest Beauty Products available in India. We really like about this brand is that these products are very reasonably priced. 
List of the Best Organic Harvest Products in India (2022)
Let's take a look at the best Organic Harvest beauty products in the market.
1. Organic Harvest Sunscreen SPF 30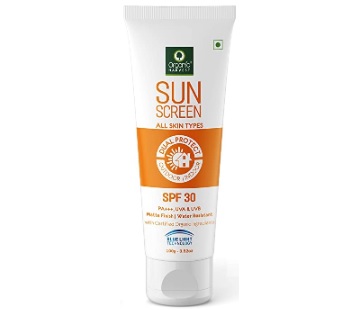 This daily use sunscreen lotion comes with SPF 30 and is made for all skin types. It gives you matte skin with velvet finish. It's a water-resistant formula and the sunscreen lotion is ideal for daily use. This product contains certified organic soybean oil that has natural ultraviolet blocking capabilities. Therefore, it shields the skin from the long-term exposure to the sun rays. It also contains rice extracts and aloe vera extracts that give extra added protection. The product is 100% organic and Eco-certified because of which, it's also free of paraben, sulphate, mineral oil. Having said that, it's also one of the best paraben free organic skincare brands in India.
2. Organic Harvest Activ Luminosity Anti Pigmentation Cream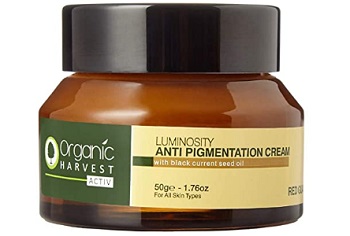 Pigmentation and black patches on your skin makes the face look uneven. To cure the pigmentation on your face, this is the best anti pigmentation cream that works really well. The reasonably priced products help in minimising the pigmentation from the skin. It effectively decreases the melanin production and gives the skin healthy glow. The product protects the skin from sun damage and also wrinkles formation. It contains the organic Red Guava extracts, organic black currant seed oil and organic element extracts. Being a certified and organic product, it's free of paraben, mineral oil, sulphate and the chemicals that can make skin rough, irritated and dry. The product is safe to be applied on all skin types including the sensitive delicate facial skin.
3. Organic Harvest Anti Tan Scrub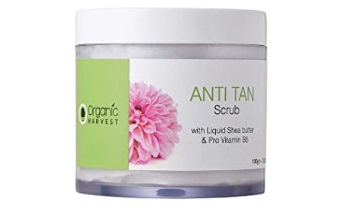 Sun tanning is majorly seen during the hot summer season, because of the over exposure of the sun rays on our skin. This organic harvest anti tan facial scrub contains the liquid shea butter that helps to remove the tan and lightens the dark skin tone. Blended with Clove, Camphor Essential oil, olive oil, it also has Provitamin B5. It gives you even toned and fresh skin and also firms the skin with regular use. The product is wonderful in exfoliating the dead skin cells and blackheads from the skin. The product is also suitable for all skin types and can be massaged on the skin for 2 minutes to get clear skin twice in a week.
4. Organic Harvest Sunscreen SPF 60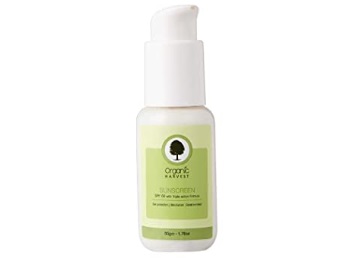 With SPF 60, this is a high protection sunscreen, where you would be exposed to sun rays for a long time like beaches, picnic spot pools and more. The non-greasy and quick absorbing formula makes this one of the best sunscreens for even the oily skin types. Its water-resistant and sweat-proof formula ensures long lasting protection from the ultraviolet sun rays. The product is blended with olive oil and tamarind seed extracts that makes it a good physical sunscreen for the skin. It is a cruelty-free brand and it is one of the best paraben free sunscreens available in India that works well.
5. Organic Harvest Anti Tan Mask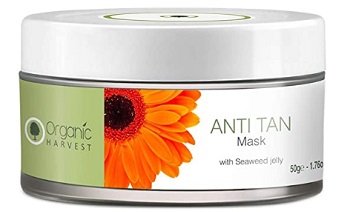 An anti tan face mask can really calm and soothe, when the skin gets irritated and sun burnt, during the hot weather. If you are into outdoor activities, then you will surely know that during hot season skin is more likely to get tanned and get red. The Organic Harvest tan removal face mask contains the Seaweed Jelly. This product is a naturally occurring ingredient that helps to get rid of the sun tan and in scrapping off the dead skin cells. The mask is easy to apply and tones and tightens the skin. Regular application of this face mask, certainly helps you in achieving a fresh complexion. It also maintains the skin's elasticity to let you a beautiful skin. It contains the goodness of organic Mulberry extract, Daisy extract and Seaweed Jelly. The 100% organic product is safe for all skin types.
6. Organic Harvest Hair Oil for Hair Fall Control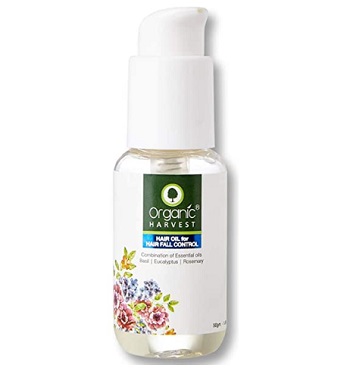 Organic Harvest hair oil is made to control the hair fall. It is blended with Basil, Rosemary and Eucalyptus essential oils. Rosemary and Basil help to speed up the hair growth by improving the blood circulation of the scalp. Hair gets thicker and bouncier, when you start using an effective organic oil like this. The product is natural and totally organically made. It is free from paraben, sulphates and mineral oil. As I mentioned above, this brand makes products, which are also vegan and cruelty free.
7. Organic Harvest Moisturising Lotion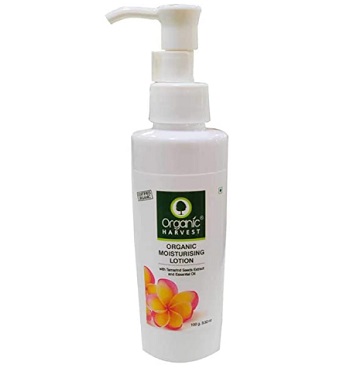 The deep moisturising lotion comes loaded with tamarind seed extracts and essential oils that helps to maintain the skin's moisture and elasticity. This organic harvest body moisturizer is made with the organic and chemical-free ingredients, which gives you proper and adequate hydration to the dry and rough skin. It is ideal for all the skin type for all the seasons.
8. Organic Harvest Activ Shine & Glow Serum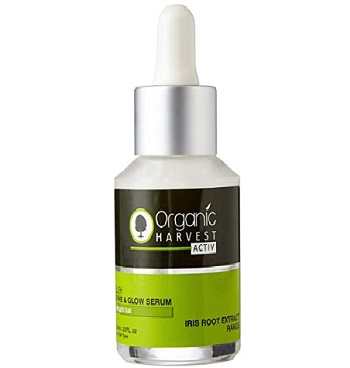 Getting immense glow on your skin is not difficult, when you're using the right skin care products and take enough care of your skin. Yes, a product like this helps to increase the radiance of your skin. It is made with organic Iris root extract and organic gold dust along with few other ingredients known to increase the skin fairness. This product reduces blemishes and makes the skin even toned. While imparting the healthy glow, this product also aids in refreshing the skin and reduces the lines and wrinkles. Application of this organic serum is quite easy because of the pump dispenser. It delays the aging process and helps you look younger. It compensates the decreased metabolic activity due to aging. So it is not just a glowing skin serum rather an anti-aging product for your skin.
9. Organic Harvest Massage Cream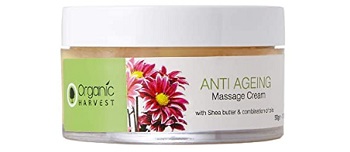 When your skin starts to age, one must try good massage creams to make the skin complexion better and blood circulation improved. This anti-aging massage cream is made with combination of multiple essential oils and shea butter. All these products prevents the skin from ultraviolet rays and pollution. The moisturizing product contains vitamin E, Vitamin C that work together to encourage the cell renewal. Use it every night to give your skin a 5-minute quick massage session to reduce the sun damage and fight the free radical damage.
10. Organic Harvest Daily Shampoo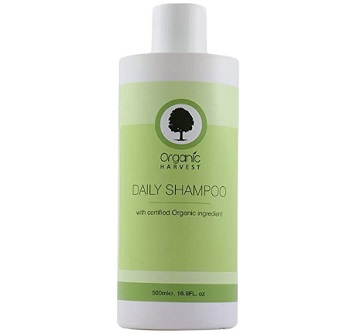 The daily use shampoo is organic, which is perfect to be used on daily basis ideal for oily and normal hair type. This shampoo gives the perfectly clean hair. When your scalp is oily, you urge to wash them every day to remove the scalp sebum built up. Therefore this organic and mild shampoo clears the sebum and the surface level impurities that make your roots get sticky. This maintains the moisture balance, while improving the hair texture. This product also has natural keratin and keeps the hair healthy and beautiful. The key ingredients in this product are organic the Decylglucoside and Disodium PCA. It's a good sulphate and paraben free shampoo available in India which is also 100% vegan.
These are the best Organic Harvest skin care and hair care products available in the Indian market.  These product may not be available in the shops that easily but they are quite easily available at discounts on the leading shopping portals.
So, these were the 10 best Organic Harvest products, now let us give you to more options which we feel are really good to try.
11. Organic Harvest 6-in-1 Face Wash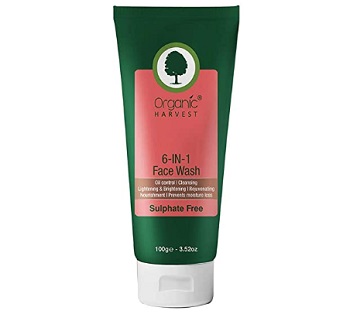 Organic Harvest 6 in 1 face wash is a cheap and inexpensive Sulphate free product which is made exclusively for the oily skin. It helps in controlling the oils and brightens the skin. The product prevents the moisture loss but keeps the skin adequately moisturized. It contains the key ingredients like the witch Hazel, daisy flower extracts and liquorice root extract along with a couple of more ingredients. It helps to make it yet another good royalty free face wash for dull and oily skin.
12. Organic Harvest Neem Tulsi Toner For Oily Skin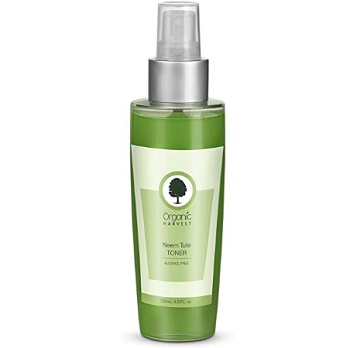 We are also pretty impressed by the way this Neem Tulsi toner from Organic Harvest works for oily skin. As the name suggests, the product contains Neem and Tulsi, making it really good for oily and acne prone skin. Both Neem and Tulsi are known as the pretty effective antibacterial and antifungal ingredients to kill the bacteria causing acne and pimples on your skin. In fact, the toner also clears the pores beautifully so, that the blackheads and whiteheads can also be prevented.  Apply the toner with the help of a cotton pad or fingertips on your freshly cleansed skin.
So, these are the best Organic Harvest skin care products that you can try.