Here in this article friends, we are going to talk about the best oriental Botanics products available in India. these products are paraben, sulphate and chemical free which is why, the brand is one of the best organic beauty brands in India. Those of us, who are always willing to try free of chemical products, must try the natural and herbal products.  So, let's take a look at this list of the best Oriental Botanics beauty products in the market.
Best Oriental Botanics Products in India
1. Oriental Botanics Activated Charcoal 3 IN 1 Clay Mask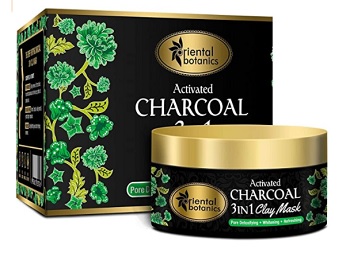 It's a 3 in 1 clay mask that helps in detoxifying, whitening and refreshing the skin. It contains vitamin C, Green tea extracts, goji berry fruit extracts, ginseng root extract that gives you smooth and bright looking complexion. So it is an activated charcoal face mask that also contains kaolin Clay and bentonite clay. Multiple clays and multivitamins in this product makes this powerhouse of natural ingredients. Additionally, the product is free from the paraben and sulphate. This face mask is worth buying, as it makes your skin feel super smooth and soft. For oily and acne prone skin, as well as other skin types, a charcoal rich product works wonder.
2. Oriental Botanics Aloe Vera Face Wash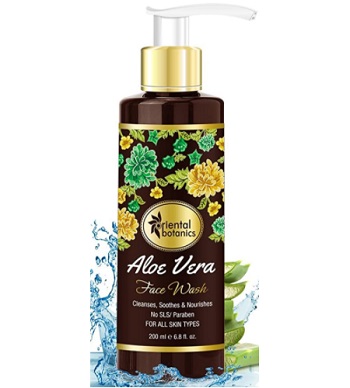 This aloe vera face wash is free of paraben and sulphates. Being the best sulphate free face wash with aloe vera in it, this product cleanses and soothes the skin. And aloe vera facial cleanser is suitable for all skin types. Rich in antioxidants, the facial wash also effectively neutralises the damage caused by the free radicals. It is gentle enough to keep the skin soft and hydrated. The product is really effective in removing the dirt makeup and impurities. As it does not have any chemicals , it's perfectly safe for all skin types. It is made with pure Aloe Vera Gel, wheat germ Oil cold pressed oil and soy protein. The cleanser is also suitable for itchy, inflamed, red and irritated skin. It's the best Oriental Botanics product face wash.
3. Oriental Botanics Pomegranate Vinegar Shampoo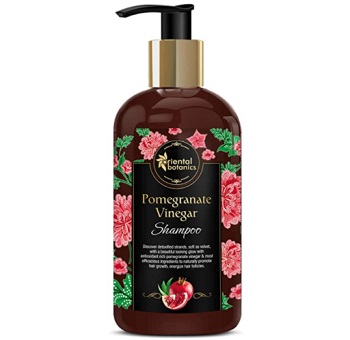 The pomegranate vinegar shampoo is wonderful for oily and greasy scalp. It has detoxifying nature that makes the hair smooth and thicker and also removes the oils from the scalp. The pomegranate and vinegar is the most effective ingredient that promotes the natural hair growth and re-energizes the hair follicle. The one of its kind product is also the best sulphate and paraben free shampoo that is available at pretty reasonable prices. It also combines the natural goodness of green tea, aloe vera and oats. So it leaves your hair vibrant and shinier.
4. Oriental Botanics Red Onion Hair Oil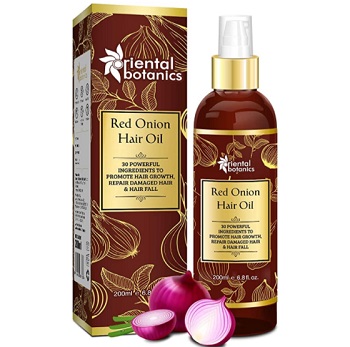 The onion infused hair oil also contains Argan oil, castor oil, almond oil and bhringraj. The oil comes in a pump dispenser packaging, which is easy to carry and useful. With the powerful ingredients, it encourages and accelerates the hair growth at the same time, it repairs the damage and reduces hair fall. By getting healthy hair growth, this is a shampoo that you can use three times in a week. It is free of paraben and sulphate, hence the product is safe to be used even on daily basis.
5. Oriental Botanics Activated Charcoal Bright Glow Face Wash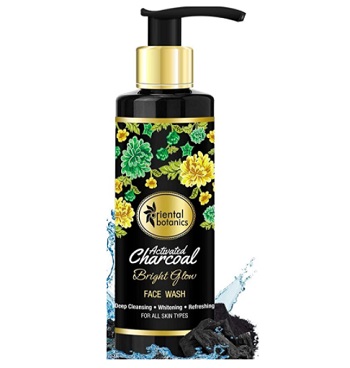 The charcoal face wash helps to combat the acne and pimples. It gives a glow on your skin and as it is infused with tea tree oil, it also removes the pimples and blackheads. By regulating the excessive oils on your face it and unclogs the pores. The natural activated charcoal in this product is known for its ability to cleanse the skin and purify it. It has Licorice, Mulberry and Orange flower extracts along with charcoal. It is for everyone with dry or oily and sensitive skin. Even when you have combination skin, one can you can try this sulphate free facial wash for summers.
6. Oriental Botanics Red Onion Hair Shampoo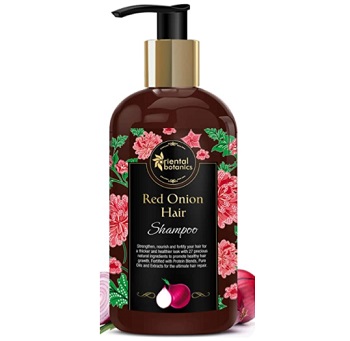 To put a stop on excessive hair fall, one can try red onion hair oil along with the onion shampoo. The shampoo contains Caffeine, Coffee Extract, Curry Leaves, Onion Oil and more such ingredients which are wonderful in enhancing the hair follicles and to make your hair thicker and fuller. Loaded with immensely beneficial and ultra hydrating elements, it accelerates the growth of new hair and makes the hair thicker in the appearance. The sulphate and paraben free shampoo is suitable for all hair types. It in fact, it also gets rid of the product residue on the scalp along with the excessive oils.
7. Oriental Botanics 99% Aloe Vera Gel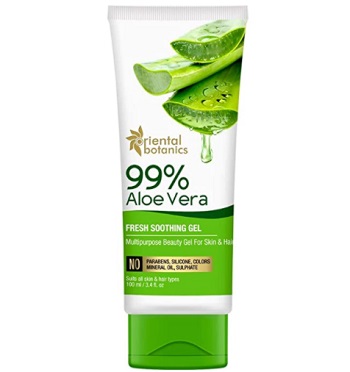 The Aloe Vera Gel is 99% pure and can be used for your skin and hair. This is one of the best Aloe Vera Gel brands available in India at reasonable prices. The best part is that the product is paraben, Silicone, mineral oil and sulphate free. Therefore, the organic and pure genuine Aloe Vera Gel makes the skin soft and hair growth better. Aloe vera in general is also loaded with vitamins, minerals and amino acids. This is why, it makes your skin glowing and nourished. Even for your hair care remedies, you can try this organic Aloe Gel. It is for all skin types as well as all hair types. Even for your acne and pimple prone skin, this gel can be mixed up with tea tree oil to create your own face gel. It's the best Oriental Botanics product.
8. Oriental Botanics Aloe Vera, Green Tea & Cucumber Micellar Water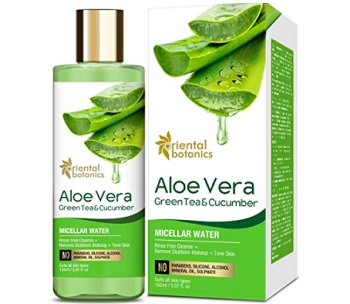 This Cucumber and Green tea infused micellar water is an alcoholic, silicone and sulphate-free product. The micellar water helps to clean the face and removes the stubborn and waterproof makeup. While it is cleansing the skin, it also tones it. The product is suitable for all skin types and especially because of the presence of green tea and cucumber, it's suitable for oily and acne prone skin as well for all other skin types. The product does not clog your pores and it is one of the best organic makeup remover and toning product for oily skin.
9. Oriental Botanics Aloe Vera, Green Tea & Cucumber Under Eye Gel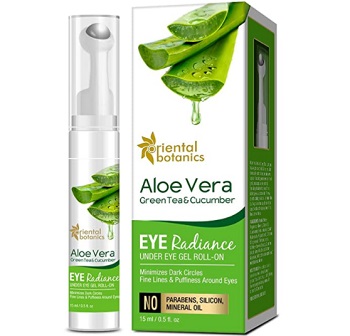 This is an under eye gel roll on, which has a roll on at the top of the bottle. It helps in reviving the eye contour, fade away the dark circles and under eye puffiness. The key ingredients are Aloe Vera, Green tea and Cucumber. It helps in deep moisturising the under eye puffiness and also works to lighten the dark circles. Even the aging lines can be prevented by regularly application of this organic eye product. It also puts a delay on the under eye skin aging. While retaining the smoothness and hydration of the under eye skin, this is a product which is perfect to be used twice in a day. The roll on applicator actually gives gentle massage to the sensitive and delicate under eye area.
10. Oriental Botanics Aloe Vera, Green Tea & Cucumber Night Gel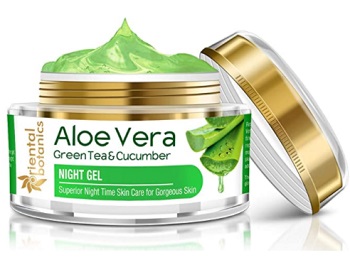 It is a wonderful product for oily and acne prone skin. The lightweight and gel formula is water based and does not contain oily formula. This product has aloe vera cucumber and green tea. The gel product increases the moisture level in the skin and makes the skin soft. So even while you have oily skin, you can get the night long intense nourishment without feeling the stickiness. The lightweight and paraben free product is fast absorbing that replenishes the moisture barrier. It's the best Oriental Botanics product  for oily skin.
11. Oriental Botanics Neroli & Vanilla (Goat Milk) Handmade Luxury Soap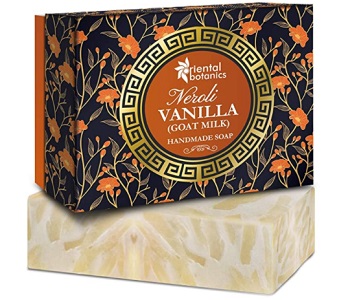 If you've this inclination for handmade luxury soa, this product is worth trying. It contains Goat Milk and vanilla along with Neroli. With pleasant spicy fragrance it gives intense hydration and fragrance of mint. The product leaves the skin squeaky clean and radiant. Goat milk is rich in skin friendly and roughness healing moisturizers. Which is why, the product also brightens the skin and gives anti aging properties. Neroli and vanilla essential oil boosts the mood and refresh is the senses. It improves the skin complexion and is excellent with dry patches on the skin. In fact, Goat milk is known to reduce the sun tan. It contains the natural blend of ingredients such as Shea Butter, Aloe Vera, Avocado oil, Extra virgin coconut oil, Grape seed oil and Castor oil.
12. Oriental Botanics Australian Tea Tree Face Toner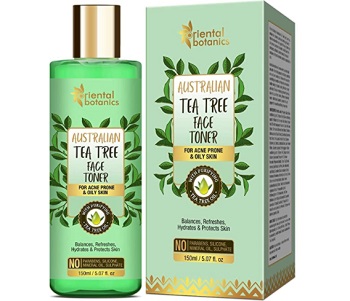 To put a stop on the excessive oil production on your face and to keep your skin blemish-free a tree face toner is an excellent product. Oriental Botanics tea tree face toner is specially formulated for oily and acne prone skin. It balances, refreshes and hydrates the skin. With the paraben and sulphate free formula the product is ideal for toning and tightening the skin. It clears the oils from the surface and gives you matte clear complexion. By increasing the skin clarity, it also shrinks the enlarged pores. It helps in minimising the oil built upon the skin, therefore, it suppresses the growth of acne causing germs on the skin. So it is an anti-acne product that does not have any artificial chemicals, synthetic dyes that can lead to itching and skin irritation.
13. Oriental Botanics Bath & Body Oil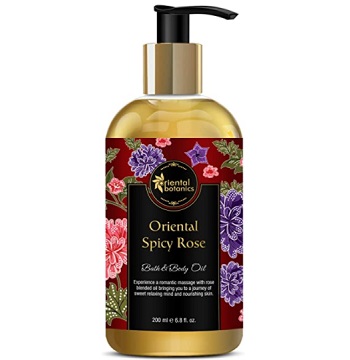 This bath and body oil from Oriental Botanics has spicy rose fragrance. You can experience energised and relaxed feeling after a quick massage with this oil. When one regularly applies the massage oil, it also heals the dry patches and makes skin beautiful. It's a lightweight and gentle formula that gets absorbed really quick and gives instant hydration. The luxury bath oil is perfect to add to your bath water or after the bath.
14. Oriental Botanics Australian Tea Tree Face Gel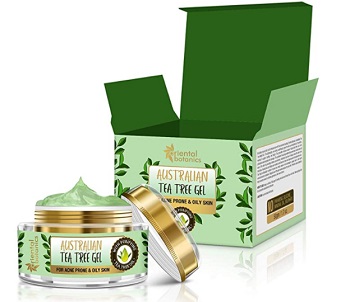 The Australian tea tree face gel is for oily and acne prone skin. The face gel can be applied during the night time as well as during the day time. It hydrates the skin with the fast absorbing formula yet supplies enough of the moisture. Without creating a greasy film on the skin, it helps to enhance the clarity and radiance. The product also has pH balanced formula. Made with premium essential oils along with tea tree oil, it's an anti acne effective product that helps to prevent and treat acne. The product is paraben, sulphate and silicone free and is available at pretty affordable prices online.
15. Oriental Botanics Mattifying Face Moisturizer SPF 30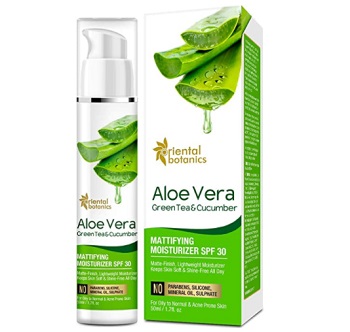 Oriental Botanics Aloe Vera, Green Tea & Cucumber Mattifying Face Moisturizer is one of the best products from Oriental Botanics. It is a mattifying face product for everyday use with SPF 30. Therefore, it can be applied by people of all skin type, especially for oily to normal and acne prone skin. The product is lightweight common on sticky and non greasy. So while hydrating the skin, it does not increase the oily load on the skin. SPF 30 filters almost 90% of the ultraviolet rays and helps to maintain the natural complexion without getting the skin get dark and tanned. While you are out there in the sun, this SPF 30 product will surely prevent the premature aging and skin irritation and redness.
These are the best products from Oriental Botanics that you can try to stop. Offline availability of this brand is not much seen however online it is available easily. You can buy Oriental Botanics products online at good prices an discounts.