Patanjali is a popular brand that is known for its herbal and Ayurvedic products. Patanjali products are not just affordable but they are also organic and herbal. A lot of readers ask us about the best Patanjali beauty products available in the market. So considering that, we created this list that involves the Patanjali skin care products that you can try.
Best Patanjali Beauty Products in India (2023)
1. Patanjali Orange and Aloevera Face Wash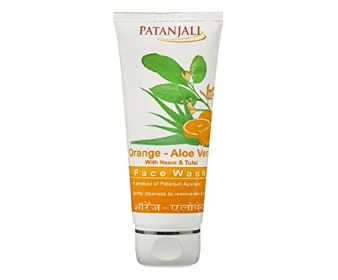 Patanjali orange and aloe vera face wash contains the goodness of orange and aloevera with Neem and Tulsi. For oily and acne prone skin, this is one of the best affordable face washes in India because it has not just the herbal ingredients but they are popularly known to minimise the acne and dark spots on the skin. It lathers well, cleanses really well and is the best Patanjali beauty product.
2. Patanjali Aloevera Moisturizing Cream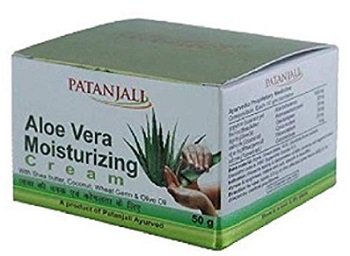 Patanjali Aloe vera cream contains the goodness of aloe vera which is a miraculous ingredient in healing your skin and dryness. It prevents aging and dehydration of the skin and protects your skin against the winter dryness. It's a multi-purpose cream that can be used by all skin types. After using the cream we realised, it's a bit greasy sticky for the oily skin therefore not for oily skin but for other skin type, it's a good skin care product.
3. Patanjali Neem Tulsi Face Wash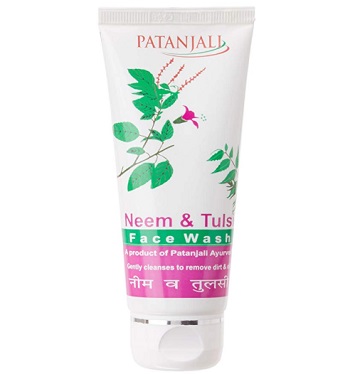 Patanjali Neem and Tulsi face wash is a yet another good Patanjali face wash for oily skin. It not just removes the dirt and grime from your face and to heal the acne and pimples quickly. With just few days you can see the changes in your skin in the production of sebum, inflammation and redness of the pimples. It's good as it does not contain too many chemicals but ingredients like Neem and Tulsi, known for their amazing antibacterial properties.
4. Patanjali Saundarya Swarn Kanti Fairness Cream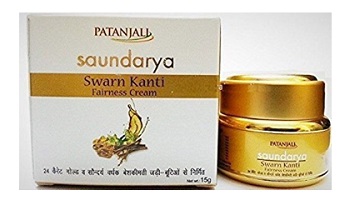 Patanjali Saundarya Swarn Kanti fairness cream is an effective fairness cream and pigmentation cream from Patanjali. However, the only downside is its price, for 399 rupees,  you get only 15 grams of product which is quite expensive because the cream does not last even a single month, if used twice in a day. But it's very effective and works for all skin types. The best thing is that improves skin complexion and makes the skin radiant. Anyone would just love the glow this cream gives on the skin. It's pricey but best Patanjali beauty cream.
5. Patanjali Beauty Cream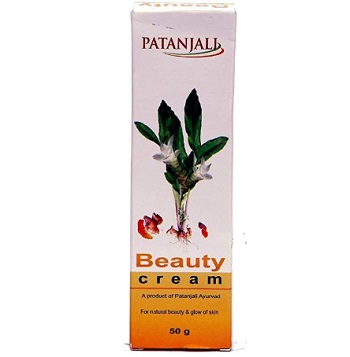 Patanjali beauty cream is for all skin types and enhances the beauty of your skin with its herbal ingredients. Ingredients other than aloevera juice that naturally improvises the skin tone and keeps skin from getting dull. It's an all purpose cream that is also for your neck and other parts. You can also use this as a Patanjali Pimple Cream.
6. Patanjali Aloe Vera Gel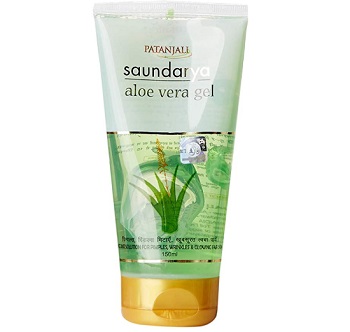 Patanjali Aloe Vera Gel is one of the most popular aloe vera gels in India. Aloe vera has medicinal properties and can be used for different purposes. It can be applied on burns, marks, insect bites and other minor skin issues. Keeping the Aloe Vera Gel at your home can be really important as on minor burns and cuts, you can apply it immediately. Besides, you can also use it for pimples, wrinkles and to increase the fairness of skin complexion. This Aloe Vera Gel can also be used in beauty recipes like making Aloe Vera Gel face mask or doing aloe vera facial at home.
7. Patanjali Tejus Anti Wrinkle Cream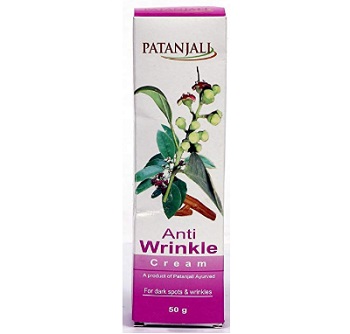 Patanjali Tejus anti wrinkle cream is for mature skin. It can also be used by people in their 20s. The cream is little thick and moisturizing in its texture. It improves the skin complexion because the herbal ingredient works on the dark spots and blemishes. This Patanjali anti aging cream can be used two times in a day and it really helps to make skin better.
8. Patanjali Aloe Vera Multani Mitti Face Pack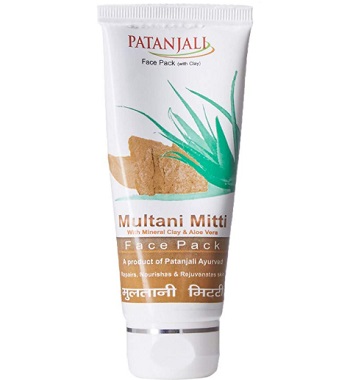 Patanjali aloe vera and multani mitti face pack is yet another thing that people with oily skin will enjoy using. The face pack with clay, has mineral oil and aloe vera made with fuller's earth. Use of multani mitti face pack once in a week at least makes your skin matte and oil-free. It squeezes the oils away even from the deepest skin pores. Moreover, this face pack increases the blood circulation due to which skin becomes clear and radiant.
9. Patanjali Body Ubtan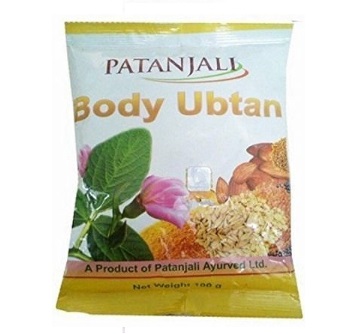 Patanjali body ubtan is a wonderful product that is a mixture of so many different herbs. The very affordable body ubtan or body pack gives relief in black spots, blemishes and dullness. In fact, the Ayurvedic body pack ubtan also lightens the skin. The body ubtan contains ingredients like turmeric, besan, almond  and manjistha. Apply it with some milk or water. Applying it all over the body and keep it for 10 minutes then bath as usual.
10. Patanjali Badam Rogan (Sweet Almond Oil)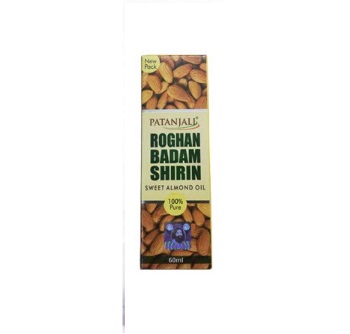 Patanjali badam oil is 100% pure sweet almond oil. It improves the bone strength and removes marks and scars from the body. It can be applied on the body to keep the body warm in winters and to get radiant shine on the skin. It's a multipurpose oil that can also be used as a hair oil to fight dandruff and making the hair stronger. It's perfect to be used for baby massaging by mixing with some olive oil.
11. Patanjali Coconut Nourishing Cream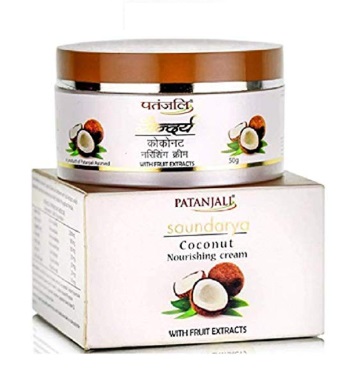 With fruit extracts and coconut, this nourishing cream is by far one of the best creams for winters from Patanjali. The cream is very moisturising and keeps the skin moist for a long time. It's more like a face cream that hydrates the skin perfectly. You can apply it twice in a day to keep the skin beautiful. It's amongst the best affordable skin creams for dry skin.
12. Patanjali Aloevera Kanti Body Cleanser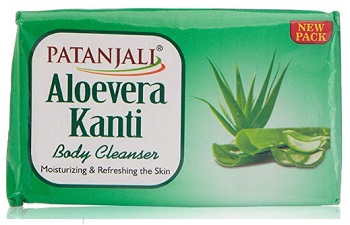 Patanjali Aloevera Kanti body soap is a natural soap that is made with aloe vera. There are no artificial colorants used in this product. This body soap removes dirt, dust, toxins and pollutants sticking on the skin layers. It makes the skin soft and squeaky-clean on the usage without drying the skin.
13. Patanjali Saundary Body Lotion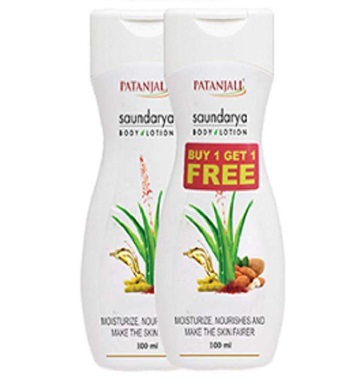 Patanjali Saundarya body lotion contains so many different ingredients that it's one of the best affordable body lotions in India for all skin types, essentially dry skin. It contains aloe vera, turmeric, wheat germ oil, along with other natural ingredients. It's very inexpensive and works really well to hydrate the skin during winters as well as summers. Honestly, it's one of the best body lotions in India that comes at very affordable price.
14. Patanjali Gulab Jal (Rose Water)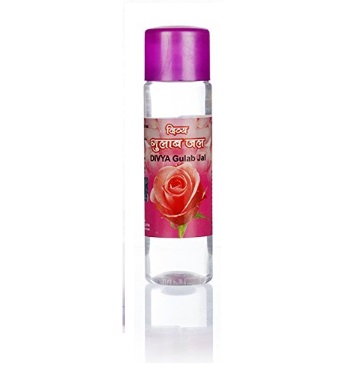 Patanjali Rose water is yet another product that is multi-purpose and can be used for different purposes. We all use rosewater and this is a pure rose water which you can use to mix your powder face packs and to make your skin well toned. It can be applied on the skin by taking some on a cotton pad. It tightens the skin and reduces the large pore size due to which less oils are secreted and skin gets less oilier.
15. Patanjali Sun Screen Cream SPF30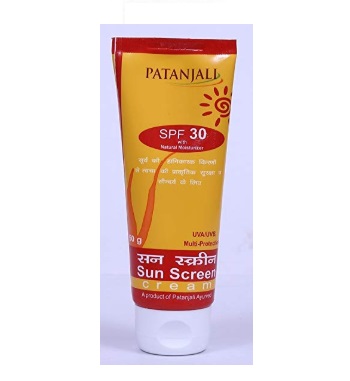 Patanjali sunscreen has SPF 30 which is used for everyday use. It increases the effects of harmful sun rays. While protecting from UVA and UVB rays, it makes skin better and moisturized. Apply it on your exposed body parts for at least 20 minutes before sun exposure. It keeps your skin fresh and smooth while shielding from the premature ageing which can be caused by sun rays.
So, friends these are the best Patanjali beauty products that we have curated in a list for you. These products have been used by our editorial team and they are really good that would help you in making your skin beautiful and better looking. The best thing about the Patanjali products is that they are easily available in the market and online at affordable prices.