Excessive production of melanin is the primary cause of hyper-pigmentation, scars and marks. This pigment is created by the skin cells known as melanocytes. So, if you do have concerns and beauty issues with a hyper-pigmented skin, using anti-pigmentation skin care products can help you a lot. There are some expensive procedures, which also available that help you reduce skin pigmentation faster but that is not feasible for most of the people thus, going with the natural and easy-to-avail methods would be better.
They can be number of factor that leads to increase in melanin pigment in the skin layers, if you would like to cure the pigmentation, while sitting at your home easily and with budget friendly ways, using the pigmentation skin creams would be the best idea. In case, you guys have trouble finding the best anti pigmentation cream available in the Indian market, we've listed the best pigmentation removal creams in India.
These creams also work for the hyper pigmentation around your mouth, over the jawline and even on the top portion of your face like your cheek and forehead. When you're concerned about the pigmentation on the face, these anti pigmentation skin creams can definitely help you.
Other thing that you need to keep in mind is to apply the creams at night regularly because, that is when they work really best. At night time is a time when your skin naturally repairs itself.
List of The Best Anti Pigmentation Creams in India (2020)
1. Re'equil Skin Radiance Cream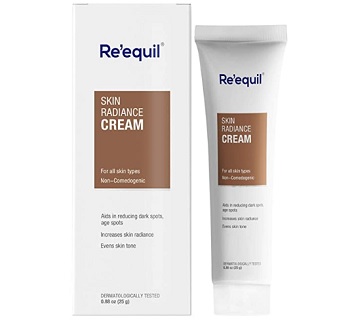 The skin lightening cream is a specially made product that aids in reducing the dark spots and increases the skin radiance by enhancing the skin cell renewal rate. This process is responsible to shed the extra debris and skin skin layer from the skin and to reveal a new layer. Because of which, it greatly reduces the hyper pigmentation, melasma dark spots and any patches of the dark skin tone that is even seen after pregnancy or medical conditions. It is a non-comedogenic formulation, suitable for all skin types. If you have oily and acne prone skin and you are looking for a non-greasy and non-sticky product to combat pigmentation on the face, this can be definitely tried. It is a dermatologically tested product that contains the clinically proven ingredients for brighter and even skin tone. It's an effective anti pigmentation cream for oily skin in India.
2. Bella Vita Organic Pigmentation Blemish Cream Gel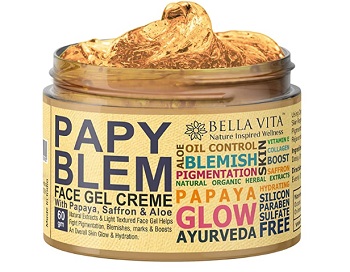 The cream not just works on the dark patches and pigmentation, but also works on acne scars, dark spots and freckles. So this cream would do everything for you and as it is reasonably priced and it has received pretty good ratings from the users. It is made from the natural ingredients and has a gel formulation. The gel texture of this product is rich in Papaya, Saffron, Aloe Vera Gel, Glycerine and phenoxyethanol extract. Apply it on the face after cleansing the skin. It helps to repair breakouts, sun damage  for a bright skin tone and also maintains a youthful glowing skin. The licensed product is appropriate for all skin types and to boost the overall skin glow and texture.
3. Mystiq Living Anti Pigmentation and Dark Spot Remover Cream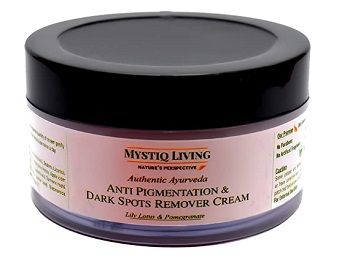 It's the anti pigmentation and dark spot removal cream for dry skin. The Ayurvedic skin cream is loaded with Vitamin C, Hyaluronic acid and Vitamin E. The best part about this product is, the lightweight texture and is suitable for all skin types, including the dry skin, oily skin or even the combination skin. But we find that the texture of this product is a little bit sticky or too moisturising, thus, would be better for the other skin types, except for the oily skin during summer season. It has Lily Lotus, Lemon juice and pomegranate extract to revive your skin by boosting the collagen production. It's rich in anti-inflammatory properties to reduce the pigmentation and to also brighten the skin. If you would like to boost the skin health and glow, trying this product can certainly benefit you in the long run.
4. Organic Harvest Anti Pigmentation Cream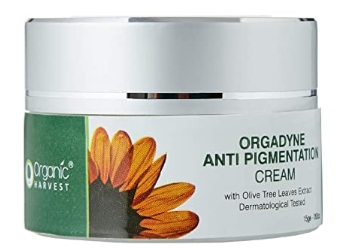 This is an anti pigmentation cream for removing the pigmentation dark patches and spots from the skin. Made with the Olive, Tea tree and eucalyptus extracts this product is very affordable and works really well. 100% organic and plant based product. It does not contain any synthetic chemicals, just the natural products. It is also a paraben and sulphate free pigmentation removal skin cream in India, which is Vegan and not tested on animals. It improves the clarity and quality of your skin for a better and luminous glow. Apply It two times in a day however using it at night gives the best results.
5. Aadya Life Sciences Chloasma Care Cream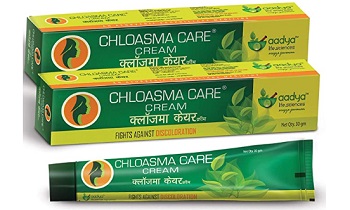 This is a medicated cream to fight the pigmentation and scars on the skin. It inhibits the melanocyte-stimulating hormone, because of which it reduces dark spots and hyper pigmentation. It improves skin tone by exfoliating the skin gently and nourishing it. The hyper-pigmentation cream for dark skin enhances the skin cell renewal and also protects the skin from the ultraviolet damage. Therefore, it keeps the premature aging away by the free radicals because of its ingredients which are rich in antioxidants, microbial and antifungal properties. Apply it at night and it will surely make your skin smooth and better. It is useful for pigmentation, stretch marks, dark spots and uneven skin tone acne scars and melasma.
6. Mamaearth Bye Bye Blemishes Face Cream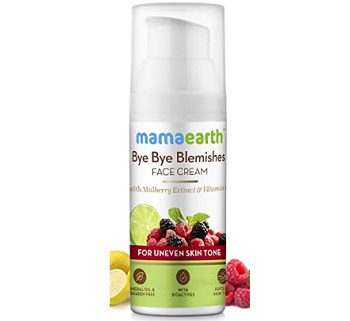 The anti blemish face cream contains Mulberry extract and Vitamin C. It is packaged in a pump packaging, which is easy to use and user-friendly. The affordable pigmentation lightening product nourishes the skin. Being rich in vitamin C, it increases the cell renewal and decreases the melanin synthesis activity. Therefore, it even tones skin and lightens the pigmentation. Mulberry extracts reduce the appearance of dark spots. This pigmentation solution also boosts the natural production of collagen in the skin layers therefore, skin becomes tight and firm. It is a sulphate and paraben free pigmentation curing product which is also free of SLS, mineral oils and fragrances.
7. StBotanica DePigmentation Cream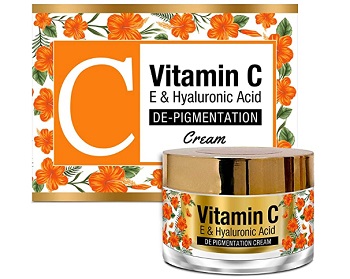 Made for lightening the pigmentation, this is a de-pigmentation cream which is slightly expensive. It has the most stable and efficient form of Vitamin C that works really wonderfully in clearing the skin tone and improving the complexion. Not just the pigmentation removal, it also decreases scars, marks and spots. It is a perfect product for restoring the natural and even complexion of your skin. Suitable for all skin types, this contains only the safe and toxin free substances and ingredients.
8. Organic Riot Dazzle Anti Pigmentation Cream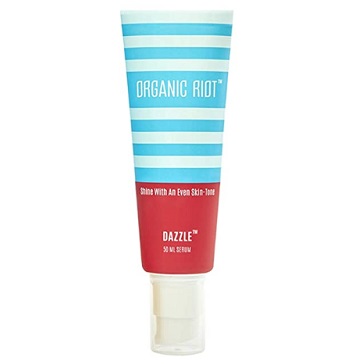 The Vegan and organic certified anti pigmentation cream is for blemish removal and to enhance the glow. This potential serum product is suitable for even the oily and acne prone skin as well. It cures the older hyper-pigmentation and uneven skin by its effective formula, which is blended with natural ingredients. Being BPA-free, vegan certified ingredients, hypoallergenic product helps to ease out the skin issues and make the skin look even tone. It does not have the harmful ingredients, and is safe for sensitive skin as well, moreover the product can be used during the summers for oily skin as well.
9. Indus Valley Cow Yogurt & Honey Brightening Depigmentation Cream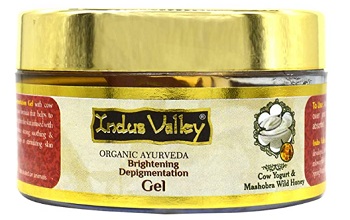 Perfect for the dry skin this is one of the best skin lightening and De pigmentation skin cream in India. It removes the marks obtained in coma spots from the skin so that skin appears better and healthy hair fall stop it contains the cow yoghurt coma and mashobra wild Honey. The product suits the skin and retains the moisturizing properties while stimulating the skin cell regeneration. Packaged in a tab packaging it is also easy to apply. It is one of the best melasma creams for dry skin to lighten the scars and any melasma you have on your skin.
10. Aesder Dem Gel Whitening Depigmentation Cream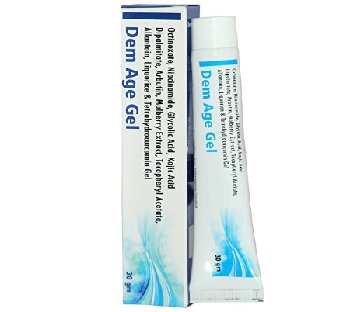 Being rich in Niacinamide, Arbutin, glycolic acid, kojic acid along with other skin lightening ingredients, this product contains the natural chemicals that help to de-pigment the skin. It reduces the spots and dark old tan along with lightening the hyper-pigmentation like on cheeks, jaw-line and even on the tip of the nose. As it inhibits the tyrasinose activity, it prevents the dark pigmentation from building up in the skin layers. It also contains Mulberry extract which is an excellent skin lightening agent found in nature. Vitamin E helps to fade the skin discoloration and hydrates it optimally. This pigmentation control product can be applied twice in a day, however applying it at night gives better and faster results.
These are the best hyper pigmentation and spots curing creams available in the Indian market. You can choose the best pigmentation curing product that you like, but choose according to your skin type. Some of the options that we've mentioned above for the anti pigmentation creams are very hydrating and creamy, therefore are better for dry skin, while the lightweight formulas are better for oily and acne prone skin. You not just get relief in hyper-pigmentation but acne scars and marks as well. So, that you can get even tone and better looking complexion.
We've also listed the anti pigmentation face washes and face pack that you can also take a look at. However we would also recommend you to apply some home remedies to cure the pigmentation faster. And out of that one such remedy, is to apply apple cider vinegar and water mixture on your face that help to decrease excessive melanin activity.
Your face is getting darker than your body because of this pigmentation then even using the mild and natural bleaching agents like tomato, lemon juice, potato juice would definitely help. But never apply these directly on the skin, always mix them with cucumber juice to dilute them a bit.
Additionally you can also take suitable diet for pigmentation control on your face. Fruits that are rich in alpha hydroxyl acids, Omega-3 and omega-6 fatty acids are also helpful in lightening the pigmentation and to decrease the melanin activity. Other than that, foods rich in vitamin C are also known to boost skin collagen production and regeneration of new skin cells. Additionally, you can also drink sufficient water.