Plum beauty products are well known and have become extremely popular and trustworthy. The main reason, we suggest you to try this brand is because, it's one of the best 100% Vegan and cruelty-free beauty products brand in India. Not just that Plum products are also paraben, sulphate, fragrances and Pthalates free. For oily skin, Plum products are excellent, especially their Green tea range. The best thing is, these products are available within the reach prices. With the nature's goodness, Plum skin beauty products are also beneficial for many people. If you just check the customer reviews, these have received the highest user satisfaction.
List of The Best Plum Products For Skin in India (2023)
So, if you are wondering, about the best Plum beauty products available in the Indian market, then let's go ahead and check which are the best Plum skin care products.
1. Plum Green Tea Alcohol Free Toner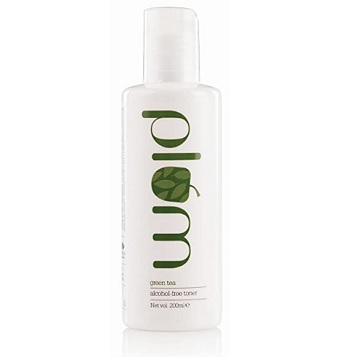 The alcohol-free toner is perfect for oily and acne prone skin. The best thing about this product is its extremely lightweight formula, which is 100% alcohol-free that does not dry out the skin. Moreover, the product contains green tea extracts, which is a natural astringent for the skin. It is also an anti-inflammatory and antibacterial product to nourish the skin while getting rid of the acne causing bacteria. Glycolic acid present in this face wash keeps the skin renewed. Glycerine helps to keep the skin soft. This is the best face toner for oily and combination skin, which is non-comedogenic and is specially formulated for oily and acne prone skin. It is 100% Vegan and cruelty-free with devoid of paraben and phthalates.
2. Plum Green Tea Mattifying Moisturizer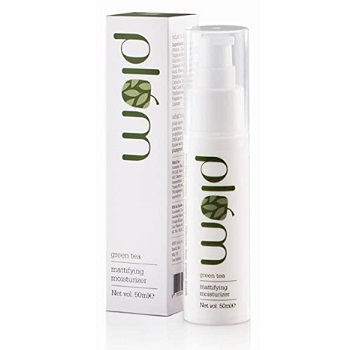 This is a mattifying face mositurizer. The Green tea range is an excellent skincare range for oily-acne prone skin. This moisturizer is yet another product that you will immensely love. It is multipurpose product made for sticky and sebum loaded skin. The light-weight moisturizer helps to keep the skin fresh, clean and hydrated. It contains glycolic acid, which reduces the skin at a faster rate, as a result pores are clogged and scars and acne are also treated.
3. Plum Green Tea Pore Cleansing Face Wash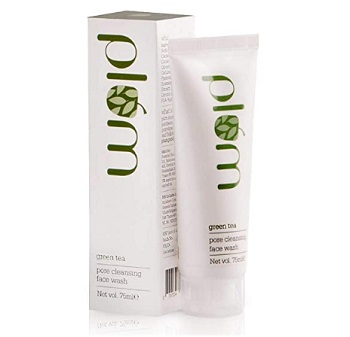 The green tea pore cleansing face wash is especially made for oily skin to get rid of the impurities deeply seated in the skin layer and in the pores. It a face wash that gently cleanses the skin and effectively removes the excessive oils and declogs the blocked pores. It is soap-free face cleanser which is SLS free and has a gentle foaming cleanser. While, it does not dry out the skin, green tea extract in this product helps to stop the acne formation. Glycolic acid knocks out the old and dark skin layer and makes the skin glowing and brighter. It also contains the cellulose beads that gently exfoliate. It is one of the best face cleanser which is paraben-free for oily and acne prone skin.
4. Plum Green Tea Clear Face Mask
 
The green tea clear face mask is the most beneficial face mask for oily and acne prone skin. It contains Kaolin Clay and Bentonite clay along with glycolic acid and green tea. These are PETA certified, Vegan and Free of cruelty brand. These products are also paraben, sulphate and harmful chemical-free. So, you can apply the product once or twice in a week to make your skin fair and free of acne. This product helps in acne control by slowing down the oxidation of sebum and unclogs the pores.
5. Plum Green Tea Renewed Clarity Night Gel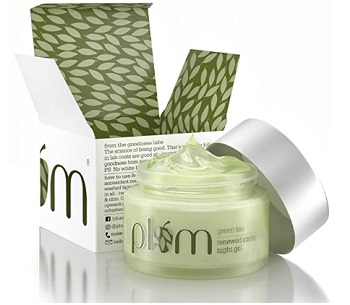 The green tea renewed clarity night gel is yet another product, which is a wonderful hydrating and non-comedogenic gel for oily and acne prone skin. This oil-free gel is lightweight and does not clog the pores. It's a good product for hydrating the skin without the stickiness or greasiness. You can apply the oil at night and it reduces the spots day by day. It also contains Argan oil and Green tea that combats the blemishes. The product has only the safe ingredients and is one of the best Vegan and skincare product brands in India. It lightens on acne scars and marks, as a result skin becomes very gleaming and glossy.
6. Plum Green Tea Day-Light Sunscreen SPF 35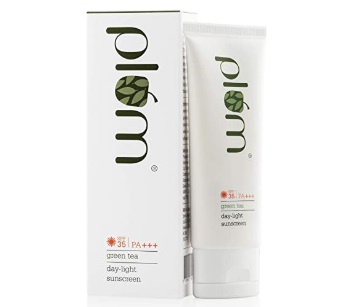 The Green Tea rich sunscreen cream has SPF 35. If you are looking for a good day cream with SPF for oily and acne prone skin, this is one of the best options. What we like about this product is, its PETA certified, paraben free day cream for sticky and problematic skin. It doesn't have paraben or harmful chemicals, which can harm your skin in the long run. It is enriched with acne fighting green tea and other plant extracts, the product is also non-comedogenic. So there is no white cast or extra greasiness on your skin, when you apply this product.
7. Plum Chamomile & White Tea Sheer Matte Day Cream SPF50
 
This day cream is rich with SPF 50 and is made for normal to combination skin. It has chamomile and white tea which are known as the powerhouse of antioxidants. Antioxidants calm the skin and relives sun burnt red skin. It also contains Gingko Biloba and Olive leaf extract that are known to fight the free radical damage, which can also cause premature aging on the skin. The paraben and Pthalates free sunscreen lotion for everyday use is one of the best products to apply.
8. Plum Grape Seed and Sea Buckthorn Nurturance Night Cream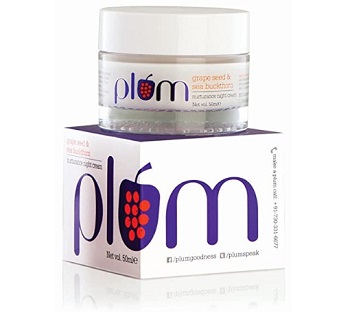 While looking for a good night cream for the hydrated skin, you've to keep certain things in mind like the product must be very moisturizing. This product is one of the best night creams for normal to very dry skin. Presence of grape seed and sea buckthorn, makes it a powerhouse of minerals vitamins and antioxidants. It contains vitamin A, B, C and Minerals. It also contains polyphenols, beta-carotenes and essential fatty acids from the Sea buckthorn oil. This is yet another paraben-free night cream available in India at the reasonable price.
9. Plum E-Luminence Deep Moisturizing Crème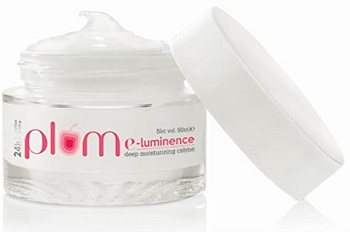 It's a deep moisturization cream which is meant for normal to dry and sensitive skin. It is hydrating creams that give you natural glow. The product nourishes and repairs the skin and makes it gleamed from within. It has that unmatched hydration and moisturizing properties loaded with antioxidant protection. The product is also rich in vitamin E oil and other plant derived substances. So when you have normal to very dry skin, this product is going to be beneficial for you. It is not at all for the oily and acne prone skin. It is 100% Vegan and free of the paraben, SLS and Pthalates. When you're looking for a good hydrating cream with a paraben-free formula, then certainly try this affordable skin cream for dry face.
10. Plum Hello Aloe Caring Day Moisturizer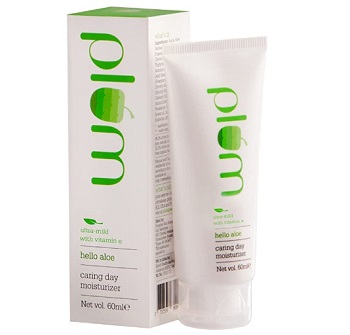 The Aloe caring day moisturizer is an intense hydrating product for normal and sensitive skin. If   you're looking for a lightweight product that heals the dryness and makes your skin glowing, then this product is one of the best things to try. The paraben-free, SLS-free product has a rich texture that gives an instant glow and lifts up your dry face. You need only a little amount to try this product, thanks to its pure aloe vera rich formula.  It's not for the oily and acne prone skin, so keep that in mind. It also has added Vitamin E that gives the additional hydration to the skin.
11. Plum Bright Years Cell Renewal Serum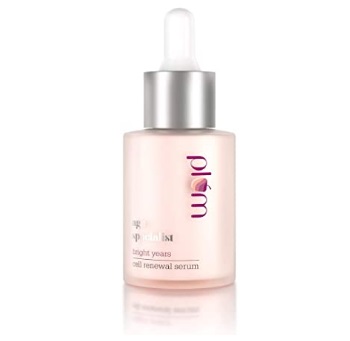 It's a skin renewal serum that takes away years from your skin and makes it bright and fresh. It firms up the skin and transforms the dull and lifeless skin. While visibly reducing the wrinkles, lines and pigmentation on your skin, it's one of the best dark spots curing product for all the skin types, except for oily and acne prone skin. The key ingredients used while making this serum are plant-derived botanicals like Hyaluronic acid and Sesame protein. It helps to supple the uppermost skin layer and seeps deep within. This Plum product is paraben-free and is one of the best products to try to get younger skin.
12. Plum Grape Seed and Sea Buckthorn Light Stay Day Cream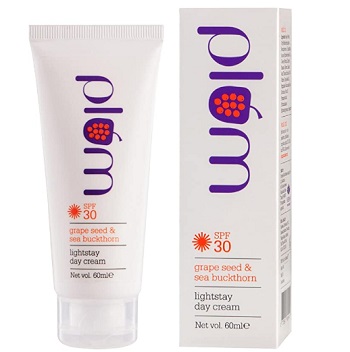 This product is rich in Grape seed and Sea buckthorn. It is a lightweight day cream with SPF 30. Suitable for normal to dry skin, the product gives immense moisturization without the stickiness. While you apply this sunscreen lotion, it does not give white patches or make your skin ashy ghost like. It's a potential combination of SPF 30 grapeseed oil and sea buckthorn oil which are rich in antioxidants properties. Protecting your skin from the sunscreens, the antioxidants present in this product also shields and safeguards the skin from the free radical damage that can potentially cause premature aging. It's a natural product that would be loved by your dry and parched skin.
13. Plum Wild Cherries & Kiwi Creme Lotion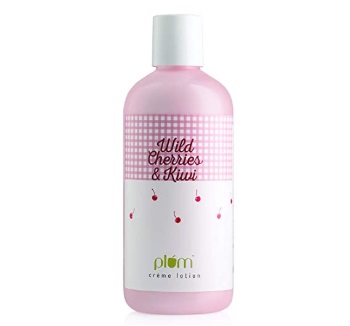 The wild cherries and kiwi cream lotion is one of their best products, which is very hydrating and rich with wild cherries. It heals the free radical damage and dryness. The product can be applied all around the year, yet it is good summer body lotion product for winter season. It has soothing and moisturizing properties of organically sourced Aloe juice and jojoba oil.
14. Plum Vanilla & Fig Body Wash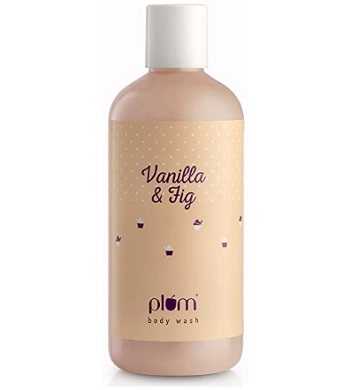 The vanilla and fig body wash is yet another highly rated body wash from Plum. This is a creamy and richly made body wash cleanser that is soap-free. As it comes with a non drying formula, it is suitable for all skin types, especially during the cold season, when the skin becomes naturally dry and low on hydration. With the pleasant and soft vanilla fragrance, it makes your bathing experience luxurious. It rinses off the impurities easily and is a pthalates free product.
15. Plum Grape Seed & Sea Buckthorn Glow-Restore Face Oils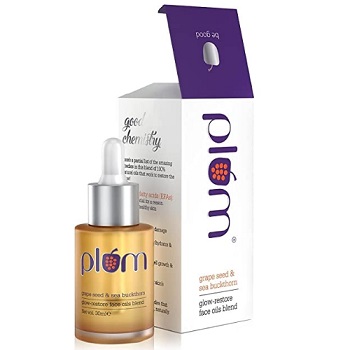 This Plum face serum product is a unique combination of 10 plant derived oils. It combats skin dryness and gets you glowing skin instantly. This product wonderfully cures the skin, its non-greasy texture absorbs instantly and doesn't feel like an oil at all. It's suitable for normal, dry and very dry skin. This Plum product is paraben-free, phthalate-free and 100% vegan. It can be used alongside your SPF cream and moisturizers without extra heaviness.
These are the best Plum products available in India. These products are suitable for different skin types and is the best brands for the organic skin care.