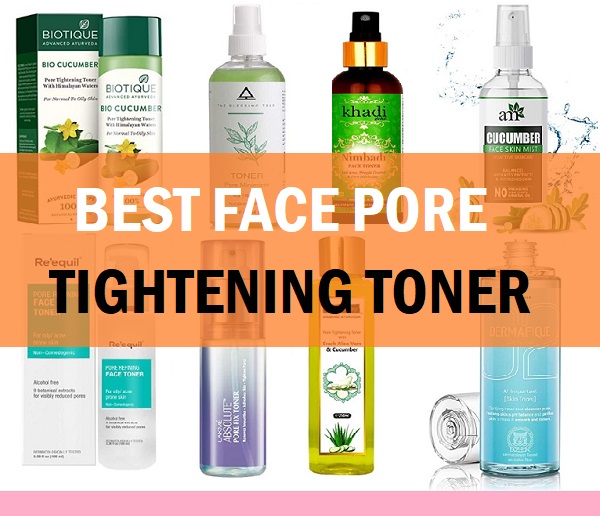 Skin toners are meant to swipe off the extra oils and dryness that stays even after washing the face. Pore tightening face toners are like intermediate or in between product that you apply after a face wash and before using a face moisturizer or cream. Toners are generally with a watery inconsistency and penetrate deeply in the skin layer to tone the skin as the name suggests.
They also aid in the better absorption of the other skin care products by sweeping the impurities off the skin. Most importantly, toners are brilliant and beneficial in preparing up the skin especially, when your skin is oily. Pores are often seen on oily and combination skin. Even dry skin can have enlarged or open pores that need to be reduced or shrink for getting flawless skin. These refining or Pore tightening toners are formulated with special ingredients that clarify the pores and reduce the size. We've compiled the list of the best pore reducing toners for oily skin the market.
Best Pore Tightening Toners For Oily Skin in India (2022)
1. Biotique Bio Cucumber Pore Tightening Toner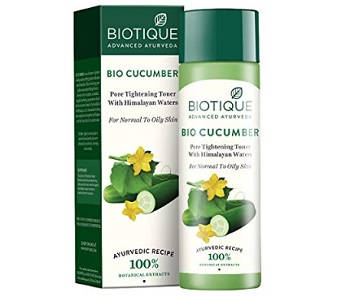 Biotique bio cucumber pore tightening toner is specially made with ingredients which are suitable for normal to oily skin. It is rich in Himalayan waters and cucumber extracts. It also contains coriander, and peppermint oil. It is formulated to bring the complexion into perfect pH balance and to keep the skin in its purest state. While reducing the size of the pores, it also ensures that the excessive oil secretion is regulated. Take the toner on a cotton pad and swipe it all over the face in the morning and night. Apply your moisturizer and creams after that. It also works in removing dust and dark spots with regular use.
2. Re'equil Pore Refining Face Toner for Oily, Sensitive and Acne Prone Skin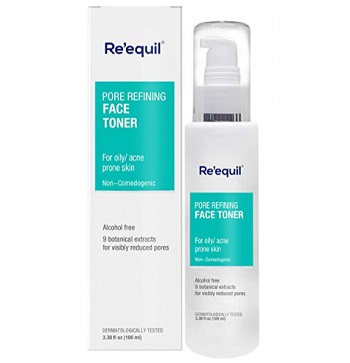 This pore refining face toner is an alcohol free product which is safe for oily and sensitive skin as well. It is a non-comedogenic product which is safe to give visibly reduced pores. With clinically proven actives, it shrinks the size of the pores and removes the pore clogging residue and dust. Therefore, it also decreases the chances of acne and future breakouts. By refining the pores, it makes skin complexion better than before. With 9 Botanical extracts in this, it's the powerhouse of Natural ingredients like witch Hazel, Aloe vera, Seaweed, Great Burdock, Ivy, lemon, watercress, sage and common soapwart. The pore tightening toner also regulates sebum production and minimises the chances of acne. It helps to tighten and reducing pores and absorbs excess oil to give you bright skin. It's the best pore refining toner in India.
3. Lakmé Absolute Pore Fix Toner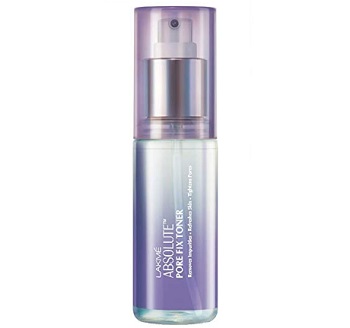 Lakme Absolute pore fix toner is am amazing product formulated with an alcohol-free formula to unclog pores and removal of excess oil. It re-energizes the tired skin and gives a fresh look. With tightening the pores, it rejuvenates the skin which looks flawless. It comes in a mist form, therefore is easy to apply the product with or without a cotton pad. Just spray the toner on the face and wipe it off with the cotton pad. It also unclogs the pores therefore, helps to better absorb the moisturizer or face cream in the skin layers. It tightens the pores to reveal a smooth and clear skin.
4. Indus Valley Organic Ayurveda Fresh Aloe Vera and Cucumber Water Pore Tightening Skin Toner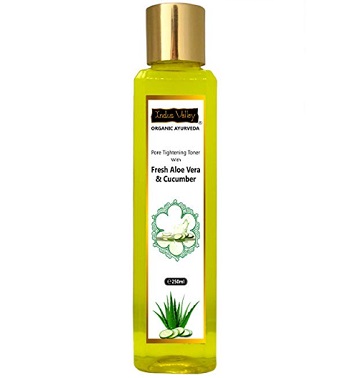 Indus Valley organic pore tightening skin toner is rich in aloe vera and cucumber water. It is a purely natural and the best facial toner with natural ingredients. This pore tightening toner for oily skin removes the extra oils from the skin with dirt and bacteria, thereby reducing the acne chances. Aloe vera moisturizes skin without a greasy feeling. Wipe it off. And see the results in the pores getting tighter. This toner also restores. It's the best natural pore minimizing toner in the market at reasonable process.
5. Dermafique Aqua Marine Skin Toner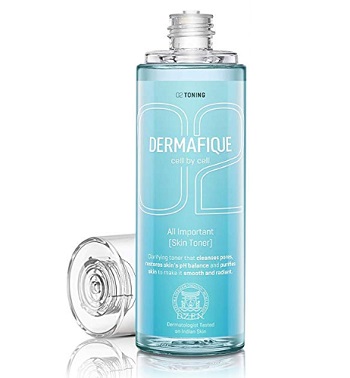 The clarifying skin toner cleanses the pores and restores the skin's pH balance. It purifies and makes the skin flawless and better than before. The best thing about the toner is that it's free of any paraben or sulphate and has an alcohol-free formula. Suitable for all skin types it revives and refines skin pores. It's a good toner for clogged pores.
6. AromaMusk Fresh Cucumber Pore Refining Face Mist Toner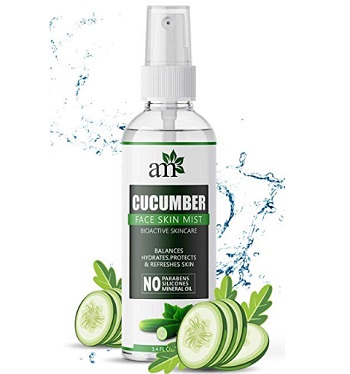 Aroma mask fresh cucumber pore refining face toner is also a pore reducing product. It balances the skin's natural pH balance, hydrates and protects it. With no parabens, silicones and Mineral oil, this is a soothing skin toner for open pores. The mild and gentle moisturising face toner is suitable for sensitive oily and acne prone skin. It also works as a great makeup remover by gently lifting off the makeup particles and traces. With advanced bio natural ingredients, it penetrates the pores nicely and increases the skin elasticity. It is one of the best pore tightening products in the market at reasonable prices.
7. Khadi Global Nimbadi Anti Acne Pimple Control and Pore Minimizer Face Toner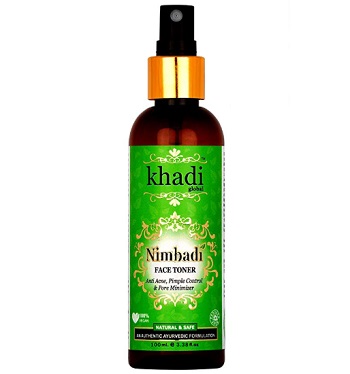 Khadi Global nimbadi toner is an anti acne and pimple control product for minimising pores.
The product is reasonably priced and contains different types of antiseptic and antibacterial ingredients. Honestly, the toner is loaded with an alcohol free and antioxidant rich formula that replenishes the skin while fighting the future acne. This anti-acne face toner clears the dirt and impurities from the skin. Upon application, it unblocks the pores protects the skin from external impurities. It contains Neem Oil that kills the acne causing bacteria for giving fresh look to the skin without the acne. This is by far one of the best face toners for oily skin in India.
8. The Blessing Tree Tea Tree Pore Tightening Toner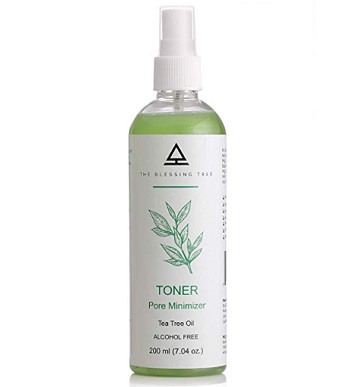 The blessing tree alcohol free product is for sensitive and combination skin. After cleansing your face, apply this pore minimising product to let the pores get reduced in size. This pore reducing tonor does not have any alcohol or harmful chemicals and is safe for all skin types. It soothes the skin and reduces the redness of pimples on the skin. It's one of the best pore minimizing toner in India.
9. Kaya Clinic Daily Pore Minimising Toner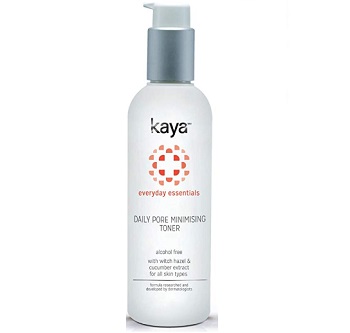 Kaya daily pore minimising toner is also one of the best alcohol free products for oily skin. It contains witch Hazel, cucumber extract and other botanicals that make it suitable for all skin types. It is a dermatologically safe for sensitive skin as well. Apply this on the cotton pad and swipe it over the face and neck. Applying it in the morning and evening gives good results.
10. Vital Organics Witch Hazel Deep Cleansing Facial Toner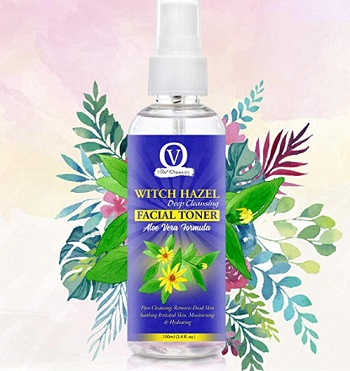 Vital Organics Toner is also an anti aging toner for all skin types. With the power of aloe vera and chamomile, it is a pore cleansing product which removes the dead skin cells and calms the irritated skin. It's for all skin types, so even if you have large pores on dry skin, this is a good product to try. It does not have any artificial fragrances or dyes but has a formula that is alcohol free. It's really good, effective and the best toner for pore tightening.
Now that you know about the pore minimising products available in India, you do not have to worry about your enlarged pores secreting more sebum or making your skin sticky.
Using toners can surely bring a lot of difference to your skin. Just add these toners to your morning and evening skincare routine to see your skin look better than before. In fact before makeup applying any of these pore minimising products would help you in layering the base makeup nicely.
Skin Toner is a good option for anyone who is looking to get some extra benefit from their skin care products as they make the skin care product get absorbed in the skin layers nicely by clearing the pores from gunk and residue. So, hope you would be able to choose the best toner to minimize pores by this list and guide. You can get the smaller pore size by the use of these products. Let's also get to know a recipe for how to make toner at home for oily skin to shrink pores.
Best Homemade Toner For Open Pores
Take 50 ml of distilled water in a clean bottle. In that, add 15 drops of tea tree oil and 5 spoons of cucumber juice. Mix it and apply using a cotton pad directly on the face.