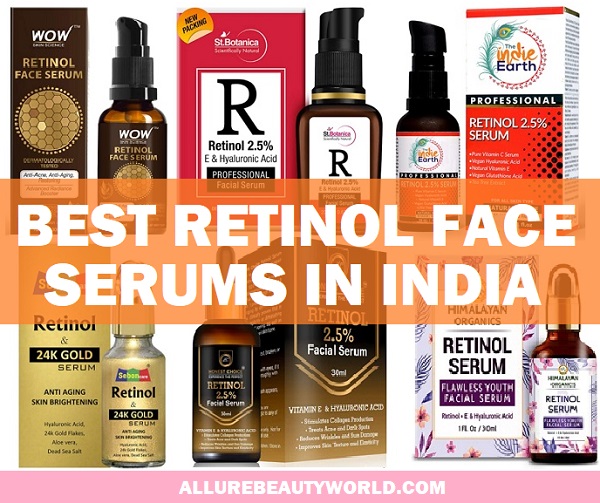 Retinol is that a miracle ingredient that is known for its highly effective wrinkle smoothening properties and even the dark spots and patches. Just like the retinol creams, retinol serum are even better to cure the fine lines and aging. Face serums are better than the creams because of their light texture and smaller molecules that tend to penetrate the skin layers effectively. Retinol, a vitamin A derivative, is termed as one of the best scientifically proven ingredients to speed up the cell renewal rate and smoothen the lines and wrinkles on the face. One can start using a retinol serum in their mid twenties. This would help in minimizing the fine lines and prevents the premature aging as well. Retinol serums are available in different percentages, however the ideal percentage is anything around 2-2.5%. Now, you know the benefits of retinol serum, so let's get to know more about its application.
How to start applying retinol serums?
If you are wondering when do you should use retinol serums, then apply the retinol serum at night and avoid mixing these serums with other skin care ingredients or products. You can use retinol serum with hyaluronic acid cream or even some other ingredients like vitamins like C, E or hyaluronic acid.
Are there are side-effects of using retinol serums?
There can be some side effects of using retinol serums, like peeling of the skin, redness and itching that can be temporary however, if the condition prevails that you must stop using the product. If you are using a retinol product that is more than 2%, then always remember that you have to apply sunscreens on daily basis, whenever you go out under the sun.
Best Retinol Face Serums in India
Now let's take a look at the best retinol serums available in the Indian market.
1. WOW Retinol Face Serum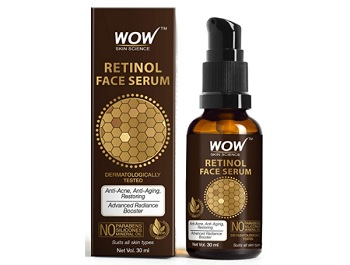 Wow retinol face serum is one of the best serums are there that is also in budget. It primarily works as an anti acne, anti aging and skin restoring product. It does not contain paraben, silicon and mineral oils. As it is suitable for all skin types and can be safely applied at night. The serum contains 100% Vegan and gluten-free formula. Apart from retinol it contains witch hazel, aloe vera leaf juice extracts, vitamin B3 and Vitamin E. So, basically it helps to clear the acne breakouts and refines the skin texture and pores. By evening out your skin complexion, it also boosts the skin radiance. It's also pretty suitable for pigmentation cure.
2. StBotanica Retinol 2.5% + Vitamin E, C & Hyaluronic Acid Professional Face Serum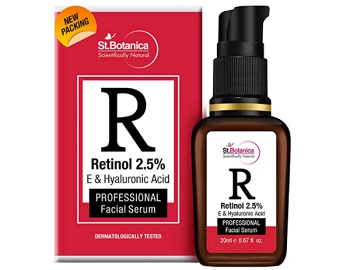 This is one of the best retinol serums available in the Indian market as it contains 2.5% retinol along with Vitamin C and Hyaluronic acid. It's a natural emollient and moisturising product that helps to keep the skin dewy and supple. Decreasing the fine lines and wrinkles, it is known to improve your skin elasticity. While restoring your skin's moisture, it really affects the texture in a positive way. The product is safe to be applied for all skin types. It not just improves the fine lines and wrinkles, but also lightens the pigmentation and discoloration. It will boost the collagen synthesis, because of which within a minimum of two to three months, one can see the visible results. The best time to apply this retinol serum is at night by taking few drops on your clean hands and massaging on your entire face and neck.
3. Royal Needs Retinol, Vitamin C and E, Hyaluronic, Glycolic Face Serum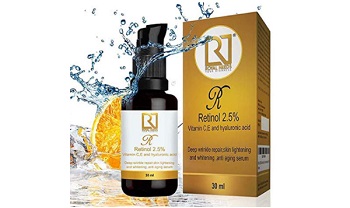 This retinol serum contains 2.5% retinol along with Vitamin E, Vitamin C and Hyaluronic acid. The product is safe enough for the sensitive skin also, because it heals the dry patches and hyaluronic acid is considered as hydrating ingredient even when you have sensitive skin type. Its formula does not cause irritation but helps to built up the skin renewal rate and increases the skin ability to heal itself. One can get the maximum benefits of this product by applying it at night on the clean skin and neck. Even if the pores are large and open, it helps to counteract and minimise the pores. This retinol face serum for acne also works efficiently to fight the scarring.
4. The Indie Earth Retinol Deep Wrinkle Repair Serum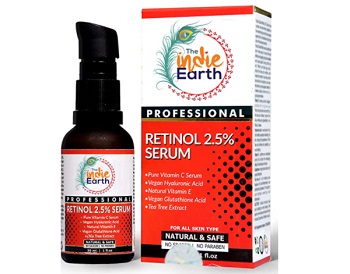 The deep wrinkle repairing retinol serum also contains vitamin C. This means that this product also works on the pigmentation and dark patches on the skin. It contains tea tree oil extract, glutathione and hyaluronic acid with 2.5% retinol. The product is safe for irritated skin and contains no parabens or Silicones. It also has green tea and tea tree extract, which is why, it's one of the best retinol serum in India for oily and acne prone skin. Also for the people who are in their mid twenties and have oily and acne prone skin but would like to use a good retinol serum. So the ingredients present in this retinol serum helps to enhance the skin collagen synthesis to make the skin appear plump and smooth out the fine lines and wrinkles. Tea tree oil works on the breakouts and fights the scars.
5. Honest Choice Retinol Serum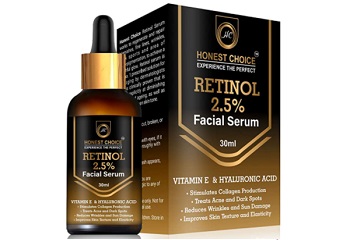 It also contains retinol 2.5% along with Vitamin C and hyaluronic acid. This is a suitable retinol face serum for aging control for normal to dry skin. It also contains glycolic acid that has a mild peeling action on the skin. So the speeding up of skin cell turnover due to this serum helps to improve the skin texture and shows good results in smoothing out the fine lines as well as wrinkles. This face serum has double effect on the skin that it increases the amount of collagen synthesis as well as it safeguards the skin from inducing its natural collagen production. This can be applied at night however make sure that for the day time, you must apply a sunscreen over SPF 30.
6. Himalayan Organics Retinol Face Serum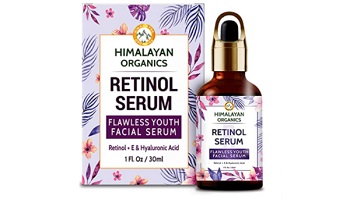 It's a skin healing face serum which comes in a dark colour bottle and a dropper. It is crafted to suit all skin types and it's really works perfectly fine for sensitive, combination, dry to normal as well as only skin type. This anti aging serum combats browns spots, age spots, acne scars and sun spots along with the fine lines and the wrinkling of the skin. It also presents the over-production of the melanin pigment which can make your skin patchy and dull. It also contains a blend of vitamin c, Niacinamide, and Hyaluronic acid that makes skin appear glowing and brighter than ever. It is a product that can be applied at night as well as for the daytime, however whenever you use a retinol serum , always apply a layer of sunscreen above SPF 30 on your skin.
7. SebonCare Retinol Serum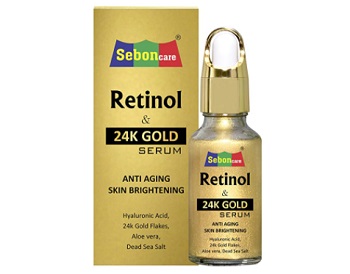 The product is really rich with Vitamin E, aloe vera, dead sea salt, Hyaluronic acid and retinol 2%. It is basically made to keep your skin blemish free. The best thing that this product does is skin tightening and pore refining. So other than wrinkles and fine lines open pores is also your major skin issue, this product can cure it. As it is free from the Chemicals and hazardous ingredients, it is safe for sensitive skin as well. The serum is completely devoid of paraben, sulphates and is a pH balanced formula which is not tested on animals and is 100% natural and handmade. The organic retinol facial serum contains 24 carat gold flakes. Apply 2 drops of this face serum at night and it can be applied by both men and women.
8. Irem Retinol Serum 2.5% with Hyaluronic Acid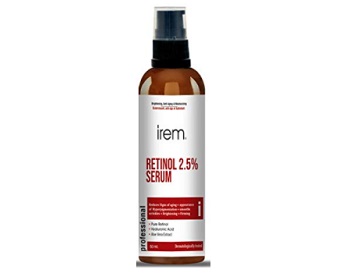 Another good hyaluronic acid and retinol face serum is from the brand Irem, which makes pretty good products for the skin. With Vitamin A derivative retinoid has the proven anti-aging abilities. Boosting the collagen production, it minimises the open pores and improves the elasticity and helps to cure acne. This retinol wrinkle control face serum helps to lighten discoloration and age spots on the skin. Women and men over 25 years of age, can apply it at night by taking few drops. Hyaluronic acid is a naturally occurring highly moisturizing ingredient that decreases as we age, this is why this preserves the elasticity and makes the skin firm. The product is also free from the parabens and sulphates and hence is a natural product.
9. Organix Mantra 3% Retinol Face Serum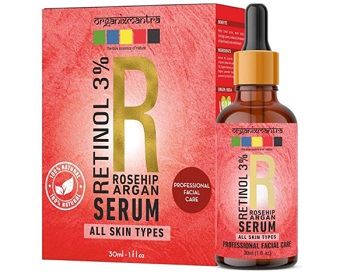 Organix Mantra retinol serum contains 3% retinol, along with rose hip and Argan oil. It is a professional face care product that moisturises and hydrates the dry and damaged skin. Rosehip oil helps to fight the acne and enhances the skin texture. It contains Retinyl Palmitate that is known for its potential anti-aging properties. It boosts the collagen production and shields the skin from environmental damage by adding an ultra hydrating layer on the skin. It speeds up the healing of the skin and is safe for dry skin. It is an excellent nourishing face serum for dry skin and sensitive skin.
10. Organo Gold Retinol Serum Deep Wrinkle Repair Serum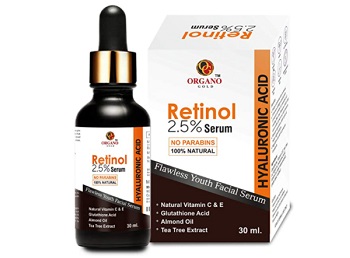 Presence of retinol 2.5% in makes it effective to delay wrinkles. This does not contain any parabens and is a natural product. It has a Vitamin C, Vitamin E, almond oil, and Glutathione helps to safeguard the skin from variety of the skin issues. It is the most effective ingredients to improve the fine lines and wrinkles on the face. It increases the cell turnover rate and improves the discoloration by refining and shrinking the size of open pores. It makes the skin smooth and a lot better than before. It works really well overnight by repairing the skin.
These are the best retinol face serum is available in the Indian market for anti ageing and controlling the wrinkling of the skin. One can try these face serums during the night time because night is the time when your skin naturally heals and rejuvenate itself. Other than that, if you are not aware how to apply a serum, then it is very easy.
How to apply retinol face serums?
Apply the face serum after cleansing your skin and taking few drops. Blend the drops of serum on your entire face and neck. Serums must be applied on the face before using a face cream. As you will be applying this retinol face serum at night , you can also use a night cream afterwards or leave it just like that.