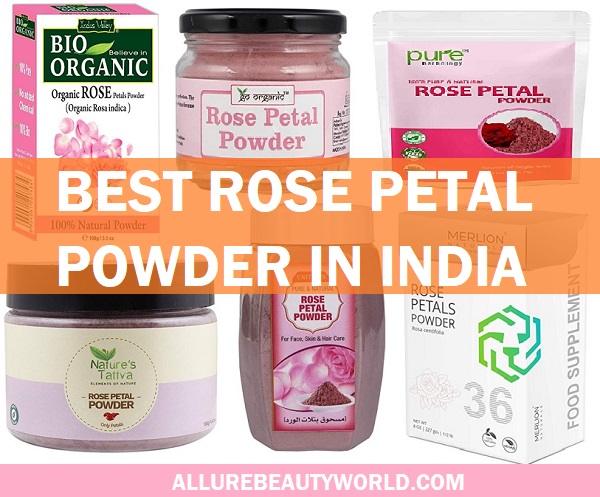 Rose petal powder can be used to prepare different types of face packs and masks to calm the irritated skin and to get fairness. Other than that, freshly grinded rose petal powder can also improve your skin complexion and gets rid of the acne marks quite faster at home. Rose petals are also very rich in vitamin A, C and E. This hydrates the skin and makes the tone and texture smoother. While reducing the appearance of dark circles and wrinkles from your sagging skin, rose powder also works as an antibacterial and anti-inflammatory product for your skin. So giving you beautiful skin without the acne and pimples or even the blackheads, this powder is multi-purpose.
List of Best Rose Petal Powders in India (2022)
Here, we have compiled this list that pure rose petal powders available in Indian market. These rose petal powder brands are from reputed sellers and are 100% organic and pure.
1. Indus Valley 100% Organic Rose Petals Powder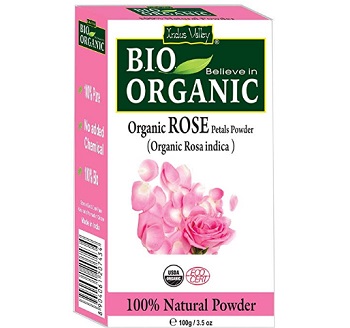 The organic rose petal powder or Rosa Centifolia powder comes from a reputed brand and it has garnered really good reviews. It is 100% natural powder and has high amount of Vitamin C. It is considered as a really wonderful solution to get rid of the skin issues. Even for trying your own recipes for face, this rose petal powder can be dried.
2. Nature's Tattva Rose Petal Powder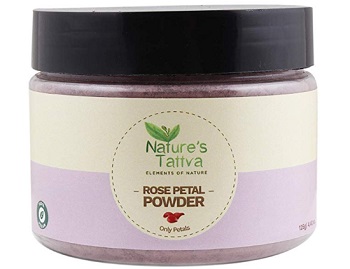 Nature's tattva rose petal powder is made not from the entire flower but only from the rose petals. It is one of the best rose petal powders available in the market. They use desi and Indian roses from the city of Kannauj. It can be used as a rose face mask to improve the skin tone.
3. United's Pure & Natural Rose Petal Powder
United's Rose petal powder is suitable for your face, skin and hair care. It moisturises the skin and is also wonderful for the sensitive skin type. In fact, rose petal powder is an excellent skin cleanser that can be mixed with some rose water or even the distilled water to make your own. It reduces the cane and lightens the acne scars. For the eyes as well, it is a coolant and soothing ingredient.
4. Merlion Naturals Rose Petals Powder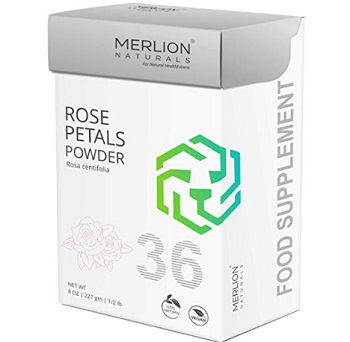 This rose petal powder contains the pure extracts and powder of the roses that is made from cruelty-free and in a vegan manner. Free from the chemical additives, this contains antioxidants that fight free radicals from damage in your skin. It decreases the excess sebum and germs causing bacteria on your skin. For oily acne prone skin, this is really efficient snacks. It lightens the sun tan when applied regularly on the face.
5. Go Organic Rose Petal Powder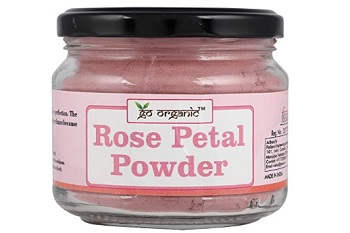 This organic rose petal powder comes in a glass jar and is safe to be used sensitive skin. It acts as an excellent cleanser for your skin and considered as a natural sunscreen because if its Vitamin C properties. It feels the skin from the damaging UV rays and combats the aging and skin sagging. Even for your body skin, you can apply rose petal powder to get rid of the sunburn and prickly heat in summers.
6. HillDews Rose Petal Powder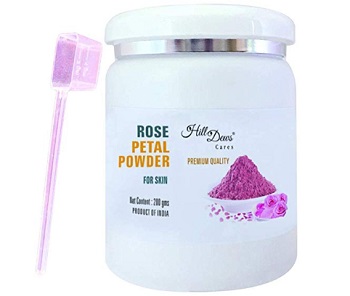 This rose petal powder comes with a spatula and plastic jar. It's suitable for skin and works for all skin types. Good for oily skin, it pulls the access oils from the pores and keep them clean. Thereby, it reduces the chance of blackheads and whiteheads and acne from falling on your skin. It helps to improve the skin texture, complexion and makes you glowing skin tone. Even before going to a party application of this rose petal powder pack would help you in getting beautiful skin.
7. Elemensis Double Filtered Rose Petal Powder For Skin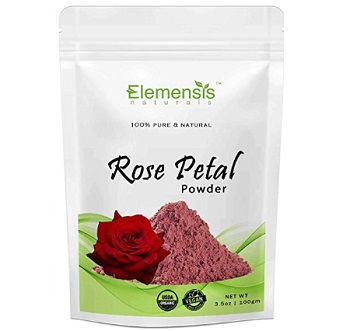 This natural and pure double filtered rose petal powder is suitable for getting rid of sun tanning. It gives you glowing skin that has no scars at all. The best benefit of using this rose petal powder is to heal the acne prone skin and to lighten the blemishes faster.
8. Organic Rose Petal Powder for Skin and Hair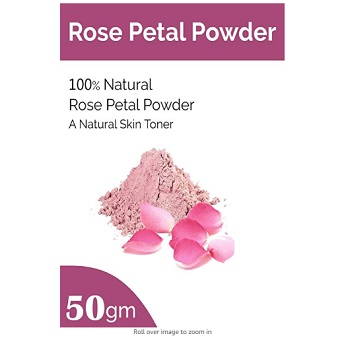 This rose petal powder is suitable for your skin and hair uses. For your skin, it cleanses the pores and detoxifies. It acts as a soothing moisturizer because it also contains rose oil. It heals the skin inflammation and clear the blemishes and acne scars.
9. Pure Herbology Pure and Natural Double Filtered Rose Petal Powder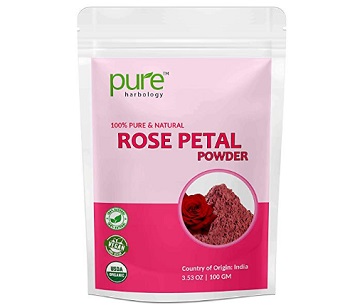 It's a pure and double filtered rose petal powder, which is safe for your skin. It reveals beautiful complexion by removing tanning and skin dryness. It's for regular use and it can be applied as a skin cleanser and toner.
10. MR Ayurveda 100% Organic Rose Petals Powder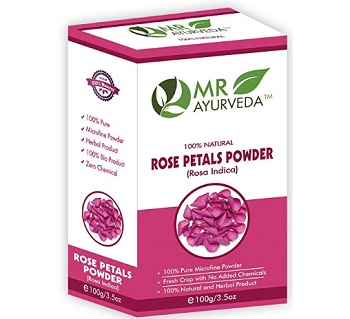 This rose petal powder is derived from the rose petals and has pure 100% pure micro fine powder. There are no added chemicals and just the natural and herbal product. It is applied on oily skin to get rid of the excessive sebum production and also to act as a cooling agent for your irritated inflamed acne prone skin.
11. Etheric Rose Petal Powder for Skin Care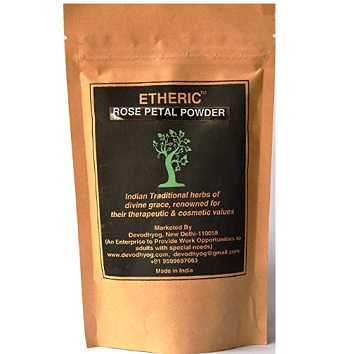 This is one of the best brands for herbal powders. It is used in the traditional way to extract the rose petal powder without the use of any chemicals. It is one of the best solutions for curing uneven skin tone and even pigmentation. To cure the melasma and eczema, this powder can be applied by mixing it with some filtered water.
12. Mesmara Herbal Rose Petal Powder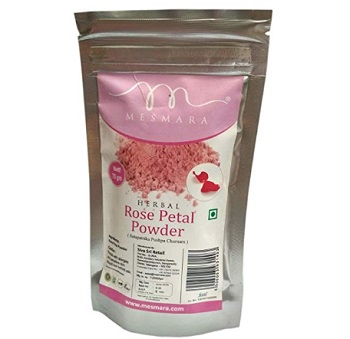 One of the best brands of rose petal powder; it ensures 100% purity with no pesticides and chemicals used. It rebalances the skin tone and acts as a natural coolant for your skin and body. It increases the blood flow and makes the skin healthy and shinier. It can be applied by all the skin types and even the sensitive skin.
13. Herb Essential Rose Petal Powder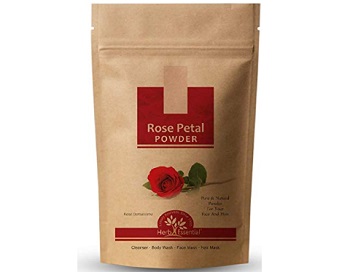 The rose petal powder is safe for your face and skin. Packaged in a ziplock packaging, it can be transferred into air tight container. It helps in skin inflammation and prickly heat. It makes your skin soft smooth and glowing. It has an exotic scent and it refreshes your senses and makes you revitalized. The rose petal powder also contains multiple vitamins and antioxidants that fight free radical damage to your skin. Applying rose petal powder face pack regularly helps to smoothen your complexion.
14. Luxura Sciences Natural and Double Filtered Rose Petal Powder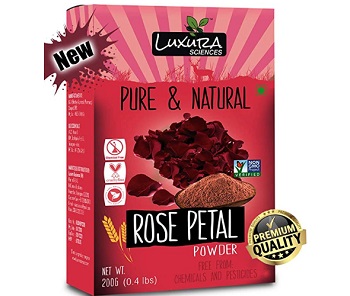 Another really reliable brand of rose petal powder is Luxura Sciences pure night rose petal powder. This powder is chemical free, cruelty-free and is a Vegan and natural powder. It is the best natural skin toner and cleanser that works for uneven skin tone. Even for removing the skin pigmentation, it works like a charm.
These are the best rose petal powder brands available in India. Most of these are used for skin and hair that you can use. Most importantly, the powder is safe for the sensitive skin, therefore if you have problems like Psoriasis, eczema or any other skin issues or sensitive skin, these can be used without any harm. Just take care of the other ingredients that you will be mixing along with this powder.