Salicylic acid is a keratolytic compound and an excellent peeling agent. This loosens the skin by increasing the amount of moisture content in the skin. This process clears the clogged pores by getting rid of the debris, dirt and dead skin cells. This pre unclogging activity makes this product work wonders for acne prone and oily skin. Salicylic acid also decreases the too much of sebum secretion on the skin layer, hence, is known to minimize acne. Salicylic acid's topical application helps in the cure of acne, scars, marks and pimples.
Out of the multiple Salicylic acid rich products available in the market, we've picked up the best products that helps you get clear spotless skin right from the first few uses. The effectiveness of salicylic acid makes this product one of the best to cure skin issues. For acne, men and women can apply 0.5% to 2% Salicylic acid topical solution. Benefits of salicylic acid have made many top brands to formulate skin care products that work really well for the oily and acne prone skin. Such skin types are more likely to get blemishes. While even those with combination skin can expect to get benefits of salicylic acid rich skin care essentials.
Best Salicylic Acid Products For Acne and Scars in India
Let's take a look at the products that help to get clear and blemish free skin. These are helpful because of the presence of salicylic acid in them. Most importantly, these are mild enough to be applied on every basis.
1. Globus Remedies Glycolic & Salicyclic Acid Face wash For Acne Control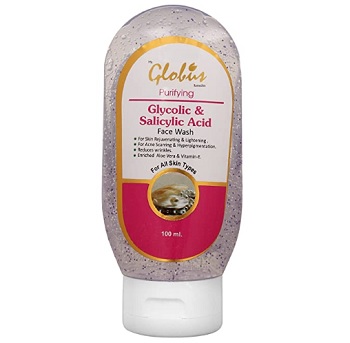 This glycolic acid face wash is also rich in salicylic acid. This skin care product has two of the most powerful products, known to rejuvenate the skin and help in skin lightening. Right from removing the acne scars and hyper pigmentation, it's a product that also reduces the wrinkles in the long run. It's infused with aloe vera and Vitamin C too. When used, the product only removes the skin impurities and it also contains glycolic acid which is an excellent exfoliating agent.
2. Innila Skin Whitening Foaming Face Wash With Glycolic Acid & Salicyclic Acid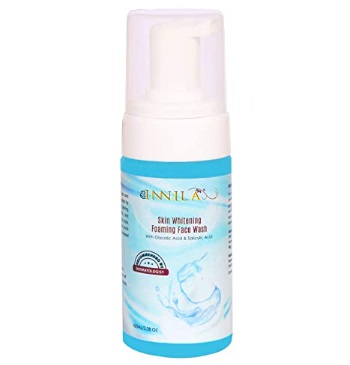 This skin whitening face wash comes in a pump dispensing pack. This basically has a foaming facial cleanser's texture to remove the dirt, makeup, oil traces and pore-clogging debris, making the skin free of the impurities. It's also an excellent pore cleanser with great moisturizing properties. This product improves the skin tone and fights back the blemishes to make your skin tone skin. It has strong glycolic acid and salicylic acid formula which works on the skin in just few days of use; it also reduces the appearance of fine lines and acne scars and blackheads. The product is responsible to make your skin crystal clear and smooth. It also contains citric acid that also make it one of the best anti acne and anti aging face wash.
3. Neutrogena Deep Clean Blackhead Eliminating Daily Scrub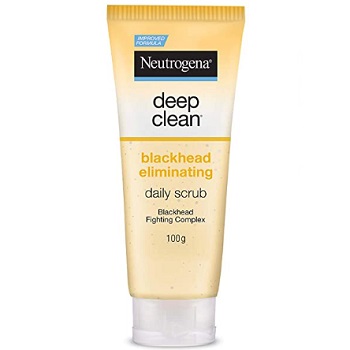 To get rid of blackheads and whiteheads issues, the Neutrogena Deep Clean Blackhead Clearing Daily Scrub is the best salicylic acid products for blackheads. It targets the stubborn blackheads like a charm and gives your skin smooth and soft feeling. It also prevents the new blackheads from forming on the skin. The product penetrates deep into the pores to remove the dead skin cells, therefore the skin gets squeaky clean and fresh. With Cedar wood extract, it strengthens the skin natural repair system and water loss. It's a dermatologically tested product with salicylic acid to even prevent the formation of new blackheads. This is one of the salicylic acid products in India for exfoliation.
4. Cipla Saslic Foaming Face Wash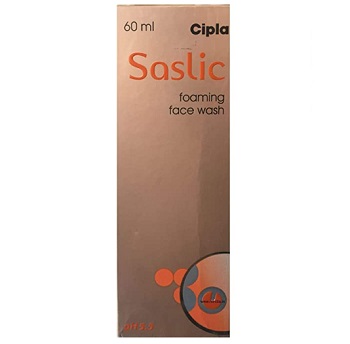 The highly reputed foaming face wash is rich in salicylic acid.  Being one of the best salicylic acid face wash, it's dermatologically recommended and tested product for people with acne prone and oily skin. It's one of the best facial cleansers for Acne prone, oily and combination skin. The best thing about this facial cleanser is the feature, is that it cures acne vulgaris effectively. Right from unclogging the blocked pores, it gets rid of the deeply embedded impurities in the pores. Even women who use makeup everyday shall try it. This product also contains the blackheads fighting formula which improves the blackheads and make your skin free from the blemishes.
5. Sebogel Salicylic Acid & Nicotinamide Gel for Pimples and Oily Skin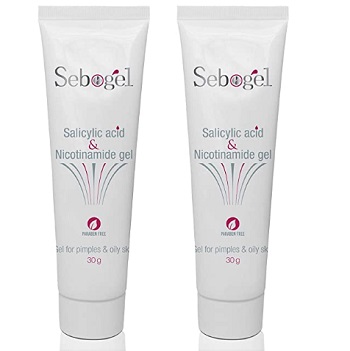 To cure and prevent the pimples and acne formation on the skin, this product helps a lot. It's a salicylic acid and nicotinamide gel that is topically applied on the acne and pimples.  It contains salicylic acid (2%) and nicotinamide, known as vitamin B3 in 6%. It's a specially prepared formula with a gel texture and is excellent to close the open pores after unblocking them from debris. It's daily sue also gives good reduction of the dark spots and scarring.
6. Dot & Key Zit Zapping Skin Clarifying Anti Acne Face Serum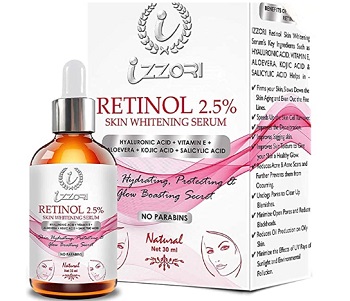 The acne treating face serum contains clary sage and tea tree oil along with salicylic acid. It prevents acne formation removes pimples and acne scars. While the product gently exfoliates skin, it calms the skin irritation, redness and the inflammation. This natural face serum does not contain any harmful chemicals and is completely safe and gentle on the skin. It has a quick absorbing and non-comedogenic formula, working to decrease the redness and swelling of the pimple right from the first use. This face moist
urizer with salicylic acid also works as an anti pimple serum that balances the more than the needed sebum release on the skin and removes the dead skin cells by pore unclogging.
7. IZZORI Retinol Skin Whitening Facial Serum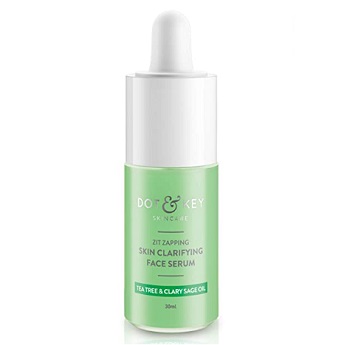 The retinol skin whitening facial serum contains Hyaluronic acid, Vitamin E, Aloe vera, Kojic acid and Salicylic acid. The serum is an excellent daily-use skin care product to give you naturally bright looking skin with no paraben and harmful chemicals in it. This product is suitable for all skin types, helping in reduction of extreme oil production on oily skin and to clear the blemishes. It also speeds up the skin cell turnover or renewal of the skin layers, as a result it smoothens the faint lines and wrinkles are also cured. It firms your skin and skin ageing is also slowed down. This hydrating and protecting formula of this product contains retinol in 2.5%.
8. Paula's Choice Clear Pore Salicylic Acid Face Wash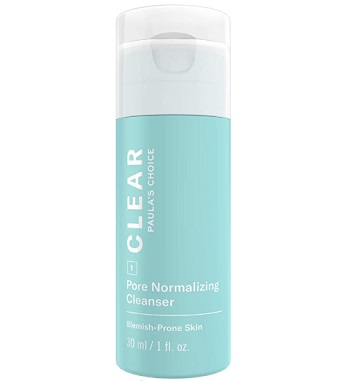 This is one of the best selling facial cleanser for pore normalising and for the blemish prone skin. It contains salicylic acid that can really give a new life to the acne prone and blemished skin. This product dissolves pore-clogging impurities and thus prevents acne and breakouts. It also cures blackheads, redness, uneven skin tone and roughness. This product is one of the best acne control face wash that removes the impurities while acting as a barrier for the new acne to form on your skin.
9. Neutrogena Oil Free Acne Face Wash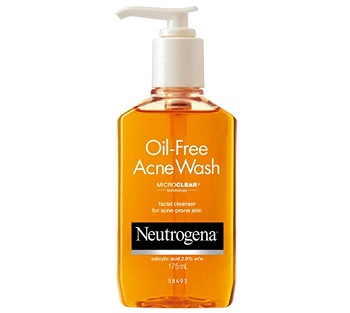 This is one of the best rated and affordable face wash with salicylic acid. This facial cleanser is developed and recommended by Dermatologist because it comes from Professional skin care range. It cleanses the skin to free up the oils and other impurities, responsible for creating blackheads and whiteheads on skin parts like forehead, nose etc.
10. RE' EQUIL Oil Control Anti Acne Face Wash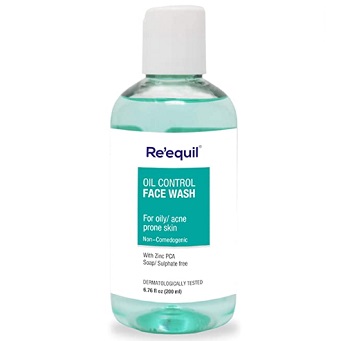 The facial cleanser contains purifying ingredients and Ultra cooling menthol. It's a facial cleanser that is suitable for all skin types, though works greatly for oily and acne prone skin. The daily use skin cleansing products fights the acne and blackheads on the skin. In fact salicylic acid in it, safeguards the skin from future acne and breakouts as much as possible.
The facial cleanser is one of the best oil free facial wash for acne prone and oily skin. It contains salicylic acid power which helps to unclog the impurities that helps to keep the skin clear. Salicylic acid exfoliates the skin and keeps it clear.
These are the best salicylic acid skin products to cure and prevent the scars and acne on the skin.
We've many brands that make different types of salicylic acid products. While these products can be used daily, we also recommend, using them into your routine every two or three days. Salicylic acid clears the oil and debris congested skin to clear clogged pores. This would lead to lesser blackheads and acne, because of the much reduced bacterial growth.
These salicylic acid products in India are generally safe for the skin, but if you experience any discomfort or skin irritation and redness, please discontinue using them.