Sandalwood or Chandan is one of the most used Ayurvedic herbal beauty products. One can cure skin problems like pimples, dark spots, dark circles, zits, breakouts and aging easily with the help of this amazing ingredient. Applying the Chandan face pack regularly on your skin helps to keep the skin problem free. With the ever-growing pollution and stress in our day to day life, one has to be pretty concerned about their skin care routine. So, if you have any of the beauty issues, then you can surely treat them using the sandalwood face packs and masks regularly. Chandan is used for various home remedies for skin.
Here we have compiled a list of the best ready-made sandalwood face packs available in the market. You can also create your own homemade lemon face mask, however if you are running out of time then using the ready-made face pack would be beneficial for you to get all the amazing benefits that this product has to offer for your skin.
Best Sandalwood Face Packs in India For Skin Whitening
So let's take a look at the best sandalwood face packs in India.
1. Khadi Herbal The EnQ Natural Sandalwood Face Pack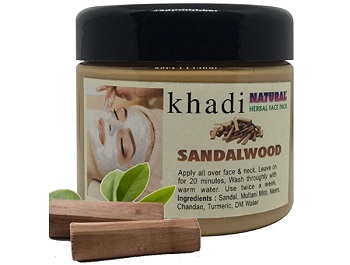 This is the best Sandalwood face pack which is very popular and beneficial. It is suitable for all skin types and is an organic facial pack made with Sandalwood powder. It helps to reduce signs of aging while removing the sun tanning and giving relief in sunburn. In fact, it is one of the best summer face packs that can be used by people of all skin types especially the sensitive and oily skin. You can apply this face pack 2 times in a week for good results in making the skin tone glowing and radiant. Apply it on the face and leave it for 10 to 15 minutes. Rinse with water thoroughly.
2. Khadi Natural Herbal Sandalwood and Mulethi Face Pack Mask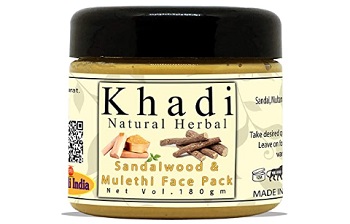 With the Sandalwood and Mulethi, this is the best face pack for fairness and to get rid of the suntan. It has most of the skin revitalizing ingredients which are highly beneficial to brighten the dull and dark skin. Even men can try this amazing skin brightening face pack twice in a week. Sandalwood powder is used for the benefits to reduce aging and to soothe the sunburn. Apply this face pack on the face and wash after few minutes.
3. Bella Vita Organic De-Tan Removal Face Pack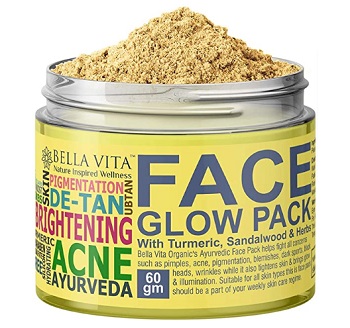 Dimension effective face pack is for pigmentation and dark spots. It is made with turmeric and Sandalwood along with other beneficial herbs that makes the skin tighten and cleanses it deeply by the clogging the pores. Mix this powder pack with the desired amount of mixture and apply on the face. Apply it for 15 minutes and rinse off with water an fall stop use it rise in a week. It helps in lightning the dark spots and acne scars and pigmentation. It is suitable for all skin types.
4. Qraa Men Haldi Chandan Face Pack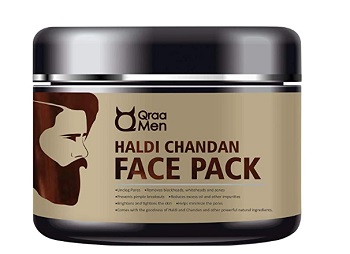 This product is made with Haldi and Chandan and is made for men. While unblocking the pores, it creates a glowing skin texture. It removes the blackheads and whiteheads and also the acne scars that can trouble the skin and make the skin better. It prevents a pimple and acne breakouts, especially during the hot and humid season. While the skin issues are because of the excessive oil secretion, it also maintains the oil balance and minimises the open pores. While shrinking pores, it also makes the skin youthful.
5. Roop Mantra Haldi Chandan Face Pack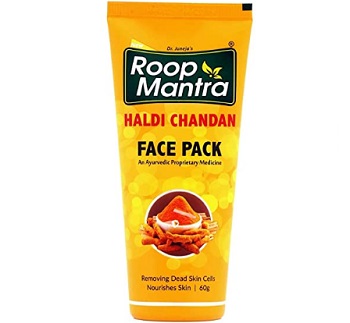 This face pack contains a Saffron and Sandal wood. Both of these excellent ingredients are known for their fairness imparting features. By removing sun tan, skin darkening and the damage from the skin. Suitable for men and women of all age groups, this penetrates deep in the skin and makes it fair and also works on hyper pigmentation from discoloration and dark spots.
6. Vaadi Herbals Chandan Kesar and Haldi Face Pack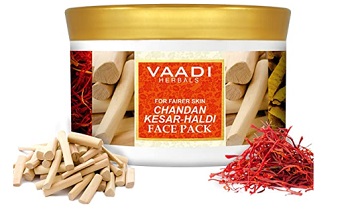 This face pack is made for all skin types and it enhances the skin's clarity and complexion. While removing the dead skin cells that ensure that skin texture remain smooth and glowing. While making the skin glowing and fresh, it's a product that helps in reducing pimples and premature signs of aging. Even if you are in your 30s, you can apply this sandalwood face pack.
7. WOW Ubtan Face and Body Pack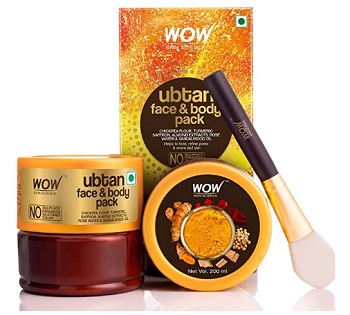 The product is a Ubtan face pack that contains Sandalwood, turmeric chickpea flour, Saffron and almond extract. That is more like in oven recipe that you can apply once or twice in a week. The traditional face pack gives the glow and health to your skin. It neuratilizes the free radicals that harm the skin. The pack is rich in antioxidants that help to restore the glow. The product is suitable for all skin types and does not contain harmful chemicals.
8. Joy Keshar Chandan Fairness Face Pack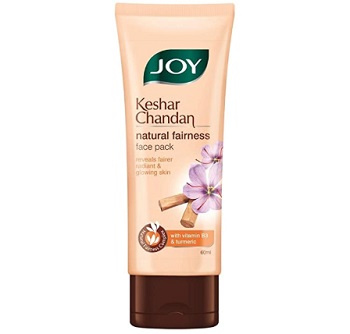 This is yet another product that is highly rated and reviewed. This product contains turmeric and Sandalwood and Manjistha that improves your skin complexion and gives clarity. While getting rid of the dead skin and debris, from the uppermost skin layer, it reduces the skin layer. Therefore, the skin looks glowing and better than before. Aging acne scars can make your skin look dull. This product also protects the skin from harmful UV rays and skin aging.
9. Indus Valley Rose & Chandan Face Pack for Glowing Skin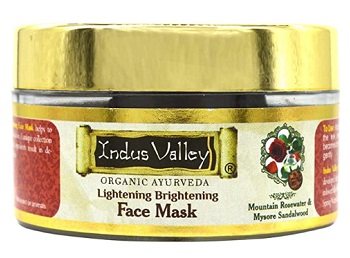 Rose and Sandalwood face lightening face mask is available at affordable prices. It's a herbal product without the use of chemicals. The Ultra rich face mask is formulated with natural ingredients for a brighter skin colour. It also enhances the new cell growth and with the fine Sandalwood powder it exfoliates the pollutants and deeply seated impurities for a glowing complexion. This is yet another good product that you can include in the everyday skincare regime.
10. Nature's Secret Sandal Wood Powder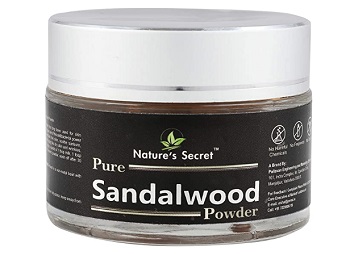 The pure sandalwood powder pack is available at affordable prices. It's a powder therefore, you have to mix it with some medium to create your own face pack. It is very simple to do and you can just mix it with some milk for your dry skin and in case you have oily skin just mix this powder with the rose water for oily skin. It removes the sun tanning and gives a glowing and fresh skin. In fact, it also helps to combat the premature aging and the factors that causes wrinkles. It makes your skin even tone and glowing. Apply this product on regular basis to clear acne causing bacteria and to exfoliate the skin.