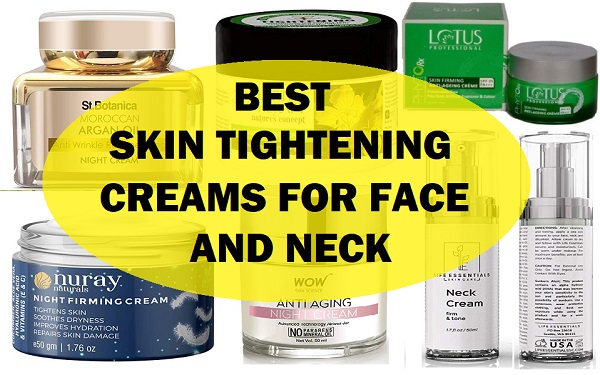 When your skin starts to get rough and dry, and sagging is also seen, you start to search the best skin tightening creams available in the market. However, these game-changing skin care product need to be chosen with care. Even Dermatologists recommend that you need to incorporate the skin tightening creams into your daily skin routine for maximum skin firming benefits. But which are these skin firming facial creams in India.  This is the big question for the day, right? Today's post at Allure Beauty World is all about the skin tightening face creams.
There are many reasons that contribute towards the loss of elasticity of the skin layers. This is a process that takes decades as once you reach your 30s, the rate of collagen and elastin protein tend to decrease. But thanks to the beauty Industry, they are constantly churning out effective anti aging skin care products that promise to firm and plump the skin. These products are rich and powerful antioxidants and compounds like retinol, collagen, elastin, ceramides, niacinamides and more.
Earlier, we have shared the best retinol face creams in India and the top rated collagen face creams that you can also try. And here in this article, we are going to talk about the best skin tightening face creams available in India.
Best Skin Tightening Creams For Face And Neck Firmness in India (2022)
So let's know the face cream to tighten the sagging skin to get some really good results.
1. StBotanica Moroccan Argan Oil Anti Wrinkle Regenerating Night Cream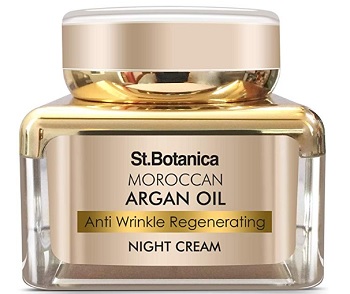 With argan oil as the key ingredient, this anti-wrinkle regenerating night cream provides light intense hydration and deep nourishment. If lines, wrinkles and sagging skin is your concern, this dermatologically tested product is blended with collagen, hyaluronic acid, and retinol to help you erases the wrinkles and put a delay on skin aging. With a formula including all that, it also helps in firming and lifting the sagging skin. With plant actives, this is free of parabens, mineral oils and other commonly used chemical that can be harmful to your skin. Putting this in your skin care routine will only get you the younger skin that you've always wanted.
2. Thalgo Hydra-Marine 24H Cream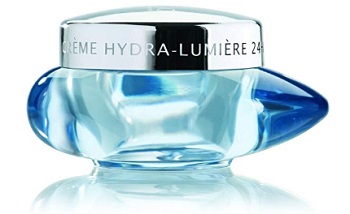 To retain the tightness of your skin, this 24 hour moisturizer creates a layer that restores the hydration. It facilitates the diffusion of dermal water to the layers of epidermis. Therefore, create an immediate skin tightening effect. Apply it twice in a day for better and long lasting results. It's also a youth preserving moisturiser for extremely dry skin and the best face cream for dry skin in India.
3. Nuray Naturals Vegan Night Cream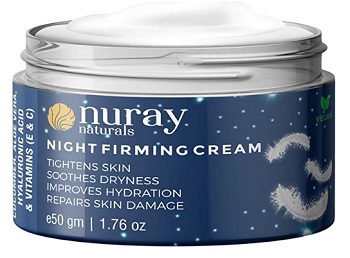 With an attractive and affordable price tag, the anti aging product has collagen and skin tightening formula. Not to forget that this skin tightening and brightening product is quite nutrient rich, making it as the best anti aging cream for dry face in India. With creamy texture, it comes with a pleasant smell. By giving tightening effect to the skin, it also reduces the appearance of lines and deep wrinkles on the forehead. One can see visible results within 2-3 weeks of regular use twice in a day application. Gently massage the product on the face and neck. It is one of the best paraben, preservatives, sulphates and mineral oil free creams in India.
4. WOW Anti Aging Night Cream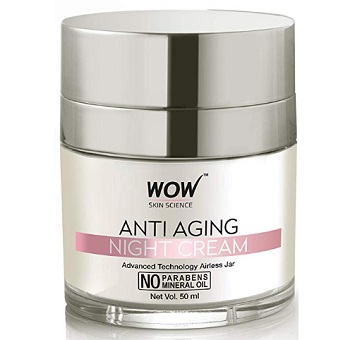 The anti aging night cream is yet another affordable skin firming creams available in the Indian market. When fine lines and ageing are your biggest skin related concern, a cream richly made with antioxidant loaded products, is best to be applied on face and neck. Consumers have noticed visible improvement in just 2 months of using this age delaying night cream continuously. With ingredients such as olive oil, hyaluronic acid, Aloe leaf juice and shea butter, it's a paraben and sulphate free formula. It is super light cream but it's infused with nutrients that makes your skin supple and hydrated.
5. Mamaearth Whitening and Tightening Day Face Cream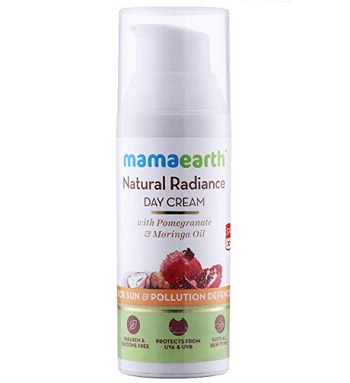 Mamaearth Skin tightening and brightening face cream comes with Moringa and Pomegranate oil. It's a day cream that is loaded with SPF 20 which is decent enough to shield the skin during sun exposure but use an additional sunlotion, when going for high altitude areas. This is very affordable skin tightening day cream to smoothen the fine lines and wrinkles by plumping the skin. It is also best for ladies, who would like to use anti aging creams to combat the early signs of aging and to put delay on skin aging. To tighten the face, it's the best facial skin firming creams in India.
6. Neck Firming and Tightening Cream for Sagging Skin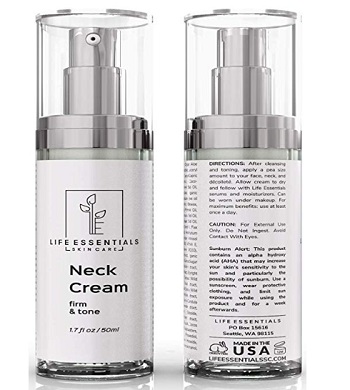 The face and neck tightening cream is a potential blend of ingredients such as Alpha hydroxy acids and glycolic acid. To reduce the sagging skin, puffiness under the eyes and dehydrated skin layers, this cream stimulates the blood circulation and effectively moisturizes the dull and dry skin. The intensely hydrating cream with glycolic acid exfoliates the skin and restores firmness. On the other hand, glycolic acid and Alpha hydroxy acids are known to give firm and fresh look to the mature skin. It is one of the best tightening creams in India however the price may not be quite on the affordable side.
7. Earth Therapy Whitening & Tightening Collagen Night Cream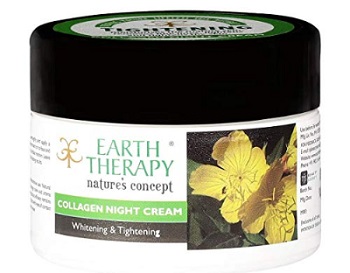 Perfect for all skin types, including even the oily and sensitive skin, this highly effective collagen rich cream is the powerhouse of natural ingredients. The anti aging night cream removes the lines and wrinkles, however it needs a time of 2 to 3 months to act and show some visible results. And within that time period, it also removes dark spots and scars. The moderately hydrating cream for sagging skin is excellent to maintain firmness on the skin. Collagen is the key ingredient  in this face cream to support the healthy cell production and boosts the natural collagen production too. Try it at night and you'll be pleasantly surprised to see the results.
8. Lakme Absolute Youth Infinity Skin Sculpting Day Creme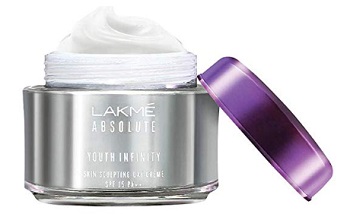 Lakme Youth Infinity Sculpting Day Cream has SPF. While protecting the skin from sun harmful rays, its Insta collagen boosters improve the elasticity to get tightening effect on the skin. After using this Lakme skin tightening day cream for several weeks, one can start to see good results in maintaining smooth and supple skin tone. Rich in antioxidants, it neutralizes the effects of harmful free radicals that are also responsible for signs of aging. With a nice easy to blend texture it is suitable for all skin types.
9. Olay Night Cream Total Effects 7 in 1 Anti-Ageing Moisturiser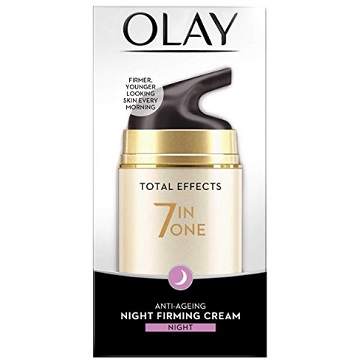 Appropriate for normal to combination skin, this cream is a rich blend of VitaNiacin and antioxidants known to fight free radical damage and skin sagging factors. So it reduces the spots and tightens the sagging skin. It's not just a moisturizer but keeps the skin smooth and supple. Moreover, the product does not have a hefty price tag, making it worth trying. Using it every night gets you smooth and even tone skin. Majority of people have claimed that this chance to show reserve soon as after 1 months of continuously using it.
10. Lotus Professional Phyto Rx SPF-25 Skin Firming Anti Ageing Creme,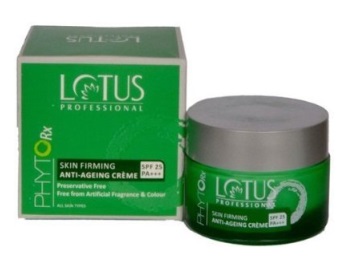 Affordable and budget friendly anti aging day cream is your choice then this option can be definitely dried. Spf 25 it is a rich fruit loaded cream. It has bilberry fruit extracts in vitamin C moreover the product also contains green tea extract and Fenugreek seed extract. Both of these are known as powerful antioxidant. So while reducing the harmful effects of Sun damage and it adds in collagen production naturally. Not just that, it's affordable but it also works with decent results in just first couple of weeks. It's an ideal moisturizing cream with loads of Vitamin C and antioxidants. The formula is quite moisturizing, so a little goes a long way.
If you're looking for the best skin tightening creams, any of these products can be tried. These would address nearly all of your age skin related concerns. And that counts for uneven skin tone, patchy texture, loose skin and even the appearance of wrinkles and fine lines. While fighting the crow's feet, wrinkles around the mouth and lines on the forehead, these creams are potential enough to fight all that. These are rich in different kinds of ingredients like hyaluronic acid, Alpha hydroxy acids, glycolic acid, Collagen, retinol and many more. These are like magic potions helping to strengthen the skin's ability to tighten itself.