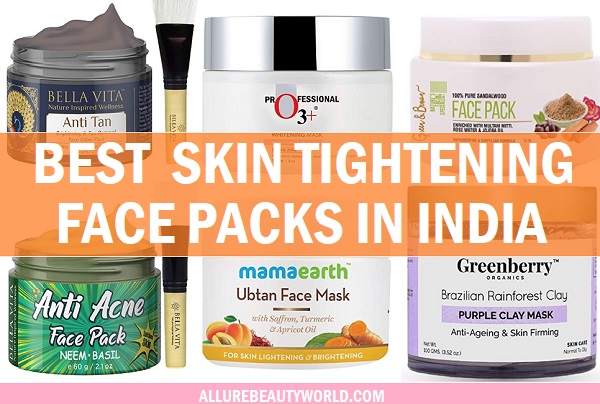 As we age our skin asking starts to sag. And the urgency to tighten the skin gets quick. It is seen that when the skin starts to age, the production of proteins like collagen and elastin decreases, which is why the skin becomes lose and lines and wrinkles form. Considering this, a lot of us would like to go for skin tightening face packs, creams, and other anti aging products. However, using the skin tightening facial packs and masks can help to tone and tighten your skin and maintain youthfulness. To firm your facial skin, we have compiled this list of the best skin tightening face packs available in the market. There are several skin firming facial packs that you can make at home but, honestly, because of the time constraints everyone may not be able to do that. The readymade skin toning and tightening packs are just too good to have when one is running short of time. At the end of this article, we've also mentioned the effective skin tightening face packs that you can make at home. So if you wish you can also do that.
List of Top Best Skin Tightening Face Pack in India (2022) for Mature Skin
1. Bella Vita Organic De Tan Removal Face Pack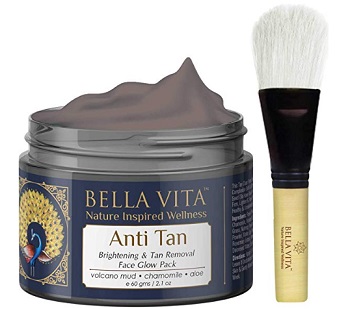 The skin tightening face pack is also an anti tan face pack that maintains the glow. Made with volcano mud, chamomile and aloe. This is a face pack that comes with a free face pack brush. Rich in bentonite clay, poppy seed extracts, clove oil, Kaolin clay, grape fruit extracts, poppy seed extracts and Apricot oil, this is the powerhouse of nutrients that help to maintain the skin firmness and tone.
This is a paraben and sulphate and artificial colourant free face pack which is highly rated amongst the users and has given them just perfect results in whitening the skin and in toning the sagging skin.
2. O3+ Whitening Mask for Skin Whitening, Tightening and Pigmentation Control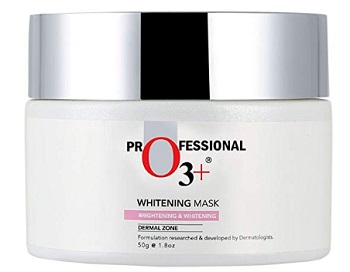 How amazing will that be when you've a face mask that tightens, whitens and also helps in pigmentation control? Exactly like this O3 whitening mask for skin whitening and tightening. It is infused with natural lavender and cucumber extract to whiten your skin while maintaining glow. The effective skin whitening ingredients lightens any dark spots and also reduces the size of open pores. It is very easy to apply and can be tried once or twice in a week. Apply the mask evenly on the face and leave it for 15 minutes. Gently wipe off with wet towel and rinse off the face.
3. Khadi Gold Thermo Herb Skin Tightening Face Pack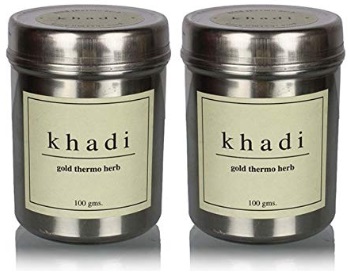 Khadi thermoherb face pack mask is made to tighten your skin. This gold thermo herb pack is from Khadi herbal that is known for its natural botanical extracts. This gives the radiant glow to your skin and is best for mature and tired skin. When you feel, your skin is getting saggy and there is no signs of life on it then using this product will help in skin tightening and giving you tone and firm skin.
4. Bella Vita Organic Anti Acne, Pimple & Skin Tightening Face Pack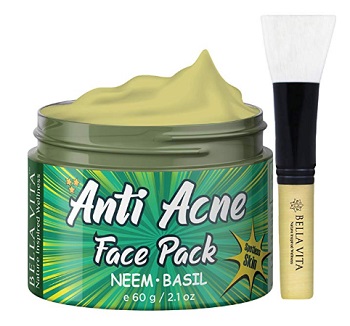 This is an anti acne face pack that also helps in skin tightening. So, basically it's a face pack for oily skin that is meant to unblock the pores and shrink the open pores on your skin while tightening the loose and sagging skin. It reduces the redness around the acne and pimples and helps in healing them faster. Neem powder, Sandalwood, bentonite clay, almond oil, Vitamin C, aloe vera and olive oil forms the major part of ingredient in this face pack. All you have to do is to wash your face naturally and apply a thin layer of this face pack and leave it for 10 minutes or more. Rinse off with plain water and use it thrice in a week to help you get you completely clear and detoxed skin.
5. Mamaearth Ubtan Face Pack Mask for Tightening and Glow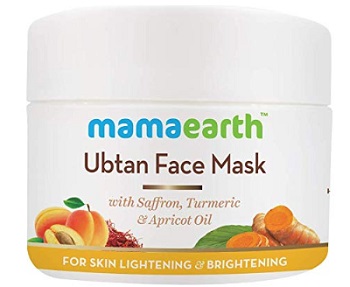 Mama Earth Ubtan face mask is infused with Apricot oil, Turmeric and Saffron. Not just for skin lightening and brightening. This is one of the best skin tightening face packs as well. With Ubtan like ingredients, it has the power to give you fresh and bright looking skin. The best thing that this does is to slow down aging  and combat the lines and wrinkles on your skin by boosting collagen protein production. This is yet another paraben free and natural face pack meant for mature and sagging skin.
6. Green & Brown 7 in 1 Natural Face Pack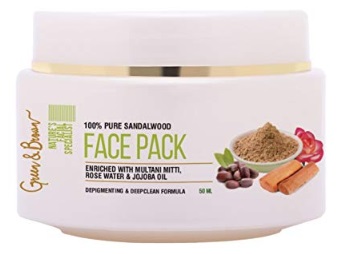 If your mature skin has pigmentation and you need skin tightening benefits as well, then try this completely organic Sandalwood face pack. It pampers your dull tired skin and also helps in the pigmentation control. Made with the purest of ingredients, it's 100% natural. Other than Sandalwood, it contains rose water, jojoba oil and multani mitti, which is also known as fuller's Earth. While toning and tightening your skin, it also ensures clarity and youthfulness.
7. Greenberry Organics Brazilian Rainforest Purple Mask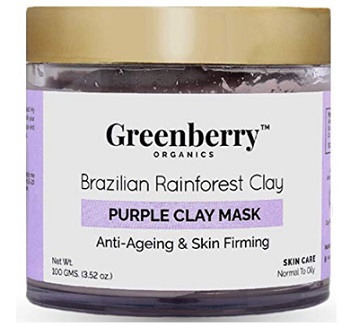 Brazilian rainforest clay is a wonderful ingredient that is known as an anti-aging and skin firming product. Exactly like this Greenberry Organics Brazilian purple clay mask. It helps in getting healthy and smooth skin within just few weeks. Rich with the goodness of Lavender oil, Vitamin E, citric acid and Clay, it maintains the pH balance and with the presence of Vitamin E, it also maintains the skin smoothness. Zinc oxide helps in calming the irritated skin while the beautiful purple colour Is rich with Eco certified ingredients. It is paraben and Sulfate free facial mask for normal to oily skin that is wonderful for skin tightening.
8. Biotique Bio Pistachio Ageless Nourishing & Revitalizing Face Pack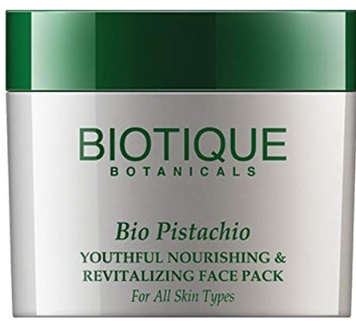 This is revitalizing and nourishing face pack that is made for all skin types, but we personally feel that it works better for normal to dry skin. It lightens the spots and blemishes and leaves your skin feeling healthy and clean. The best advantage of this face pack is that it revitalises the skin and gives you ageless complexion. With continuous use, it increases the collagen and elastin protein production therefore, your skin becomes youthful and tight as the time passes. It is the rich blend of your pistachio, Saffron, almond and lentils serial. Apply it once or twice in a week to get beautiful glowing skin.
9. Estavito Gold Thermo Herb Mask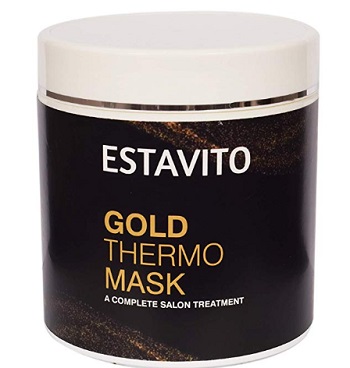 To get firm and tight skin, it's yet another Salon like treatment that you can do at the comfort of your home. This mask refines the pores and reduces the wrinkles. The heat generated during the process of this mask application increases the blood circulation and this process actually improves the skin elasticity and tones the muscles. It can be used for your face and for tummy as well. It is one of the best thermoherb face mask for aging skin.
These are the face packs that help rebuild collagen in your face and to fix the sagging skin. A lot of these masks also contain clay which is in the form of Kaolin clay, Multani Mitti, Brazilian clay that are known as the best skin tightening home remedies.
Now let's talk about the home remedies that can help you get tight and firm skin.
For this remedy, you have to mix egg white with multani mitti. Mix it and apply on the face. Keep it for 10 minutes and wash it off with lukewarm water. This is one of the best home remedies to increase the blood circulation and improve the skin elasticity and firmness.
The second home remedy for homemade face pack for sagging skin can be made with just 2 simple ingredients. Mix 2 spoons of Banana pulp with two spoons of honey. Apply it on your skin and leave it for 20 minutes. It will not just enhance the glow on your skin, but also smoothens the fine lines within like few minutes. It is a very moisturising face mask.