Do you have acne and pimples, then surely, you would like to heal them faster. There are several acne and pimple control products available in the market, however choosing the best soap for Acne and pimple treatment would serve the purpose the best. There are different types of face cleansers, like face wash, cleansers and soaps, however, out of these when you have oily skin soap, they work the best. But you need to ensure that the soap is for acne prone skin. So here we have compiled this list of the latest and best acne clearing soaps available in the market. These are really popular brands and some of them are new brands but are quite promising with their ingredients and formula. So with so many products available in the market, it really gets very difficult to choose, which is the right product to treat the acne prone skin? Here's a list of the best soaps for acne and pimples, would help you out. So, when you've skin care concerns, you have for your acne and pimples the soaps would sort out.
Best Soaps For Acne Prone Skin in India
So, let's take a look at the best face soaps for acne. These anti acne soaps can be applied twice in a day.
1. Acnes Advanced Oil Control Anti Acne Soap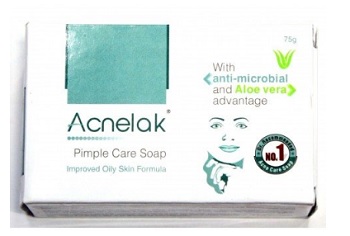 Green clay and green tea makes this anti acne soap and is the best pimple control soaps for oily and acne prone skin. With Japanese green tea, it helps to reduce the bacterial infection and to minimize the inflammation and redness around the acne. It reduces excess sebum production. Therefore, it makes the skin less oily and sticky. During summer season, it's one of the best anti acne soaps to try. Furthermore, it has soothing effect on the irritated skin during warmer season. So to reduce the itching and burning sensation, it soothes the skin. Applying it twice in a day gives you best results.
2. Salve Acnethro Anti Acne Soap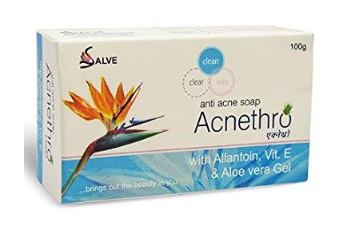 This anti acne soap is rich in Allantoin, Vitamin E, and aloe vera gel. It is yet another one of the best soaps to cure oily and acne prone skin. It is a handcrafted soap that is made with antibacterial and antiseptic ingredients that keep the  dirt and oils away and minimizes skin breakouts. By using this soap, you can also reduce the red inflammation of acne on the skin. This is also considered as the best natural and organic soap for acne prone skin.
3. Eraser Anti-Acne and Pimple Soap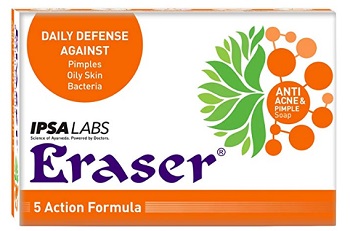 Eraser anti acne and pimple soap is a very fast action formula that is rich in ingredients such as Neem, Gandhak, Mysore turmeric and more. This so can be applied regularly on the face to reduce pimple and acne faster. So it shall be used twice in a day. It is a multipurpose product that helps to clear acne and minimises the sebum production. It removes exccessive oils to give matte and refreshed look on the skin. So if you use this soap regularly everyday, it helps to control the eruption of future pimples on the skin. It is yet another affordable and the best anti pimple soaps for killing bacteria faster.
4. Acne Star 2.5% Soap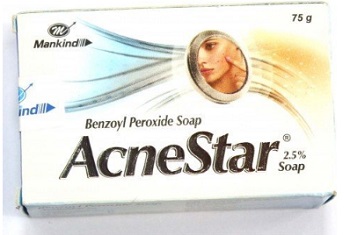 Acne star is a brand that is known to formulate the skin care products for pimple prone skin. This Anti acne soap contains benzoyl peroxide in 2.5%. It also has Titanium dioxide that minimises the irritation and redness over the pimples. It's a gentle and effective soap that helps to kill the bacteria and minimises acne infection. This is the best anti acne soap in India to prevent and cure pimples from the skin. This can be applied twice in a day by both boys and girls. It's a good benzoyl peroxide soap at affordable price.
5. Acnelak Pimple Care Soap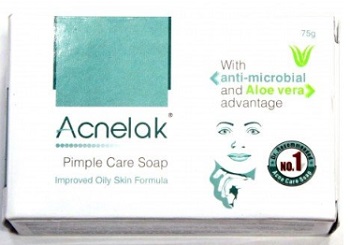 This pimple clearing soap is yet another handmade soap that comes with antibacterial and antimicrobial ingredients and aloe vera. It is one of the best pimple care soap for oily and acne prone skin. It is ideal for daily use and is gentle for even the sensitive skin types. Applying it twice ensures that skin stays free of acne. It's also a suggested by dermatologist anti acne soap.
6. The Man Company Anti-Acne Neem & Tulsi Face And Body Exfoliating Soap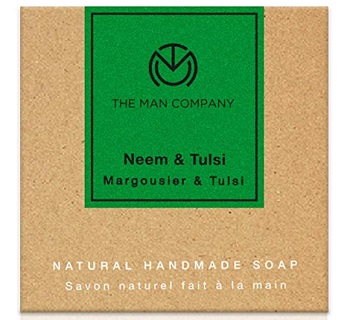 The Man Company Anti acne Neem and Tulsi soap is made for your face and body. It is the best soap for Indian men. However, even women can try this product. It helps to brighten your skin and to remove the oil that makes your skin dull effectively. So, while the product lightens the skin, it also clears sebum. Neem and Tulsi are known as the best antiseptic products that are used in the organic and natural soaps. This is also the best pimple clearing soap for men and women in India.
7. Richfeel Calendula Soap for Acne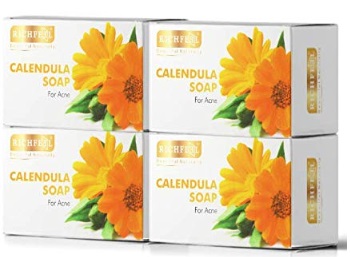 Richfeel calendula soap is made with entirely organic ingredients. This soap for pimple helps in clarifying the skin and minimizing any acne and pimples that you have on the skin. It is a soap that can remove pimples within just few uses. However, to maintain the effect, you need to try it everyday at least once.  It is also a good soap for body acne cure.
8. Mirah Belle Organic Anti Acne Soap Bar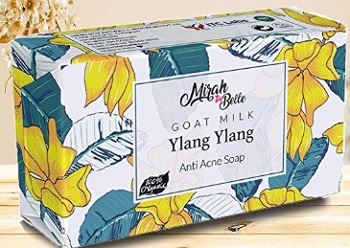 Mirabelle anti acne soap is an acne fighting and skin whitening soap. It comes with goat milk and Ylang Ylang extract. It heals the skin and minimises the acne and pimples efficiently. While the soap is handmade, it is also perfect to reduce redness, inflammation and pimples on the skin. This can be used on the face and body both and is one of the best soaps for pimples and sun tanning cure. It also contains shea butter, sea buckthorn, olive oil and avocado oil. Therefore, it is also best soap for Acne scars.
9. Himalaya Herbals Neem and Turmeric Soap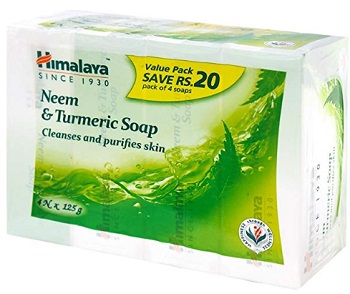 Himalaya Herbals Neem and turmeric soap is yet another popular so that is available at affordable prices in the Indian market. It's the best pimple healing soap with Neem and Tulsi, which helps to fight impurities and bacterial infection. Applying the soap ensure that the pimples are prevented and the existing pimples are healed faster. Use it twice in a day and with a mild formula, it does not dry out the skin too much.
10. Patanjali Neem Soap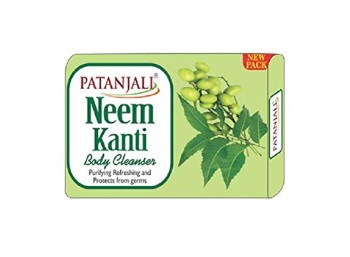 Patanjali pimple soap is rich in Neem extracts and it can be applied on face and body. This soap gets rid of the impurities, dirt and dust of the skin. It is also a good soap for curing pimple redness and infection faster. This soap can be tried twice in a day to ensure your skin stays free of acne.
11. Medimix Ayurvedic soap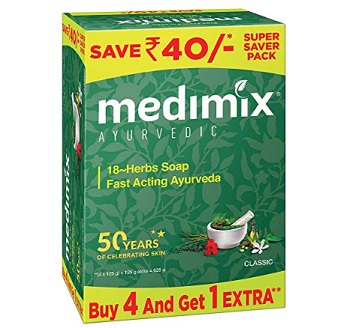 Medimix soap for Acne is a blend of 18 Ayurvedic Herbs and botanicals. This acne skin care soap helps in preventing acne and to treat the oily skin effectively. When you have existing acne and cystic acne on your skin. This is the best anti acne soap. However, point to be noted, this soap can try out your skin a bit, therefore an oil free moisturizer is required after the face washing. This is a good face soap bar for acne.
12. Clinsol Anti-Acne Cleansing Soap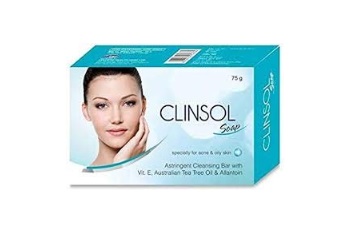 Clinsol soap is specially made for acne and oily skin. This is actually is an astringent cleansing bar that is rich in Australian tea tree oil, Allantoin and Vitamin E. It also fights bacterial and fungal infection that can result in pimples and acne eruptions by removing excessive oil. It is one of the best soaps for recurring acne on your skin. With neem and essential oils, this is an affordable option to reduce mild to moderate acne on the skin. The soap is also suitable for pimple marks removal.
13. SebaMed Clear Face Cleansing Bar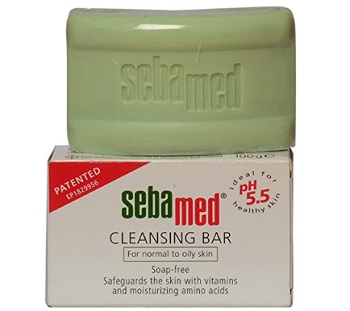 Sebamed face soap is the best face medicated soap for acne and pimples. This does not have any parabens or chemicals which can disturb the skin natural pH balance as the product already has a pH of 5.5. It combats pimples, blackheads and dust particles along with the pollutants. So, all the bacterial content is squeezed out along with the toxins to get beautiful smooth skin. The best thing about the soap is that it is a popular brand known for their high quality and chemical free products.
14. Dettol Aloe Vera Soap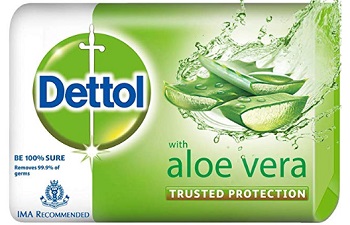 Dettol Skin care aloe vera soap for acne and pimples is yet another option for people with acne prone skin. The soap contains aloe vera that is known to combat oiliness and to treat acne. Regular use of the soap gives you smooth skin, which stays breakouts free and clear. This is also a good soap for oily skin.  The Dettol soap for pimple has aloe vera as a main ingredient.
15. Dermadew Acne Soap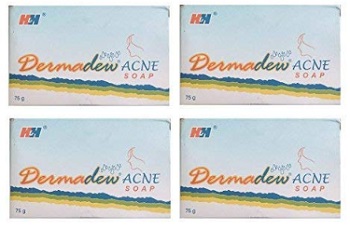 Dermadew acne soap is one of the most searched soaps for acne control in India. It's also suitable for dark spots and oil removal. This soap is helpful in minimizing pimples and other concerns for someone have oily skin. It prevents the acne from erupting on the skin and with a formula rich in salicylic acid, tea tree oil and aloe vera, it helps to keep the skin smooth and silky. It also helps in flushing out the toxins and excess oils from the skin. It's also the best salicylic acid soap for acne and pimples in India.
16. Khadi Mauri Herbal Charcoal Soap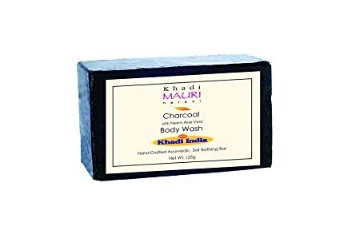 Khadi activated charcoal soap is the best black soap for acne. Coming from the house of khadi Herbals , it's totally free of preservatives and chemicals. The best thing about the soap is that it is non-drying and safe for all skin types. Made with 100% pure vegetables oils and activated charcoal it is safe for body and face. It draws out the impurities, bacterial content and unblocks the pores so that the skin stays clear and breathes well.
17. Dove Go Fresh Revive Beauty Bar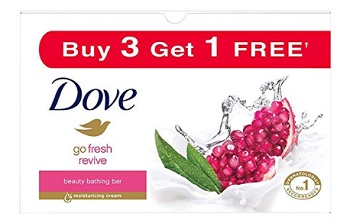 Dove Beauty bar for sensitive skin is made to restore the natural lubricants on your skin. Dove sensitive skin soap for Acne also works for oily and acne prone skin. The best thing about the soap is that it's perfect for men and women with sensitive skin types. During winter season, when even oily skin gets dry and patchy, this so would be helpful in maintaining the right pH balance of the skin.
18. Cetaphil Gentle Cleansing Bar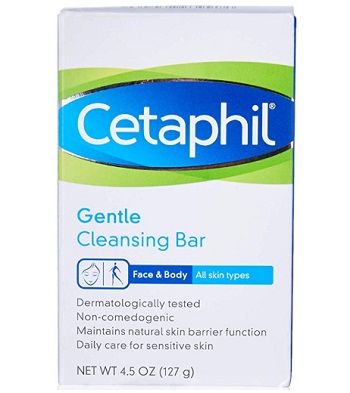 Cetaphil deep cleansing bar is for face and body. It suitable for all skin types, however it deeply cleanses the dirt and dust effectively without drying the skin. It is one of the best acne soap for Oily and acne prone skin. Cetaphil cleansing soap bar does not dry out the skin. This is why a lot of people like this soap bar. It is a medicated and doctor tested product which is suitable for everyday application.
19. Betwixt Green Tea & Neem Soap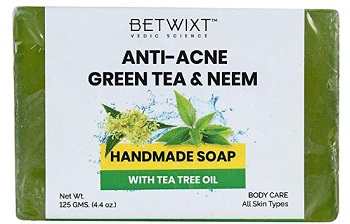 The soap is a pimple treatment soap that is herbal and made with Ayurvedic ingredients such as Green Tea, Neem and Tea Tree oil. This draws out the excessive oils and kills the acne causing bacteria. People with oily skin who need glowing skin, for them it's the best soap for pimples and acne to cure breakouts on the skin. Especially, during the summer season, when the skin is more likely to get acne. It is really good for oily skin to give your skin a fresh start. This detoxifying soap pulls impurities from the skin and leaves it feeling fresh. The combination of natural ingredients penetrates deep into pores to control excess oil and prevents acne and blemishes from forming. It's also considered as the best anti acne soap in India.
20. Greenberry Organics Neem & Tea Tree Anti-Acne Soap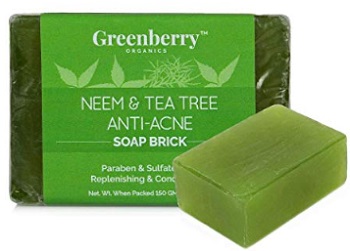 Greenberry Organics Neem and tea tree oil is one of the best sulphate and paraben free acne soaps. It contains organic ingredients such as tea tree and Neem effectively cures acne and pimples on the skin. It can be applied on body and face skin. It reduces the pimples, acne and inflammation. While combating the body odor, it also heals the prickly heat and rashes on the body. It deeply cleanses the skin and clarifies the pores that lesser pimples and breakouts happen.
Here is the list for the best anti acne soaps in the market. However, there are lots of other brands that are known to have good medicated acne soaps in the market that are tested, tried and have given positive results to the users. It would be really easy to pick up the right product for you. Hope they work for you and one can purchase them online where they are available at some discounts.
If you have acne then, you must also try the medicated anti acne creams at night. Such creams are rich in salicylic acid, benzoyl peroxide, antibacterial ingredients such as Neem, tea tree, Basil, and more. Using anti acne cream along with the acne clearing soaps work to give you clear skin faster.