In the past couple of years, StBotanica products have garnered quite a good name. This is why, in this article, we're going to talk about the best StBotanica products available in the market. These products are free of paraben and sulphate and other artificial colour and chemical free. This is why, the brand has been accepted and trusted by the consumers. Majority of these StBotanica products have received good reviews and ratings from the users. If you're wondering, which are the best StBotanica skin care products? In this article, we've compiled a list of the best StBotanica skin products in the market.
List of The Best StBotanica Products in India
1. StBotanica NUTRITIVO Pomegranate Radiant Glow Moisturiser SPF 30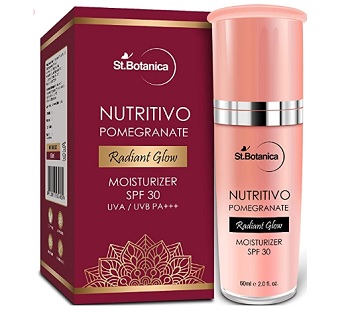 The lotion gives intense and superior nourishment and strengthens the skin's moisture barrier. It makes the skin soft and gleaming with its effective ingredients like pomegranate extract. For getting luxurious skin, this anti-wrinkle moisturiser is also topped with SPF 30. It safeguards the skin from a wide variety of ultraviolet rays. As a result, this moisturizer product helps the natural defence system of the skin against sun burning, photo aging and hyper-pigmentation. It is one of the best lotions for mature skin or even after 25 years of age.
2. StBotanica Hyaluronic Acid Face Serum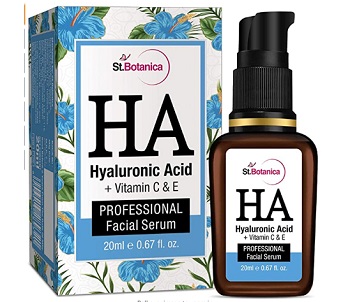 Hyaluronic acid face serum is wonderful for curing the under eye dark circles and aging skin. This face serum not only has Hyaluronic Acid but Vitamin C and Vitamin E as well. It is safe and natural product that moisturizes the skin and keeps it plump and hydrated. It's one of the best anti aging product available at economical prices. As there is absence of paraben and any chemical that can disrupt the skin, the product is safe with no side effects for sensitive skin also. Apply this for 2-3 months to see good results. While reducing the lines, wrinkles and under eye dark circles, it makes the skin better than before.
3. StBotanica Vitamin C Face Wash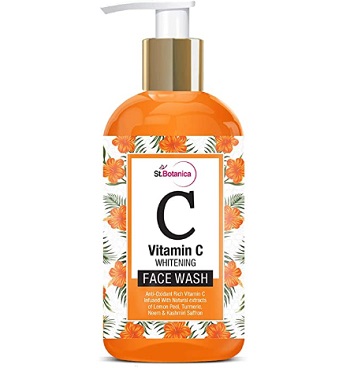 This vitamin C face wash is loaded with Lemon, Neem, Kashmiri Saffron and Turmeric. It is a paraben and sulphate free product, which is yet another best chemical-free face wash for brightening the skin. With the power of Vitamin C, it naturally becomes loaded with antioxidants and natural extracts, which are known to fade away the dark spots, blemishes and wrinkling on the skin. It's suitable for all the skin types, especially for oily and acne prone skin, because of the citric acid in it. The powerful facial cleanser is available at economical prices. The best thing you get is, reduce the excessive sebum from coming on the skin.
4. StBotanica Vitamin C, E & Hyaluronic Acid Brightening Night Cream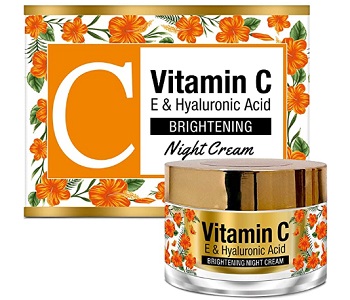 This Vitamin C night cream contains Vitamin C and Hyaluronic Acid. It is best for all skin types, however, if your skin is dry and mature, this is going to give that boost of antioxidants rich ingredients that promote collagen production. As a result, you can expect your skin to become more smooth and plump. By enhancing the collagen synthesis, this cream naturally increases the cell renewal and tissue turnover rate. As a result, the wrinkles get faded and even the deeper ones. This night cream also contains almond oil, olive oil, shea butter and other ingredients, which are effective for skin. The product packaging is really luxurious and if your skin is really dry, then it's it able to give you adequate dewy feel.
5. StBotanica Vitamin C 20% Vitamin E and Hyaluronic Acid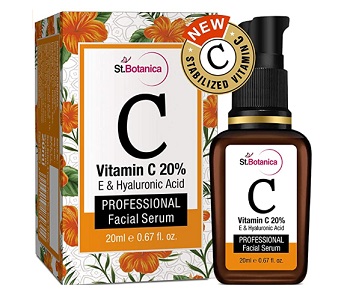 This Vitamin C serum contains 20% vitamin C and Hyaluronic acid. The product is a skin brightening and whitening serum which helps to shrink the open pores, clear up any acne and their scars and even prevent the future breakouts. By reducing the acne scars, it also hydrates and brightens the skin. If your skin tone is uneven and looks dull, it also helps with that. The Vitamin C face serum also stimulates the collagen synthesis, which is why the skin gets better by every passing day. The formula is Vegan and paraben free with no chemicals involved while making this product. It is suitable for all skin types.
6. StBotanica Pure Radiance Anti Aging & Face Brightening Cream, SPF 25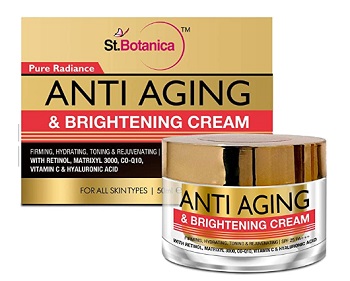 It's one of the best anti aging face creams that contains SPF 25. Due to this, it's suitable for the daytime and safeguards the skin from wide range of ultraviolet rays. Even if you spend a lot of time under the sun exposure, this anti aging day cream will prevent the photo aging of the skin. It reveals a fair and bright a looking skin, when used regularly for a couple of months. It can be applied in the morning and evening. Because of the sunscreen in this daily day cream it, you do not need any other sunscreen lotion for your face. It contains Matrixyl 3000, which is an intensive moisturizer to combat the signs of aging. Other than that, the product contains retinol and hyaluronic acid, known to get dazzling and glowing. It also contains Argan oil and almond oil along with multivitamins like vitamin B3, C and E.
7. StBotanica Sunrise Facial Cleanser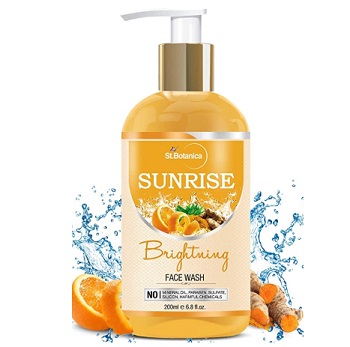 The sunrise brightening face wash is one of the best facial cleansers from this range. Being rich in green tea and cucumber extract, it helps in minimising the open pores and imparting freshness and glow. While removing the surface level excessive sebum and dirt, this cleanser cleans the skin. It's also blended with Orange extract, Ginger, Turmeric, Sandalwood Oil, Coconut Water and so many other extracts that makes it one of the best face washes in India for even the sensitive skin. We can also called it as an organic or herbal face wash, because of the presence of mostly the natural ingredients in at.
8. StBotanica Moroccan Argan Oil Creamy Face Wash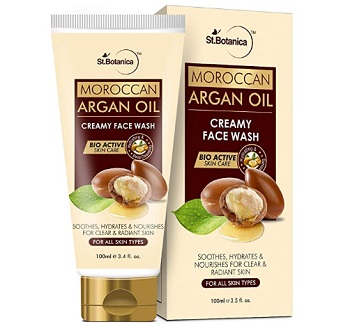 The Argan oil creamy face cleanser is specially made for keeping dry skin hydrated for long time. It is a deep cleansing hydrating facial cleanser to achieve a clear and smooth skin. It contains one of the best moisturizing and non-comedogenic ingredient available in the nature, which is Argan oil. Infused with Argan oil, this restores the natural moisture balance of the skin. It is also a blend of other organic cold pressed essential oils like Grapeseed oil and sweet coconut oil. As these oils are present in their extra virgin forms, they do not disturb the pH balance or block the pores, even when  an oily skin person tries this face wash. It doesn't' have the harsh SLS or detergents in it, therefore it gently cleanses without any side effects or damage.
9. StBotanica Bulgarian Rose Otto Glow Face Wash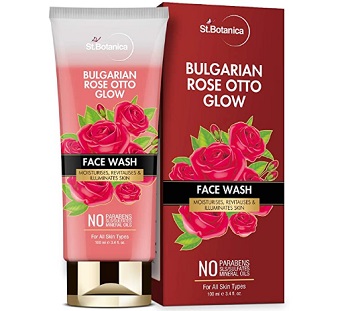 This is yet another wonderful facial cleanser from Stbotanica. The face cleanser is made to moisturize, illuminate and revitalize the skin. Even though it's made for all skin types, it is best for sensitive, dry and normal skin. For soft and brighter looking complexion, this product is the best face wash to try in India. The vitamin rich rosehip oil present in this product helps to keep the skin supple and moist. Provitamin B5 helps to seal the moisture and rosewater adds natural glow.
10. StBotanica Anti Oxidant Boost Over Night Mask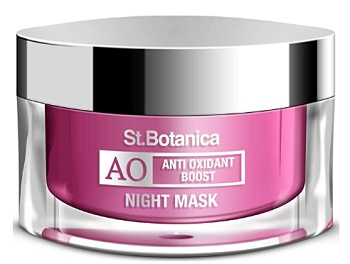 Stbotanica overnight mask is a very hydrating product made for dry sensitive skin. In fact, it's an anti-aging product that gives that boost of antioxidants to the skin to defend the skin against the damaging free radicals. It rejuvenates the facial skin and supports the natural skin repair mechanism during the night time. So by supporting the healing process of skin overnight, it cures blemishes, dark spots and aging is also prolonged and delayed. It also restores the elasticity of the skin to firm it up.
11. StBotanica Vitamin C Brightening Hand And Nail Cream
A good hand cream is necessary to keep the hands soft and supple. As we do a lot of work with our hands daily, we need to take good care of them. This is a hand and nail cream, which is rich in vitamin C to get soft smooth, shiny hands and nails. The long-lasting protecting formula helps in preventing the moisture loss and dead skin. It is also rich with extra virgin olive oil, virgin golden jojoba oil, shea butter and cocoa butter. So it's one of the best hand creams available in the market at reasonable prices for dry rough hands, especially during the winter season.
12. StBotanica Moroccan Argan Oil Anti Wrinkle Rejuvenating Under Eye Cream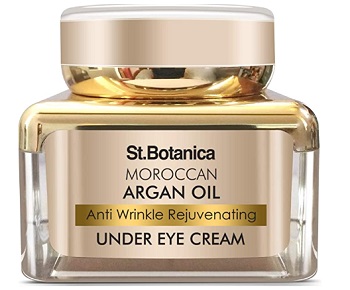 The Argan oil and anti wrinkle rejuvenating under eye cream is an amazing product that helps to fight the fine lines, dark circles and wrinkling under the eyes. The wrinkles under eyes can take years off you and makes you look old and tired. So, it reduces the fine lines, wrinkles and puffiness. As a result, the skin appears brighter and younger. It is a cocktail of effective ingredients and conditioning agents which gives maximum hydration with the anti aging effects. The cream has a fast absorbing formula to lock the moisture.
13. StBotanica Hyaluronic Acid Hydra Boost Foaming Face Wash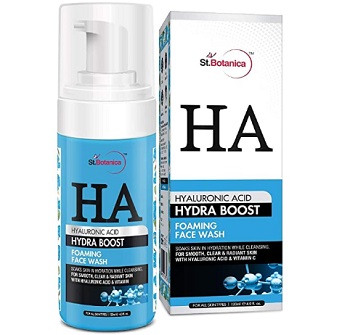 This hyaluronic acid hydraboost foaming face wash maybe foaming in nature but it is extremely moisturizing. Even the product is for all skin types, we feel that it works wonderfully for the rough and dry face as well. It contains ingredients that soak the skin for natural boost of moisture. So, it gives you naturally moisturized and fresh skin. As it comes in a bottle with pump packaging, it's hygienic to use.
14. StBotanica Retinol Advanced Anti-Aging Day Cream SPF 30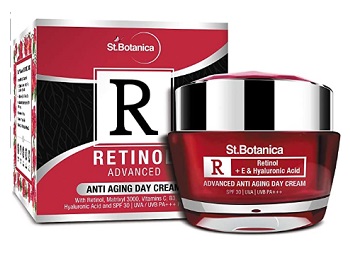 The retinol advance anti aging day cream has SPF 30. It's the best anti aging creams available at reasonable price in India for men and women over 30 years of age. It contains Matrixyl 3000, Hyaluronic Acid and, Retinol and Vitamin C. This is the best retinol skin cream for aging mature skin. Because it increases the cell turnover, skin starts to shed the uppermost skin layer cells faster. Which is why, it smoothens the wrinkles. With increasing the collagen synthesis, it also ensures that elasticity of skin also improves. SPF 30 Shields the skin from Sunburn commerce and damage and skin darkening. This effective anti aging day cream in India also minimises the dark spots and pigmentation. It also contains pomegranate extract and tomato oil. So even the damage on the skin is induced by free radicals, it is going to cover that up. The product is non comedogenic and suits all skin types and is free of paraben, phthalates and mineral oils.
15. StBotanica Bulgarian Rose Otto Glow Day Cream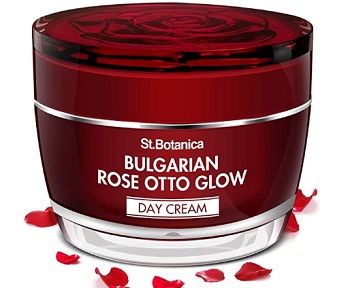 Coming to this amazing product, with Bulgarian Rose. It is a one of the best creams for getting glowing skin. As the product is more hydrating, it is best suitable for normal to dry skin. With SPF 30, it safeguards the skin from wide range of ultraviolet and sun rays. It protects the sunburn, tanning and premature aging as well. It's a good daily use anti-aging cream for dry skin. The cream strengthens the natural moisture barrier, which eliminates the skin dryness. Within just a week's time of using this cream, you can fight fine lines and wrinkles. In fact, without the use of chemicals and toxins, it is safe for sensitive skin as well. It is one of the best Stbotanica products in India at economical prices and good user reviews.
These are the best Stbotanica skincare products available in the Indian market. If you are going to use any of these, then always ensure, that you are using the right product depending on your skin type and the issue that you may be facing at a present time.