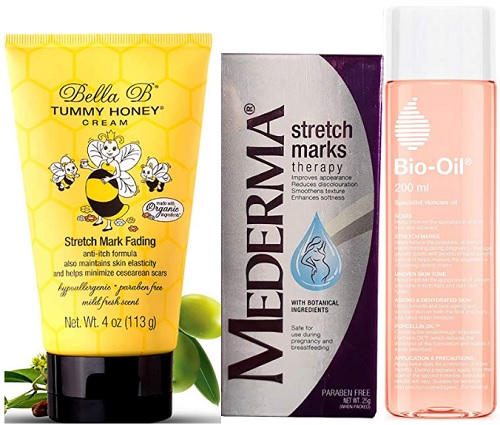 Out of the different stretch marks removal creams and oils in India, we have picked up the best ones for you. These stretch mark removal products are suitable to give results in healing the stretch marks, scars and of the skin. Choosing the right cream for stretch marks removal becomes important as the appropriate products help you get rid of the issues.
Stretch marks can happen due to variety of different factors like rapid weight gain or loss, pregnancy, certain medication. Out of these, pregnancy is the most common cause of stretch marks in women. It doesn't matter what causes stretch marks but those marks surely worries you. Or that, there are creams and oils for stretch marks removal. Applying the best stretch mark removal cream, gets rid of them faster. Therefore, to save you money and time, we've find the best stretch marks products for you.
How to Choose Stretch Marks Removal Cream
Out of the different varieties of stretch marks removal cream products, you must choose the best product for yourself. For pregnant ladies, such products shall be used right from 4th month of pregnancy to make sure, less stretch marks form. Other than that, after the pregnancy daily use of such products can ensure that stretch marks smoothen out faster. Stretch mark cream or oils must have moisturising ingredients like Cocoa Butter, Shea Butter, Aloe Vera, Vitamins like A, C, and B12. Other than that, there are some ingredients which have been considered excellent to remove the stretch marks. Here, we're talking about the anti-stretch marks cream with ingredients like Hyaluronic Acid, Retinol, Tretinoin, Allantoin and even the collagen rich stretch marks removal creams. Applying these marks removal lotions to prevent stretch marks while you're pregnant is the best thing that you can do. This best belly creams to prevent stretch marks mostly contains extremely moisturizing ingredients. As we mentioned the best way to get rid of pregnancy stretch marks is to keep the skin moisturized. And this is why some of the oil like coconut oil, olive oil and even walnut oil have been proven to be excellent oils to lighten the appearance of stretch marks.
Best Stretch Marks Removal Creams in India (2020)
Let's talk about the best stretch marks removal products available in India
1. Mederma Stretch Marks Therapy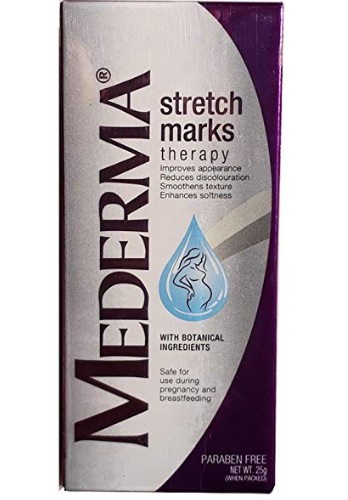 Mederma stretch mark cream is one of the most popular products when it comes to any stretch marks lightening product. It improves the appearance of the marks and reduces the discoloration texture. It is a paraben free product and can be safely used during the pregnancy and your breastfeeding phase. Made with the botanical ingredients, the product lightens the stretch marks and visibly reduces them over the time. It can be used to help prevent the formation of stretch marks during your pregnancy and post pregnancy for existing or old marks. The product can be applied twice in a day by taking some on your palm and massaging on the stretch marks prone area like tummy, back, bottom and thighs.
2. Palmer's Cocoa Butter Formula Massage Cream for Stretch Marks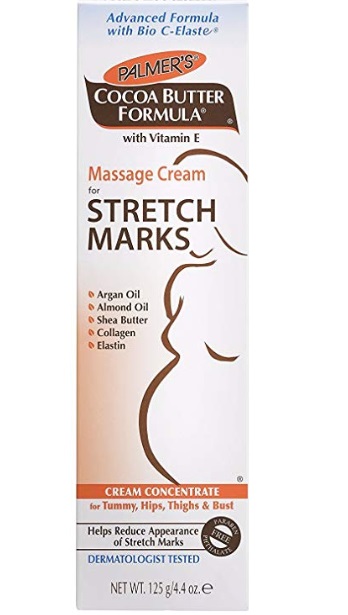 As mentioned, cocoa butter is considered excellent in curing and preventing stretch marks. It is a cream concentrate that lightens the stretch marks on tummy, hips and thighs. It reduces the appearance of stretch marks with an active formula that consists of Argan Oil, Almond Oil, Shea Butter, Elastin and collagen. It is one of the best rated stretch marks removal creams in India. All thanks to its excellent ingredients that work on existing stretch marks. It helps improve elasticity of stretching skin, during and after pregnancy. It's the best stretch mark cream for pregnancy.
3. WOW Stretch Marks and Scar Lightening Oil Cream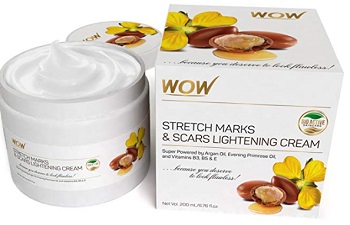 It stretch marks and scar lightening cream is blended with ingredients such as Argan Oil, Evening Primrose Oil, Vitamins like B3, B5 and Vitamin E. Being a paraben free and Mineral oil free formula, it is safe for pregnant women. Start using this product as early from fourth month of the pregnancy on tummy, bottom, bust, and hips. The anti stretch marks cream rich in antioxidants and skin friendly linolenic acid that restores skin elasticity at cellular level. While it reduces the stretch marks, it relieves itching skin from creating deep marks.
4. Bio-Oil for Stretch Mark and Uneven Skin Tone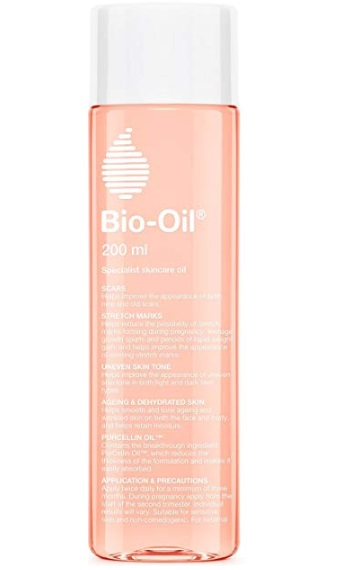 When it comes to healing uneven skin tone and stretch marks, bio oil is the top rated product that has received the most user ratings. It gets easily absorbed in the layers of skin and work effectively. It has plant extracts and vitamins suspended in an oil base. It contains vitamin A, Vitamin E, calendula oil, Rosemary oil, Lavender oil, chamomile oil and is extremely light and non greasy. When applied twice in a day at night and after the shower, it helps eliminates stretch marks. It is a formula that helps the appearance of stretch marks during pregnancy and after pregnancy as well. It's the best oil for stretch marks in India.
5. Strechmin Anti Stretch Marks Cream With Collagen and Elastin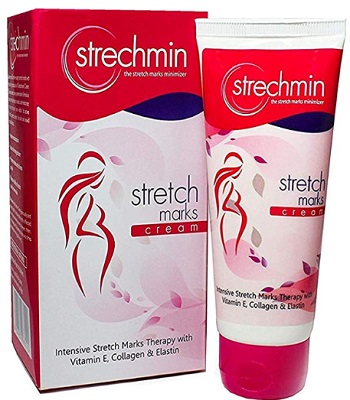 With collagen, elastin and Vitamin E, aloe vera the ointment to remove stretch marks helps spread on the skin nicely and reduces the stretch marks and wrinkling of the skin. Therefore, no more unwanted marks during and after your pregnancy. You can gently massage the cream on your stomach, waste, size, breast and bottom. It can be used by men also for stretch marks due to weight loss or gain.
6. Mom & World Belly Body Butter with Mango and Cocoa for Tummy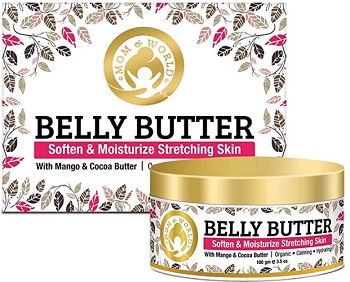 The body butter is a specially made for pregnant women. It moisturizes the stretching belly skin with its mango butter and cocoa butter formula. The rich belly butter safely moisturizers the mums stretching skin and reduces the stretch marks from forming. Even after delivery it can be incorporated in your daily skin care routine. Applying it two times in a day, gives you good results in not just lightning the marks but in even toning the skin. It contains cocoa butter, mango butter, argan oil, almond oil and rosehip oil. The hypoallergenic formula is safe for all skin types and does not have any phthalates or paraben. It's the best stretch mark prevention cream during pregnancy.
7. Sebamed Anti Stretch Mark Cream
The anti stretch marks cream is for stretched skin. It helps to prevent and reduce stretch marks during and after your pregnancy. With the pH balance formula of 5.5 the cream is free of irritants like mineral oil, alcohol, and paraben. With the light formula, it gets inside the skin layers easily and does not stain your clothes. The stretch marks removal cream maintains a natural barrier therefore helps to prevent stretch marks when used during pregnancy. It helps to restore the connective tissues by increasing collagen formation and improving the skin texture. In fact, as per the users, it's the best cream for old stretch marks.
8. The Moms Co. Natural Stretch Marks Removal Body Butter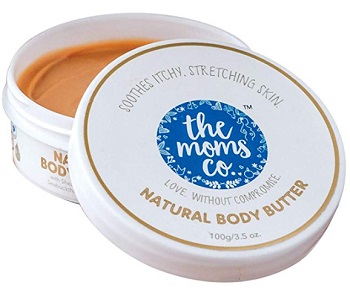 The body butter for stretch marks is suitable for dry skin and itchy skin. Made with shea butter and cocoa butter, this is one of the best stretch mark creams that is safe to use during pregnancy and are made without any chemicals. The pregnancy belly cream comes with Vitamin C, Rosehip oil that stimulates collagen synthesis. It contains the natural butters and sea buckthorn oil that promotes skin elasticity and cell regeneration. While it encourages skin's natural elasticity, it also prevents pregnancy dry skin. The toxin free pregnancy cream has rich combination of natural moisturizing oils and butter is suitable to be applied on stretching belly, hips, breast size and bottom. It is one of the best stretch marks removal cream in India.
9. Mamaearth Body Creme for Stretch Marks and Scars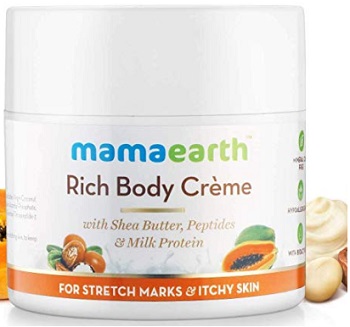 The body cream for stretch mark contains ingredients cocoa butter, peptides and milk proteins. It is suitable for stretch marks and itchy skin. Peptides help build collagen and restore the elasticity reducing the appearance of stretch marks and scars. The cream suits the dry irritated skin during pregnancy and after it.
10. Mom & World Massage Lotion For Stretch Marks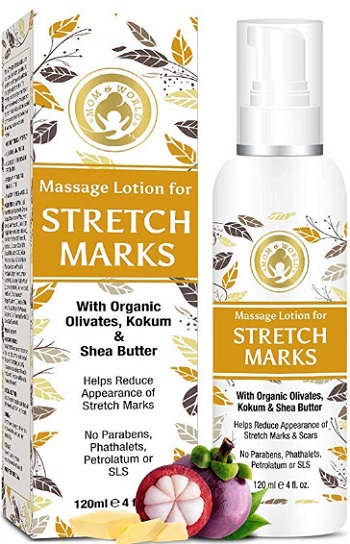 Mom and World stretch marks massage lotion contains organic ingredients. It helps the appearance of stretch marks with its phthalates free and petroleum free formula. The body lotion for stretch marks comes in a pump dispenser making it very easy to use during and after pregnancy. While it helps prevent the occurrence of future stretch marks, it also works on the existing marks. Packed with the nutrient-rich ingredients such as Vitamin C, hydrolyzed collagen proteins, the stretch mark lotion product includes butters and aloe vera.
11. Bella B Tummy Honey Stretch Mark Fading Cocoa Butter Cream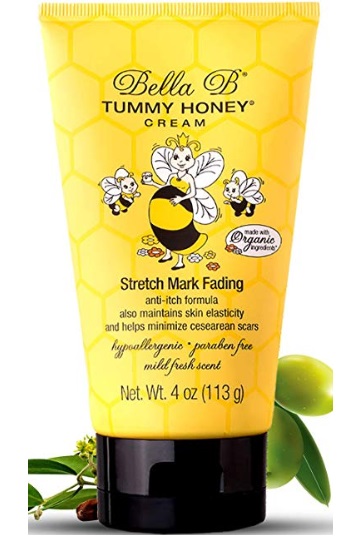 The stretch mark fading cream has effective formula. During pregnancy, itching on the tummy and other body parts is common when skin starts to stretch. Therefore, it reduces the itching and maintains the skin elasticity to help minimise the stretch marks. In fact, it is an excellent product to minimize scars and stretch marks. The tummy butter for stretch mark has hypoallergenic formula is paraben free and has a mild fresh scent. So if you are looking for a prenatal or maternity care cream to combat the stretch marks then this is one of the best stretch marks removal creams in India. 
12. Biotique Bio Coco Butter or Stretch Marks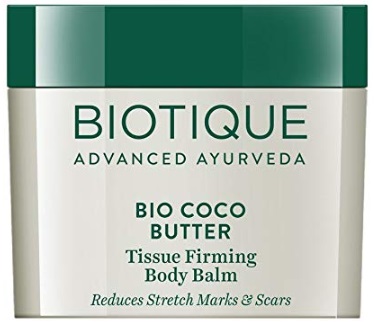 Biotique cocoa butter tissue forming body cream is actually a body balm to reduce the stretch marks and scars. The cream helps minimise the stretch marks and purple or bluish discoloration on the skin. The stretch marks lightening cream product is safe to be applied on the body skin. Apply it daily twice to get best results. Massage your skin using this Biotique stretch mark cream continue massaging for 3 to 5 minutes. It's also a stretch mark cream for men.
13. The Moms Co. Natural Stretch Marks Oil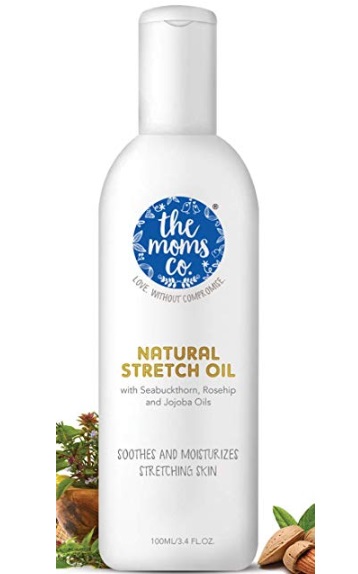 The stretch marks removal oil is made with jojoba oil, extra virgin olive oil, sweet almond oil and Vitamin B complex along with Vitamin E. All these works in conjunction, to help soothe itchy skin while your skin is stretching after 5th month. Rich in sea buckthorn oil, it helps the itchy skin and stretch marks on belly, hips, thighs and even breasts. Rich in Omega 3 fatty acids, it is beneficial for maintaining the skin elasticity and the cell regeneration. The stretch marks removal oil is lightweight and do not leave any staining on your clothes. It is free of the harmful chemicals, carcinogens, toxins, heavy metals, parabens, mineral oils and some other that can be harmful during your pregnancy.
14. Markwin Pregnancy Stretch Marks & Scar Cream  
       
The affordable pregnancy stretch mark cream helps to strengthen the skin elasticity and remove stretch marks. Its creamy formula is made with chamomile oil, cocoa butter, glycolic acid and rosehip oil. It's very easy to apply and relieves the marks by increasing the skin elasticity. It also prevents the future marks when used during the pregnancy.
15. Pavitra+ Bio Skincare Oil For Pregnancy Stretch Marks With Argan Oil Saffron And Vitamin E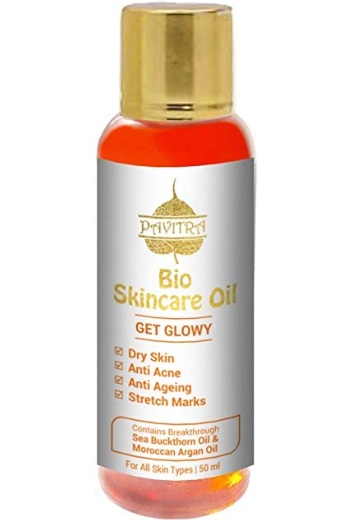 The skin care oil for pregnancy stretch marks comes with Argan oil, Saffron and Vitamin E. It's amongst the best oil for stretch marks during pregnancy. While visibly reducing the stretch marks during and post pregnancy, it helps in the cell repair. In fact, it can also be used on your face to repair the uneven skin tone and to improve the complexion. If you are suffering from pregnancy related pigmentation or the butterfly mask on your face then also the product gives good results.
These are the best stretch marks removal creams in India for pregnancy. Even for sudden weight loss related stretch marks these can be applied. Ensure that you apply these at least twice in a day. The best way to apply it, is after the shower when your skin is still damp. That time the scream absorbs most of the product and it works faster. Applying the marks removal creams at night also helps in skin lightening faster.
The best solution for stretch marks is to apply regularly doing so would keep you worry free and let you enjoy your pregnancy period.