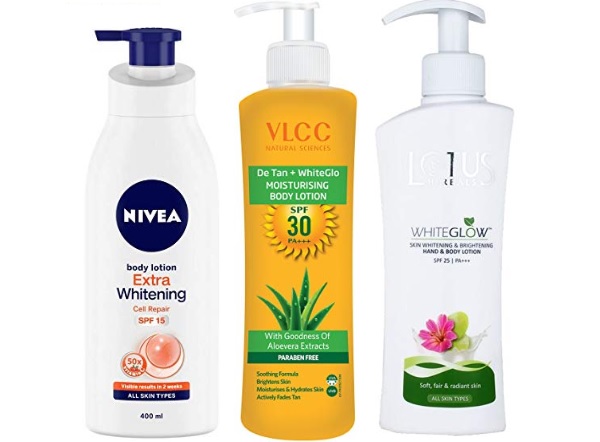 Body lotions help to moisturize and condition your skin which is dry and itchy. A lot of us would use body lotions during winters but there are body lotions for summers as well. During this season, the weather gets really harsh, humid and filled with pollution, it becomes very critical that you apply body lotion for summer to protect your skin from getting dehydrated, dark and even age prematurely. Here we are going to talk about the best body lotions for summer in India.
Yes will be talking about a best summer body lotions in India. As the market is filled with different types of lotions, creams and moisturizer becomes important that you use products which suit your skin type and the issue that you are facing. For example during summer season, if you have oily skin, then you should pick the body lotion which is moisturizing yet isn't greasy. Whereas for dry skin you would need a lotion that is more conditioning.
Choosing the Best Body Lotion for Summer
This article is divided into two sections. We have compiled list of body lotions for summers for all skin types, best body lotions with sunscreens in them and best skin whitening body lotions.
During summer season, it is crucial that you choose the body lotion brands that are rich in SPF. SPF above 15 is a must have in your body lotions. Other than that your summer body lotion products should also contain some ingredients that can remove the tanning. As during this time of the year, sun tan is the major skin issue for teenagers, women and even men. Your summer body lotion must not be sticky or greasy rather they should have ingredients like aloe vera, Vitamin C that are considered best for hot sticky season.
Best Skin Whitening Body Lotions for Summers in India (2023)
1. Vaseline Healthy White Lightening Visible Fairness Body Lotion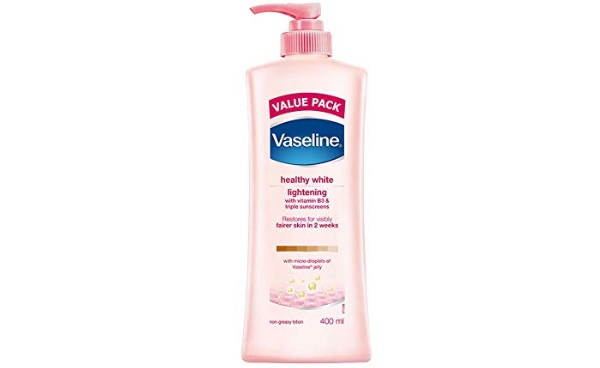 Vaseline Healthy White Body Lotion is the best body lotion for summer contains vitamin B3 along with triple sunscreens. It restores the skin moisture level and gives you fairer skin in just 2 weeks. It may not work as stated, but still it decreases the melanin production and the sun tanning. Triple sunscreens help to provide UV protection and get rid of the skin darkening. The Vaseline body lotion for summer comes with a fast absorbing and non-greasy formula that makes your body skin look fairer. It's also the best skin lightening lotion that can be applied by people of all skin types. Micro-droplets of Vaseline Jelly help to heal the damage and aids in water retention.
It can be applied twice a day for best results in keeping the skin smooth and glowing. It is not mentioned the amount of SPF that this lotion contains, just the triple sunscreens. This is one of the best whitening body lotions in India that everyone can use even summer season.
2. Nivea Extra Whitening Cell Repair Body Lotion SPF 15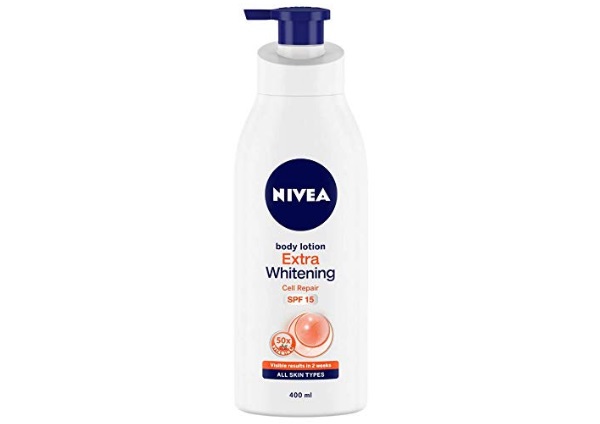 Nivea extra whitening cell repair body lotion comes with SPF 15. The Nivea body lotion has Vitamin C extract up to 50 times more than citrus fruits. It is a paraben and mineral oil-free lotion which does not contain any bleaching or colorant; it protects your skin against the environmental stress and harmful condition. SPF 15 is perfect for everyday application, as it shield the skin from UV damage.
Apply it twice daily for curing the uneven skin tone, rough skin and flakiness. The Nivea body lotion for summer can be applied by people of all skin types and does not have a sticky texture. This is the best whitening body lotion for summer in India at affordable price.
3. VLCC De Tan Plus White Glow Moisturizing Body Lotion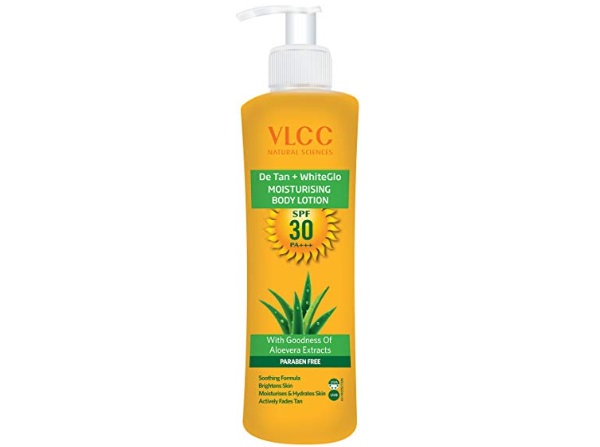 Sun tanning and skin darkening, is your primary skin issue, then using a De-tanning body lotion will certainly help. Powered with SPF 30, the lotion contains aloe vera. It has white glow moisturizing technology that boosts the skin fairness. It's a soothing formula that is safe for sensitive dry skin as well. Apply it every day to not just your dry skin but to shield it from the sun damage. It repairs the photo damage and prevents the premature skin aging.  It can be applied two times in a day and is also the best best body lotion for glowing skin. It is a suitable summer lotion with a high SPF 30. This is the best anti-tanning body lotion in India.
4. Lotus Herbals White Glow Skin Whitening and Brightening SPF-25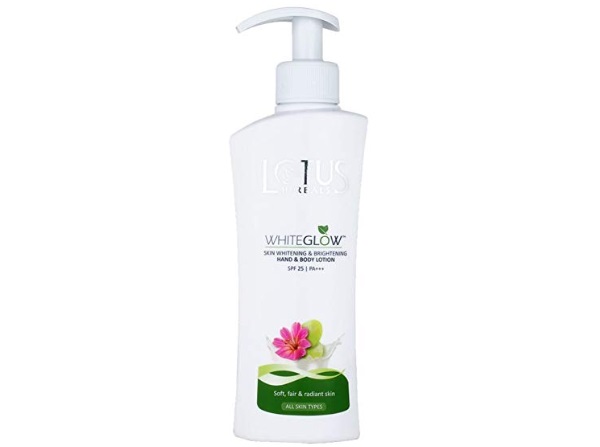 Lotus white glow skin whitening and whitening body lotion has SPF 25. The fairness body lotion is rich in Saxifraga extracts and Vitamin C. It can be applied everyday on the exposed body parts like hands, feet etc.  You can use it two times in a day on your exposed body parts to make sure that the skin doesn't get dark even if you stay longer under the sun. The texture is non-greasy and creamy. It gives you enough of the moisturization without the stickiness. It is the best whitening body lotion for oily skin in summer that has skin lightening benefits.
5. Pond's Triple Vitamin Moisturising Body Lotion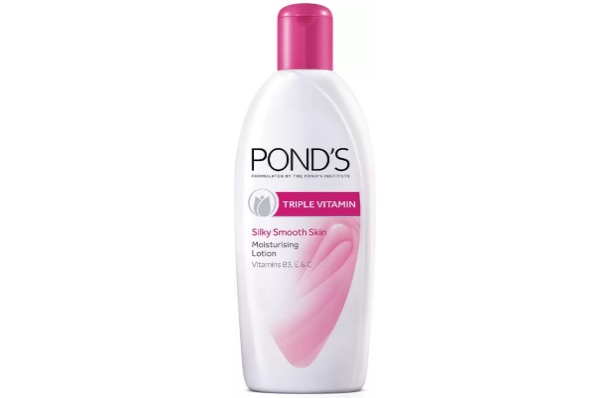 The body lotion comes from the very popular brand Pond's. It has moisturizing properties with Vitamin B3, Vitamin E and C. The texture of this, isn't extremely sticky so, suitable for all skin types. The best thing about this product is that it has all those vitamins and mineral rich ingredients that boost the skin repair system. Additionally, when applied it doesn't leave that white cast on the skin. It's the best whitening body lotion for dry skin.
6. Dove Glowing Ritual Body Lotion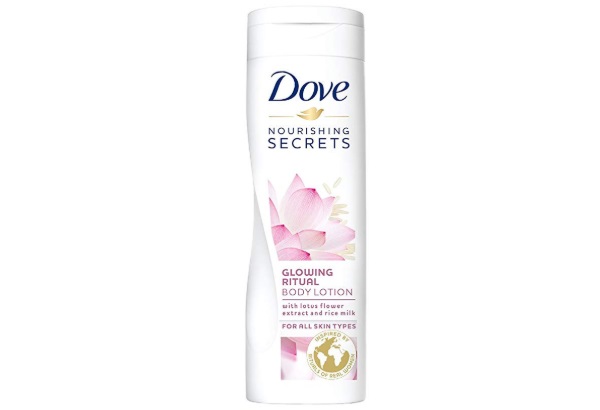 The glowing ritual body lotion contains milk extracts and rice water extracts. These ingredients are known to whiten your skin and lighten the dark spots. Rice water extract is rich in vitamins and minerals that improve the skin texture and adds glow. The super smooth body lotion can be applied twice a day and it protects your skin from the environmental pollutants and stress. This Dove lotion for glow does not contain any SPF as it is not mentioned anywhere. The product is dermatologically tested and it safe for people with sensitive skin. This is one of the best smelling body lotions for summer in India.
7. Parachute Advansed Cocolipid and Water Lily Body Lotion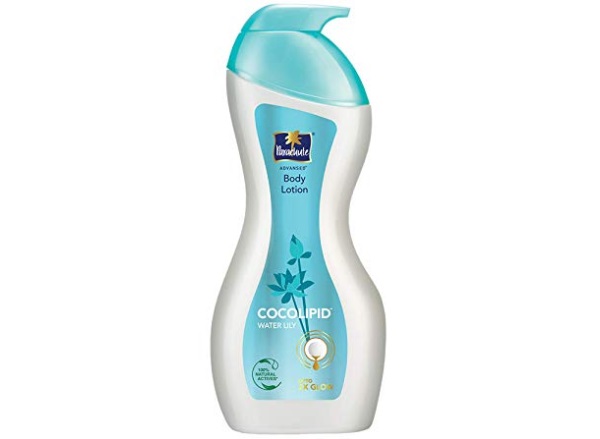 The advansed body lotion from parachute with cocolipid and water lily extract is the latest launched from them. It is a body lotion with 100% natural bioactives that doesn't contain any harmful parabens, mineral oils or even the phthalates. It contains the goodness of coconut milk which is known to be an extremely moisturizing skin nourishing agent. It is understood with the breakthrough cocolipid formula and exotic water lily extracts. The summer lotion gets inside the deeper layers of the skin and is clinically proven to give you soft skin. The hand and body lotion doesn't contain any SPF and is suitable for dry to normal skin. It has hydrating formula therefore, it can be slightly sticky when you have oily skin especially during the summer, the weather becomes humid and hot.
8. Himalaya Nourishing Body Lotion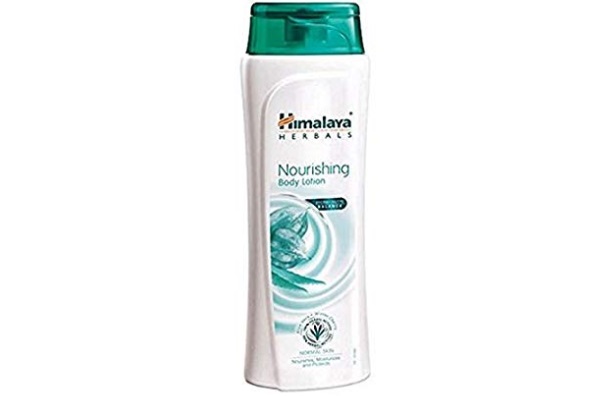 It's one of the best body lotions in India that is extremely popular. It is from Himalaya Herbals, the nourishing body lotion contains aloe vera. Applying it twice nourishes the dry skin completely. There is no SPF in it. Utilising the power of plant extracts that increase cell regeneration and fight the free radicals that can age your skin.
9. Vaseline Intensive Care Aloe Fresh Body Lotion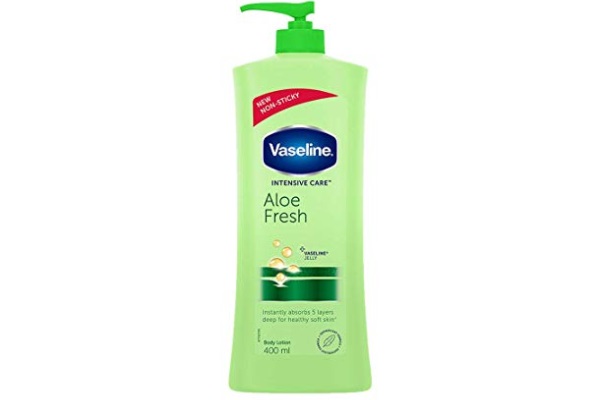 The intensive moisturizing formula of Vaseline Aloe Fresh Body Lotion is suitable for all skin types. Even though, Vaseline aloe vera lotion doesn't have a very sticky formula but yet it is able to penetrate in your skin layers and make it smooth. Not just that even if you have oily or normal skin in summer season, it will work the best. It contains 100% natural aloe vera extracts and is free of chemicals. It doesn't contain any SPF, this is the only drawback for this body lotion. However, you can apply an SPF lotion or sunscreen before applying this body lotion or even after that.
10. Dove Go Fresh Body Lotion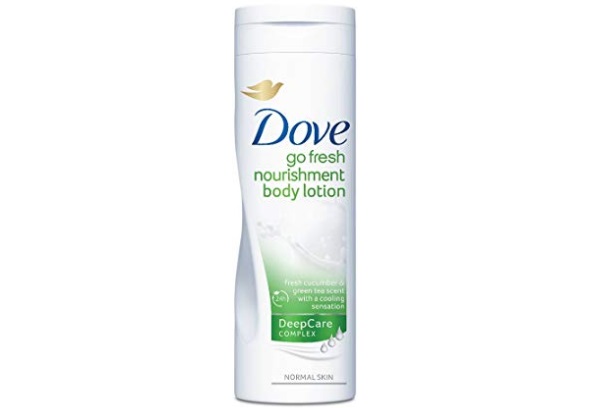 Dove Go Fresh Body Lotion is rich in cucumber and green tea. With these two ingredients, it revitalizes you are dull skin. When the temperature soars, skin becomes dark and lifeless. It is suitable for all skin type. Its fast absorbing formula is non-sticky and doesn't create a sticky layer on the skin. The fresh scent of green tea leaves you smelling good. It also contains menthol that gives you mild cooling sensation when it is applied. The formula is very gentle and has safe ingredients which are suitable for kids and people who have sensitive skin. Men and women both can use it and it's amongst the best moisturizing lotion for summer.
11. ST. D'VENCE Body Lotion with Almond Oil and Aloe Vera for Summer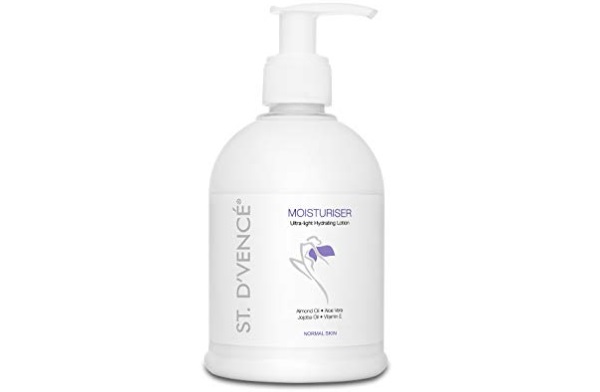 The presence of almond oil and aloe vera, this is the best moisturizer for normal skin. It is a paraben and mineral oil-free formula which is safe and gentle for sensitive skin. The ultra-lightweight formula gets absorbed super quickly and restores the hydration. It contains aloe vera, almond oil, jojoba oil Vitamin E and London classic fragrance. You can apply it soon after the bath to keep your skin moisturized and super soft. It keeps you smelling good all day long.
12. Himalaya Herbals Aloe and Cucumber Refreshing Body Lotion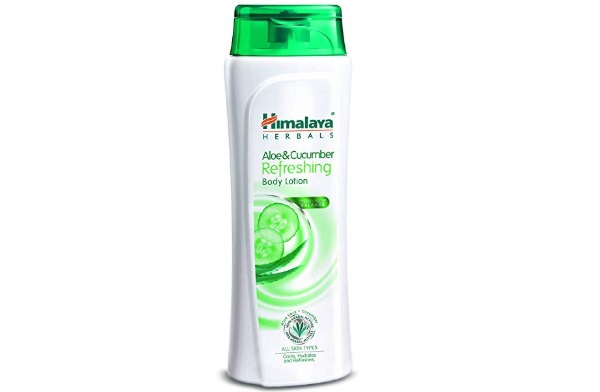 What else you can ask for during summers? This lotion contains aloe vera and cucumber which is exactly what you would like to put on your skin to soothe and cool it. In fact, if you have skin problems like Sunburn, rashes or even itching, can be cured with the ingredients that this lotion contains. The daily use body lotion leaves your skin smooth and refreshed. You can apply it after the bathing so that these can retain the most of the moisture given by the body lotion. It is also safe for kids and people who have sensitive body skin type.
13. Parachute Advansed Body lotion with Coconut Water & Aloe Vera Gel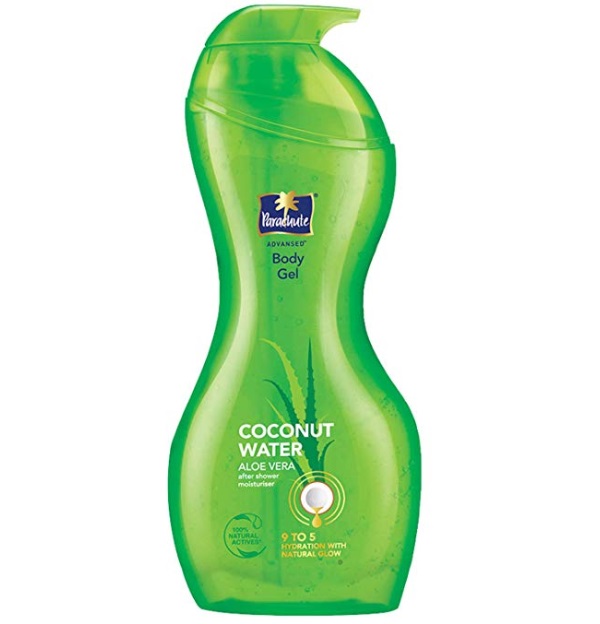 With an interesting packaging, this body lotion is best for summer season, if you do not want to focus on the skin lightening and SPF thing. It contains coconut water and aloe vera and is an excellent lotion to give you moisturization and glow. Combining the power of coconut and Aloe Vera Gel, it reduces blemishes and ensures dryness free skin type. It has a real formula other than the creamy lotions that we have seen. This is the best body lotion for oily skin in summers. It has a hydrating, cooling and fresh texture which suits the oily to normal skin better it is a chemical free product that works the best.
14. Lotus Herbals Aloesoft Daily Body Lotion SPF 20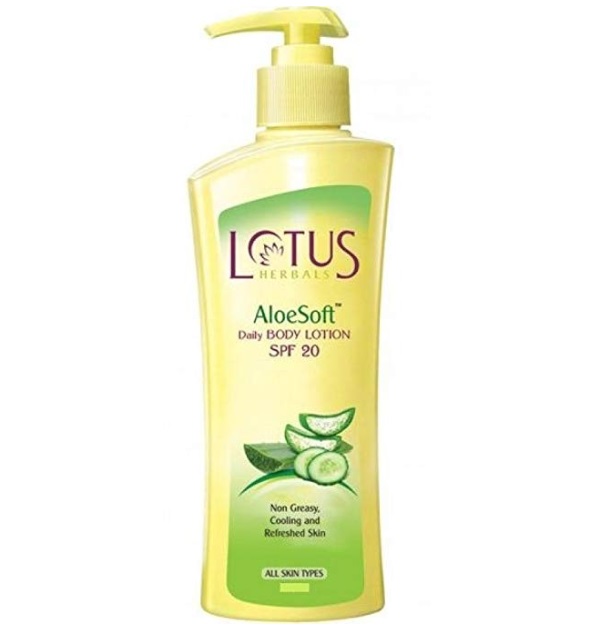 Lotus Herbal Aloe soft daily body lotion contains SPF 20. It as a non greasy, cooling and refreshing formula. It is one of the best for oily and normal skin for the summer season. In fact, it's the best body lotion with SPF 20 and non-greasy formula, perfect for oily skin. So, if you are someone who dreads skin darkening and tanned skin, then go for body lotions that contain either skin whitening ingredients and SPF.
15. Dove Invigorating Ritual Body Lotion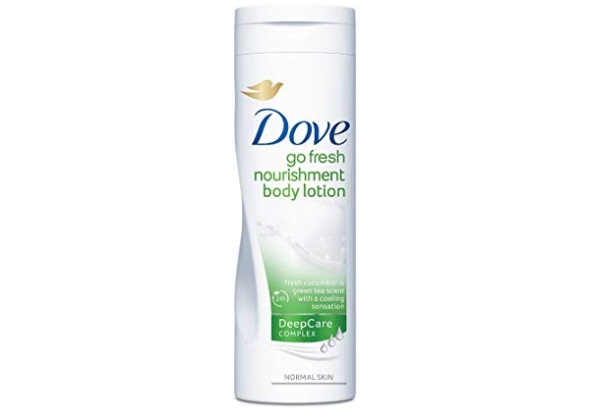 Dove Invigorating Ritual Body Lotion contains the avocado oil and calendula extracts. It is suitable for all skin types and is the best body lotion in India for all skin types. It lacks sunscreens that protect your skin yet its pleasant smell and moisturizing formula will be loved by people who have dry and sensitive skin. The Dove body lotion can be your perfect moisturizing product for very dry skin for all weather.
Applying body lotion should be a part of your daily skin care regimen as body is something that you should take care of, just like you do with your face. So choose your body lotion with care and apply them regularly after the shower. Choose your best from this list of the best summer body lotions for whitening in India.