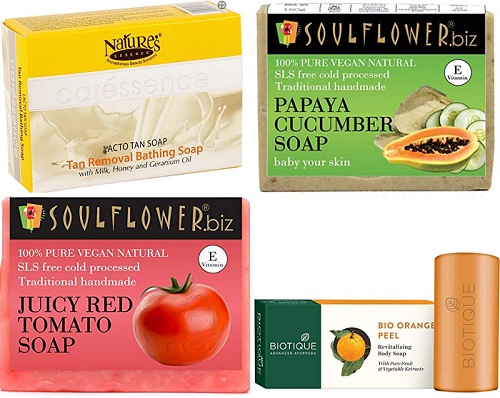 Does your sun tan concerns you a lot? If it does, then tan removal soaps can come to your rescue. Soaps to lighten tanning contains ingredients like Kojic Acid, Arbutin, Milk Enzymes, Lactic Acid, Papaya fruit extracts, known to reveal fresh clear skin. Such soaps are known as whitening soaps. These tan removal products can be used on the face and body. During summer, when the sun rays are more direct, they can make your skin get burnt and tanned. Therefore, the best way to cure Sun tanning is to regularly use tan lightening products available in the market. Doing so ensures tan free skin and prevents the tan getting accumulated and become permanent.
Top 10 Best Soaps to Remove Tan Quickly in India (2023)
So, here are the best sun tan removal soaps in India. You can also buy tan removal soaps online.
1. Nature's Essence Lacto Tan Soap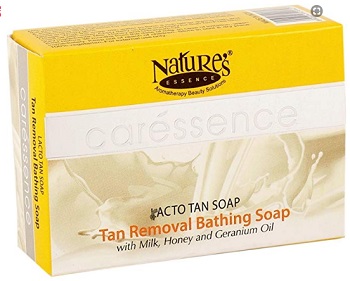 When it comes to removing the tanning, this is the best tan removal soap in India. With milk, honey and geranium, it's known to stimulate cell renewal and to prevent the pigmentation due to harmful sun effects. The skin lightening soap heals facial and body skin. The product is suitable to remove the epidermal suntan. You can also use the Lacto bleach to further get good results in lightning the tanning.  The Nature's Essence tan removal soap is easy to use as you can apply it just like the regular soaps.
2. Absolute Beauty Papaya Pigmentation Bath Soap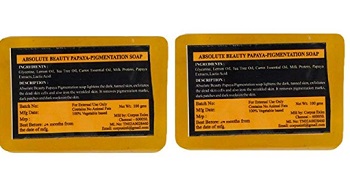 The papaya dark spots removal soap comes with ingredients like Lemon Oil, Tea Tree Oil, Carrot Oil, Milk Proteins, Papaya and Lactic Acid. The papaya pigmentation removal soap is wonderful to cure the tanning. It works on multiple beauty problems such as spots, wrinkles, dark circles, tanning, acne breakouts marks and dead skin cells. The multi-functioning soap is not just affordable but also really works to whiten skin complexion.
3. Healthvit Kozicare Kojic Acid Arbutin Skin Whitening and Lightening Soap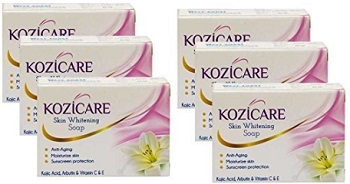 Kozicare skin whitening soap contains sun protection ingredients like Kojic Acid, Arbutin, Vitamin C and Vitamin E. The soap is a pure whitening kozic acid product which beautifies skin tone. It combines the power of arbutin that mildly exfoliate skin to reveal a bright tan-free healthy skin. Not just tan, it eliminates any kind of skin discoloration. While using this soap you should apply good amount of sunscreen. It's also one of the best skin whitening and body tan removal soaps in India.
4. Kama Ayurveda Turmeric and Myrrh Skin Brightening Soap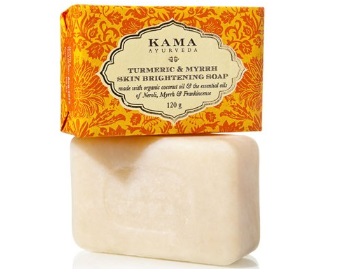 Kama Ayurveda brightening soap is rich in turmeric extract. The soap is rich lathering and contains essential oils to lighten skin and reducing the pigmentation. Blended with beeswax, coconut oil, Banyan Tree extracts and fig, this is a brightening Ayurvedic face and body soap. It lightens pigmentation and sun tanning right from the first use. You have to make sure that you use it on your face and body regularly. It contains powerful antioxidants that really work on tan. By far, it's the best tan removal soap for dry skin in India.
5. Soulflower Juicy Red Tomato Handmade Soap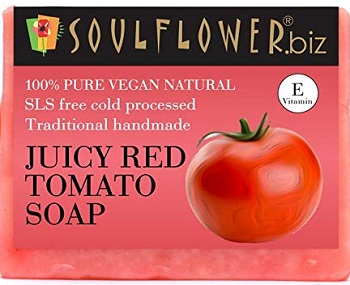 The Soulflower tomato soap is exclusively made with 100% vegan natural tomato extracts. It lightens the sun tan and other skin blemishes. It is 100% natural handmade soap without chemicals, SLS or even parabens. It can be applied on your face and body. Tomato is effective in treating sun tanning therefore; it's also amongst the best herbal sun tan removal soap in India for all skin types. Additionally, it is also remove the acne scars, open pores, large pores and marks.
6. Biotique Bio Orange Peel Revitalizing Body Soap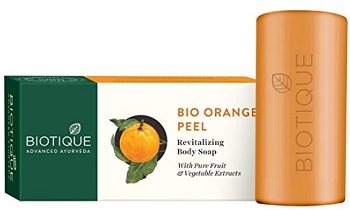 Biotique tan removal soap is a body soap that contains pure fruit  and vegetable extracts.  It's a very affordable soap with the power of orange peel extracts. It gently peels the skin and iads cell renewal to reduce tanning, spots, and  darkness. Quick to lather formula helps in cleanse nicely and keeping you refreshed in summers. It also contains Orange Zest, Musk Root, Walnut, Margosa, Turmeric and soap nut extracts.  It's the best tan removal soap for oily skin.
7. Healthvit Bath and Body Glutathione Skin Whitening Soap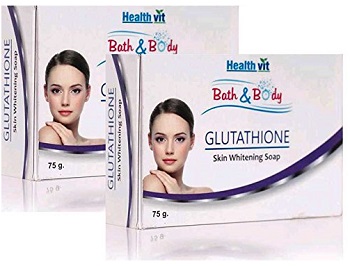 Healthvit face and body whitening soap contains glutathione. Glutathione is potential antioxidant that is known to whiten your skin complexion by removing the dark spots, discoloration like pigmentation and tan. While applying this soap eliminates the harmful effects from your body. It fights bacteria really well and is safe for all skin types. It can be used on face and body skin. It also get rid of the freckles, age marks and acne spots.
8. Vaadi Herbals Value Luxurious Saffron Skin Whitening Therapy Soap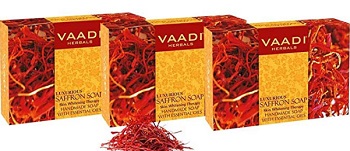 The saffron skin whitening soap combines the power of Kesar, Saffron along with the essential oils. This powerful combination helps to lighten the skin to clear up the skin. It even tones your skin and cleanses the deep seated impurities. Not just the sun darkening, it also removes the blemishes on the skin. It lathers up richly and cleanses the skin. The face and body soap is very affordable and has a glycerine base. It takes some time to remove the tan but with daily usage, it will clear up your skin.
9. Cadila Skinshine Fairness Soap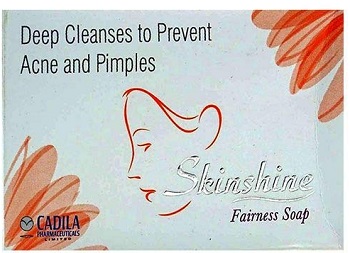 Cadila Skin fairness soap is a deep cleansing product to prevent acne and pimples. It makes skin bright and fair oily and acne prone skin. This is best tan removal soap for all skin types. The soap reduces the excess oil and sebum production.
10. Avon Naturals Papaya Bar Soap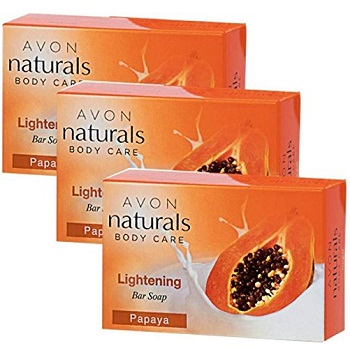 It's skin lightening papaya soap for face and body. To reveal the radiant skin, papaya works well. It lightens the skin colour and removes the tan due to sun darkening. You can get back the original complexion soon. Make sure you apply it on your face regularly to maintain the effects.
It is the most effective papaya soap or tan removal in India.
11. Soulflower Papaya And Cucumber Handmade Soap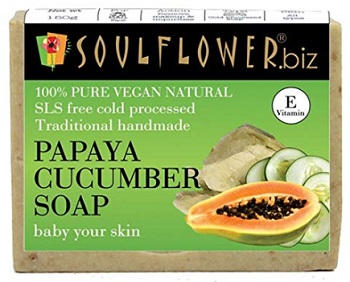 Soulflower papaya and cucumber handmade soap contains the goodness of papaya and cucumber. It reduces tan, marks, acne scars and blemishes. The soap lather rich and gives clear skin. It contains castor oil, coconut oil, palm oil, palm kernel oil along with papaya and cucumber extracts. It also removes the dark circles pigmentation. It' the best soap for tan and even toning the skin.
12. Likas Original Papaya Whitening Soap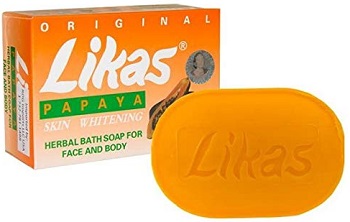 Likas Papaya Whitening Soap is one of the most popular skin whitening and anti tanning soap in India. It gives you are fair and acne free skin with regular use. While improving the complexion it makes the skin tone fair.
These are the best tan removal soaps in India which you can apply everyday on your face and body to lighten the tanning and its effects. This can be used on the body as well because on the expose body parts like arms, hands, neck and legs. Tan is more likely to get accumulated and show its effects. Therefore, the body whitening soaps works the best.