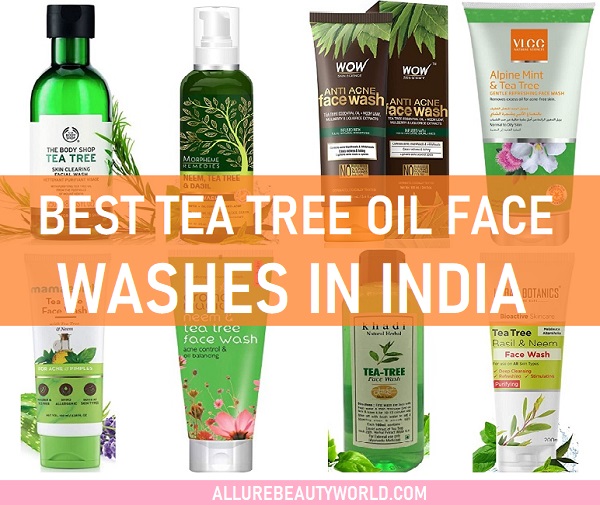 Tea tree oil is extracted from the small native tree and this is an amazing product to have for your skin hair and even health. This essential oil is pretty inexpensive and safe to be used even for the sensitive skin. Talking about the tea tree oil face washes, these are products that work really wonders for oily and acne prone skin. Tea tree is known for its antibacterial and anti-fungal properties, therefore quite beneficial. When your skin is oily and chances of bacterial breeding and frequent zits are more.
Tea tree oil can be extremely helpful in preventing the acne and breakouts. In fact, for curing the future and the existing breakouts, this product is beneficial. Let's take a look at the best tea tree oil face wash is available in the market.
Top 10 Best Tea Tree Oil Face Washes in India (2022)
These tea tree facial cleansers is that they are suitable for oily and acne prone skin and their prices also very affordable.
1. The Body Shop Tea Tree Facial Wash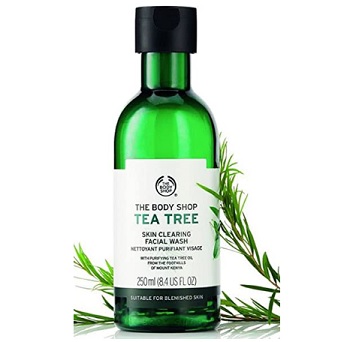 As a part of the body shop tea tree skin care range, this is a facial cleanser which contains the tea tree essential oil. The tea tree oil is extracted from the foothills of Mount Kenya. It deeply cleanses the blemished skin and gives the cooling and refreshed skin tone. While the product makes the skin appear visibly clear, it also reduces the oils which add excessive shine. It is one of the best tea tree oil face wash for oily acne prone and combination skin. For summer season, this face wash works really like a charm in giving you a clear skin.
2. Mamaearth Tea Tree Natural Face Wash for Acne & Pimples Wash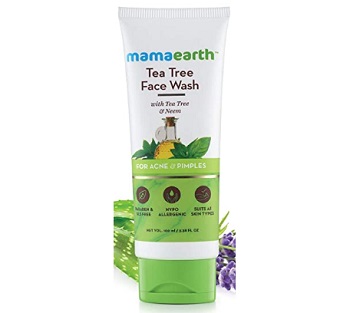 The tea tree enriched facial cleanser is for acne and pimples. It is a paraben and SLS free face wash from a brand that is well known in India for its chemical free skin care products. Its hypoallergenic formula is also suitable for skin that is delicate and very sensitive. It keeps the skin clear of the blemishes and occasional zits and pimples by controlling the too much oil secretion, especially during humid and hot season. The product like this, leave your face look matte and oil free but it also does not make the skin dry or stretchy. Over the time, with its powerful Tea Tree and Neem extracts, it cleanses the facial skin brilliantly.
3. Morpheme Remedies Neem, Tea Tree & Basil Face Wash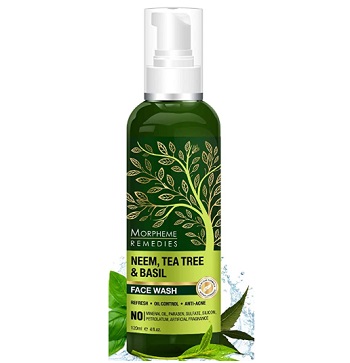 The acne fighting face wash is one of the best face wash brands in India. It is infused with 100% natural bioactives that help to control the acne, blackheads and whiteheads. It also helps in easing the redness and itching that is often a common situation, when one has acne and breakouts on the skin. Using this facial cleanser on regular basis helps to lighten the acne scars and spots on the face. It is loaded with Tea Tree essential oil, neem leaf extracts, liquorice extract and Mulberry. It is one of the best anti acne clearing face washes that men women and teenagers can try. Occasionally this face wash also prevents the harmful effects of everyday wear and tear and pollution.
4. WOW Skin Science Anti Acne Face Wash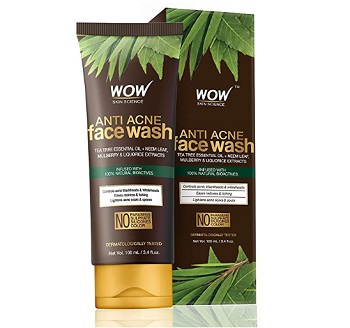 It is a brand of the best face wash brands available in the Indian market. This face wash contains tea tree as the main ingredient along with Vitamin E. It is an SLS and paraben free face wash made with the purest ingredients with no chemicals at all. So, it is the best chemical free face wash. It gives oil free and fresh-feel all throughout the day. While the product helps in making your face softer and smoother, it also gives an antibacterial shield for your skin during the hot summer season, when skin secrets more than the required oils. This can eventually becomes a breeding place for the bacteria.
5. Khadi Herbal Natural SLS and Paraben-Free Tea Tree Foaming Face Wash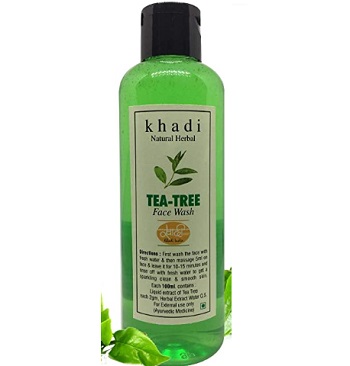 Is one of the best rated Tea tree oil and neem face wash available in the India that also contains Aloe vera and Vitamin A. It is a deep cleansing skin face wash which is suitable for men and women with oily acne prone, combination and sensitive skin. It contains pure Australian Tea tree oil, Aloe vera, Vitamin E and Green tea extract. As the product does not contain parabens, mineral oils, SLS/SLES, it's also a hypoallergenic formula suitable for even the most sensitive skin type. Use it twice in a day to ensure your skin looks healthier looking and no blemishes at all.
6. VLCC Alpine Mint And Tea Tree Gentle Refreshing Face Wash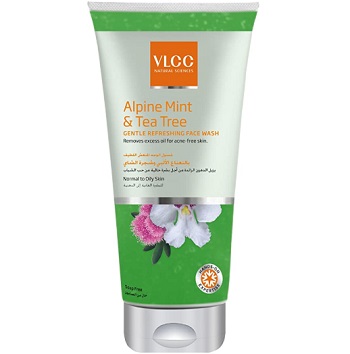 VLCC is yet another popular brand of face washes in India. With Alpine mint and tea tree this is a gentle refreshing face wash that removes excess oils to give acne free skin for men and women. It's a face wash specially formulated for normal to oily skin with ingredients that genuinely work to give skin deep cleansing benefits. Apply the face wash generously on the skin and massage for few minutes then wash off. It gives you a refreshed and clear skin with oil control feature. It is a soap free product that is also suitable for open pores as seen on oily skin.
7. UrbanBotanics Tea Tree, Neem & Basil Face Wash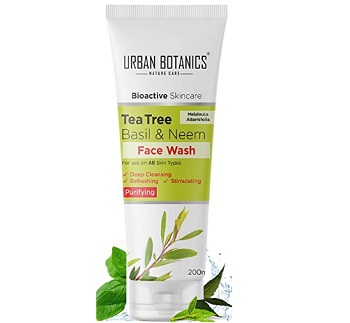 It's a face wash for men and women that can be used on daily basis to get rid of the sebum and acne on the skin. While it reduces the size of the pimples, it also eliminates the redness on the skin. Itching and other signs of pimples can also be relieved by using this effective skin friendly face wash that contains Tea tree, Neem and Basil. Basil, is popular in India as a gentle cleanser that strips the oils, but yet keeps the required pH. It's a SLS and paraben free facial cleanser.
8. Lotus Herbals Tea Tree and Cinnamon Anti-Acne Oil Control Face Wash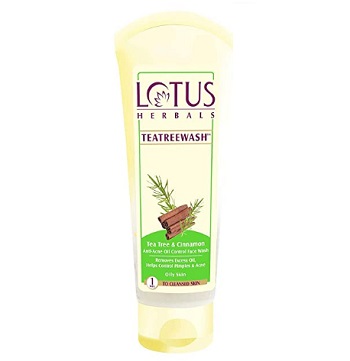 With excellent oil clearing properties, this is an anti pimple face wash with tea tree and cinnamon. It is for oily skin and combination skin. It's also a good and affordable face wash for the summer season. While the product hybrids your skin it remove the dry patches and it is also a suitable facial cleanser for skin that has acne but it is dry.
9. Aroma Magic Neem And Tea Tree Face Wash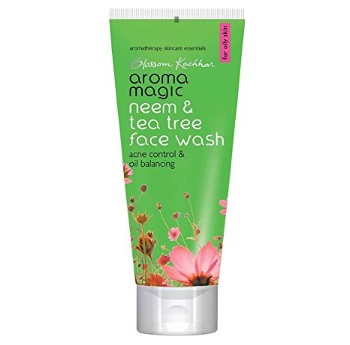 Neem and tea tree loaded face wash come with features like oil control and balancing the excessive oils regulated on the skin. It contains Rose extracts and the vitamins to lighten the scars and blemishes. Over the time, it improves the skin tone and makes your skin better than before. So if you have excessive oily skin with loads of oils coming during humid and hot season, this facial cleanser helps to control them and keep the skin matte for a long time.
10. Jovees Tea Tree Oil Control Face Wash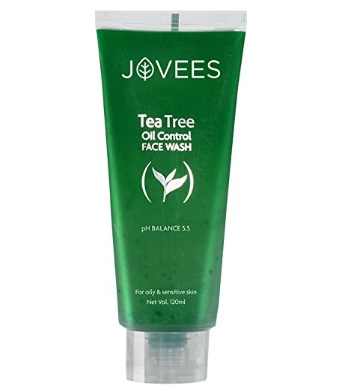 This one is also oil control tea tree oil face wash which is suitable for every day application, 2 times in a day. With a balanced formula with the pH of 5.5, it helps in retaining the best moisture for the skin, it does not make your skin feel dry in the process of eliminating the excessive sebum and dust. The cleanser helps to control pimples and is suitable for men and women. Even for teenagers it's a good face wash but it's not for dry skin.
These are the best tea tree oil face washes available in the Indian market. You can choose any of these however, always ensure that the face wash that you are using must be SLS and paraben free. If your skin is delicate and sensitive, using the sulphate free products like chemical free face wash would fetch good results.