At times your armpits can get darker due to accumulation of pigment cells called melanocytes. This makes your underarms darker than your all over skin colour. This darkening of underarm skin can also be a genetic or hereditary skin condition. It also happens because of repetitive shaving application might also stimulate the melanocyte production. So whatever is the cause of underarm darkness, there are underarm darkness removal creams.
Let's take a look at the best underarm whitening creams available in the market. If you would like to prevent the underarm darkness or dark underarms then rather than going for hair removal creams or shaving, go for waxing.
Popular and Best Underarm Whitening Creams in India For Lighter Skin
1. Qraa Advanced Lacto Dark Underarm Whitening Cream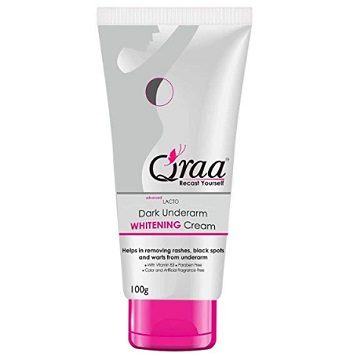 The underarm whitening cream removing rashes, black spots and warts from the underarms. It is a paraben free, fragrance free and natural product rich in vitamin B3. And the cream is non-greasy and once applied on the underarms, it remove the stubborn dark patches over theunderarms. This product can be applied twice in a week. Just massage the cream and let it get absorbed in the layer of the skin.
2. Makhai Underarm Whitening Cream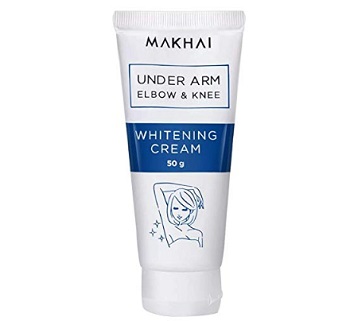 This cream not just erases your underarm darkness but it can also be applied on the knees and elbows which are also prone to darkness. It is rich in kojic acid, which is a substance known to increase the cell renewal and to remove the dark skin layer. It is a specially formulated cream with enriching ingredients.  This can be applied even over the sensitive skin areas. The cream is a chemical free formula that also restores the natural hydration. It has ingredients such as cucumber, berberry, kojic acid, mulberry extracts along with vitamin B3. It's the best paraben free underarm whitening skin cream.
3. Dot & Key Underarm Colour Correction Serum Cream for women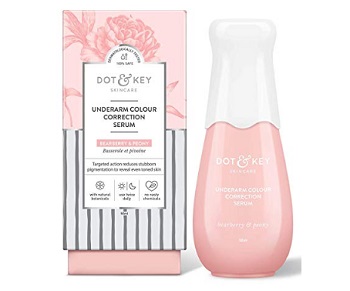 Dot & key underarm cream is a chemical free product blended with skin whitening serum which is completely safe and gentle on sensitive skin. It reduces the pigmentation of dark underarms and even tones the underarm dark skin. It can be applied two times in a day after the shower and before going to sleep. The light formula does not feel greasy and works overnight. This underarm whitening serum can be applied everyday twice for at least four weeks.
4. Aamodini Underarm Whitening Cream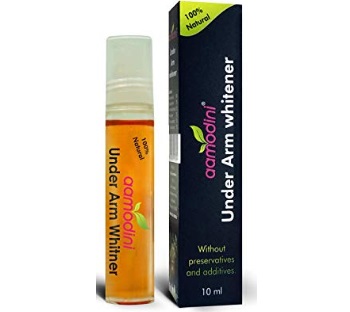 The underarm whitening product helps to repair the dark underarms. It is based on the composition of kumkumadi oil, papaya extract, cucumber, turmeric, yashtimadhu that makes the skin smooth and fair. It is a chemical decomposition that is easy to carry in the purse and handbags. It's the paraben-free and chemical-free product, safe for the sensitive underarms skin.
5. Aliver Whitening Dark Skin Lightening Cream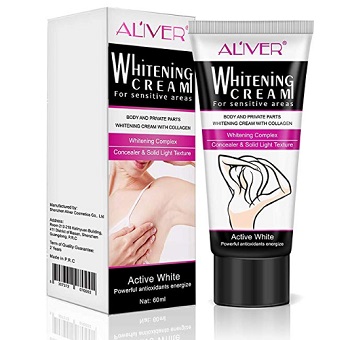 The underarm whitening cream is a made with the natural herbs and does not contain any harmful chemical composition. It protects the skin from drying and getting darker, when you apply it over the skin, it instantly moisturizes and with continuous usage, it inhibits the formation of excess melanin so that deposits of melanin can't darken the skin.
6. Aichun Skin Armpit Whitening Skin Lightening Bleaching Cream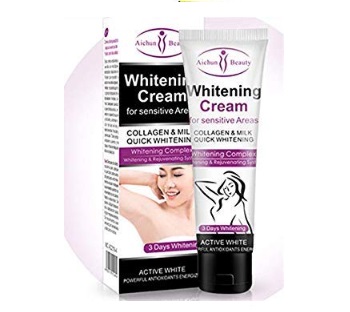 The underarm whitening cream has collagen and milk proteins. Milk protein helps in making the dark underarms lighter and without bleaching the skin, it naturally lightens the dark underarm. It's an underarm whitening cream that shows good effects in just 2 weeks. As per the consumers, this product has worked really well. It's the best cream to whiten the dark underarms in India.
7. INOCOS Underarm Skin Brightening Serum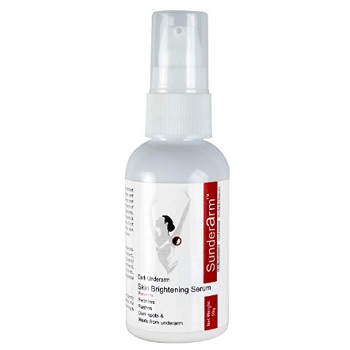 The underarm whitening skin brightening serum the dark spots, rocks and rashes and redness twice in general massaging motions to help treat the darkness. It works by reducing melanin in the underarms and dance likely queries and Witch Hazel it reduces the melanin production. It is a good quality natural extracts formulation that is proven to reduce rashes, pimples and dark spots from the underarms. It gives good results in just 2 weeks of usage.
8. Nuerma Science Advanced Dark Underarm Whitening Cream and Intimate Area Lightening Serum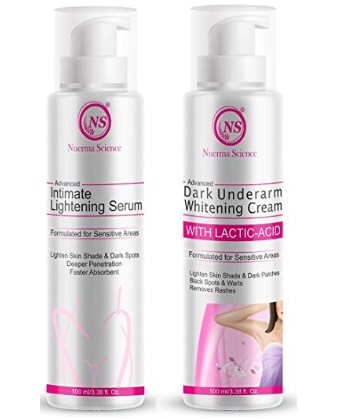 The product comes in a very easy to use pump packaging. The dark underarm whitening cream is loaded with lactic acid and is also safe for sensitive skin areas. It lightens the skin shade and removes the dark spots. With a fast absorb formula, it's ideal in removing rashes and dark patches. It shows results in 15 days. It can be used twice in a day like morning and evening before going to bed. It is one of the best products to get lighter underarms skin.
9. Digital Shoppy Underarm Intimate Whitening Cream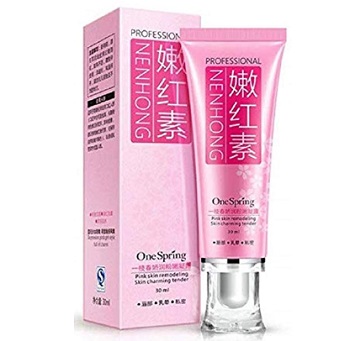 The underarm lightening cream comes in a pump dispenser. It is a high quality product that does not have any chemicals. It can be applied on the lips,  elbows and knees and also underarms. It shows good results in 7 to 10 days of regular use twice in a day. It has Cherry extracts that helps to minimise the melanin formation in the area which are dark.
10. Namyaa Intimate Lightening Serum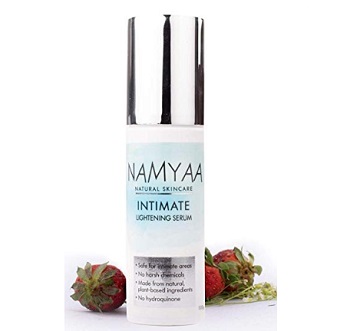 This is an intimate lightening serum that also works on the knees, intimate areas, underarms other sensitive areas. It is recommended for both men and women. It does not contain any harmful chemicals, hydroquinone or harsh metals. It lightens the intimate area and is also an organic product which is formulated with plant based natural ingredients. It can be applied on the dark underarms.
These are the best underarm whitening skin creams available in India. However along with that once or twice in a week you can also follow home remedy to whiten dark underarms. There are very easy to use remedies that can be done.  You just have to follow the below mentioned remedies:
Mix two spoons of potato juice with half spoon of turmeric. Massage it over the dark underarms. This has to be done two to three times in a week at night to make it work faster.
Rub tomato slices before bathing and keep it for 15 minutes. This would also help in lightening the dark underarms.
You can also apply a mixture of tomato juice and lemon juice in equal parts. Applying at every night would give good results in decreasing the melanin formation and in the darkness over the underarm skin.