Everyone of us needs a face cream for daily use. However, if you need anti aging benefits, dark spots and acne scars removal than using a Vitamin C face cream would do a lot for you. Vitamin C is a potential antioxidant that helps to target the spots. Vitamin C increases the cell renewal process. Promoting collagen production, vitamin C rich creams reduces fine lines and boosts skin plumpness. Antioxidants present in vitamin C fight free radical and photo damage. The Jar of Vitamin C cream can be your magic potion to get young and blemish free skin. People with the problem of hyper pigmentation have also seen satisfactory results by applying Vitamin C face creams twice in a day. Vitamin C creams are effective in playing a role in combating the dark spots. If your skin is sun tanned, then also Vitamin C creams help stop the enzyme tyrosinase activity to prevent the melanin production in too much quantity to lighten the skin. 
Best Vitamin C Creams in India (2023) For Spotless Glowing skin
1. Revibra C10 Pure Bioactive Vitamin C Cream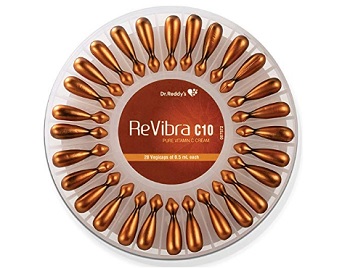 The proactive Vitamin C serum helps to make your skin vibrant and glowing. It is a preservative free and fragrance free product that is the form of capsules which are easy to use. Lightening the skin tone it helps to give your skin glow and boosts skin texture. One can expect it to help lighten the skin tone and to eliminate the dark spots. It's a perfect vitamin C anti aging cream.
2. The Body Shop Vitamin C Glow Boosting Moisturizer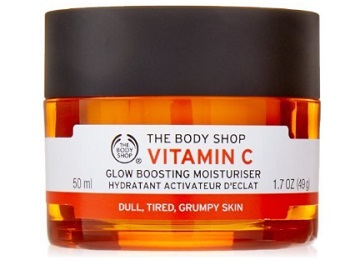 The Body Shop Vitamin C glow boosting moisturiser is made for dull and tired skin. So, even if your skin is dry during the winter season, the vitamin C lotion for face helps to brighten skin tone. Apart from making the skin healthier, it also imparts the much-needed hydration that is suitable for people even with very dry and sensitive skin type.  Just make sure that if you are using during the daytime to apply the sunscreen so, that your skin doesn't get sensitive or irritated.
3. Khadi Mauri Herbal Vitamin C Gel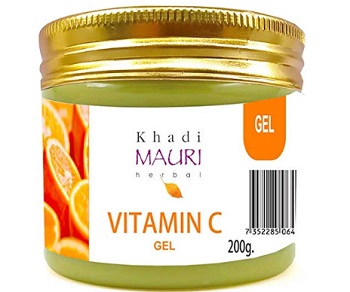 Khadi Vitamin C gel is a lightweight gel that is non-greasy and is a purely made from the handmade ingredients. It does not have any chemicals, hence is suitable for all skin types. It's an Ayurvedic and herbal gel that is loaded with the vitamin C in enough of quantity. It can be used to stop the signs of aging and to get beautiful look. The vitamin C serum also reverses the wrinkles, crow's feet, lines under eyes from showing up on your skin. Massage this skin for 2 minutes to let the serum get completely absorbed in the skin layers.
4. Trycone L- Glutathione Cream with Vitamin C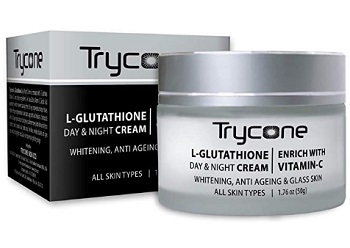 The Glutathione cream contains enough of the vitamin C and is one of the best whitening and anti aging creams that can be used for both day and night. It's loaded with Glutathione, which is bound to make your skin tone lighter and brighter. With naturally extracted Glutathione, it's suitable for all skin types. Vitamin C it controls the melanin making it suitable for dark skin tone as it also imports natural glow and fairness. It is for all skin types and even men can try the cream. Just make sure that you apply sun lotion during the daytime.
5. StBotanica Vitamin C Brightening Day Cream with SPF 30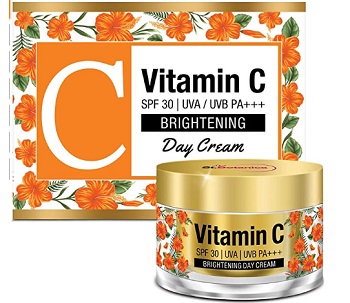 Seat botanica Vitamin C brightening day cream is loaded with SPF 30. As it has enough of the SPF 30 suitable for the daytime the cream can be applied by men and women. Cream that helps to brighten your skin complexion and the non greasy texture ,it is suitable for even the people with acne prone and oily skin type. If you would like to control the aging you must try every hyaluronic acid cream with vitamin C like this so that your skin gets shielded from the bad effects of Sun damage and UV radiations. Instead of using a cream like this, it can also help in combating the pollution effects. The best thing about this product is that it's paraben and sulphate free. It is also free of toxins and Mineral oil due to which it is safe for sensitive skin type. It's the best vitamin C cream for skin whitening.
6. The EnQ Vitamin C Lightening Serum Gel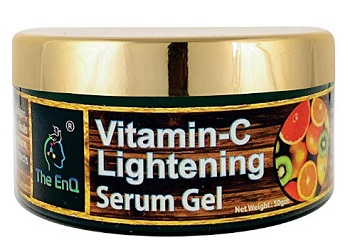 The vitamin C lightening serum gel boosts the skin lightening. It gives firm and plump looking skin. As it has a gel formula, it is suitable for all skin types. Other than the vitamins it also contains aloe vera extract. Fighting the free radical damage on your skin layers it also helps to minimise the aging like lines and wrinkles. It gives to youthful appearance and your skin appears bright. With a powerful combination of antioxidants, it stimulates collagen production and reduces signs of aging. The antioxidant cream with vitamin C can be applied to twice in a day followed by a good SPF. It's the best vitamin C cream for oily skin.
7. DERMA E Vitamin C Intense Night Cream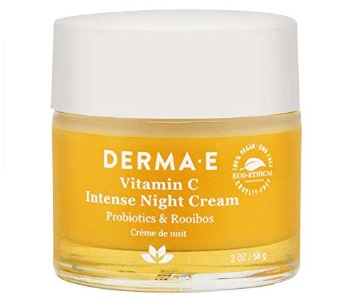 The Intense night cream contains probiotics and retinol. It's 100% Vegan and paraben free product that helps to minimise the skin problems and is also sulphate and chemical free product Mineral oil, therefore is safe for sensitive skin type. It is an intensive cream that is suitable for dry to skin and best vitamin C night cream in India. It's just that the price of the cream is a bit expensive but if you can afford that then why not. It is the best Vitamin C cream for extremely dry and sensitive skin type.
8. Aroma Magic Vitamin C Day Cream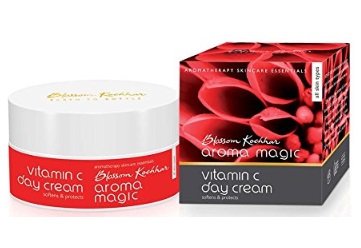 Aroma magic Vitamin C day cream is one of the best affordable Vitamin C day creams in India. It is 100% free of petrochemicals, toxins, phthalates and parabens. Other than making your skin tone brighter and even, it also works on the pigmentation. To decrease the pigmentation, just apply the cream twice in a day and it takes care of everything else. The cream also contains shea butter along with aloe vera, pomegranate juice, cucumber seed and avocado. With essential oils of lavender, chamomile and helichrysum, it hydrates wonderfully. It's the best vitamin C cream for face.
9. StBotanica Vitamin C, E & Hyaluronic Acid DePigmentation Cream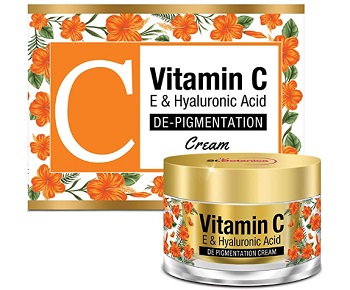 If pigmentation is your major beauty issue, then this vitamin C, Hyaluronic acid De pigmentation cream is the best thing that you can use. Other than having vitamin C, it also contains hyaluronic acid that is an excellent moisturizer for your skin. And with the precious essential oils and Botanical extracts, it has skin lightening properties that even tone the skin. Free of chemicals and toxic materials, it contains only the certified vegan and herbal ingredients. It's safe for all skin types and even men can try this anti-pigmentation product to lighten the pigmentation like melasma, age spots and dullness.
10. Kinskin Naturals Vitamin C Overnight Gel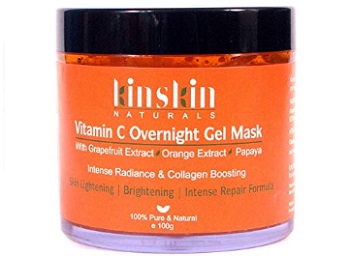 The vitamin C overnight gel is like an overnight mask for your skin to make pigmentation lighter and your skin brighter. Loaded with Vitamin C, grape fruit extracts, papaya, it's an intensive gel that helps to boost the collagen synthesis. By promoting the natural collagen synthesis, this vitamin C skin care product helps to make the skin firm and tight. It is 100% pure and natural product that is safe for sensitive skin. It is suitable for all skin types. Massage it on your face and leave it overnight. Wash it off in the morning.
11. Mom & World Repair + Renew Youth Firming Night Cream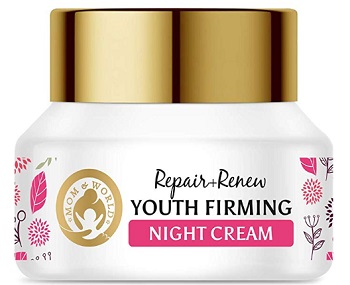 The youth firming night cream contains shea butter, cocoa butter, avocado oil along with grape seed oil, wheatgerm oil, sea buckthorn and Aloe Vera Gel. Loaded with Vitamin C, it comes with certified ingredients that are safe for all skin types. It also contains retinal and vitamin B3. With hyaluronic acid, it helps in restoring youthful complexion even after your 30s, you can try using a cream like this which is rich and moisturizing enough. It has super nourishing and moisturizing which is why it is better for the normal to dry skin. It's the best vitamin C cream in India.
12. Kazima Vitamin-C Skin Lightening Cold Cream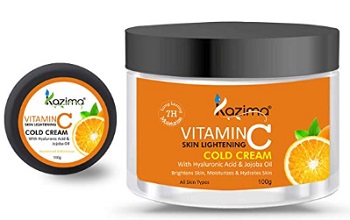 This product here is suitable for lightening the skin tone in the form of a vitamin C cold cream. This why it is a suitable Vitamin C winter cream as it has Vitamin C and hyaluronic acid. So it not just brightens your skin tone but also reduces the pigmentation. With moisturising ingredients, it's safe for all skin types. However, if your skin type is oily acne prone, you must refrain from using the product on your facial skin. It suits the dry and hydrated skin. With Vitamin C and green tea extracts, it helps to impart suppleness to your dry face. A lightweight gel texture helps it to get completely absorbed in the layers of the skin.
13. Glutalight Skin Whitening Brightening Lightening Cream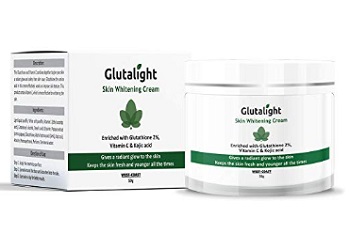 The skin whitening and brightening lightening cream contains glutathione along with kojic acid and Vitamin C. The vitamin C brightening cream works together to give radiant glow on your skin. Glutathione is an excellent amino acid rich compound known to give you fairness and improve the skin texture. It contains gluten in 2% with Vitamin C and kojic acid that lightens the dark circles. All these ingredients are naturally derived and this kojic acid vitamin C cream is paraben free, FDA approved and is free of chemicals that can make your skin irritated or get harmed in the long run.
These are the best Vitamin C cream available in the Indian market. Naturally, Vitamin C aids in increasing collagen production to give you firm and tight looking skin. It also helps to smoothen out the fine lines and wrinkles by increasing the collagen synthesis. On top of that, Vitamin C also helps in fighting the free radical damage and to give you beautiful looking skin. So, it not just helps as a brightness cream but it also is an anti aging products for all skin types. The Body Shop vitamin C moisture cream is suitable for the dry to normal skin.