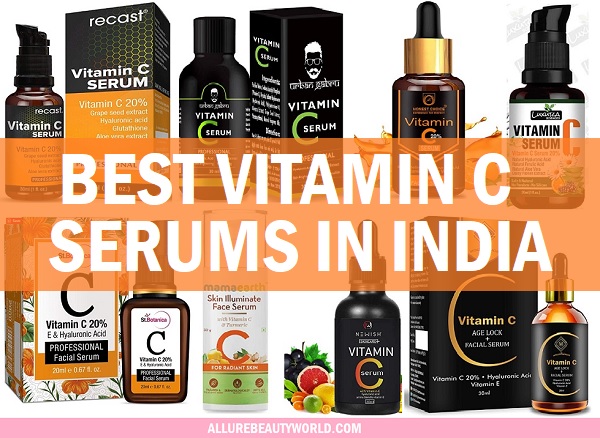 If you are wondering what does a vitamin c serum do for face? Then you'll be pretty impressed by the answer and this list of the best vitamin c serums in India.  Vitamin C serum reduces the appearance of lines and wrinkles and fades the dark spots. Regular use of Vitamin C serum helps delay the premature aging and reverses photo damage. By stimulating the collagen production, when Vitamin C serum are applied twice in a day it helps to increase the skin firming natural proteins in the skin layers. It should be noted that anyone men or women, over 18 years of age can try Vitamin C serums however make sure during the daytime to apply enough of the sunscreens over the vitamin C serum. Storing vitamin C serums in refrigerator is the best thing however; you can't do that keep it in a cool and dark place. As Vitamin C serums are photosensitive, they must not be kept under the direct sunlight. Because of their high antioxidant properties, these serums regulate oil balance and gets rid of clogged pores.
Vitamin C serum is one of the best thing that you can apply on your skin to cure hyper pigmentation, acne scars, dark spots and aging. Vitamin C serum or L-ascorbic acid has shown immense benefits in controlling the over production of melanin pigment in the skin. This over secretion of melanin is also known to cause hyper-pigmentation and sun tanning. Therefore, by minimizing the synthesis of this pigment, your skin looks fair and beautiful.
Best Vitamin C Serum For Face in India (2022)
Generally, the vitamin c serum price in India is between 299 to 599 rupees and this is the ideal price range in which you can expect to get a good vit C serum for facial skin. If you are looking for the best vitamin c serum drugstore India, then this list will be helpful. Mostly, you'll come across the vitamin c and hyaluronic acid serums as Vitamin C alone is not used.
We're going to share this list of the best vitamin c serums available in India.
1. Recast Vitamin C Serum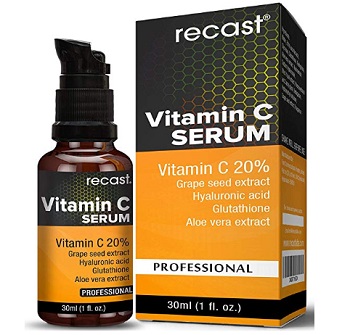 Vitamin C in the concentration of 20% is there in this product. With affordable price, it comes with hyaluronic acid, glutathione, aloe vera extract and grape seed extract. By far, it's the best selling Vitamin C serum for anti aging and fairness purpose. Yes, this is the best antioxidant Vitamin C serum for skin whitening and brightening. It's free of parabens and chemicals and hence is non-comedogenic in nature as well. Right from the first few applications, it gives good results. Make sure while using it during the daytime, you wear sunscreen over SPF 30. With its effective results, it's a good vitamin c serum for hyper-pigmentation.
2. StBotanica Vitamin C 20% Vitamin E and Hyaluronic Acid  Facial Serum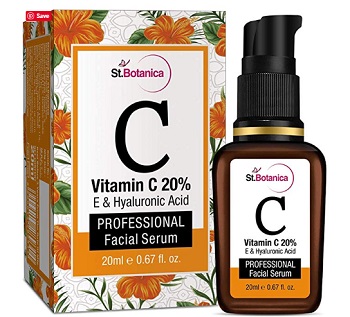 StBotanica Vitamin C serum contains 20% Vitamin C along with Vitamin E and Hyaluronic acid. It's basically skin whitening and brightening serum. In other words, it's the best hyaluronic acid serum with vitamin c to increase skin's collagen production that plumps the skin and makes it glowing. The fairness and brightening serum is for sensitive skin and is a vegan product. Free of parabens and Mineral oil, it's suitable for acne to oily skin. With a unique combination of vitamins and plant extracts, it's yet another good Vitamin C serum for aging skin.
3. UrbanGabru Vitamin C Serum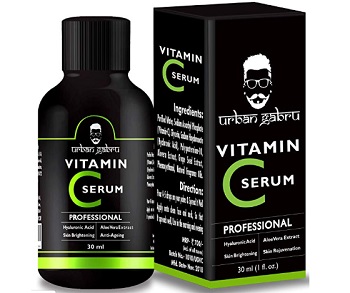 UrbanGabru Vitamin C serum comes with hyaluronic acid, aloe vera extract and grape seed extracts. It's the best affordable vitamin c serum gives the antioxidant support that your skin needs as you age. So your skin feels softer and smoother. Vitamin C serum also contains excellent anti aging properties that can remove and prevent the fine lines and wrinkles from coming on your skin. It's amongst the popular vitamin c serum brands in India for men's tough and thick skin.
4. Mamaearth Skin Illuminate Vitamin C Serum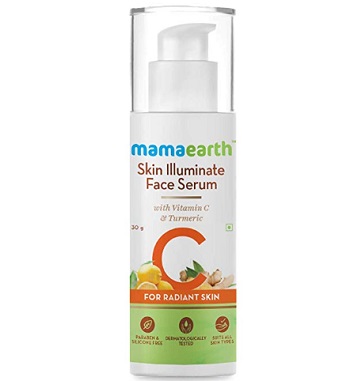 Mama Earth Vitamin C serum has vitamin c and turmeric. It's a dermatologically tested product that suits all skin types and is paraben and silicone free. This is why; it's also a suitable serum for sensitive skinned boys and girls. It's free of sulphates, parabens, mineral oils and colorants. The fast absorbing and non-greasy formula is hydrating in nature. So after the mid twenties, you can try using it for getting firm skin. Not just that, it also helps in preventing the excessive melanin production and restore your fair skin complexion. Turmeric is known as antioxidant and anti-septic product to get clear and blemish free skin.
5. Honest Choice Vitamin C Serum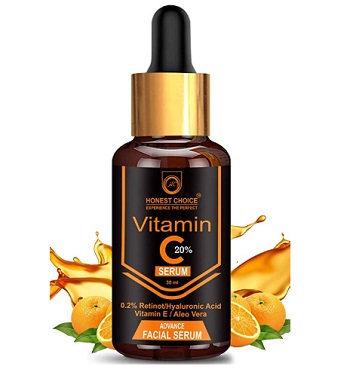 Honest Choice Vitamin C serum contains 20% Vitamin C. It has 0.2% retinol, hyaluronic acid, Vitamin E and aloe vera. The facial serum is suitable for all skin types and that counts even the sensitive and acne prone skin. Definitely, it can be your secret to young and rejuvenated skin. By using this facial serum daily at night, it reduces the dark spots and age spots. It also shows good results in melasma and discoloration. Massage it gently on your skin to boost its absorption. It also has a wonderful brightening power hence, is also amongst the best vitamin c serum for skin whitening in India.
6. Newish Vitamin C Serum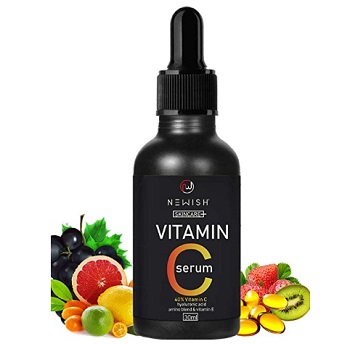 Pigmented skinned people will like this Vitamin C serum. The non-comedogenic vitamin c serum helps to reduce wrinkles, spots, fine lines and gives an excellent antioxidant support to your skin. As you age, production of collagen protein decreases drastically. It's why the vitamin c serum for oily skin can help increase the synthesis of skin firming collagen in your skin. It's an aged defying face serum, which works well when applied daily. Take 2-3 drops of this product and apply this vitamin c serum for acne scars twice daily to reduce it effectively. It's cheap serum but works nicely.
7. Beardo Vitamin C Facial Serum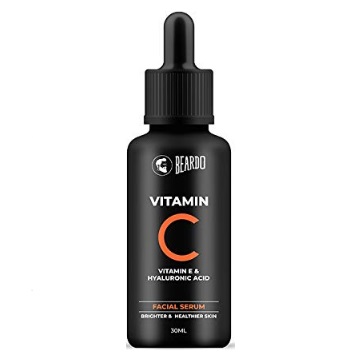 Beardo Vitamin C facial serum gives healthier and bright looking skin. It's a Vitamin C serum with Hyaluronic acid. To get beautiful glowing skin, this can be applied every night. It repairs the damage and maintains the skin texture. The non-comedogenic formula of this product makes this the best vitamin c serum for acne prone skin. The light formula helps to get completely absorbed in the skin layers. It targets the age and dark spots making the skin spotless. Men can try it every day twice in a day or at least at night. Massage the skin after applying the vitamin C serum to get the product absorbed effectively. It's the best vitamin c serum for oily skin for men.
8. The Real Woman Professional Anti-Aging Vitamin C Serum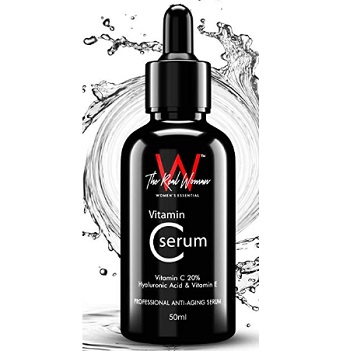 The Real Woman Professional anti aging Vitamin C serum contains 20% Vitamin C along with Hyaluronic acid, vitamin E helps in keeping your skin younger and improves the hydration and moisture of the dry skin. It creates brighter and healthy skin. The product while working on the dark spots, age spots, lines and also works on under eye dark circles. Overall, this face serum helps in speeding up the healing process and reduces the skin pigmentation. While promoting the collagen production, it decreases the existing fine lines and wrinkles. The affordable serum has got good ratings from the people who've used it. In fact, with its dermatologically tested product, it's a good vitamin c serum for sensitive skin in India.
9. The Moms Co. Natural Vitamin C Hyaluronic Acid Face Serum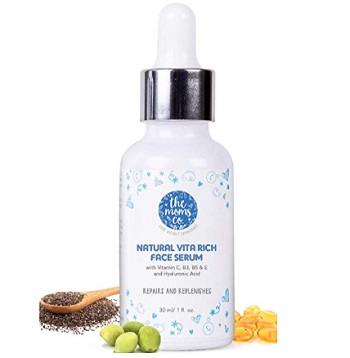 The Moms Co. natural Vitamin C, hyaluronic acid face serum is made to repair the skin damage and decrease the pigmentation. This face serum also contains vitamin C, vitamin B3 vitamin B5, Vitamin C and hyaluronic acid. While, it replenishes and restores the skin moisture level, it's also suitable for oily skin. It contains and Mineral oil free formula that is safe for even the oily and sensitive skin type. To achieve flawless skin, apply twice in a day to get beautiful and gorgeous glowing skin.
For aging skin, Vitamin C products fight skin damage caused by the sun, pollutants and environmental stressors. Using a vitamin C serum in the morning and retinol cream at night helps to get ageless skin.
10. Mountainor Vitamin C Face Serum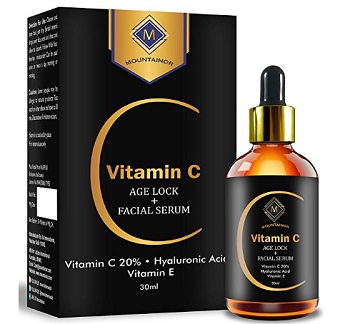 With 20% Vitamin C, it's a formula loaded with hyaluronic acid and Vitamin E. This is one of the best Vitamin C serum with retinol in India. The multipurpose product helps in wrinkle correction and gives anti-aging support to your skin. It promotes healing of damaged skin, protection from UV damage and free radical damage. It also helps correct under eye circles and puffiness. Hyaluronic acid fixes lines and wrinkles. One must know that with regular use of this organic vit c face serum, you say goodbye to the age spots and dark spots on your skin. It seriously firms the skin and decreases crow's feet. By boosting the collagen production, improves the hydration and reduces the inflammation. It's free of chemicals and preservatives.
11. Luxura Sciences Vitamin C Serum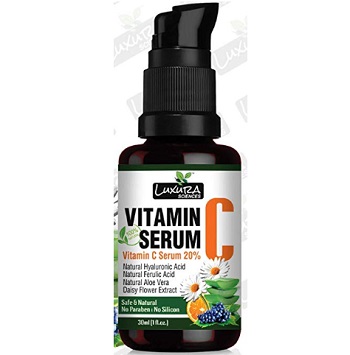 Luxury Sciences Vitamin C serum has 20% Vitamin C along with natural Hyaluronic Acid, Natural Ferulic Acid, Aloe Vera and Daisy Flower Extract. There is no paraben or silicones in this serum and is very affordable. Backed with really good ratings from the customers, this Vitamin C serum combats the early signs of aging in people in their mid 30s. It gives you great skin with just two drops at a time. Apply it once or twice in a day to get refreshing and soft skin.
12. Organix Mantra Vitamin C 25% Serum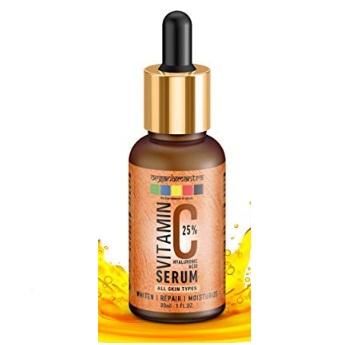 Choosing the best vitamin c serum for dry skin is not a task with this Organix mantra Vit C serum. It has 25% Vitamin C serum, also contains hyaluronic acid. Made for all skin types, it whitens and repairs the skin while moisturizing it fully. The product helps to maintain the glow and youthfulness of your skin. It helps to fade pigmentation and gives anti-inflammatory skin protection. The organic vitamin c serum gives you lighter and tight skin tone, it improves the elasticity. Vitamin B3 in this, prevents water loss and retains skin's moisture content. It boosts the level of Keratin making skin firm and even tone.
13. Derma Essentia Vitamin C Serum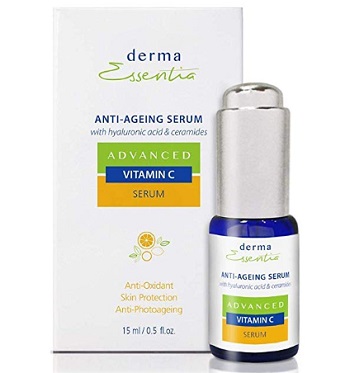 Derma Essentia Vitamin C serum is a natural blend of vitamin C with ceramides and hyaluronic acid. It's an anti aging serum which has the most stable form of Vitamin C. It's easy to penetrate in the skin and helps in optimum hydration and glowing skin. Just apply 3 to 4 drops of this serum, on your face every night and see the results. It's a dermatologically tested ceramides rich product which helps in whitening and tightening.
14. Dot & Key Glow Revealing Vitamin C Serum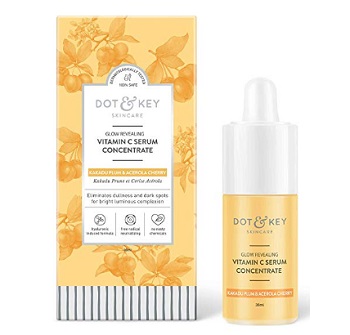 On can try this Vitamin C serum to reveal gorgeously glowing skin. It contains Kakad plum and acereola cherry. The product is free of nasty chemicals and parabens. It's a non oily hyaluronic acid induced formula helps in free radical neutralizing. When you apply it on regular basis, it helps in eliminating dullness and dark spots for bright luminous complexion. The vitamin C serum concentrate reduces the signs of aging and photo damage. It's the best Vitamin C serum for glowing skin.
15. Irem Vitamin C Serum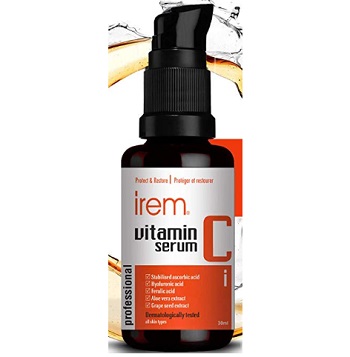 This Vitamin C serum has stabilized ascorbic acid with ferulic acid, aloe vera extract, grape seed extract and hyaluronic acid. Being dermatologically tested, it's suitable for all skin types even the sensitive skin. Hyaluronic acid is one of the finest ingredients that give you deep hydration and moisturization along with aloe vera and grape seed extract. It has an acne control formula which is lightweight and non-sticky. It's in fact, one of the best anti aging serum in India.
Now, that you enough of the options of the best Vitamin C serums in India for your facial skin, you must not get an excuse to not apply Vitamin C serum for the face.  In fact, you will be amazed by the wonderful benefits the serum can do for your skin. Out of the list, you can just pick up the one the use would suit you the best depending on your preference and skin type.
Applying the vitamin C serum twice a day is good, however applying it at the night is also decent enough to give you good age control benefits. It gives you benefits like age control, sun protection, damage repair and melanin pigment control. You can try the best vitamin c serum for hyper-pigmentation in India twice and it really helps combat the pigmentation as we've mentioned.