Wow products are paraben and sulphate free. Not only that they are also made from the certified organic and vegan ingredients, they are really very effective. This is the main reason why this brand has become extremely popular in the recent times. These products are easily available online and this is why a lot of people would like to try these. Made available at an affordable price, these products are wonderful for different skin types. So, here we have compiled this list of the best wow skin products in India.
Best WOW Products for Skin care in India (2023)
In our next segment, we'll talk about the best wow products for hair but let's talk about best wow skin care products for different skin types.
1. WOW Organic Apple Cider Vinegar Foaming Face Wash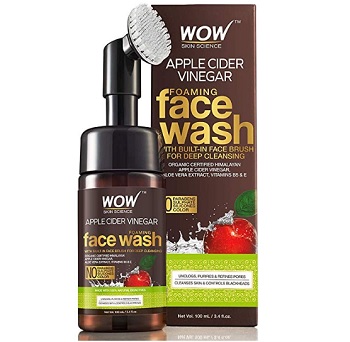 Wow Organics Apple Cider Vinegar Foaming Face wash is one of the best face wash for oily and acne prone skin. Made with apple cider vinegar this foaming face wash gives gentle lathers that deep cleanses the skin. It even gets rid of the deep embedded impurities which can clog the pores and lead to blackheads later on. It contains aloe vera extracts, vitamin B complex that helps to defuse the impurities and leaves the skin healthy and clean. It is one of the best paraben free face washes in India as well.
2. WOW Activated Charcoal infused with Activated Charcoal Beads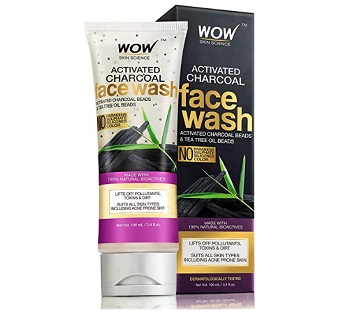 Wow activated charcoal face wash is infused with the charcoal beads. It is yet again another best charcoal face wash for oily and acne prone skin. As you may know Charcoal is the latest hot favourite beauty product that is added in so many different products. The main reason behind beauty products is the amazing adsorbent capabilities. Activated charcoal helps to suck the excessive oils, impurities and toxins from the skin like no other ingredients can. This is why the charcoal face wash is wonderful for oily and acne prone skin. It has a slightly gritty texture and is also suitable to deep cleanse the skin by dental exfoliation. So it pulls the unwanted excess oils from your skin leaving it smooth and supple. This is the best face wash for blackheads in India.
3. WOW Activated Charcoal Face Mask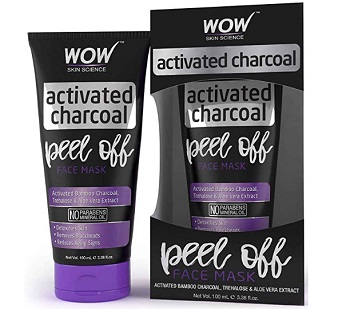 Wow activated charcoal face mask is a peel off mask and is yet another best peel off mask in India. As we just mention the benefits of activated charcoal for beauty, you may know why we have rated it as the best activated charcoal peel off mask. Other than, the activated bamboo charcoal, it also contains aloe vera. Additionally, it does not have any parabens on mineral oils that can harm your skin in the long run. It is a peel off mask which means, you have to apply it in a layer on your skin and allow it to get completely dry. Once it gets dried, peel it off from top to bottom. It is also efficient enough to get rid of the blackheads from the skin.
4. WOW Greek Yoghurt Face Wash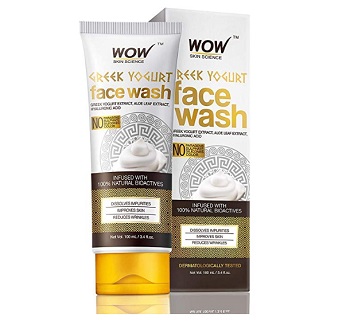 Wow Greek yoghurt face wash removes the impurities and improves your skin tone and texture. While reducing the wrinkles, it also works as an anti aging face wash. Yoghurt as we know is rich in lactic acid that helps to revive the skin and to improve the complexion. This Wow face wash also contains Aloe leaf extract along with Hyaluronic acid. Undoubtedly, this is one of the best wow face wash for dry skin in India. Using daily twice would ensure that your skin stays healthy and dryness is also cured.
5. WOW Aloe Vera Gel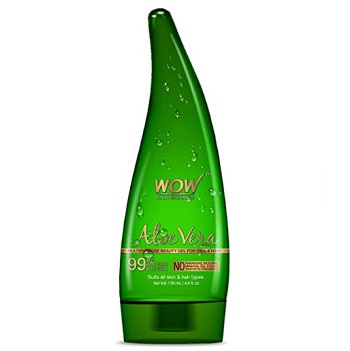 Wow Aloe Vera Gel is a pure gel that is made from natural Aloe Vera Gel without the use of any paraben, sulphate or preservatives. It is suitable for your skin and hair. Use it as skin moisturizer, hair gel, body massage gel or for whichever way you would like to have. We have shared this complete review of the wow Aloe Vera Gel that you can have a look at. Cost of wow aloe vera gel is also mentioned in here.
6. WOW Activated Charcoal Face Scrub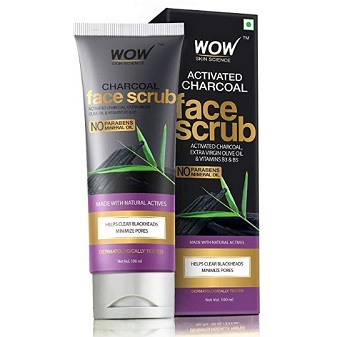 Wow Charcoal face scrub is no less than the other charcoal products. Face scrubbing not just exfoliates the dead skin cells but also exfoliates the blackheads and minimize the pore size. This is suitable for all skin types and is dermatologically tested as well. It also contains extra virgin olive oil along with vitamin B3. Activated charcoal face scrub can be used twice in a week and can be used as scrub for 2 minutes to remove the deep seated dirt, impurities and dead skin cells.  The wow science product  also removes the pigmentation or lightens the dark patches. This is why, it can also be referred as an effective product to lighten the pigmentation on the skin.
7. WOW Skin Science Matte Finish Sunscreen Face Serum SPF 45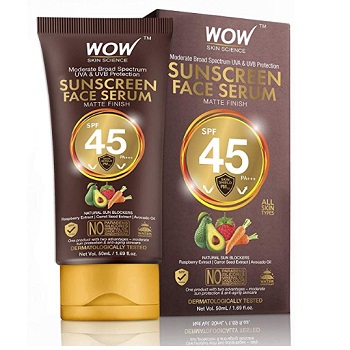 Wow Matte finish sunscreen face serum has SPF 45 which is suitable for daily wear as well as while you go for beach or high altitude areas. It contains fruit extracts like carrots, strawberries, avocado that helps to brighten the skin complexion and this also reduces the dark spots. So all in all, it brightens, smoothens and minimizes the visible signs of aging. It is a matte look sunscreen therefore , comes with a  non sticky and non greasy formula. With its fast absorbing formula, you will never feel that it has made your face oily.
8. WOW Fairness Cream SPF 20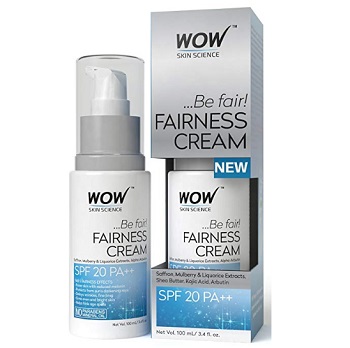 Wow fairness cream with SPF 20 contains no parabens or Mineral oil. The fairness cream is suitable for all skin types because of its light and non sticky texture. It can be applied twice in a day to get visible fairness and to deep cleanse your face and neck. It's a sulphate free product, safe for the sensitive skin as well. This Wow fairness cream removes the sun tanning and makes your skin fair and better than before. It has Saffron, Mulberry and liquorice extract along with arbutin and kojic acid. So if you are looking for the best kojic acid cream from a reliable brand then try this wow fairness cream.
9. WOW Skin Revive Nectar Moisturiser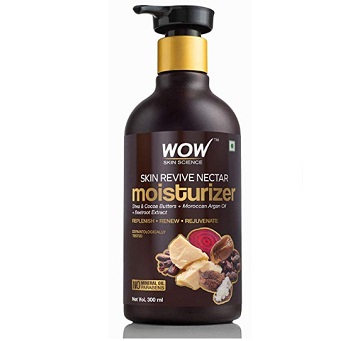 The lightweight moisturizer is paraben free moisturiser that restore skin glow and delays the signs of aging effectively. While making your skin soft and smoother, it ensure that your skin stays moisturized and non sticky. The Wow mositurizer is a suitable moisturizer for all skin types especially for dry skin, it works really good with its wheatgerm oil, grapeseed oil and Moroccan argan oil. It also contains beetroot extract and shea butter.
10. WOW 10 in 1 Active Miracle Day Cream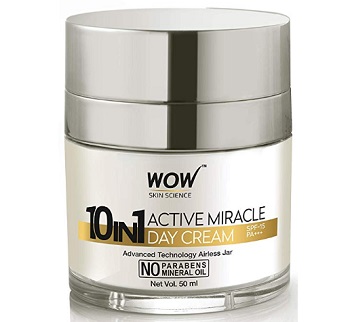 If you are looking for a good anti aging cream without paraben free formula than anti aging night cream is a must try product. The Wow face product plumps the skin and boosts the skin elasticity. It minimizes fine lines and crow's feet. While it fades the age spots, it evokes natural glow on the skin. Infused with Aloe leaf juice, olive oil, shea butter and hyaluronic acid, it's a complete anti-aging care for your skin. It boosts the collagen synthesis to reduce the wrinkles and fine lines.
So, these are the best wow skin care products for face for different skin types. For oily skin, Wow charcoal face wash and Wow peel off mask are wonderful to keep your skin oil free and blackheads free. However, if you have dry skin, then go for the yoghurt face wash and anti aging cream.