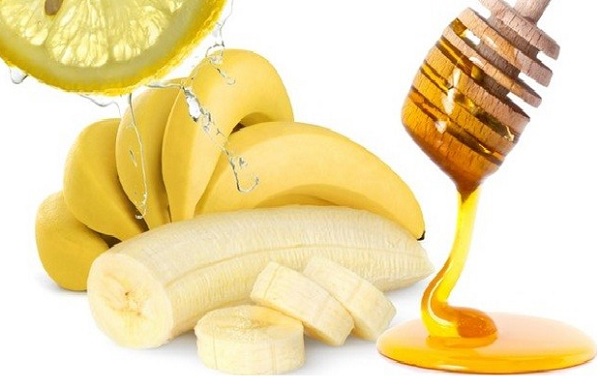 Bananas for dry skin? Buy why, because they are rich source of potassium, calcium and minerals that heals the dryness and roughness of the skin. They are packed with nutrients which when applied on the skin makes it radiant and glowing. One thing about dry skin is that it gets rough and dull. Use of Banana rich face mask helps to retain the moisture and increase the glow on your face. This low cost fruit item can be a one-stop miracle beauty product. So if you are searching for bananas for dry skin, then this recipe is going to surely help you.
Not just that even if you have rough body skin like, rough hands during winter season, bananas can come to your rescue. Banana puree or mashed banana is actually very moisture retaining product that supplies enough for the nutrition and hydration to the dry skin.
Face Masks with Banana for Dry Skin
Are you having dull and dry skin? Are you fed up that dry skin and want some fresh and natural way to cure it? If yes use banana packs for soughing out the problem. Banana is a treat for your skin as it contains lot of vitamins and enzymes that treat dry, pale skin.
It is a natural cleanser and moisturizer. It contains Vitamin A which helps to reduce dark spots, rough and dry skin. It also contains vitamin B which helps in delaying skin aging and reduces dryness of skin.
Vitamin E helps sun rays and UV rays protection. Potassium moistures skin and deeply hydrate. Banana is not only used for treating dry skin but it also cures wrinkles, brighten skin and treat pimples naturally. 
All the benefits of banana masks and packs are explained now I will discuss the recipes which would help you treat your dry skin.
Banana Mask For Dry Sensitive Skin
Take a banana and mash it well and apply on the face. Let it be for 15 minutes and wash it with cold water. You can do it 3 times a week and you can see the changes in skin soon. Do not forget to apply moisturizer after washing face. This banana face mask accelerate the process of healing your dry face. If it is rich in Minerals and vitamins that effectively words to remove the darkness and the dead skin cells from the driveway.
1. Honey, Lemon and Banana Cleansing Pack
½ spoon honey

3-4 drops lemon

2 spoons mashed banana
Preparation:
Mix all these ingredients and apply it on the face and neck for 15-20 minutes.

All the ingredients are deep cleansers and hydrators.

After 15 minutes you can wash your skin with cold water.

You can see your skin changing smooth, supple and moisturized with only in one application.

It is suggested to apply the pack 3 times a week to obtain maximum benefits.
2. Banana, Milk and Nutmeg Pack
2 Spoons banana puree

1-2 spoons cold milk

3-4 pinches nutmeg powder
Preparation:
Mix all the ingredients and apply it on the face.

Let it be for 15 minutes and let dry.

Wash it and apply moisturizer.

You can see the pimples calming, the skin glowing and the skin getting deeply hydrated.

Do this 2-3 times a week for best results.
3. Banana, Chocolate and Sugar Pack
2 spoon banana puree

2 spoon melted chocolate

½ spoon castor sugar
How to prepare: 
Mix all the ingredients and make a fine puree.

Apply it on the face and neck and leave it for 15 minutes.

Now you can wash your face and apply moisturizer.

You can feel soft and smooth skin after wash.

It is recommended to apply 2-3 times a week.
4. Banana, strawberry and oat meal pack
2 spoon banana puree

2 spoon strawberry puree

1 spoon oats (grounded)
How to prepare:  
Mix all the ingredients to get a fine paste.

Apply it on face and neck and let it dry for 15-20 minutes.

Now you can wash your face with cold water.

Apply it 3-4 times a week for best results.

Your skin will be moisturized naturally with regular application of this recipe. 
5. Banana and Cucumber Recipe
2 spoon banana puree

2 spoon grated cucumber
How to prepare: 
Mix both the ingredients well.

The consistency will be loose.

Now apply the pack on the face and let it dry.

You can wash after 15 minutes.

You can experience tight and supple skin.

It is advised to apply 2-3 times a week.
It is best for summers. Its cooling properties remove tan and soothe the skin. In summers, your complexion darkens and skin dries. Application of this pack will help you to provide good moisture to skin and keep it hydrated. 
6. Anti Aging Face Mask with Banana
This anti aging banana face mask helps the aging skin. Aging gets accelerated when you have dry skin. With this facial mask you can control the aging signs from showing up on your skin and also delays them. It also helps fade the age spots, dark spots, fine lines and wrinkles from coming up on the face.
Ingredients:
One teaspoon yoghurt

One teaspoon orange juice

One mashed banana

One spoon almond oil
How to make:
Add all these ingredients in a small bowl and make sure that the almond oil that you are using is extra virgin.

Instead of almond oil, extra virgin olive oil can also be used.

Apply this paste on your face and let it get dry.

Make sure that you keep this mask on your face for at least 15 to 20 minutes.

Wash your face with lukewarm water.

Follow up with the light moisturizer.

If you are doing it in the evening, then try a night cream after the mask removal.

It can be done thrice in a week to make sure that the skin stays younger, healthier and aging signs are delayed.
Banana is very good for dry and dull looking skin. Try 1 of these recipes to overcome dry skin problems.