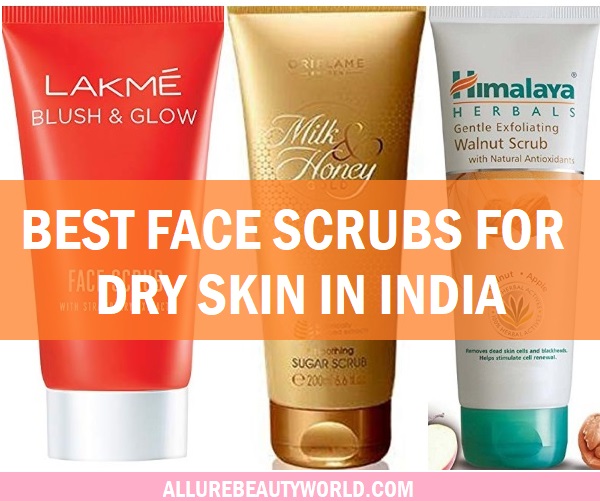 Best Face Scrubs for dry skin available in India. Do you have dry skin? Then, definitely using a good quality face scrub would help you get rid of the flaky and rough skin surface. Face Scrub removes the dead skin cells and peeling the uppermost dead skin layers for dry face. Application of moisturizing face scrub regularly, two to three times in a week, can help you get a beautiful radiant and moisturized skin. After scrubbing, this can you can always apply a rich hydrating moisturizer for your dry face. In today's post, we have compiled a list of the best face scrubs for dry skin that can help you in healing the rough patches and to achieve beautiful glowing skin. Let's check.
List of Best Face Scrubs for Dry Skin in India (2022)
1. Kama Ayurveda Kumkumadi Brightening Ayurvedic Face Scrub

The Lightning Ayurvedic face Scrub is from Kama Ayurveda and contains kumkumadi tailam. Kumkumadi tailam is a blend of 16 Herbs that nourish and brighten the skin complexion. It contains finely grounded sweet Almonds that make it gritty in texture. It also repairs the pigmentation, dark spots and minimizes the fine lines and signs of aging from your skin. You can wet your face with water and massage taking some of this product. Gently Scrub and massage for 2 minutes and then rinse well with clear water. The product is expensive as Kama Ayurveda is a natural luxury brand. It's the best hydrating face scrub for dry skin in India.
2. Lotus Herbals White Glow Oatmeal and Yogurt Skin Whitening Scrub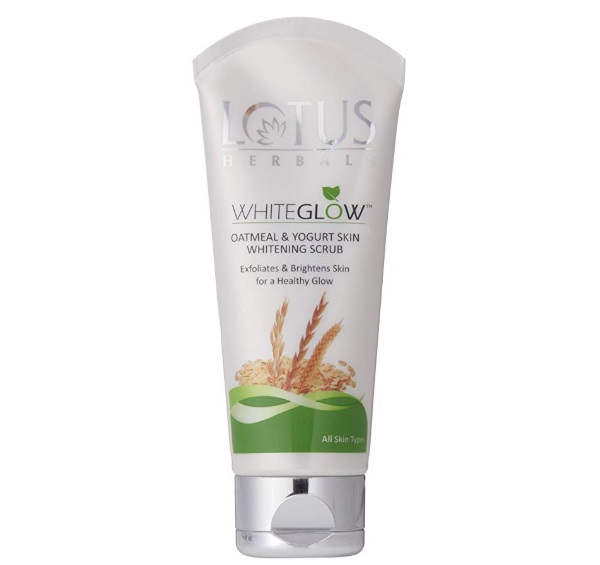 Lotus Herbals White Glow Oatmeal and Yogurt Skin Whitening Scrub is one of the best facial skin whitening scrubs for men and women and is for all skin types. The creamy oatmeal and yogurt rich formula of this scrub contains micro-granules. It scrubs and polishes your rough skin. It nourishes and cleanses simultaneously and is the best whitening face scrub for dry skin. The oatmeal extracts along with yogurt calms and soothes the dry-irritated skin.
3. StBotanica Vitamin C, E & Hyaluronic Acid Brightening Face Scrub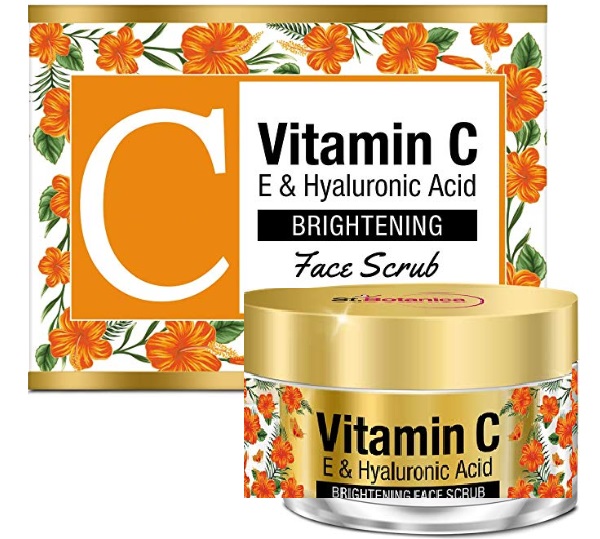 The face scrub contains vitamin C and hyaluronic acid. It's a brightening face scrub with anti-aging properties. Vitamin C helps to brighten your skin and lighten the dark spots and acne scars. So, if you have got dry skin that has scars then this product will be extremely helpful. It is known to increase your circulation and to rejuvenate the skin cells. It can be used two times in a week. It's the best scrub for dry skin to lighten the skin.
4. Biotique Bio Walnut Purifying & Polishing Scrub for Normal to Dry Skin
The facial scrub for dry face is exclusively made for normal to dry skin. It contains walnut extracts that has exfoliating benefits for dry skin. It is formulated with the organically grown pure plant extract and does not contain harmful toxins and parabens. It is 100% botanical and not tested on animals. The product contains extracts of neem, mint, fenugreek and red sandalwood that polish your skin to make it smooth. You can apply it two to three times in a week to get rid of the dryness faster.
5. Oriflame Milk and Honey Gold Smoothing Sugar Scrub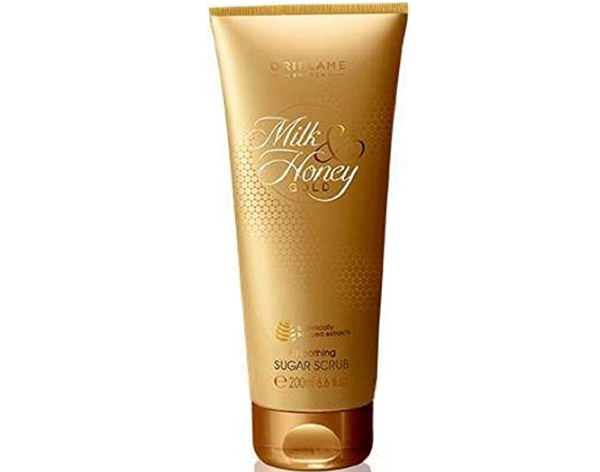 This scrub contains milk and honey with sugar. These 2 ingredients are excellent for treating and combating the dry skin. It invigorates your skin with the organic extracts of milk and honey which is the natural moisture retainer. The creamy texture of this facial scrub helps to leave your skin after the application. It exfoliates deeply by removing the dead skin cells to give you glowing and fresh looking complexion. It's the best face scrub for dry skin for glow in India.
6. Himalaya Herbals Gentle Exfoliating Walnut Scrub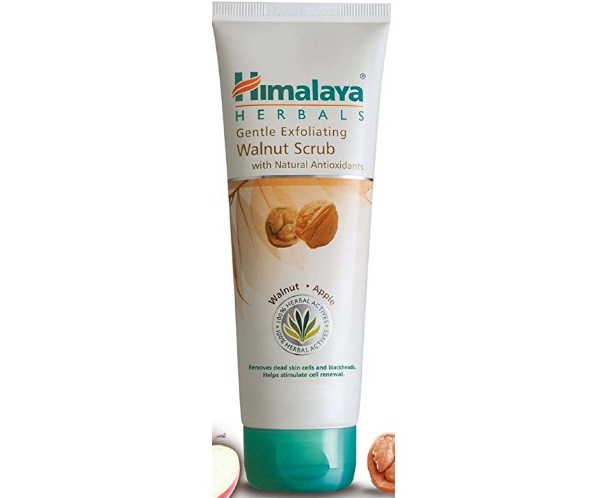 The gentle exfoliating walnut scrub is from the popular brand Himalaya. Himalaya Herbals is known to make quality products. It contains walnut and Apple extracts. It also revives the dull and shallow complexion with its texture that is grainy to slough off the dead tissue. Use it at least once in a week for glowing and healthy complexion. It is a product that is suitable for all skin types.
7. Everyuth Naturals Exfoliating Walnut Scrub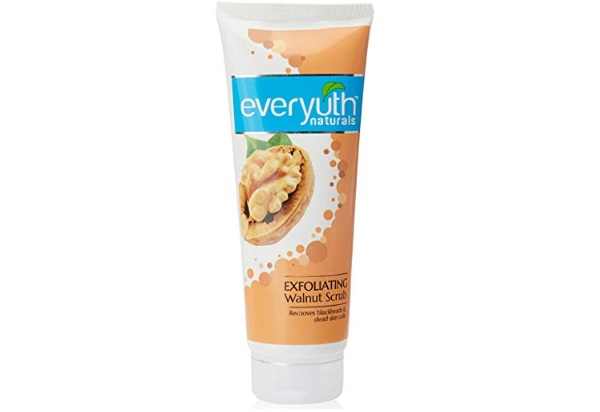 Everyuth Naturals Exfoliating Walnut Scrub removes the blackheads and dead skin cells on your dry skin. It's also a fantastic product for oily skin. It has walnut shell powder that mildly polishes your skin by getting rid of the dead skin cells. Application of this product regularly gives you glowing skin. It's also the best moisturizing face scrub for dry skin in India.
8. Lotus Herbals Apriscrub Fresh Apricot Scrub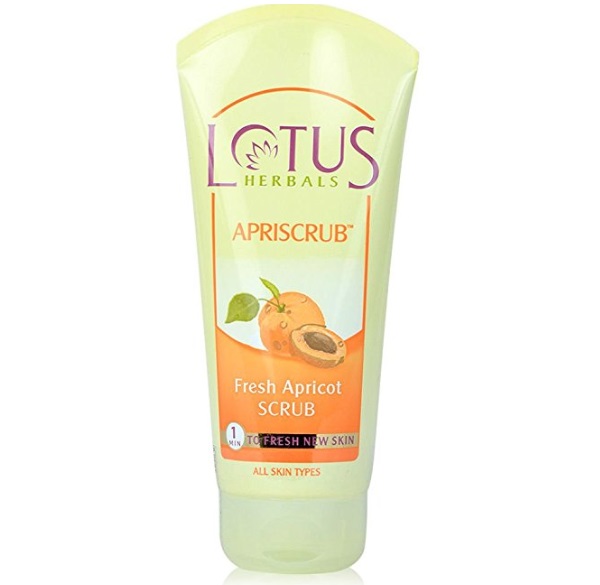 The Lotus Scrub for Dry face contains apricot granules and gives you glowing and smooth skin. It heals the dry patches with its creamy formula. If you have combination skin with some areas being very oily, this product helps to terminate the blackheads from roots. You can use it two to three times in a week to make sure that your skin appears glowing and flawless.
9. Aroma Magic Mineral Glow Scrub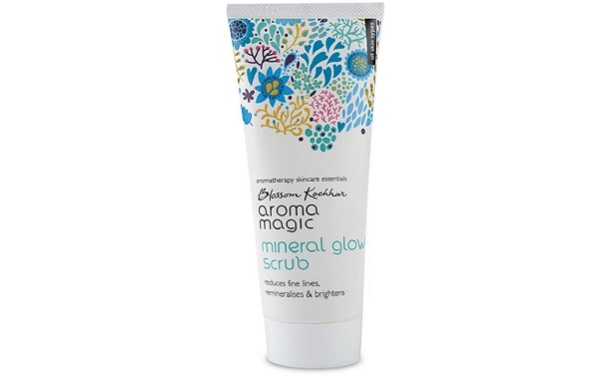 Aroma Magic Mineral Glow Face Scrub is one of the best facial scrubs for all skin types and for reducing the lines and wrinkles. It scrapes off dead cells of the skin to clarify the pores and removes the dark skin tissue. The product has beeswax and glycerine that is considered excellent when your face is dry and flaky. You can use this to get benefits to revive glow-less and dull dry skin during winter season as well.
10. Bella Vita Organic Almond Honey Face Scrub Exfoliator For Dry & Sensitive Skin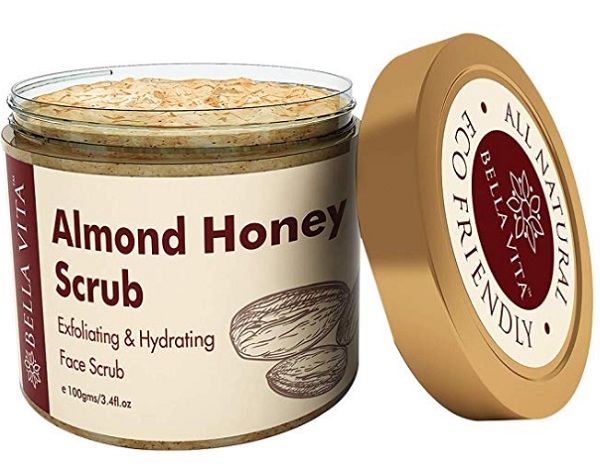 The rich face scrub is from Bella Vita. It contains the moisturizing formula with almond extracts. The product removes your blackheads, dead skin cells and also the excessive oils. In fact, it has gel like hydrating formula is extremely beneficial to treat the dryness and to get rid of the flaky rough skin. You can use it two times in a week even during winter season. It's the best face scrub for glow for dry skin in India.
So, friends it's the list of the best face scrub for dry skin in the Indian market. For your dry skin, you must use a moisturizer or face cream that suits your skin type and gets rid of the dry and flaky skin. Creams which are high in moisturizing properties and ingredients like glycerine, Vitamin E and Essential oils like Argan oil, avocado oil, olive oil and some other are considered wonderful for dry face. You can take few drops of any of these oils and massage your face every night.