Glowing and fresh skin is a desire of almost everyone. We wish to have glow and radiance complexion. Your skin color comes secondary but the skin texture, smoothness and radiance is the primary goal for many of us. To achieve this, we've got so many products to get glowing skin in the market. These glowing face skin care products can be like cleanser, scrub, face mask, serums and what not. If you're confused about the facial skin care products, which can help to get glow on your skin, then this list post will be helpful for you. Here, we've created this list of the best skin care products for glowing skin available in the Indian market. These are different types of products but are sure to get you illuminated skin tone.
List of Top Best Skin Care Products for Glow on face in India (2022)
If you're wondering how to get glowing skin within 2 weeks then, let's take a look at the glowing skin products available in India.
1. Mamaearth Skin Plump Face Serum Anti Aging Cream For Glowing Skin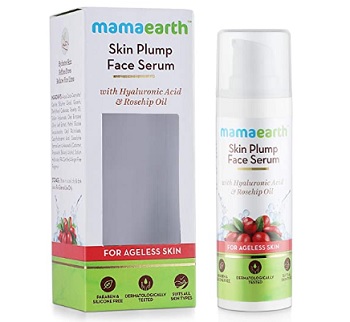 This skin plumping face serum is basically is an anti aging cream for glowing skin. It contains hyaluronic acid and rosehip oil for getting the ageless skin. Packaged in a pump dispenser packaging this is extremely easy-to-use. The product is paraben, silicon and chemical-free. As it's a dermatologically tested product, it's for all skin types, especially for the people over 40 years of age. But it doesn't mean that people who are in their 20s cannot use a product like this. In fact, to prevent the aging from showing up on your skin, application of this anti aging face plumping serum would definitely delay the aging from showing up on your skin. This is rich in antioxidants like olive oil, fatty acids and also this is one of the best collagen synthesis skin serums in India.
2. Khadi Global Royale Kumkumadi Tailam Treatment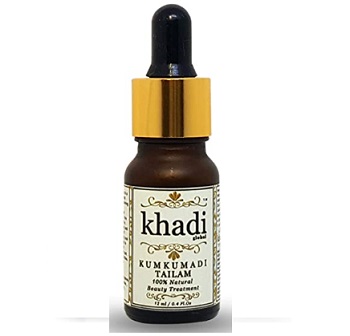 Kumkumadi tailam is a blend of 16 Herbs that makes the skin fresh and glowing. Basically, kumkumadi oil heals the skin as an anti aging and anti blemish control oil. This is 100% natural and herbal face oil that hydrates the skin and eliminates it. This miraculous beauty oil is a blend of oils and herbs that are formulated to make your skin happy and younger. While filling up the fine lines and reducing the dark circles and acne scars on from your face, it also fights the skin problems and aging signs. Applying the serum every night before going to bed and massage gently. Within just few weeks, the face serum oil for glow, starts to show its results by giving you fresh skin. It can be your glowing skin secret for the days when the skin doesn't behave well.
3. Bella Vita Organic Vitamin E Face Scrub For Women & Men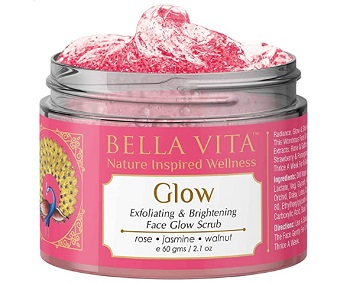 Face scrubs are excellent products that help to give you fresh and smooth skin within just couple of minutes. This is a mild and herbal face gel scrub with the powerful ingredients like rose, osmanthus and Saffron in it. Additionally, it contains walnut particles and Vitamin A. Saffron helps to scrape off dead skin cells and comes with effective tan removal benefits. This is the best fairness face scrub for brightening the dull and tanned skin. With the natural ingredients, it's an excellent face cleanser for all skin types. You can use this face cleanser 2 to 3 times in a week to make your face glown naturally within days.
4. mCaffeine Nakd Detox Green Tea Face Serum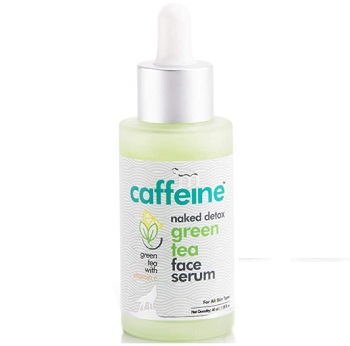 The oil free face serum is rich in green tea, Vitamin C and Hyaluronic acid. With powerful antioxidant ingredients, it's sure to give you free radical damage benefit. It helps to alleviate fine lines wrinkles, dark spots and skin pigmentation. Green tea extracts are known to get rid of the pollutants and toxins from the skin surface, hence this face serum is your natural and everyday detoxifier for your skin care. Vitamin C and hyaluronic acid help to plump the skin and to remove any dark spots and dark circles that you have. This is one of the best face serums for all skin types that does not have any comedogenic ingredients. Made with a dermatologically tested formula, it does not contain parabens, sulphates or phthalates. It gives glowing skin in summers.
5. Berkowits Radiate Skin Brightening Face Serum for Glowing Skin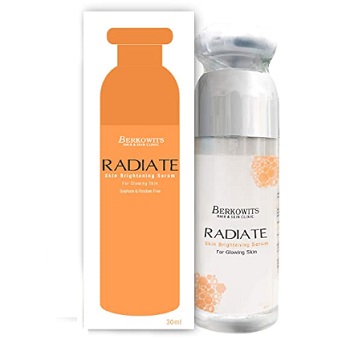 The skin brightening face serum helps in rejuvenated your skin and improves the collagen synthesis to naturally slow down aging process. By using this face serum rich in vitamin C, it keeps the common skin problems under control like dark scars, dark circles, Sun damage, tanning, acne and their scars. Additionally, this serum also helps to combat the signs of aging excellently. It's a clinically proven paraben-free skin brightening serum made for men and women in their early twenties.
6. O3+ Bridal Facial Kit Vitamin C Glowing Skin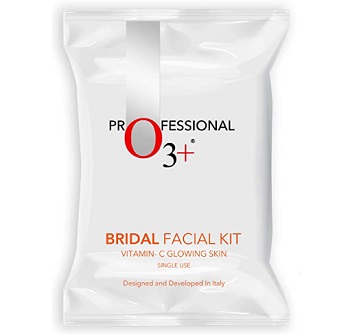 The bridal facial kit has Vitamin C as the key ingredient. It's designed and developed by the Dermatologists keeping in mind the different skin problems. The complete bridal care solution has 10 steps of facial procedure to get wonderful results in achieving fresh and glowing skin for the brides-to-be. Not just for the brides even for post bridal and pre-bridal ceremonies, festivals like Karva Chauth, Diwali or other major occasions, one can try a facial kit like this at their home itself to get the natural glow.
7. Lotus Herbals Whiteglow Skin Whitening And Brightening Gel Cream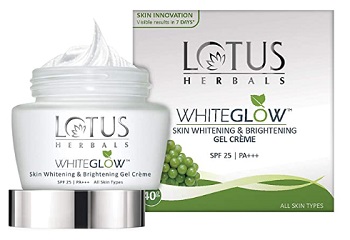 Whiteglow skin whitening and brightening gel cream is for all skin types and if you are wondering which is the best glowing skin cream for your oily and acne prone skin, this is the right choice. The cream is made with multiple fruit extracts, saxifraga and is loaded with the SPF 25. This is a perfect ayurvedic day cream for glowing skin for greasy skin during hot and humid season. During the summer season in tropical areas,  when the oily skin is more likely to sweat, this also combats the excessive oils and sebum.
8. Khadi Natural Herbal Sandalwood and Mulethi Face Pack Mask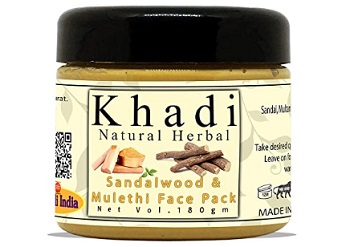 This herbal Sandalwood and mulethi face pack is from Khadi Naturals. It helps in getting rid of the deep seated tanning and impurities. With mulethi, it helps to brighten the skin and gets rid of the darkness. Regular use of this herbal facial pack helps to fight acne and makes the skin smooth and flawless. It also reduces the signs of aging like dry skin, wrinkles and patches. It's a face pack for all skin types for glow before festivals and parties.
9. Blue Nectar Kumkumadi Ayurvedic Radiance Glow Night Serum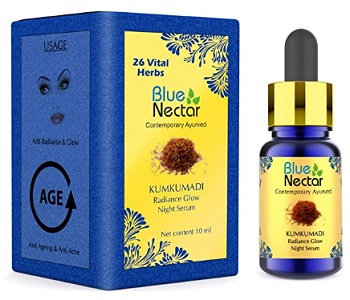 This kumkumadi Ayurvedic night serum is an excellent product to get fresh glow on your skin and flawless skin complexion. This is 100% Ayurvedic anti aging serum that combine 26 essential Herbs and oils. The brightening skin product eliminates the skin problems and helps to reduce dark circles, fine lines and wrinkles. So while making the skin younger and glowing, it also acts as a night serum that increases the skin natural ability to repair itself. It helps to get you better skin on face.
10. Mamaearth Skin Illuminate Vitamin C Serum for Radiant Skin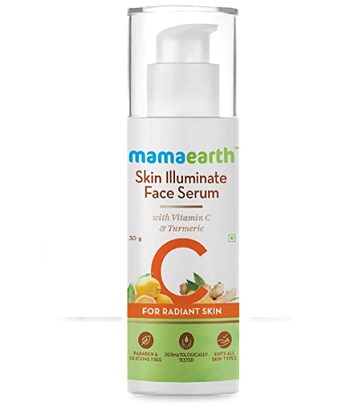 Vitamin C serum is one of the best glowing skin products for oily and other skin types to make the skin flawless and smoother. It contains not just Vitamin C but turmeric as well. Turmeric is potential antioxidant that is used exclusively in skin care products. The natural product gives you bright and glowing skin and the fast and non-greasy formula, this helps to is smooth out the roughness and faint lines. It's a dermatologically tested serum-free of parabens, sulphates and artificial colorants. It's one of the best face serums for all skin types with Vitamin C. This facial radiance serum also works on hyper pigmentation and dark spots.
11. Beardhood Green Tea & Charcoal Gel Face Scrub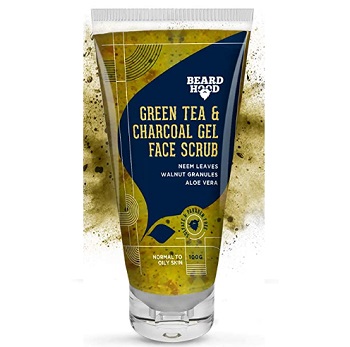 The green tea and charcoal gel based face scrub is rich in Neem leaves and aloe vera. The walnut granules scrub the skin excellently. It's specially made for normal to oily skin and has a gel texture that blends nicely on the skin. It's by far the best men's face Scrub for oily and acne prone skin with really high and excellent ratings. Gently scrub the face, using this scrub 2 to 3 times in a week and enjoy a clear and smooth complexion that glows.
12. Biotique Bio Saffron Dew Youthful Nourishing Day Cream For All Skin Types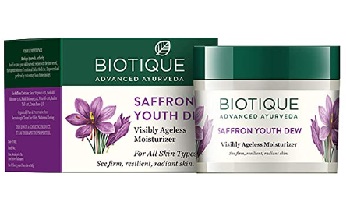 Dry and roughness can never make your skin glow. This youthful nourishing day moisturizer prevents the dark lines and premature aging. It's basically a very creamy product that removes the dry lines and wrinkles. In fact a lot of men and women with dry and rough skin have used this product to moisturize skin like a face massage product. It works exceptionally well to combat the dryness and even the winter dry skin.  So to get the glow event during the cold winter season, a cream product like this, is definitely must have in your skin care routine.
13. Mamaearth CoCo Face Pack For Glowing Skin with Coffee & Cocoa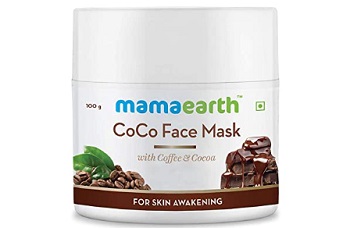 Coffee and cocoa is a deadly combination that helps to make the dull and tired looking skin bright and fresh. This removes the dead skin cells and excess sebum without disturbing the natural moisture and lipid barrier. This face mask is rich in antioxidants adverse effect of Sun damage. It soaks the excessive oils from the skin while the coffee boosts micro-blood circulation. The facial mask also tightens the open pores and reduces the appearance of cellulite. This organic face mask helps to increase the blood circulation that eventually increases the collagen production and reduces the toxins and lines. This can be used to times in a week. Suitable for all skin types, it does not have parabens, or chemicals in it. It's one of the best chemical-free glowing skin face pack in India.
14. Jovees Insta Fair Liquorice Glow Pack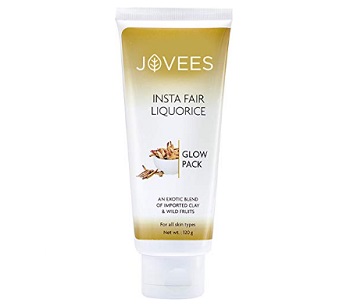 Glowing skin face pack also makes the skin fresh and glowing. This is the insta fair liquorice glow face pack that contains the wild fruit extracts along with liquorice. Apply this face mask on your face in a thick layer and wash it off after 20 minutes using clear water.  It removes the darkening and tanning from the skin. In the long run, a face mask like this also fades those dark spots and dark circles.
15. Wow Skin Science Ubtan Face Wash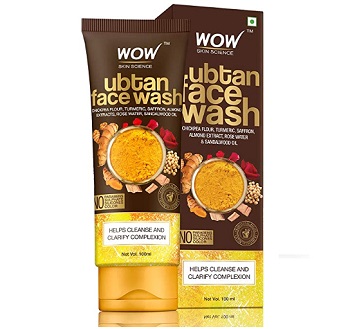 Ubtan has always been a part of our culture and time and again, we've re-invented the Ubtan recipe. This is an ubtan face wash made with chickpea flour turmeric, saffron, almond, rose water and sandalwood oil. In a face wash formula, this ubtan ayurvedic blend helps to cleanse and clarify the complexion. This is one of the best rated face wash with all the organic and herbal ingredients. The best thing is that this is free of paraben and does not contain any chemicals in it. Coming from the house of WOW skin care, this is a soap-free and non-drying skin care product without disturbing the natural pH balance of skin.
These are the best skin care products for all skin types for getting the glow on your skin. Additionally, to increase your face glow make sure that you are drinking enough water during the daytime and also apply honey 2 to 3 times in a week to ensure that your skin gets super glowing.