Astringent is a product that can help shrink the large pores on your face. An effective astringent helps to improve the texture of your skin by regulating the oil balance and to clear the oils which are in excess amount. In short, these are like a miracle liquid for oily skin that keeps your face matte and shrinks the pore size. We've put together a list of the best astringent for oily skin which are available easily in the market.
List of Best Astringent in India for Oily and Acne Prone Skin
1. VLCC Punarnava Astringent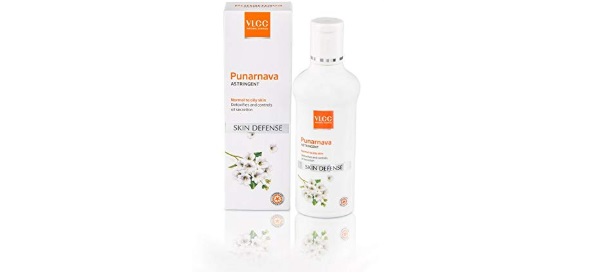 The astringent is enriched with the natural goodness of almond, lemon, honey and aloe vera. It really clarifies and tones your skin complexion so, that it looks matte yet glowing. It is perfect for normal to oily skin that detoxifies your skin and controls the excessive oil secretion.
How to Use: You can apply it by taking some astringent on a cotton pad and dabbing it all over your face and neck. It can be used two times in a day.
2. Ayur Herbal Astringent with Aloe Vera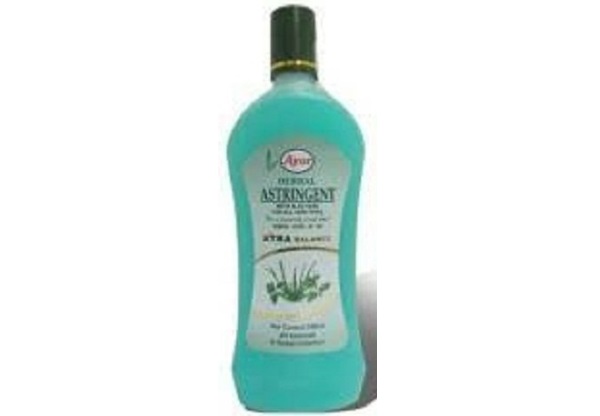 Ayur herbal astringent contains aloe vera. It is suitable for oily and sensitive skin as aloe vera helps to maintain a healthy pH balance. It cleanses your skin perfectly and controls the over secretion of sebum. It shrinks the open pores. The product is also rich in mint and camphor that refreshes your oily and acne prone skin.
3. Biotique Bio Cucumber Pore Tightening Toner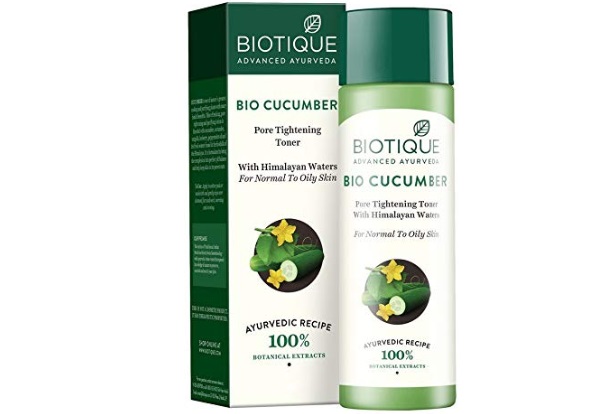 Biotique Pore tightening toner is rich in Himalayan water and is suitable for normal to oily skin. It contains the natural ingredient like Daruhaldi (Berberis aristata), Dhania (Coriandrum sativum), Majuphal (Quercus infectoria), Pudina (Mentha arvensis). The product on application also reduces the effects of Sun burning and tanning. It is rich in the botanicals based on 100% Ayurvedic recipes that balances the pH of your skin and bring out the beauty of your natural complexion.
4. Lakme Absolute Pore Fix Toner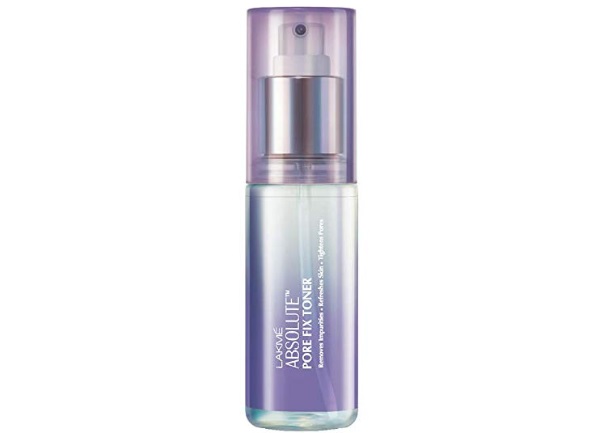 The pore fixing toner helps to tighten the open pores to give you a fresh look. Is an alcohol free product therefore, is safe for sensitive oily skin. It unblocks the pores and refines them. It leads to less oil being secreted by the facial skin pores. You can use it daily two times in a day and it is best to be used before applying makeup. It's the best pore tightening product at affordable prices.
5. BONSOUL Pure and Natural No Alcohol Witch Hazel Distillate Toner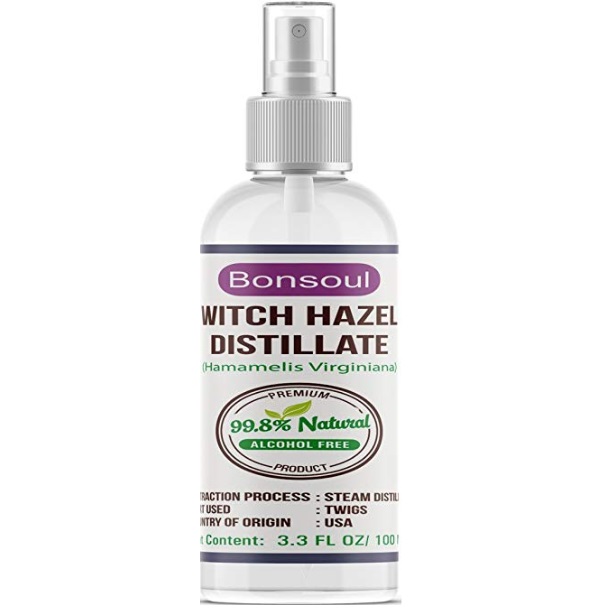 The Astringent is rich in Witch Hazel that is known to tighten and cleanse your open pores. It is an alcohol-free product that is safe for sensitive skin. You can wash your face as usual and take some of this on a cotton pad. Dab the cotton pad on your skin pores and neck. It is best to be used after cleansing the face and before application of skin lotions and creams. It's a natural astringent toner for oily and acne prone skin type.
6. Khadi Mauri Cleansing and Toning Lotion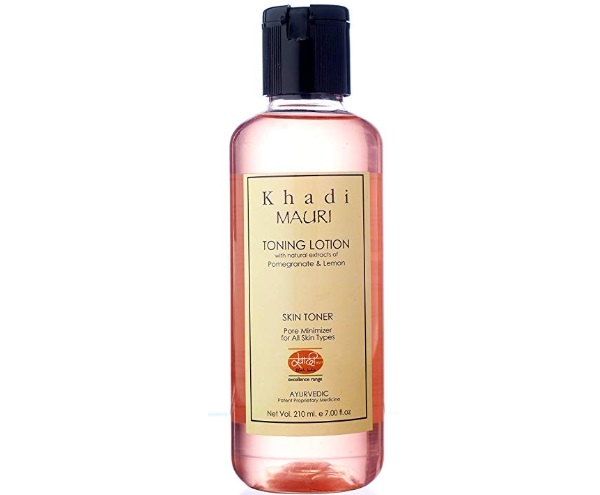 The Astringent and toning lotion is rich in pomegranate and lemon extracts. It is a pore minimizer for all skin types. It removes the pollutants and deep seated impurities from the skin. The herbal formula is free of paraben and sulfates. It acts as a cleanser and astringent for your skin.
7. Neutrogena Deep Clean Blackhead Eliminating Cooling Toner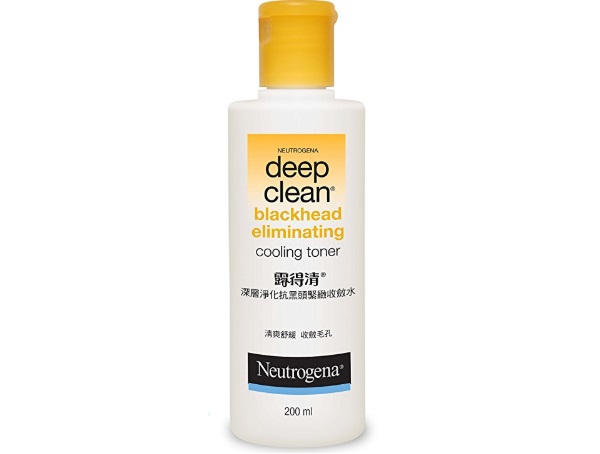 This is the best toner to clear blackheads and open pores on your skin. Upon application, it gives you instant cooling sensation and tightens the pores. The product has a mild formula which is yet effective. It is rich in Blackhead Fighting Complex and cedarwood extract cleanses the skin.  Being oil-free, it's also a dermatologist tested product that is non-comedogenic. So, you don't have to worry about the product clogging your pores.
8. Bliss of Earth Alcohol Free Witch Hazel Astringent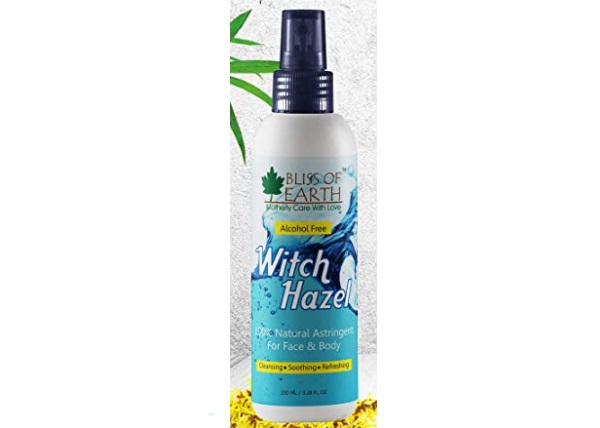 This astringent contains Witch Hazel and is 100% pure and natural alcohol free product. The witch hazel astringent for oily skin comes with a dispenser which has a spray pump on the top. You just have to cleanse your skin with a mild cleanser and spray it on your face and neck. It is rich in Organic virgin coconut oil, organic sesame oil,l organic castor oil, organic shea butter and organic peppermint oil.  These ingredients helps to clear clogged and impurities laden pores. It is a paraben and alcohol-free face astringent for oily and acne prone skin.
9. Jovees Cucumber Skin Toner/Astringent
Jovees skin astringent lotion contains cucumber extracts that instantly whiten and brighten the skin. The product is rich in Cucumber extract, Sage, Aloe Vera and Chamomile that helps to retain the moisture and remove the sebum and reduces pore size. It also restores the skin the natural pH balance. It is safe for oily and sensitive skin.
10. Rosa Herbals Astringent Lotion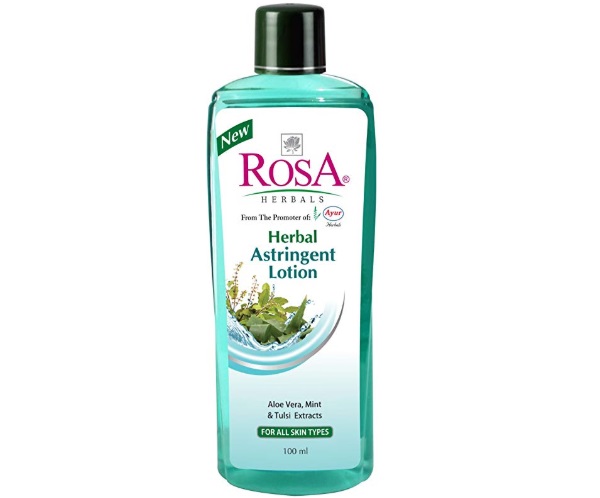 With its antiseptic and cooling properties , this herbal astringent lotion checks the over secretion of sebum on your skin. It is best suited for oily and acne prone skin that is struggling with scars and blemishes. The astringent for acne prone skin penetrates deep in the skin layers and gets rid of the toxins, crime, makeup traces and impurities. After the use it, cleanses and refreshes your skin.
11. Plum Green Tea Alcohol Free Toner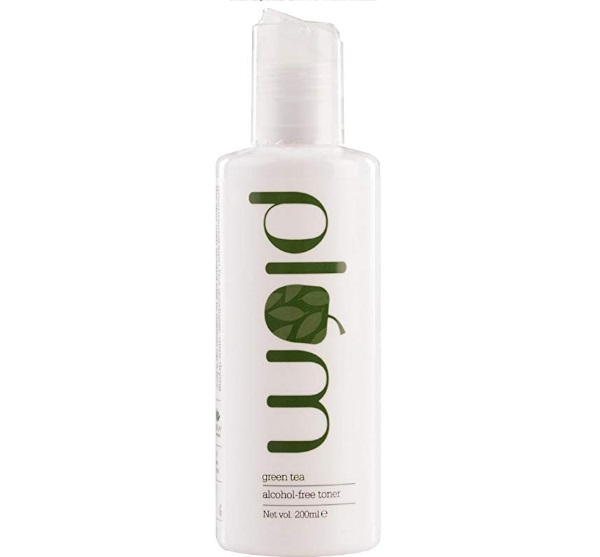 This is by far the best alcohol free astringent toner for oily skin that is rich in green tea. Green tea is an excellent source of organic antioxidants that keep your skin away from premature aging. It is also rich in glycolic acid that is non-comedogenic emollient to keep your skin softer. It is suitable for oily and combination skin. If you like organic products, then this is the best product which is paraben-free, phthalate-free and does not test on animals.
How to apply astringent or Skin Toners?
Wash your face with a gentle cleanser. Pat skin dry.
Take some toner on a clean cotton wool and pour some on the cotton pad.
Dab and press it against your face and neck.
Wait for 2 to 3 minutes for the toner to get dry fully then go ahead with your skin creams and lotions.
These are the best astringents for oily skin in the market. Use them twice and see the good results in sebum control.