As a baby's skin is very delicate and you would definitely want to give the best. Baby's skin too needs hydration, and a shield that protects his or her skin from the environmental pollutants and roughness. The moisturising best baby lotion must have natural and delicate ingredients. There are so many multiple brands available in the market that sell baby lotions to buy in India however as mothers and parents, we need to make sure that are baby gets the best and their products are high quality. Most importantly, the product should be paraben, sulphate and chemical free so that they stay gentle on the baby's skin. The best use of baby lotion can be that it can be used even by the adults with sensitive skin.
In this article, we are going to talk about the best moisturizing lotion for babies available in the market. The moisturizing baby product will give adequate moisturisation and care to the baby's delicate skin.
Best Moisturising Baby Lotions in India (2023)
So let's take a look at our picks of top 10 baby lotions. These are also the best baby lotions for newborns and Infant babies.
1. Mamaearth Daily Moisturizing Lotion for Babies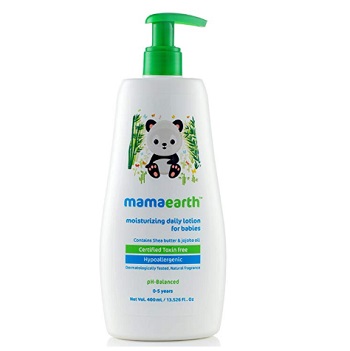 Mamaearth baby lotion is the best baby lotion for even the newborn babies because it has the certified toxin free formula, which is hypoallergenic and pH balanced. It is safe for babies from 0 to 5 years and contains shea butter and jojoba oil. Paraben and chemical free product is lightweight and non-greasy which is why it supplies the moisture and is ideal for daily use without the excessive stickiness on the baby's skin which can attract dirt and dust.
2. Sebamed Baby Lotion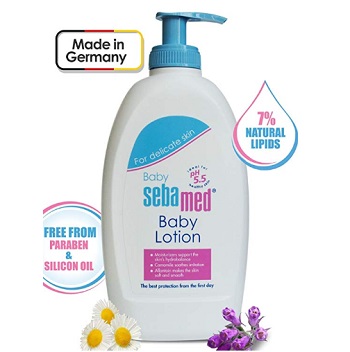 Sebamed is a brand that makes high quality baby care products. This is the best baby lotion which is safe for extra sensitive skin. It has 42% lipid formula that creates the shield on the baby's skin and protect it from the environmental damage and stress. It has camomile that soothes any irritation and redness on the baby's skin. The ingredients are safe and suitable for babies. It's lightweight and easy to blend on the skin. Even for the rashes, the cream has proven to be quite effective.
3. Baby Dove Rich Moisture Nourishing Baby Lotion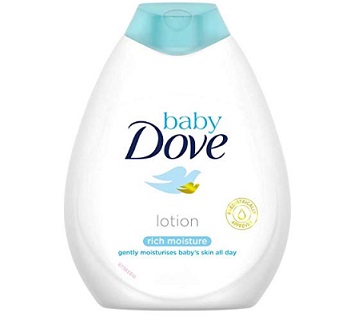 Dove also makes a good quality product for newborns and babies. This Dove baby lotion gives gentle hydration to the baby's skin and keeps the skin hydrated by working on the dryness. With the high quality ingredients, it has pH neutral formula. It helps the skin stays hydrated and supple. There is no fragrance or any such thing that can disrupt the pH balance of baby's gentle skin. With good fragrance it's also for the sensitive skin.  It's has so many benefits and easy availability. This is the best baby lotion in the market.
4. Johnson's Baby Lotion
Johnsons is a brand that is high quality and is known for making baby daily use products. You can use one or the other Johnson's Baby products for your babies. This is the best skin whitening baby lotion available in the market that also gives soft and smooth skin. When we say skin whitening, it means that it makes the skin brighter by making it more hydrated. With rich emollients and ingredients that preserve the natural softness of the skin. It is a clinically proven product that is pH balance and there are no parabens or chemicals. This is yet another good brand of the best baby body lotion in the market.
5. Cetaphil Baby Daily Lotion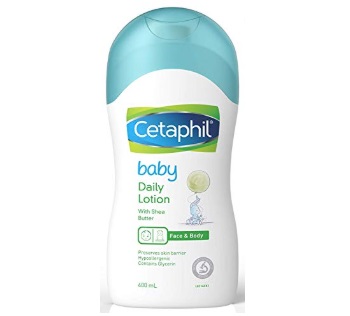 Cetaphil baby lotion is the best lotion for dry skin for babies. It contains glycerine and is perfect for everyday application. Babies who have extra dry skin will have relief in the dryness. With the hypoallergenic formula, this is perfect for daily use. It is medically approved and is gentle on the skin. So even if when you have sensitive skin, this can be applied.
6. The Moms Co Natural Baby Lotion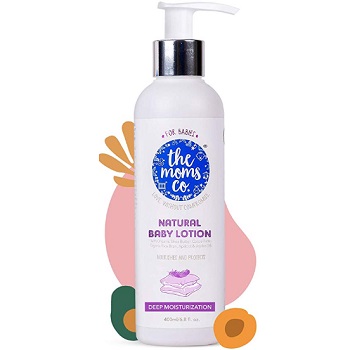 The Mom Co is yet another organic baby lotion for daily use. In fact, it's amongst the best baby lotion for winter dry skin. It works really well to deeply hydrate. The gentle baby skin lotion is made with organic shea butter, Apricot oil, oil, Vitamin E, cocoa butter. It is really the best lotion that you can apply for your baby's dry skin.
7. Himalaya Herbals Baby Lotion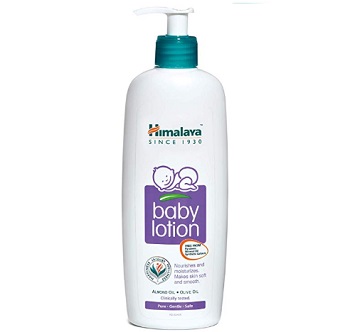 If you're looking for a brand that is easily available online and offline then Himalaya baby lotion is one of the best baby lotions in the market. It is made with herbal ingredients such as Olive Oil, Almond Oil, Vitamin E and anti bacterial products that helps to keep the baby's skin safe and hydrated. So, with a paraben free formula, it nourishes and moisturizes the skin. The clinically tested product is safe and doesn't have any harsh smell or artificial scent in it. It is even safe for babies with sensitive skin.
8. Aveeno Baby Daily Moisturizing Lotion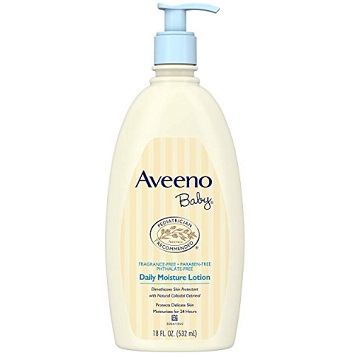 Aveeno Daily moisturising lotion is the best lotion for sensitive skin. It is a wonderful hypoallergenic lotion that does not clog the pores and gives total hydration. The good thing is that the product hydrates the skin for up to 24 hours and during the winter season as well. It has proven to be good baby lotion in the market. It has a nice and pleasant fragrance and a formula devoid of parabens and chemicals. Perfect for sensitive skin, it has a creamy texture which blends really nicely.
9. Mom & World Baby Nourishing Lotion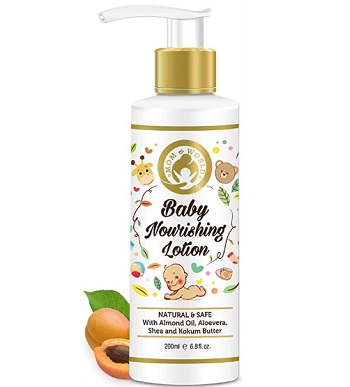 Mom & World products are equally high quality and good for the babies. It is amongst the best baby lotion for dry sensitive skin and a natural product, made with certified natural and safe ingredients, like Aloe Vera, Almond Oil, Shea Butter, Kokum Butter and essential oils that soothe and hydrate baby's skin. This safe and effective product nourishes the babies skin and even when the weather is harsh, it keeps the baby's skin soft and supple. It's the best paraben free baby lotion available in the market.
10. Biotique Disney Princess Morning Nectar Baby Nourishing Lotion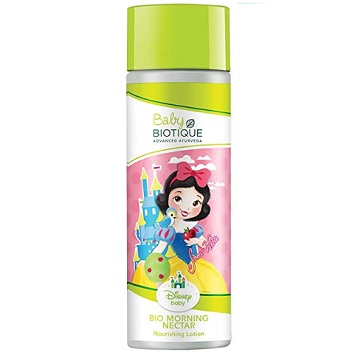 Biotique Bio Disney Baby lotion is organic and herbal product that is made with aloe vera, Honey, beeswax, and essential oils that make the baby's skin supple and softer. Regular use of this lotion helps to get soft skin. It's available in two variants for boys and girls.
Now you know about the best baby lotions brands available in the market, it would be easier for you to choose the best baby lotion brand for your baby. Other than that we would like to give you some pointers on choosing the best moisturizer for the baby.
How to Choose the Best Baby Lotion
It is known that baby skin is delicate and sensitive and very different from the kids and adults, we  must make sure that the product must not irritate the skin therefore, baby moisturising lotion must be pH balanced.
Artificial fragrances and scented products tend to irritate the skin and cause rashes. Therefore, the baby products must be mildly scented or no fragrance at all.
Parabens, Polyethylene Glycol, Propylene Glycol, Mineral oil and sulphate that can equally harm the babies delicate skin. Therefore, the products should be chemical free.
Always look for the ingredients like shea butter, coconut butter, cocoa butter, natural oil essential oils and other botanicals and plant derivatives.
Based on that, you would be able to choose the best baby lotion in India. These are gentle on the baby's delicate skin and will also do the work perfectly. Now that we've given you the list of the best baby moisturising lotions, it'll be simple for you to choose.