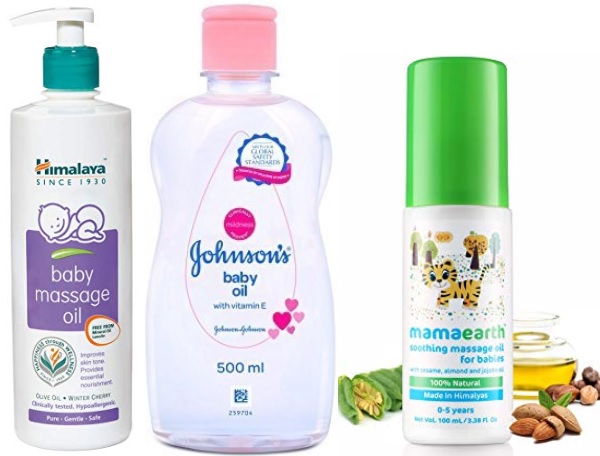 Baby massaging has its own important place in newborn babies care. In fact, for toddlers and older babies, massaging is a must do thing, even the grannies would emphasize on massaging for at least 3-4 times in a day. But why baby massaging is so important. There are multiple benefits behind massaging your little one. Other than that, regular massaging helps your baby to grow better and without any troubles. It also helps relive gas that can make him experience pain in the abdomen. It smoothens the skin and eases the body pain.
For that a massage oil is used. I have compiled this list of the best baby massage oils available in India. Out of these, I've used most of them and have like them except for few with minor drawbacks. Otherwise, most of them were really good. So, based on that please read the reviews and decide which is the best one for your baby skin. If you ask me the best massage oil for the newborn's skin, it's Dabur Lal tail and Himalaya baby massage oil. These two are my favorites.
Best Massage Oils in India (For Newborns and Toddlers) 2023
1. Kama Ayurveda Ayurvedic Baby Massage Oil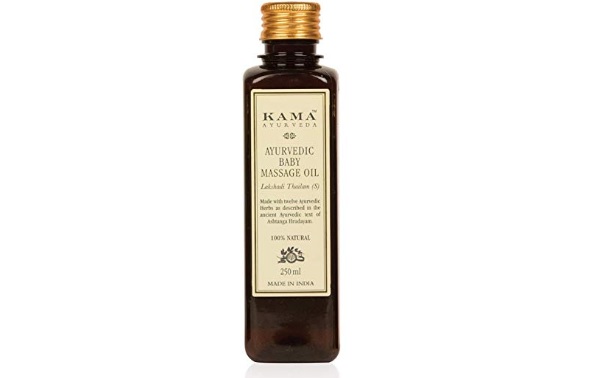 It's an Ayurvedic baby massage oil which is ideal to be used for newborn babies and toddlers. Made with 12 Ayurvedic Herbs, it has been described as highly beneficial for baby massage. It improves the blood circulation and makes the bones stronger. It contains herbs like turmeric and sandalwood, Kutaki extracts along with nutgrass, liquorice and many other plant based extracts. It helps to protect your baby from catching cold, cough and fever. Overall, the massaging oil protects the baby's delicate skin and keeps it smoother. In winters, you can warm up the oil slightly and massage it into your baby's face body and even hair. Apply it for 2 to 3 minutes with gentle massaging on each and every body part. Then you can wipe off the excess oil from the baby's body.
2. Himalaya Baby Massage Oil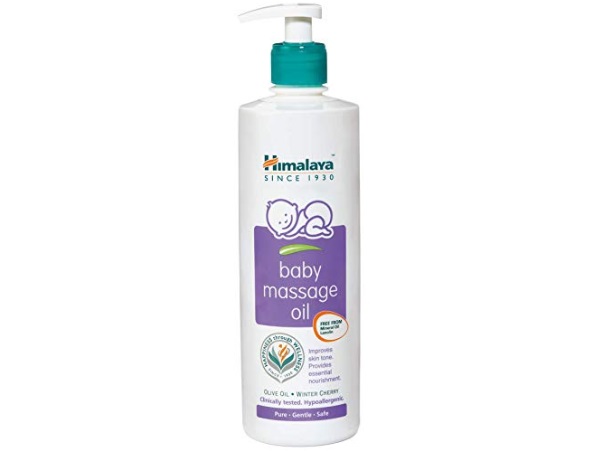 It is one of the best seller and affordable massaging oil for babies. It improves the skin tone of babies and gives the essential nourishment to the skin. The oil is free from mineral oil and lanolin and has been clinically tested. The oil comes with olive oil and winter cherry that makes blood circulation and is safe for baby's skin. The oil is light and non-staining, therefore, you can use it before and after the bath. Olive oil in this baby massage oil helps to keep your babies warm during winter season. It increases the smoothness of the skin texture and safeguards the skin from cold and other infections.
3. Dabur Lal Tail – Ayurvedic Baby Massage Oil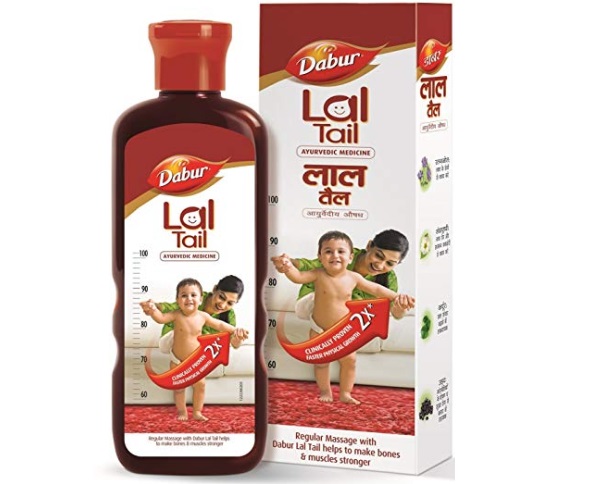 There is a Ayurvedic massage oil which is specially made for babies. By far, this is the best selling baby massage oil in India. The product is also affordable which makes it a bestseller. You can regularly massage your baby's skin and hair using this oil to make bones and muscles stronger. It contains Shankhapushpi, Masha, Ratanjot, Karpura, Saral taila, Tila tail  that has been described in the ancient texts as wonderful Ayurvedic ingredients for babies. Apply it twice in a day before and after the bath. Wipe off the excess oil. It aids in the optimal growth of your baby's bones and muscles strength.
4. Life & Pursuits Organic Ayurvedic Baby Massage Oil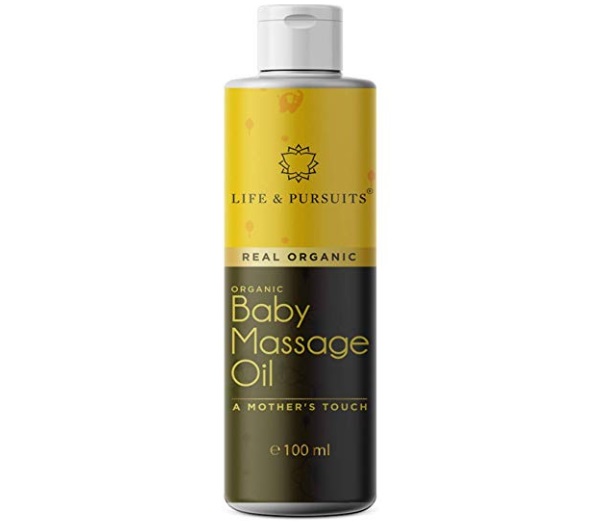 This certified Ayurvedic baby massage oil contains sesame oil, coconut oil, Ashwagandha and turmeric. The ingredients used in the oil are certified by USDA and does not have any chemicals, parabens, colo ring, mineral oils in it. It's ideal massage oil for your babies and toddlers. The oil nourishes the skin and gives a protective shielding to safeguard against infections, rashes, skin issues at cetera. The oil stimulates blood circulation and helps in overall body growth and muscle mass building. It strengthens the baby's joints, ligaments, muscles and promotes growth and vitality. Other than that, massaging also promotes good sleep in babies.
5. Johnson's Baby Oil with Vitamin E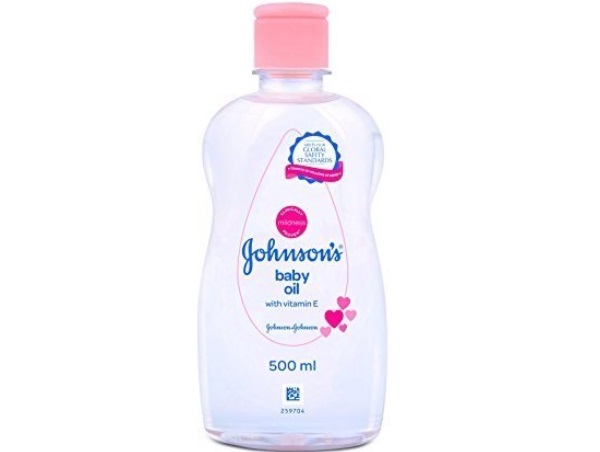 Johnson's Baby Oil is a very popular baby massage oil that contains vitamin E. In fact, the oil can also be used by the nursing mothers. Richness of Vitamin E in this oil makes it a great moisturizer. This can be applied as a moisturizing lotion other than the massage oil. If you want Ayurvedic massaging oil, then you can look for the other options that I have mentioned above. It is a clinically proven mild and gentle formula which is dermatologically tested. It passes 5 level safety processes therefore, is completely safe for your newly born baby's skin. Has a mild perfume like scent along with Vitamin E.
6. Mamaearth Soothing Massage Oil for Babies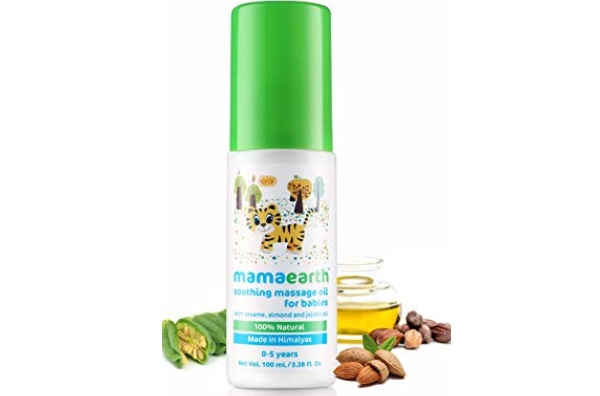 I have used oil once for my baby's massage and really liked it. Mama Earth in anyways is an organic brand that makes skin, hair care and baby product which are completely natural and has certified ingredients. This massage oil is a natural blend of olive oil, sweet almond oil, jojoba oil and sesame oil. It gives the healing and immunity building power because of the essential oils. The product is completely free of harmful chemicals like parabens, mineral oil, petroleum, sulphates and synthetic fragrances. It is safe for baby's skin and even for your skin. Make sure you use this oil twice in a day to ensure loads of benefits for your babies. It is a light and non-staining oil, therefore it can be used after the bath as well.
7. Baby Dove Rich Moisture Baby Massage Oil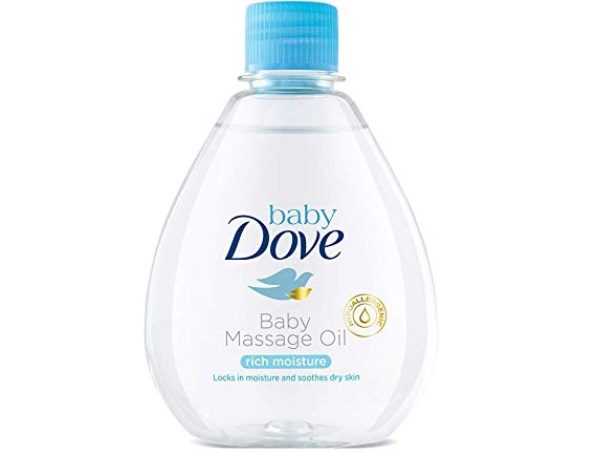 Dove baby massage oil contains rich moisture and is suitable for babies who have extra dry skin. I use this once but as my baby's skin is pretty normal and not so dry. I used it when it was winters and by the time my baby grew, the season changed and I no longer needed it. As compared with the Ayurvedic oils, I like that in a way that, it was light and non-greasy oil, but for new mothers who relies mostly on the Ayurvedic preparations for massaging can skip this. This is ideal for daily massage in a way to get moisture to the babies in other than the other growth boosting and muscle growing benefits like the other ayurvedic oils promise. It is a dermatologically and allergy tested product, hence, safe for newborns and babies.
8. Figaro Extra Virgin Olive Oil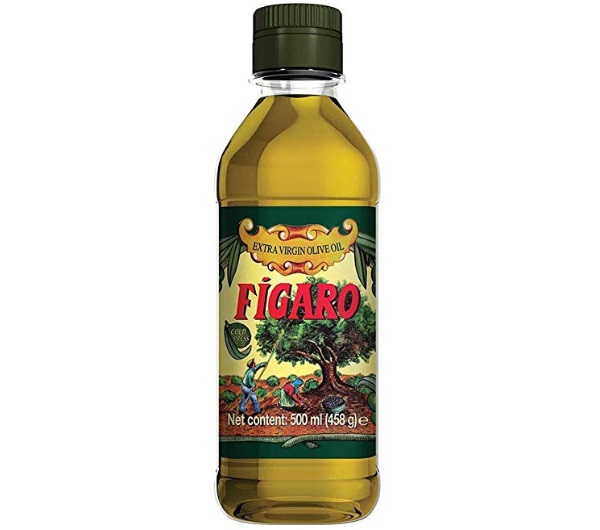 Figaro extra virgin olive oil is a multipurpose product that you can use for your skin, hair and even for cooking. It is an olive oil that is imported from Spain. Olive oil is also known as jaitun ka tel and has multiple benefits for your skin and hair. I have got so many queries in the past few years even when on my other blog, parents kept asking if figaro olive oil can be used for baby massaging. My answer was yes it can be used for baby massage and it does a really good job. It provides all the nutrients to the baby's skin to keep it soft and to fight lots of rashes and infections. However, I am sure the elderly ladies in your house would like to recommend a mixture of oils. There are baby massage oils that contains not just olive oil but almond oil, sesame oil, coconut oil and other oils which are for more beneficial. Therefore, you can use it alone or by mixing with other essential or carrier oils.
9. Blue Nectar Ayurvedic Baby Massage Oil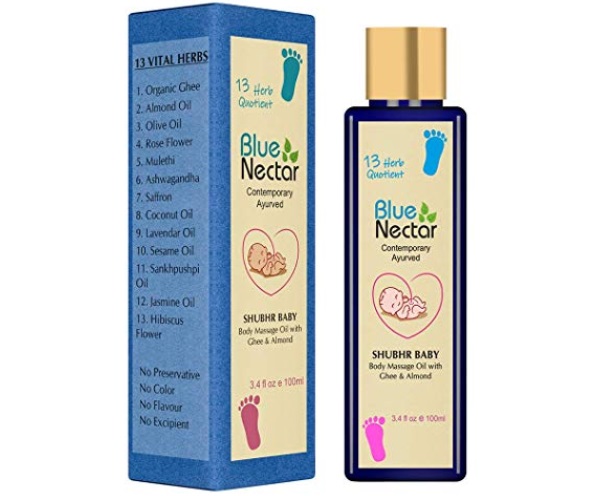 The oil has got unique ingredient like organic Ghee, almond oil and Vitamin A. I have rarely seen ghee in any of the Ayurvedic massage oils that I have tried so far. And trust me initially, I have used around 8 to 10 massage oils But all organic. Simply because if my baby was not reacting well or if I don't like that for my baby, still I can use the oil as a body oil for myself.  And this was a product that I really liked. It is considered as a hair growth and getting good skin. It also contains olive oil which is rich in vitamin E, fatty acids and proteins that is vital for newborns, it helps to calm the baby's skin and make them sleep better.
10. Mee Mee Baby Oil with Fruit Extracts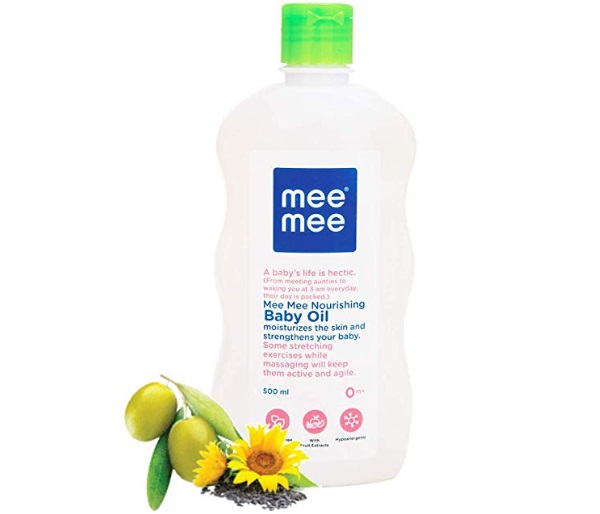 I've used Mee Mee baby wipes and liked those for my baby's skin and considering that I ordered this fruit baby oil. It's a lightweight oil that contains olive oil, Sunflower oil and other crude extracts that has a mild fragrance. It is ideal for baby's daily massage. I like this oil not for the newborn babies but for the babies who are over one year of age. It's also a dermatologically tested products.