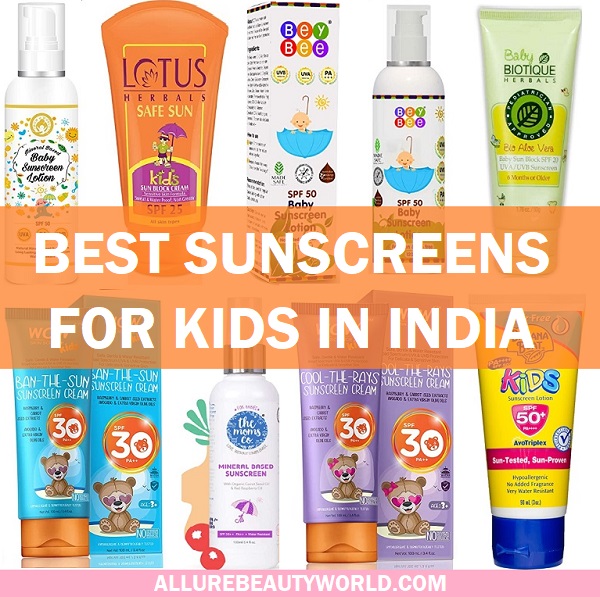 Kids and babies skin is very sensitive and can get red with sun exposure. Choosing the right sunscreen for kids is essential to ensure your kid gets the best hypoallergenic and gentle product which safeguards the delicate skin from ultra violet rays. In this article, we're sharing the best kids sunscreens in Indian market.
It's true that our little ones require extra sun protection when are are spending time outdoors. Skin care experts recommend not to apply sun lotions on the newborn babies rather use umbrella, strollers and other shading items to make them protected from the direct ultra violet rays hitting their skin. Start applying sunscreen, which are mild and hypoallergenic once the child is 6 months old.
Baby sunscreens are generally mild and has fragrance free mineral rich formula, like containing zinc oxide. Choose a sunscreen for kids above SPF 30, that includes the daily wear ones. Look for above SPF 30 while going for beaches, pools and outdoor picnics.
List of the Top 10 Best Sunscreens for Kids and Babies in India (2022)
1. Mom & World Mineral Based Baby Sunscreen Lotion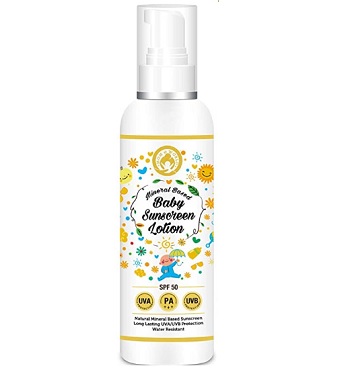 It's one of the best mineral based sunscreen lotions with SPF 50 for babies. While it shield the baby's and kid's delicate skin, this is a broad spectrum SPF 50 sunscreen lotion. It protects the skin from ultraviolet A and B rays. It's a compact product with the pump dispenser. The quick absorbing sunscreen lotion has zinc oxide and titanium. So, the physical sunscreen is non-greasy and hypo-allergenic. It can be used anywhere on the body and keeps the skin irritation-free. It is ideal for kids and babies sensitive skin. The product is very gentle and is free of the harmful chemicals, parabens, sulphate, mineral oils and other products that can irritate the sensitive skin. This is by far the best selling sunscreens for kids available in India.
2. WOW Kids Ban The Sun Sunscreen Cream SPF 30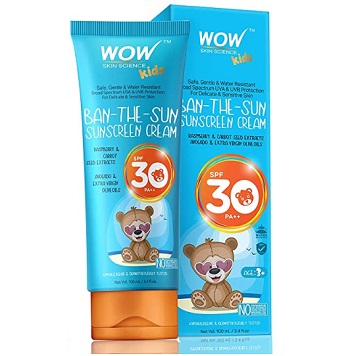 The product is yet another high SPF sunscreen lotion for daily use for the kids. This sunscreen has SPF 30 and is free of parabens, silicones and mineral. The organic sunscreen is also free of benzophenone, which can irritate the delicate and sensitive skin of kids. This product contains Raspberry extracts, which are rich in vitamin C. With the help of natural sun blockers present in this sunscreen lotion, this product helps to block the ultraviolet rays. It also contains carrot seed extract which are rich in antioxidants vitamin A and Vitamin E. The product helps to prevent excessive dryness of the skin. Additionally, the product also contains avocado oil and extra virgin olive oil that also provide the natural sun blocking benefits. The non-sticky product is also water-resistant that ensures kids get long-lasting protection, even while they are in the pool.
3. BeyBee Baby Sunscreen Lotion for Kids & New-Born Babies SPF 50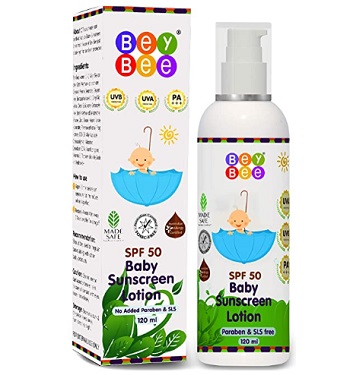 This baby sunscreen lotion is ideal for newborn babies and kids. This has SPF 50 and is yet another best selling sunscreen lotion. This sunscreen gives broad spectrum SPF 50 coverage from ultraviolet rays. The product is water-resistant and is also perfect for travelling. The best thing about this lotion is its non-greasy and non-allergic formula. So, you can apply it even on the newborn baby's skin to keep it hydrated and protected. The product is dermatologically tested and is perfectly safe for kids with sensitive skin. The formula helps to replenish the essential hydration for the baby's skin and keeps it moisturized for long time. The product is paraben and sulphate-free which can be used by everyone not just the babies. This is yet another best kids sunscreen lotion available in the market.
4. Lotus Herbals Safe Sun Kids Sun Block Cream SPF 25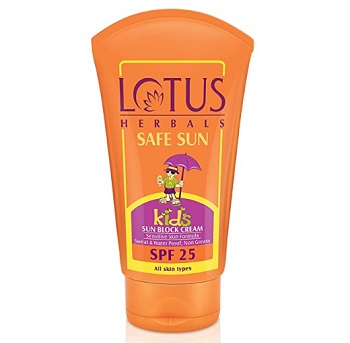 This kids sunscreen has SPF 25, which is safe for daily use. While kids are going to play in the park or under the sun, you can apply this daily wear sunscreen lotion. Zinc coated Micro fine Titanium dioxide makes this yet another best physical sunscreen lotions in India. Apply it literally on the face, neck and exposed body part of the child. It is waterproof and sweat proof with an non-greasy formula that is why the sunscreen lotion is safe for everyday application.
5. The Moms Co. Baby Waterproof SPF 50+ Sunscreen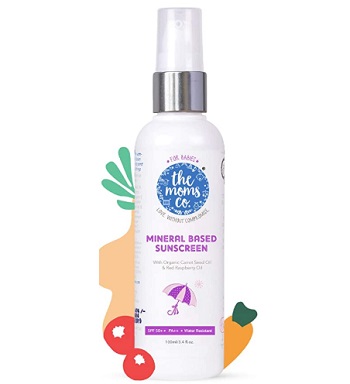 Coming to this waterproof natural sunscreen lotion, that is a mineral based product is enriched with organic carrot seed oil and raspberry. This baby sunscreen has perfect blend of natural oils that keeps the skin moisturized and from the harmful ultraviolet rays. It contains not just the natural oils but zinc oxide and Titanium dioxide as well. So, it creates a ultra fine thin layer on the babies and kids skin to protect from the sun's harmful rays. This contains organic carrot seed oil, raspberry seed oil, pongamia seed oil and other  The hypoallergenic and mild and gentle formula is ideal for small babies and even the kids. It can be applied by men and women as well.
6. WOW Kids Cool-The-Rays Sunscreen Cream SPF 30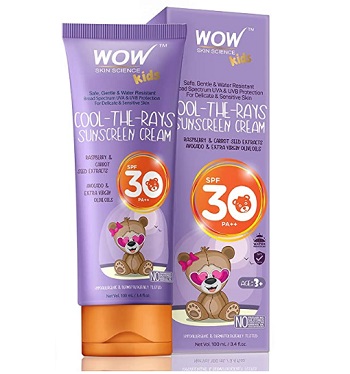 The extra gentle and water resistant sunscreen lotion contains SPF 30. This kids sunscreen lotion comes in an attractive packaging and is rich in vitamin C. It contains avocado oil and carrot seed extract that helps the skin to stay protected from sun rays.
7. Biotique Aloe Vera Baby Sun Block SPF 20 Sunscreen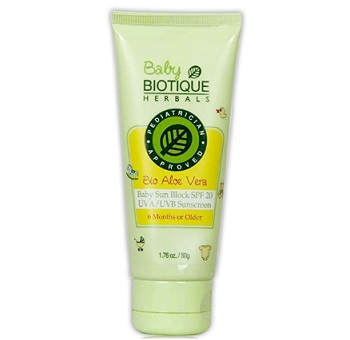 Biotique baby and kids sunscreen lotion SPF 20. It's a product that can be applied on babies older than 6 months. The aloe vera rich sunscreen lotion also contains other nutrients that makes it ideal skin healer like for the sun burnt skin. So being a natural Sun protector, it also safeguards the skin from the sun burns, redness, sun damage, premature lines and wrinkles. Apply it liberally on the exposed body parts.
8. Banana Boat Kids Water-Resistant Sunscreen Lotion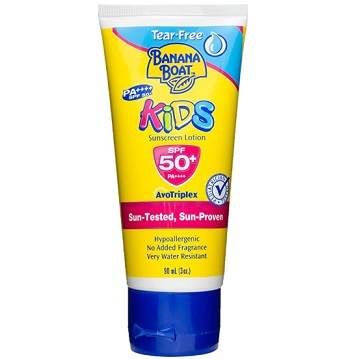 This water resistant sunscreen is the most popular and effective sunscreen lotion for kids. It's dermatologist tested and proven sunscreen lotion, which is hypoallergenic. It is extremely water resistance hence kids who are indulging in water sports activities can wear it for long hours. It's water resistant for 80 minutes and gives broad spectrum shielding from ultraviolet rays. The product is sting-free and irritation-free for the damaged and sensitive skin. The alcohol free sunscreen lotion helps to cure the dryness. It is a paraben-free sunscreen lotion for kids with SPF 50.
9. Mother Sparsh Natural Baby Sunscreen Lotion SPF 30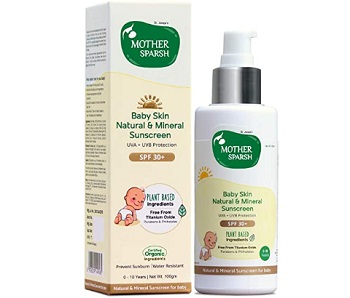 This particular product is a very gentle and organic sunscreen lotion which is suitable for newborn baby still 10 years of age. It prevents the sun burns commerce and dark name with an organic formula. It is one of the best plant based sunscreen lotions for kids. It is free from titanium oxide and parabens and salads stop the sunscreen distant and can be used even in the pool. As it comes in a Pump dispenser it is easy to keep in the back and is very effective.
10. Aveeno Baby Sunscreen Lotion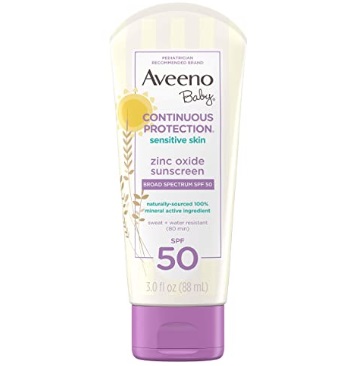 Aveeno baby sunscreen lotion has zinc oxide. It is ideal for sensitive skin and is water resistant for up to 80 minutes. Made with organic ingredients, it is yet another herbal sunscreen lotion for kids. The sunscreen for baby's skin helps to cure and prevent the sun burns.  To shield and safeguard the delicate skin for the kids this sunscreen is ideal for everyday application. Even the price is reasonable and it's an immensely popular and effective product. It is yet another best sunscreen brand for kids in India.
So these are the best sunscreen lotions for kids and newborn babies that you can try. Always remember to use a sunscreen lotion on new born baby by checking the package. Because the option that we have shared above are for the sunscreen lotions which are suitable for kids over 6 months of age and some of them are even save for the newborn babies.