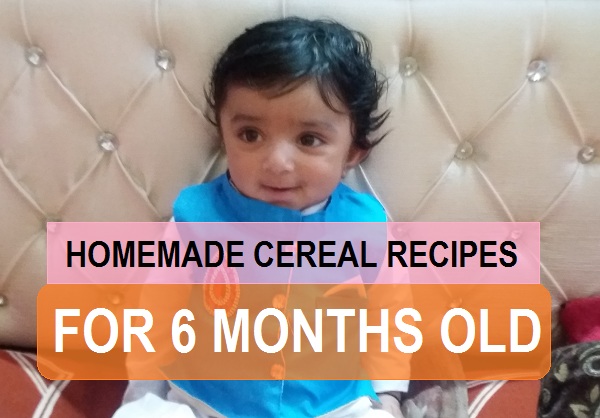 My baby started solids at around 4 and half months. You may have heard or have been given advice that your baby should start solids and water at around 6 months of age. Initially I started with rice water, banana and milk puree, mango puree and even oatmeal khichdi in thin consistency. So while you are starting the solid for your baby you must also know, which are the best homemade recipes and can be safely used for babies. The picture above is when he was 5 months old.
The most important thing is that you must prepare these recipes fresh at home. By the time, the baby reaches 6 months, his/her digestion is ready enough to be introduced with solid. And what else can be wonderful and nutritious than cereals. Cereals and other fruit and vegetable purees are the best things that you can give to a baby. This will not just have high nutrition value for your young ones but they will also help his digestive system to get adapted with the common food items.
In this article, I am going to tell you 7 recipes which I have myself prepared and have given to my baby when he was around 5-6 month old. At 4 months, I only used the thick starchy rice, dalia and pulses water, when he was 4 months old.
I would highly recommend that you start with the rice water, dal water, dalia, oatmeal water and even the thin fruit purees first and then go ahead with the cereals and multigrains. This process helps the baby's body to gradually get accustomed with the digestion of such foods.
Homemade Cereal Recipes For Babies At 6 Months
1. Homemade Oat Cereal Recipe
Oatmeal is very nutritious and is rich in protein, iron and other essential minerals.
For this you will need 2 things:
Cooking time   
15 minutes
Age group
6 months and above
How to prepare this
Take half cup of oats and add it to two cups of water.

At low flame, allow this to get cooked thoroughly.

Put off the flame and allow it to cool down .

Add some formula milk to thin out the homemade cereal.

Add one fourth of mashed banana and mix everything well.
This can be given to the baby in little quantity. Once he/she likes it, then quantity can be increased. Please make sure that a lot of individuals would add honey to the baby food recipes. As per the experts, we should not give honey to babies less than 1 year of age.
2. Homemade Multigrain Cereal Food for Baby
This is a wonderful recipe for your kids above 6 months of age.
For this you will need:
Barley powder

Rice powder

Corn powder

Oatmeal powder or oats
How to prepare:
Mix all these three powders in equal amounts. Initially 2 teaspoonful of each of these would be sufficient.

As the baby's diet enhances, you can increase the quantity of this homemade cereal recipe for 6 month and older babies.

Add 2 cups of water in a pan and add the ingredients.

Cook it until everything get smooth and pulp like.

The homemade cereal recipe for your 6 months and above babies is ready.

Allow it to get cool down and then feed your baby with this

If you wish you can add a little bit of sugar in it.
3. Suji Halwa Baby Food Recipe
Suji is a nutritious food item that is also recommended for pregnant and nursing mothers. For babies, this is a very good easy to make recipe. It's also easy to digest and provides the baby with the much needed nutrients.
You will need:
Sooji half cup

Water

Some sugar
How to prepare:
First of all, you need to dry roast the Sooji.

Then, add some water and boil it. Keep stirring it to prevent the lumps. Keep up heating it till you get up puree like consistency.

Allow it to cool down this is ready to be consumed by your 6 month old baby.
Age group
Six months and above
Time to cook
15 to 20 minutes
Please make sure that you make it fresh when your baby would like to eat it. It doesn't need a lot of time therefore, it is a very quick to make recipe for babies.
My pediatrician suggested this to me and my baby really loved this recipe. After sometime, when he reached around nine months, what I did when, I added milk instead of water. So, you can do some changes depending on your baby's liking and only you would be able to figure that out.
4. Mango and Rice Cereal Porridge
The mango and rice porridge is one of the best things that you can give to your 6 month old babies.
For this you would need:
How to prepare it:
Cook the rice. We would need the boiled and soft rice that can be mashed easily.

Take half cup of boiled rice and add one cup of water and one slice of mango.

Mash the mango slice once you added the water and cooked rice.

Now let everything gets boiled well.

Mash them in between.

Achieve paste like consistency.

Allow it to get cool down.

It's a good lunch and breakfast recipe for your baby.
5. Multigrain Khichdi
Khichdi is very nutritious food for babies. Expert says that Khichdi and recipes like this contains multiple cereals and grains. It would give the babies all the nutrients that they need. Preparing this is very easy and takes around 15 minutes. To make the recipe quickly will not be doing the open container boiling/ heating but we would be using pressure cooker for that. 
Things you need:
Rice

Moong dal

Arhar dal

Chana dal

Oats

Handful of sweet corn
How to prepare:
Take each of these in 2 spoons.

Put this in a pressure cooker and add water accordingly.

You need to cook it for at least 15 minutes.

We need overcooked soft grains basically.

After that open the pressure cooker and take out the contents.

Allow it to cool down and then feed your baby.
I still make this for my baby and include a lot more grains. This is something that you can have even when your baby grows to an age like 3 to 4 years. It depends on the grains that you will be using.
Initially use grains like rice, dals, oats that are easy to digest and later on you can also put some vegetables in it as the baby grows.
At first, feed the baby the starchy water that comes above this Khichdi. That water is also rich in nutrients that you can give to your babies. 
6. Dalia and Oats
This is one of the best recipes that even adults can have for the breakfast. It's full of proteins and nutrients that gives the baby dose of required nutrients during the day .
How to prepare:
Take half cup of Daliya and half cup of oats.

Add 3 cups of water and cook them.

Cook these 2 until they become soggy and soft enough to be ingested easily.

Once they do, allow them to cool down.

Your oats and dalia porridge is ready.
Even the nursing mothers can have this to increase the breast milk supply. And also add formula milk or breast milk if you would like to make it more nutritious. 
I used formula milk after 6 months, because my breast milk supply decreased drastically and that was not be able to fulfil by baby's requirements. Therefore, I used to add two spoons of formula milk in this oats porridge. I used to give it to him for the breakfast during the first time that he used to have when he was 6 or 7 months old.
If your baby has just started taking solids then what you can do, you can also take the thick water that floats about this porridge instead of the actual mixture. You can make it in the breakfast and you and your baby both can have it.
7. Vegetable and Cereal Khichdi
This is yet another wonderful recipe to give to your 6 months and older babies. This is like any other recipes just that it has added vegetables in it. For babies, around in any year or even for yourself you can make this recipe. Trust me it's very nutritious and both of you would love it.
What you need:
Carrots

Tomatoes

Peas

Oats

Rice

Dalia

Barley
As so many things should be added in this recipe you would have to figure out how much you would like to make. And That depends on the diet of your baby or if you are making for the number of people.
How to make:
In a pressure cooker, add some water and allow it to get warm. In that, add washed carrots, tomatoes, Peas, oats, rice, and Barley.

Close the pressure cooker lid and allow it to get cooked for at least 15 to 20 minutes.

Once it does, take out and cool down.

Your multigrain vegetable Khichdi is ready.
I also used to make this in the earlier recipe that I shared for the multigrain Khichdi if you add some chopped vegetables that we use every day that also makes it very nutritious.
Here's my baby Jiyaan at present, 18 months old with my mother.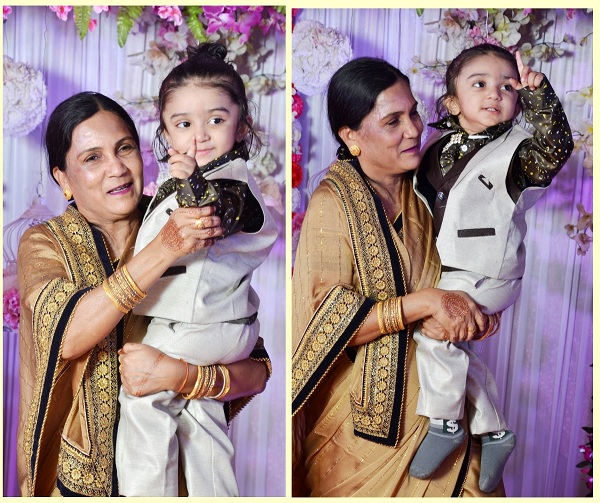 Advise and Experience:
These are the everyday recipes that you can give to your babies who are older than 6 months. Such recipes can be given for as long as the baby reaches 2-3 years. It's because they are rich in nutrients and they have most of the things that most of the babies/toddlers in need.
If your baby has any problem like low birth weight as compared to the age for anything like that then please do consult with a pediatrician. He/she would be able to guide and recommend things to you better.
For babies, who are healthy, they can have each of the things mentioned. Start with one ingredient then gradually prepare recipes with multiple ingredients.
As a mother's only we would be able to know which are the food items that the baby is allergic to or doesn't like. To know that the best thing is to check the poop and how they are responding to a particular food item.
Please feel free to write to me regarding any of the questions or queries that you have. And I would be happy to answer you.