Himalaya makes multiple baby skin care and hair care related products. While choosing products for babies, it's always recommended to go with a brand, which is dermatologically tested and is trust worthy. Himalaya Herbals make baby care products like, baby wash, shampoo, massage lotion, massage oils and more.
These products are dermatologically tested with no paraben, mineral oils and chemicals. Himalaya baby products are easily available online and in the shops. The best thing about this skincare range is that they are free from phthalates and skin irritants.
Best Himalaya Baby Products List in India (2023)
These Himalaya baby care items are also available in set. Himalaya baby product reviews are also good with high user ratings. The price are also really in budget.
1. Himalaya Baby Powder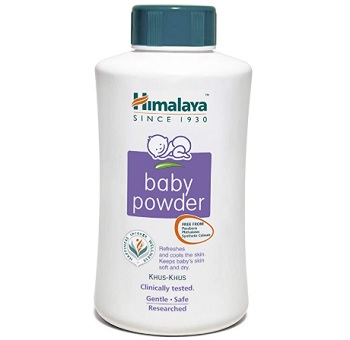 Himalaya baby powder does not contain any paraben, phthalates and synthetic colourants. It refreshes the skin and cools the skin. It keeps the baby's skin dry and soft. The product has khus-khus which heals the rashes and gives the instant relief in itching and irritation. It's also a clinically tested product. Made from the natural herbs and zinc oxide, this also contains skin soothing products also.  The Himalaya baby powder is suitable for the newborn baby's delicate skin.
2. Himalaya Herbals Baby Lotion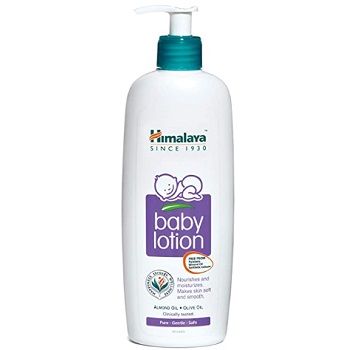 Himalaya Herbals baby lotion is also free from the paraben and harmful chemicals. Containing the almond oil and olive oil, this baby lotion is immensely moisturizing and hydrating. It also contains licorice and country mallow that protects and soothes the baby's skin and dryness. As it doesn't have harmful chemical, it does not cause any rashes or allergies, even for the newborn babies skin. The product is safe and suitable and is rich with the power of herbal extracts.
3. Himalaya Gentle Baby Soap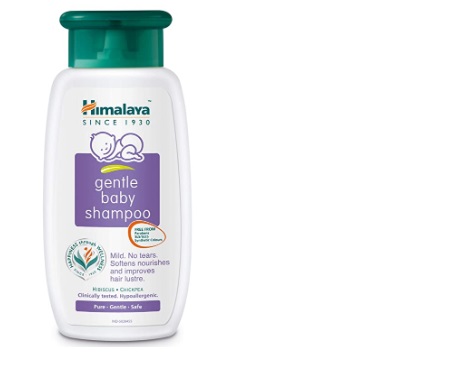 The gentle Baby Soap has almond oil and olive oil. The clinically tested soap is suitable for normal skin and is hypoallergenic, even for the delicate and quick to get red skin type. The Himalaya baby soap is perfect to cleanse the baby's skin without drying it out. Ideal for daily use, the soap is dermatologically tested with a safe and dermatologically tested and mild formula.
4. Himalaya Baby Shampoo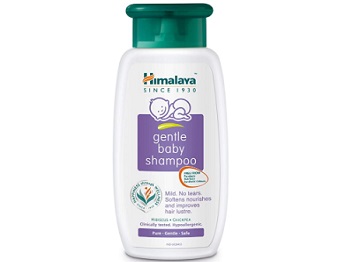 Himalaya Baby shampoo is a moisturising formula that softens and nourishes the baby's hair. The product leaves the hair smoother and silky. By making the hair healthy, the product ensures that the scalp gets clean. This cleanses the hair thoroughly as it's made with the Hibiscus and chickpea. This is a clinically tested product, which is also hypoallergenic in its formula. It creates gentle lathers and maintains the scalp's pH balance. With no added colour, this product has Green Apple and is a chemical free product.
5. Himalaya Baby Massage Oil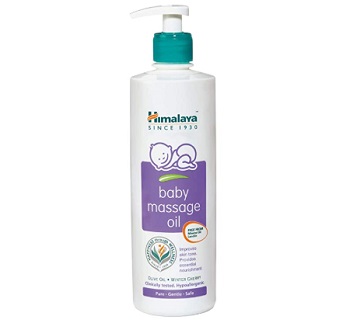 Himalaya baby massage oil is one of the best massage oils for the baby's skin. This oil has olive oil and winter cherry. The clinically tested product is also hypo-allergenic and is a pure and safe product. Free from the lanolin and mineral oil, this oil contains vegetable oil, herbal extracts, olive oil, Ashwagandha and other botanical products, which are known to hydrate and protect the delicate skin of babies. Use it twice a day to give a good massage to the baby's skin. It also relaxes and massage helps to put the baby in a deep relaxing sleep.
6. Himalaya Baby Care Extra Moisturizing Baby Wash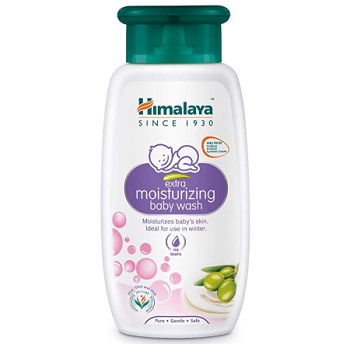 Himalaya extra moisturizing baby wash nourishes and moisturises the baby's skin and is ideal for winter time. Aloe and milk in this product makes it extremely hydrating and moisturizing product that effectively clarifies the skin and makes the skin soft. Indian Aloe, almond oil and olive oil work together to maintain moisture balance for the baby's skin. It also cures the mild peeling skin of babies and soothes the itching and redness.
7. Himalaya Baby Cream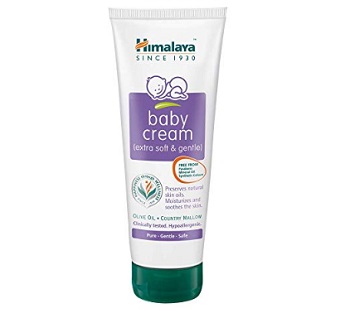 Himalaya Baby cream is extra gentle and soft. It preserves the natural skin oils and moisturizes. With the goodness of olive oil and country mallow, this is also a clinically tested and hypo-allergenic baby cream. As the formula is quite thick it maintains the protective layer on the skin, which safeguards the skin against the harmful winter coldness, dust and pollution. It is free from the parables, Mineral oil and synthetic colours. It is specially formulated for tender areas like cheek and elbows and knees. So to preserve the natural softness of your baby's skin this product is good to use.
8. Himalaya Baby Care Soothing Calamine Baby Lotion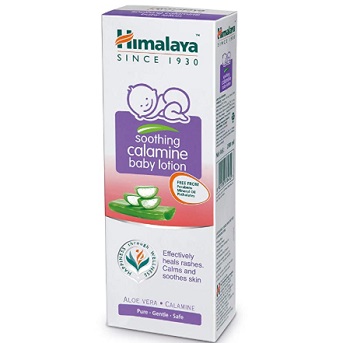 The soothing calamine lotion for baby is free from parabens and mineral oils. It's also free from phthalates and chemicals. The chemical-free formula is rich in aloe vera and Calamine. It effectively heals the rashes, irritation and redness of the skin. It can be used on the multiple skin conditions and rashes for babies like prickly heat, insect bite, Sunburn, allergic reaction and even the scabies. It is made with Aloe vera, Mustard, Amarnath grass and Calamine.
9. Himalaya Diaper Rash Cream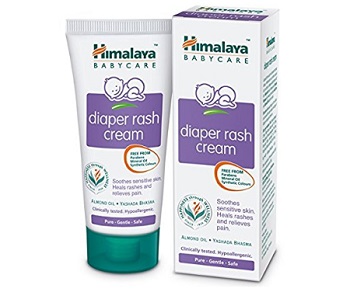 A diaper rash cream is an essential product that you must have for the baby. Diaper rashes are very common skin problem that happens every now and then. The small red blisters, redness and rashes are known as diaper rash, which can be healed by this cream. Basically, these diaper rash curing cream contains the effective ingredients that soothes the skin and heal the rashes so that it can relieve the pain and irritation faster. The product also contains, almond oil and yashad bhasma which is also known as zinc oxide. The product is clinically tested and is hypoallergenic.
10. Himalaya Baby Hair Oil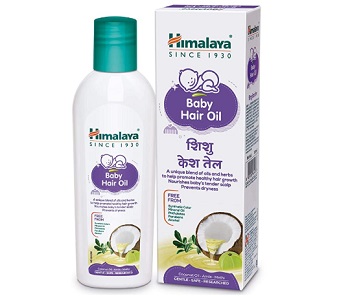 Himalaya baby hair oil is a unique blend of multiple oils and herbs that help to promote healthy hair growth and nourishes the baby's delicate scalp. This is free from the synthetic colours, Mineral oil, parabens and alcohol. It contains Coconut oil, Amla and Methi. It is a unique blend of oils and herbs safe for baby, while encouraging the hair growth.
While buying the baby skin care products, it's important to purchase the products which are from a popular, trustworthy and renowned brand. Most importantly, the brand must be dermatologically tested that maintains the high quality and standards. These baby care products are used directly on baby's skin and hair, thus, the surety of good quality is MUST to look for.
Here's a quick and easy guide to remember while buying baby skincare products.
The products must be mild yet effective with no chemicals in them.
Always choose products specifically made for babies.
Baby skin gets dry easily hence, the products should be gentle and moisturising.
Products must be pH balanced or neutral, so as not to dry the skin or irritate the skin at least.
Always look for the baby skin and hair care products which are free of chemicals, parabens, sulphates, artificial dyes and phthalates.
The products must be alcohol and soap-free, this is to look for the cleansing products like body wash, hair wash etc.
It is always better to go through the list of the ingredients involved in the formulation of the baby products.
Use dermatologist and hypoallergenic baby products. Such products are made with gentle formula with no harm or allergies to the delicate skin of the baby, even the sensitive skin.
Using the pH neutral baby products are also a point that parents should remember, else skin gets irritated and red.
So, these are the best Himalaya Baby products including the baby massage oil, soap, nourishing baby lotion, baby wash, shampoo and more. These items are gentle and made with mild and nourishing ingredients to keep your baby's skin supple and moisturised.