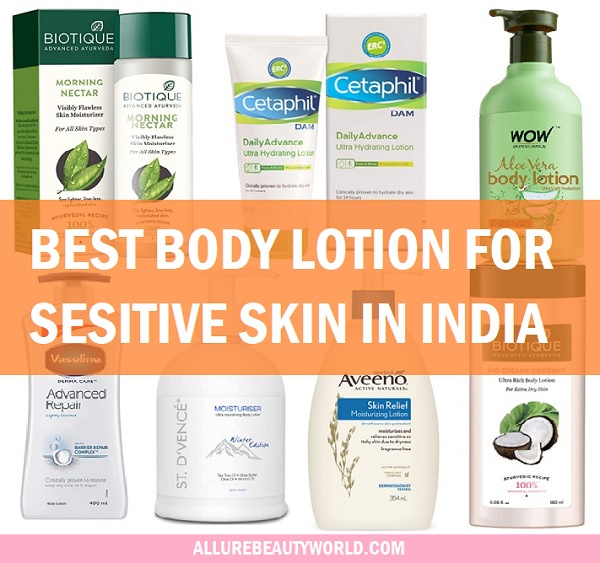 A good body lotion is a must-have part in any skin care routine. In fact, a good lotion would help your body skin to stays youthful, glowing and soft. It is not matter which season it is, application of suitable skin friendly body lotions will cure the skin dryness and eventually adds a layer of the skin. This layer of body lotion on your skin helps in shielding the delicate skin from the environmental damage, pollutants, sun rays and more. It's not that you use body lotions to cure the dryness in fact when your skin is extra sensitive you must use the body lotion that helps your sensitive skin and combat the damage.
Best Body Lotions for Sensitive Skin In India (2022)
Let's take a look at the best body lotions available in India for sensitive skin care. If your skin is extra sensitive, then we will advise you to use body lotions which are paraben, sulphate and phthalates. In fact, a lot of body lotions which have strong use of chemicals and perfumes can also make your skin dry and itchy or even red. Therefore, when you have a sensitive and easy to become red kind of skin, you must avoid the chemicals and too much fragrance use in your body lotions. Using the body lotions, which are light and rich with emollients kind of help your skin to heal faster, as well as does not get red.
1. Himalaya Herbals Cocoa Butter Intensive Body Lotion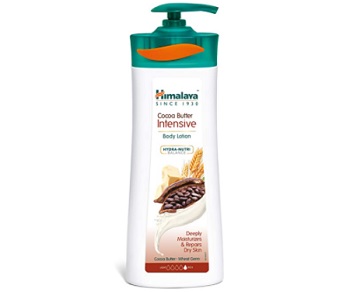 The intensive rich cocoa butter has a formula that helps in the deep moisturization of the skin, the dehydration intensive body lotion contains Cocoa butter and Vitamin E. Being rich in cocoa butter, it gives adequate moisturizing properties to the skin. It is one of the best body lotions for sensitive dry skin to heal the dryness and sensitivity. Moreover, the product is so moisturising that it can be applied during harsh and dry winter season.
2. Biotique Morning Nectar Flawless Skin Lotion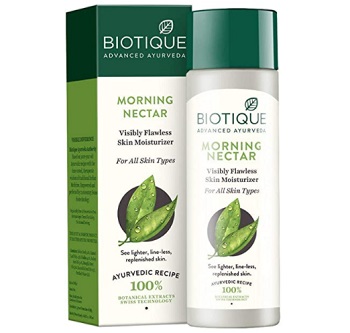 Biotique Nectar flawless skin lotion is a dental lotion for sensitive skin because of its light-weight easy to absorb formula. The product has a very light formula and has a decent amount of moisturization. The best thing about this product is the ability to revive your skin without being crazy. So it can be applied all around the season. Most importantly, the product is suitable for your facial skin as well as body skin. The price is also quite on the affordable side, which makes it a really good product for sensitive skin care.
3. Vaseline Derma Care Advanced Repair Body Lotion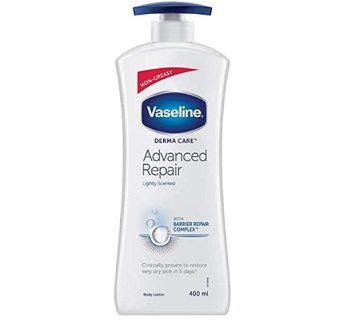 Coming to this Vaseline Derma Care Advanced repair body lotion, which is a perfect product for sensitive dry skin. Made with the active ingredients, which are moisturizing enough of this product, is highly beneficial to take care of the dryness. Apply it soon after the shower and be sure your skin stays beautifully glowing and fresh. This product is also affordable and reasonably priced. The availability of Vaseline product is quite easy and these products are available in the nearby shops.
4. ST. D'VENCE Winter Edition Body Lotion For Dry Skin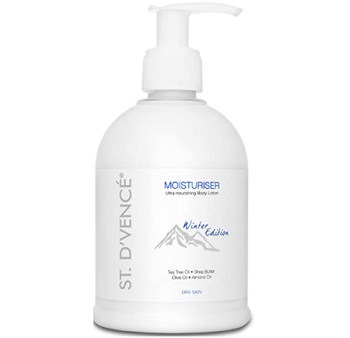 The paraben and sulphate free winter body lotion for dry sensitive skin is loaded with tea tree oil and Shea butter. As the product is rich in Shea butter, it's very hydrating and moisturizing. Being rich in tea tree oil, it also helps in healing the roughness, inflammation and any type of skin infections that you have. This product is really lightweight but gives good amount of moisture.
5. Aveeno Skin Relief Moisturizing Lotion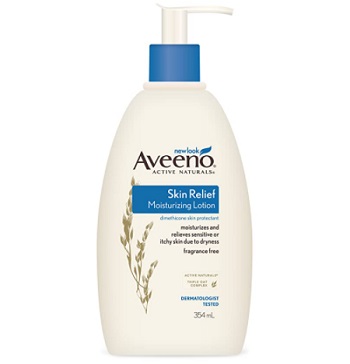 Made with the wheat germ extracts and wheat proteins, this Aveeno moisturizing lotion is effective for the dry sensitive skin. The best part about this lotion is its capability to revive the dry and dull skin without being light, the product absorbs in the layers of the skin nicely and gives a nice sheen on the skin. The product is adequately moisturizing and is suitable for all the skin types.
6. Biotique Bio Creamy Coconut Ultra-Rich Body Lotion for Extra Dry Skin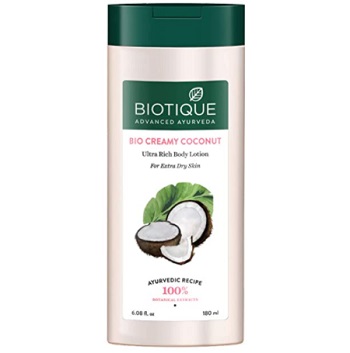 The extremely rich Biotique bio creamy coconut body lotion is a specially made for the extra dry and sensitive skin. The Ultra richness of the coconut extract makes this body lotion a great product for dry skin care. Suitable for the cold winter season, this product is appropriate. It heals the dryness and moreover makes skin smooth and supple. The product is also perfect for other seasons.
7. WOW Skin Science Aloe Vera Body Lotion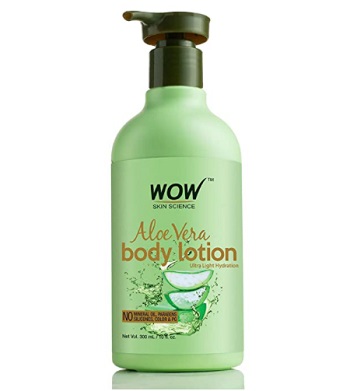 The best paraben and sulphate free body lotions with ultra-light hydration. The aloe vera richness makes this body lotion perfect for the dry and itchy skin. It heals the sensitive skin and the dryness. By combating the rashes and redness, it makes the skin smooth and glowing. Another good thing about this product is that it's from a brand that does not utilize the chemicals in their skin care products. So you can try this body lotion all around the year and for the summer season, it's also quite effective for sensitive skin, as it helps to calm down the skin and prevents the sun burning and sun tanning.
8. Cetaphil Dam Daily Advance Ultra Hydrating Lotion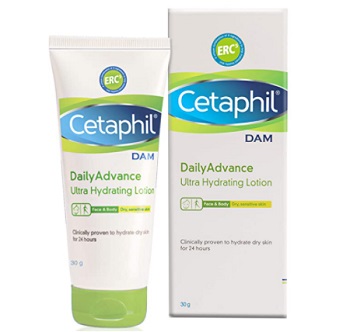 Cetaphil Ultra hydrating lotion is made for sensitive and dry skin. The lotion is easy to blend and has a moisturizing formula. With the goodness of natural ingredients and emollient it helps to heal the dry patches and make irritated skin heal faster. After the continuous application of this product, your skin becomes really moisturizing and smooth.
9. SebaMed Anti-Dry Hydrating Body Lotion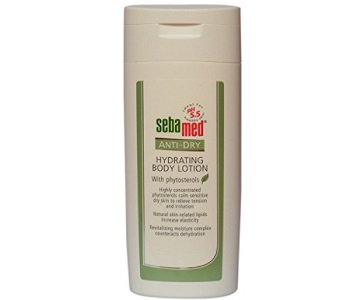 Sebamed anti-dryness body lotion is made for extremely dry and dehydrated skin. The very moisturising body lotion has a creamy texture rich in emollients. Sebamed is a brand that makes products for sensitive skin. This creates a shield on the skin which does not let the dry air or the atmospheric stressors to make your skin dry anymore. So applying this hydrating body lotion regularly will make it smooth and soft.
10. Mamaearth Healing Natural Argan Oil & Macadamia Body Lotion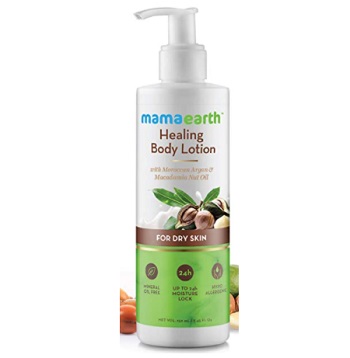 Mama Earth healing body lotion is made with Argan oil and Macadamia oil. Both of these oils are really good for skin healing and as anti aging products. Argan oil in fact, is known to promote the skin lightening and glow. In fact, macadamia oil is known as anti-aging oil that accelerates the fresh renewal of cells. As a result it makes the skin glowing and keeps it younger.