Body Massaging is a relaxation technique that helps sore muscles and promotes blood circulation in the body. It regenerates the skin and has a soothing and calming effect on your mind. Out of the different types of body massage oils, we have compiled the best oils for body massage in India. This massage oil brands are amongst the popular ones and works to reduce the friction while you are doing body massaging. Basically, it's made from a combination of different base and essential oils. Base oils are generally derived from plants and extracts like nuts, kernels or seeds while highly concentrated oils that are also derived from plants and fruits. These are aromatherapy oils suitable for the skin and even for baby massaging. However, we are mostly focusing on the adult body massaging here in this post.
List of Top Best Body Massage Oils in India (2022)
Based on the user's ratings and reviews, we've this list of the best body massage oil brands in India. One can use these best rated massage oils for relaxation and to get away with the winter dryness. Please also note that some of them are massage oils for pain.
1. Forest Essentials Mysore Sandalwood and Vetiver Body Massage Oil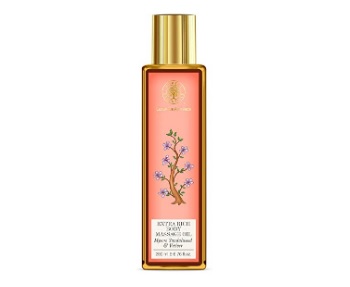 The Forest Essential massage oil contains Almond Oil, Ashvgandha, Sandalwood and vetiver essential oil extracts. Made with the cold press technique, the oil is it is pure and natural. The extra rich massage oil enhances moisture retention thus, gives relief from dryness. The Ayurvedic massage oil can be applied everyday to massage the body and an hour before the bath for maximum absorption of the nutrients.
2. Himalaya Herbals Stress Relief Massage Oil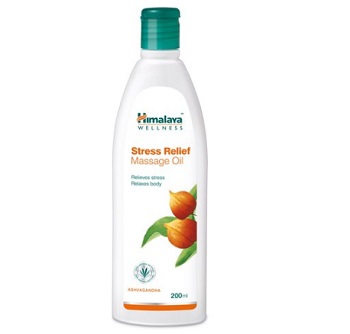 It is stress relief body massage oil from Himalaya Herbals. Apply the oil and massage the body and leave it for 10 to 15 minutes, before taking a bath with warm water. It is suitable for both men and women and promotes sleep and muscle relaxation. While working on the skin's radiance, it helps you relax and even to cure the inflammatory conditions like rheumatoid arthritis, muscle knots and lumbar pain. It contains winter cherry, Indian madder, Indian tinospora and country mallow extracts.
3. Divine India Body Massage Oil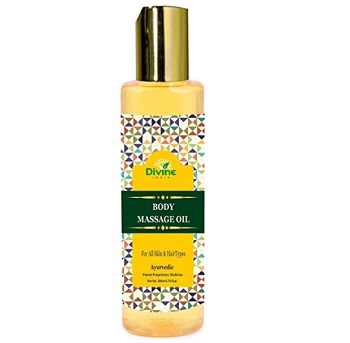 The body massage oil contains jojoba oil for all skin and hair types. It can also be used as hair massage oil and it contains ingredients that give suppleness while working for the sensitive skin types. Blended with the natural ingredients and extracts, this massage oil has mild fragrance. It can be used as an after bath body massage oil as well. After taking bath, apply the oil and wipe off the excess oil after 15 to 20 minutes. It also helps in relaxing the entire body and gets rid of the mild pain. Considering that, it's the best oil for body massage in India.
4. KHADI Omorose Rose Massage Oil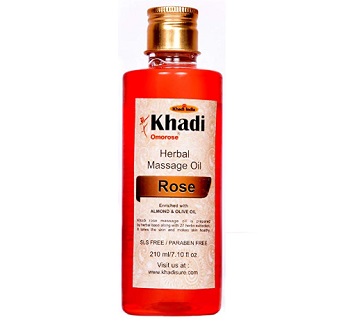 The Khadi massage oil contains Rose, Almond Oil and Vitamin E oil. The sulphate and paraben free ayurvedic body massage oil is completely organic and is made with 27 herbal extracts. It moisturizes the skin and makes the skin healthy. The reasonably priced body massage oil can also be used as after bath oil. It cures the winter dryness and gives skin a superior quality and texture. Even for aromatherapy, it can also be used alone or by combining with other effective and essential oils.  To relieve muscle pain, this is one of the best massage oils. You can even use Khadi sandalwood for the same purpose. In fact, for the face massage.
5. Baby Dove Rich Moisture Baby Massage Oil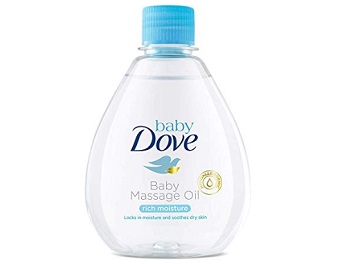 Dove baby massage oil is one of the best massage oils for babies. So while we have included all the other body massage oils, here is a baby massage oil that you can try. It is free of paraben and Chemicals that can disturb the baby skin's pH balance. The pH balanced and dermatologically tested baby massage oil has rich moisture and soothes the baby's delicate skin.  It is ideal for daily massaging and in keeping the baby skin soft and moisturized. The light and non-greasy feel is fast absorbing and does not leave a sticky layer once applied.
6. Morpheme Remedies Organic Sesame Pure Cold Pressed Oil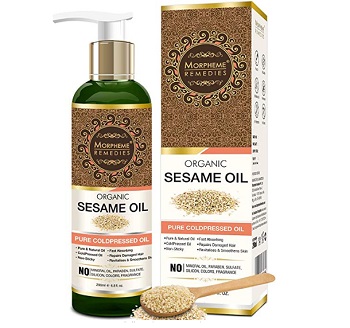 Morpheme Remedies Organic Sesame Pure Cold Pressed Massage Oil is one of the best oils for body massaging used or pre and post shower. It comes in a pump dispenser making it extremely easy and convenient to use by everyone. Other than that it's fast absorbing oil without any sticky or greasy residue like other massage oils even during summers. It's pure and natural formula revitalizes the skin and comes with parable, sulphate and Mineral oil free helping in the deep nourishment, it can be used as a scalp or for head massage or body massage oil. It is an essential oil brand in India that makes organic oils being trusted by millions of customers.
7. Dabur Badam Tail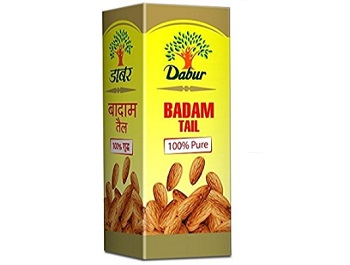 Dabur Badam Tail is 100% pure and is made from the almond oil. Rich in vitamin E, it's an effective dry skin cure which also maintains the glow and health. For baby massaging and to keep your skin even toned, this is one of the best body massage oils. It can be taken orally along with milk as well, however here we are only talking about the body massage oils and it does the job really good. Almond extracts are also loaded with multiple antioxidants that help to get rid of the free radicals. It's best oil for body massage in winter season.
8. Blue Nectar Ayurvedic Aromatic Bath and Body Massage Oil
 
The body massage oil contains Balalakshadi oil along with Jasmine and Vitamin D. Other than relaxing the muscles and soothing the joint pain, it also helps in absorption of Vitamin D and E at a better rate. To lubricate the joints and relieve muscle pain, this is among the best oils in India. With mild fragrance of jasmine, it also uplifts the senses, reduces stress and anxiety. It can be applied by warming it up a bit. Applying it before bath, ensures maximum absorption of nutrients in the body.  It's ideal to be used every day by both men and women.
9. Forest Essentials Narayana Ayurvedic Body Massage Oil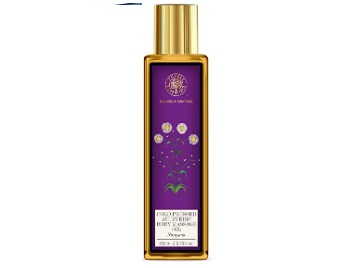 Forest Essentials Narayan Ayurvedic body massage oil is one of the most popular massage oils in India and the credit goes to the multiple herbs that it contains. It has sesame seed oil, sweet almond oil, mustard seed oil and coconut oil. It is an anti-inflammatory Ayurvedic oil that helps to relieve the pain and muscle inflammation. It strengthens the bone tissues and tones the muscles. It's also one of the best oils for body massage at home.
10. Biotique Avocado Stress Relief Body Massage Oil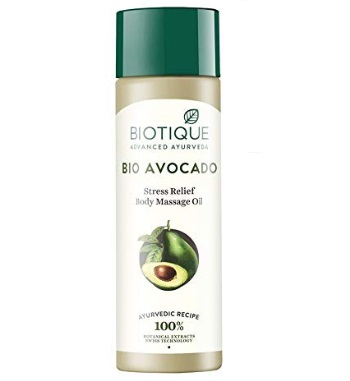 Biotique avocado stress relief body massage oil can be used for dealing with numerous problems and is amongst the best ladies body massage oils. It also acts as an after shower body massage oil to get rid of the stretchy skin problem, especially during winter season. Made from the Ayurvedic recipe, it is 100% natural and includes the oils like avocado oil that is lightweight yet hydrates the skin wonderfully. The oil combats premature aging of skin by providing enough of the moisture and nutrients to the dull and dry skin. Mix 2 to 3 drops of this oil to any carrier oil and apply on the skin and hair for best results. Avocado oil is also contains almond oil wheat germ Oil, Neem oil and other oils that helps to moisturize skin deeply. It's yet another good choice of the best oil for body massage.
11. Jiva Ayurveda Massage Oil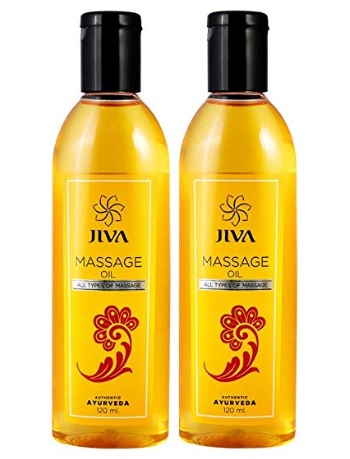 Jiva Ayurveda body massage oil is primarily a joint pain and muscle pain reliever body oil. It suitable for those people, who constantly experience stiff and tired muscles. Regular massaging with this oil also enhances the blood circulation, clear toxin out of the body and makes the skin glow. It also smoothens the skin and lesser wrinkles are formed.
12. The Body Shop Spa of the World Thai Lemongrass Massage Oil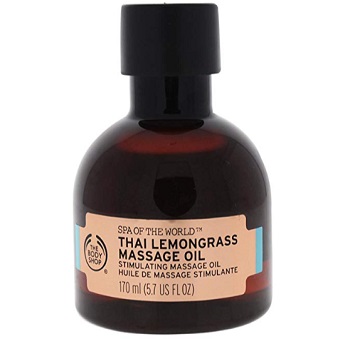 This Thai body massage essential oil is from The Body Shop. For centuries, lemongrass has been used for the traditional Thai massage due to its revitalising and rejuvenating abilities and effect on body and mind. Its invigorating and uplifting scent helps boost vitality and awaken senses.
Now these are the best body massage oil brands in India, hopefully you would be able to find the best massage oils for keeping in mind the problems that you are facing. While some of these oils are for dryness cure, some can help you to cure the back pain, neck pain, muscle pain or even the joint pain.