Body scrubbing is beneficial in polishing the skin which in turn makes the skin glow. Despite the removal of dead skin cells and surface level impurities, body scrubs also enhances the skin complexion and also lightens the dark spots. There are so many different types of body scrubs available in the market that it can become very hard to choose the best one.  Here we've put together this list of the best body scrub brands available in the market. Let's check which are the best body scrubbers for different skin types and seasons. In winters and for dry skin, one need a moisturising body scrub whereas for summers, body scrubs revitalizing in formula are the best to try.
Best Body Scrubs in India For Men and Women For Smooth Skin
You can apply the body scrubs the comfort of your home and get the benefits of spa like smooth skin. Let's take a look at the best body exfoliators in India.
1. Biotique Bio Nut De-Toxifying Body Scrub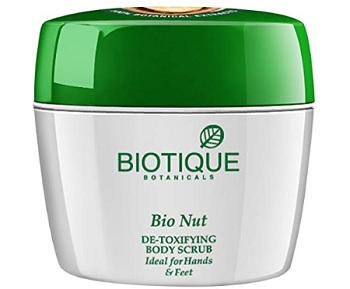 Biotique Bio Nut Detoxifying body scrub is for body, hands and feet. It takes away the dryness and makes skin glowing and fresh. To combat the extra dryness during winter season, the body scrub is blended with walnut oil, fenugreek, neem and red sandalwood. It help get rid of the dry patches on your body skin and is safe to be used 2-3 times in a week. The extra creamy formula makes it a good body scrub to remove dirt and dead skin cells thoroughly.
2. Dove Exfoliating Pomegranate and Shea Polish Body Scrub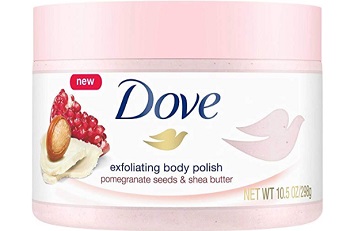 Dove exfoliating pomegranate and shea butter body scrub is the best body polishing products. With richness of pomegranate and shea butter, it's one of the best body scrubs for dry skin in the market. It works wonderfully well to leave your skin cells revived and hydrated. As it is packaged in a tub, it's really simple to use in the shower. To get a refreshed and clear skin, this scrub is best to try it. It's also amongst the best whitening body scrub products in the market due to pomegranate extracts which aids in skin lightening too.
3. Vaadi Herbals Face and Body Scrub, Walnut and Apricot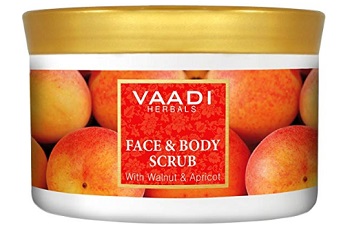 Vaadi herbal face and body scrub contains walnut and apricot extract. The affordable body scrub helps to remove dry and dead skin cells along with blackheads and dark spots.It can be used on the face and body and is a very effective heavy duty scrub to get rid of the tough dead skin cells and cellulite. It also contains aloe vera that moisturizes the dryer patches on the skin. The peach creamy colour of this body scrub is quite alluring and comes with a refreshing smell. The creamy texture glides smoothly on the body contours. It's suitable for all skin types. If you're using it on your face then it effectively uproots the stubborn brackets. Even for the dark neck and buttocks, it's a good body scrub  that gives good results at affordable price.
4. BEARDO Coffee Body Scrub For Men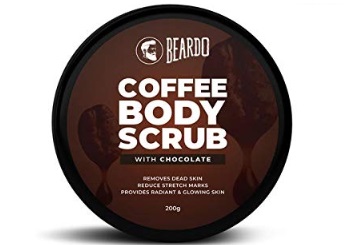 Beardo coffee body scrub is made for men and comes with chocolate. It's the best coffee body scrub for men in India. It moisturises the skin and also lightens the stretch marks and gives radiant glowing skin. Yes, even men can have stretch marks due to excessive weight loss or gain. After scrubbing, it leaves a mild smell of chocolate behind which is quite pleasant. With grounded coffee beans, this body scrub exfoliates the skin and also improves the blood circulation, therefore skin becomes younger and smooth. It can be applied 2-3 times in a week on your body to scrub away the dull skin cells within just few minutes. It is really the best bathing essential for men and an effective body scrub for dark spots for summers.
5. Organic 4 Care Pure & Natural Arabica Coffee Body Scrub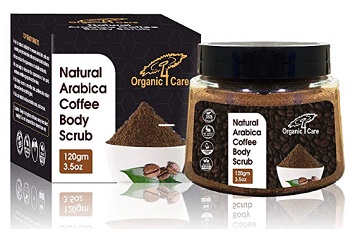 It's a coffee body scrub for men and women in India. It has 7 natural extracts to remove dead skin cells from the body surface. The entire day, body skin collects a lot of germs, dirt, dust and pollutants because of which skin looks dusty and tired. This body scrub increases the blood circulation and also reduces the cellulite on the skin. By decreasing the sun spot, redness and darkening of the body skin, it polishes the skin effectively. In fact, it also reduces the stretch marks. It contains coffee and brown sugar which is known to exfoliate and increase micro blood circulation. It's the best coffee scrub suitable for all skin types.
6. The Body Shop Strawberry Body Polish Scrub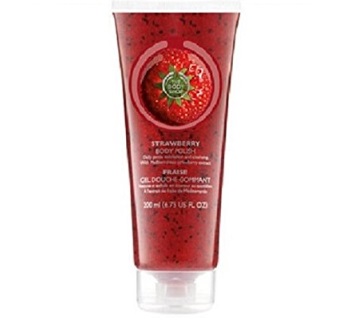 The Body Shop strawberry body polish scrub is the best product from the skin care range. With the trailing scent of strawberry, this contains strawberry extract. To leave your skin soft and silky, it has a long lasting moisture, this is one of the best products to try. It is not creamy but has gel like formula. It contains gentle formula which washes away the dead skin cells and dirt. The fragrance lingers for around an hour after the shower. It is suitable for all skin types and especially during the winter season because of it gel texture.
7. FABEYA Biocare Natural Activated Charcoal Face and Body Scrub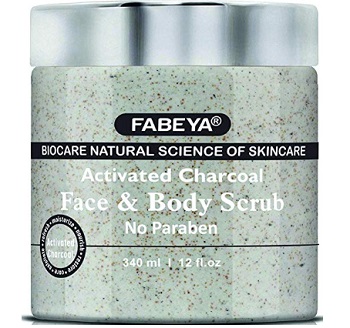 Due to the pollutants, the body skin can become dull, lifeless and spotted, this activated charcoal body scrub would be just perfect. It's a suitable face and body scrub to slough away the dead skin and pollutants sticking on the skin. Activated charcoal particles lift the impurities effectively and enhance the shine of body. In fact, it's also a skin whitening body scrub that men and women both can try. The best part is, it's a paraben and SLS free scrub product for your body and face. With no chemicals, you can safely apply it on your body twice in a week. It's also one of the best tan removal body scrub in the market too.
8. Biocare Shea Butter Body Scrub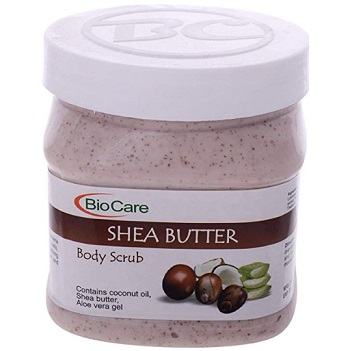 Biocare Shea Butter Body scrub is for those who are struggling with dry and irritated skin. With coconut oil, shea better and aloe vera gel, this is a powerhouse of moisturizing ingredients that hydrates the skin. It's the best body scrub for dry skin in India. This body scrub for dry skin can be used 2-3 three times in a week and is a perfect solution to combat winter dryness. It is suitable for all skin types and does not have that greasy feel after the wash. It's pleasant scent is another added point to use this body scrub.
9. mCaffeine Naked & Raw Coffee Body Scrub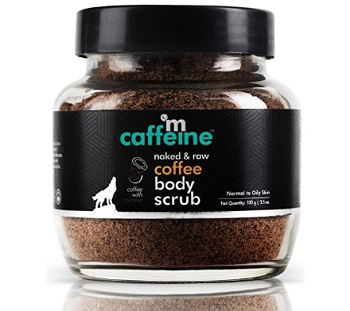 mCaffeine coffee body polishing  scrub has coffee as a major ingredient. The coffee face and body scrub is made with the perfectly sized coffee and walnut granules that gently and polishes the skin. It gives you irresistible skin and scrubs away impurities, dirt, and detoxifies the skin. It buffs away the dead skin cells and skin becomes glowing.  The brown sugar body scrub is FDA approved and one of the best body scrub for normal to oily skin. The product is paraben free and also dermatologically tested.
10. Luster Wine Exfoliating Face & Body Gel Scrub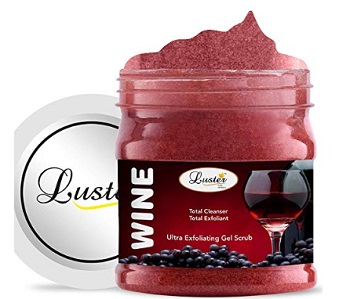 The face and body gel scrub has the antioxidant properties of wine, that help in getting the toxins out of the skin. Made from natural and healthy ingredients, it suits all types of skin. It works on the skin to overcome dullness , breakouts, dehydration and dead skin cells. While exfoliating aggressively, it prevents and acts upon dull layers of dead skin. It's 100% safe for the skin as it is enriched with the best and scientifically chosen herbs.
With this guide on the best body scrubs in the market, hopefully, it has become easier to decide the best one. To exfoliate the skin and to reduce the sun tanning for getting smooth skin, scrub is a very useful product. Just by giving five minutes in your shower, this product would help you in getting soft smooth skin. The body scrub can easily be made at home as well.
Now that, you know about the list of the best body scrubs available in India. Its time to share some very effective homemade body scrub recipes. Nothing can beat the power of homemade scrubs and when you have time, you can make the scrubs otherwise utilise the readymade body scrubs.
Homemade Body Scrubs Recipes
Coffee Body Scrub
This is one of the best homemade coffee scrubs that help to remove the dead skin cells and exfoliate the dryness completely. For this you would need:
Two spoons of coffee powder
One spoon honey
2 spoons brown sugar
How to Make:
Mix everything in a bowl and take it long with you in the shower. Apply it on your body and increase the quantity, if you would like to make it more for the entire body or only just for particular body part. Use it to two three times in a week to ensure your skin stays glowing and smooth.
Homemade Skin Whitening Body Scrub Recipes
While a lot of skin whitening products contain natural bleaching ingredients this homemade whitening body Scrub product also needs some natural bleaching agents found easily in the kitchen shelf. For making this body Scrub you would need:
Tomato
Honey
Turmeric
Milk
Rose Water
How to Make:
Take the juice from one medium sized tomato and add 2 spoons of rose water. In that, add half cup of grounded sugar and add two spoons of honey. Add half spoon of turmeric and some milk to make paste.
The homemade body scrub for fair and glowing skin is ready now, you can use it and apply on your entire body. After the scrubbing leave it for 5 minutes and wash should with lukewarm water. It is also the best homemade body Scrub and a body exfoliator to remove the dead skin cells.
So we hope that along with the readymade body Scrubs, you could also use these homemade body scrubs for removing the dust and skin cell particles from your skin and enjoy the smooth and silky for a long time.