As the skin on the feet is pretty thicker than the rest of the body parts, one needs a special foot cream. Even for the cracked heels, a good moisturising and crack heel repair cream is must. These foot creams are made with creamier and heavier rich texture, which fights away the dry patches and crack effectively. In this article, we are going to talk about the best crack heel repair cream available in the market.
Best Crack Heel Creams in India (2023) For Cracked Heel Repair
1. Krack Heel Repair Cream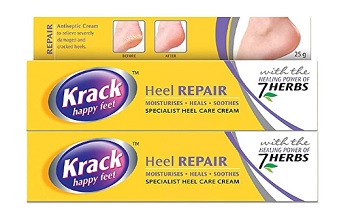 It's a specialist product that helps to repair the cracked heels and relieve the dry skin disorder. It relieves the roughness and cracked heels by its moisturizing formula and also works to cure dryness. With the healing power of seven herbs, it's known to soften the cracked heels and give you beautiful soft feet. It is rich with organic and botanical extracts, therefore is safe. It can be applied 2 times in a day.  This cream also fights the fungal infection.
2. Himalaya Wellness Foot Care Cream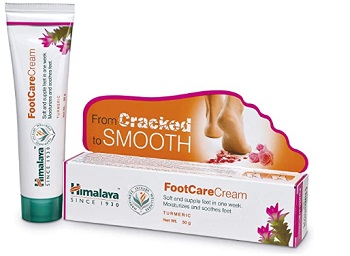 This is one of the most popular and affordable foot creams in India, coming from the house of Himalaya Herbals. This makes feet soft and supple in just one week. It can be used 2 times in a day after cleaning the feet. It contains powerful herbal and botanical extracts along with turmeric. The key ingredients are sal tree extracts, which are used as an ingredient in ointment for skin diseases. It has anti-microbial and anti-inflammatory properties,  that help to cure the cracked heels faster. It also contains bactericidal and antiseptic properties. The Ayurvedic crack heal cream is one of the most popular and easy to use product.
3. Derma Essentia Moisturising Foot Cream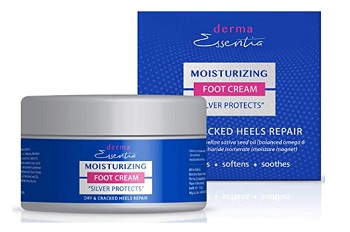 The moisturising cream comes with silver protection. It heals the dry and cracked heels within just a few weeks. It is a dump logically tested product that is also paraben free. The cracked heel repair cream works for men and women both. So if you would like to have the nice and happy soft feet, then this cream would definitely work for you. This is a best crack heel cream enriched with Omega 6, Omega 3 fatty acids and Lavender oil. While giving the cooling sensation to the feet, it also moisturizes the feet. Colloidal silver acts as an antimicrobial product to keep the foot odor and bacterial fungal infection away. So, it cures dryness, callus, athlete's foot and foot infections away.
4. Fizzy Fern Barefoot Foot Cream Hydration For Dry and Cracked Heels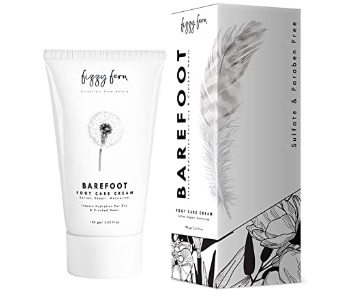 The foot cream contains ingredients such as clove oil, Neem Oil, Turmeric Amla, beeswax, menthol and lactic acid. Does not have sulphates, parabens and is not tested on animals. With the products that help to soothe and revive the dryness of the feet, it's a product that refreshes the tired feet instantly and repairs the heel. It works on minor cracks and not the major ones, therefore if you have major cracks and to choose the other skin creams that we have mentioned above.
5. Life & Pursuits Organic Foot Crack Cream For Dry Cracked Heels & Feet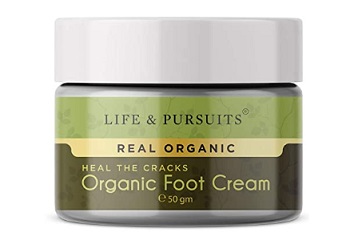 It's an organic crack repairing foot cream that is natural oils and zinc oxide. Made with Ayurvedic Herbs id deeply moisturized and softens the feet. It doesn't contain the formula with urea, synthetic dyes or even paraben. It promotes the cell renewal of the feet, therefore heals the cracked heels. This cream is the best remedy to cure cracked heels and dry feet. It is a herbal cream that works as a natural moisturizer to hydrate and smooth and the chapped skin. There blended with 95% certified organic ingredients.
6. Trycone Cracked Heel Repair Foot Cream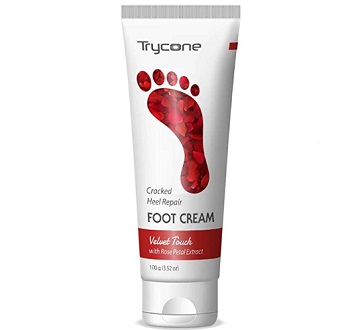 This is yet another very affordable foot care cream that contains Rose oil, kokum butter and rose petal extracts. The premium quality product does not have harsh chemicals, SLS paraben and mineral oils. It has antifungal and antibacterial properties, due to which it helps to cure the cracked heels as well as prevent the fungal infection. To give you velvet smooth feet and it can be used two to three times in a day or whenever you feel that the feet is getting dry. It's suitable for both men and women. Rose oil helps to make relaxed and smooth. Kokum butter heals the cracked heels and repairs them faster. Apply the cream and massage lightly.
7. Avon Cracked Heel Cream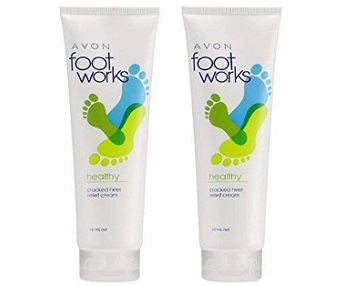 This is yet another popular crack heel cream. It has a 24-hour moisturization that prepares the cracks on the heel faster. So while restoring the cracked skin on their feet, it restores the feet back to the normal healthy state. This product transforms the rough skin to smooth and supple skin. Working all day long, it shall be used at least twice in a day so that it can work really faster.
8. Patanjali Crack Heal Cream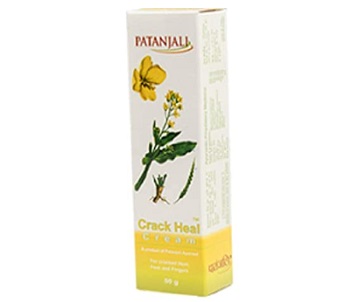 This crack heel cream is the most popular product which is available at very affordable prices. It is made with the Ayurvedic and Botanical extracts which are antibacterial and antifungal. Because of that this product works really faster in curing the cracked heels and to make the feet softer and smoother. Use this cream two to three times in a day by gentle massaging the feet. At night, apply the cream and then leave it to get completely absorbed.
9. BioAyurveda Anti-Fungal Foot Cream for Cracked Heels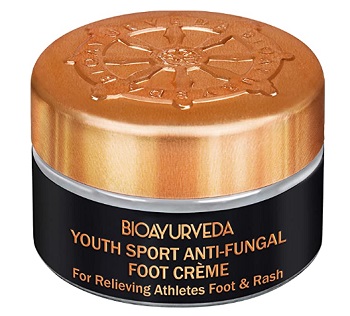 The therapeutic and nourishing effects of this Ayurvedic antifungal foot cream helps to repair the cracks and other feet problems like cramps, pain, swelling and inflammation. Enriched with powerful active natural ingredients, like chamomile, turmeric, almond oil, wintergreen oil and lemongrass, it fights cracks. It's a powerhouse of oils that would not just work to smooth and heal the feet but also to cure the cracks.
10. Khadi Natural Jasmine and Green Tea Herbal Foot Crack Cream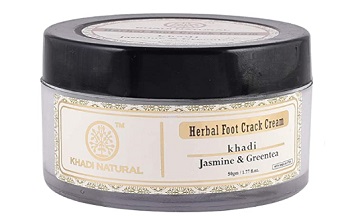 Khadi green tea herbal foot crack cream is yet another popular product which is also reasonably priced. Apply this cream after washing your feet with lukewarm water. Apply it on the affected area twice in a day once in the morning after the bath and again in the evening before going to sleep. Green tea extracts works on rough and dry feet. While covering the dryness, it ensure that the heal gets softer and smoother. Therefore, it will prevent the foot cracks.
11. Jovees 2 in 1 Foot Care Cream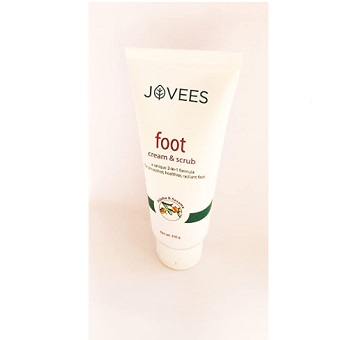 It's a gentle foot cream and scrub, a unique 2 in 1 formula for smoother and radiant feet. Massage it on the feet, till it gets absorbed. It contains jojoba seed nuts, kokum butter, lemongrass oil, Rosemary extract and geranium oil. This is one of the best products for dry and cracked feet at pocket friendly prices. This product rejuvenated and revitalize is the dry feet to get you more radiant and softer feet.
12. Vaadi Herbals Foot Cream, Clove And Sandal Oil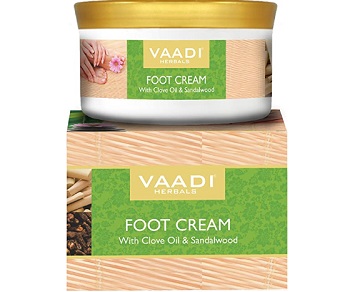 This uniquely designed foot cream is able to repair and softens rough, dull, hard and cracked heels. It has Clove oil, cocoa butter, jojoba oil, sandalwood and thyme. Cocoa butter is a powerful natural moisturizer which gets in the skin layers to cure infections, dryness and allergies.  Clove oil helps in curing the microbial activity from the skin surface.
13. Aroma Magic Foot Cream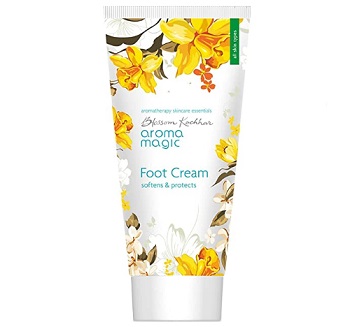 It's a 100 percent free of paraben, petrochemicals, phthalates, artificial colouring and fragrances. Packed with the amazing goodness of organic shea butter, apricot oil and coconut oil, the hydrating foot cream for cracked heels penetrates deep into your skin to soften and moisturise it. With the extracts of camphor, mint and calendula along with essential oils of peppermint and tea tree, which helps revive tired feet, ward off foot odor, and heals foot cracks. Aloe vera gel and vegetable glycerine leaves the foot softer.
14. Earth Therapy Foot Cream For Cracked Heels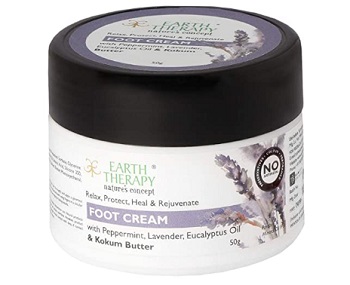 This natural cooling foot cream is ideal for anyone looking for relief from cracked heels, inflamed and swollen feet. It also works on the tired feet and aching ankles. Formulated to smoothen and pamper rough, dry feet and puffy ankles, it's a very effective product. It's a natural and toxin free combination of kokum butter and mint essential oil for smooth and soft feet. It's ideal as a pre and post pregnancy foot massage cream. The foot repair cream is made without Sulphates (SLS, SLES), Mineral Oil, Paraben, and  Synthetic Fragrances.
15. Oriflame Feet Up Advanced Cracked Heel Repair Foot Cream,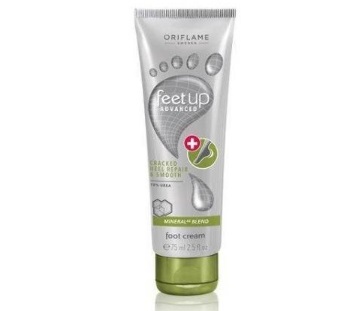 This crack heel repair cream helps to relieve cracked heels fast and acts as cooling foot cream. Clean the feet and pat dry with a towel. Take some foot cream on your fingertips and apply the cream on the cracked heels. Massage gently. It has cocoa butter and natural products in it that protects and conditions the dry, rough and cracked skin.
These are the best crack heel repair creams in India.