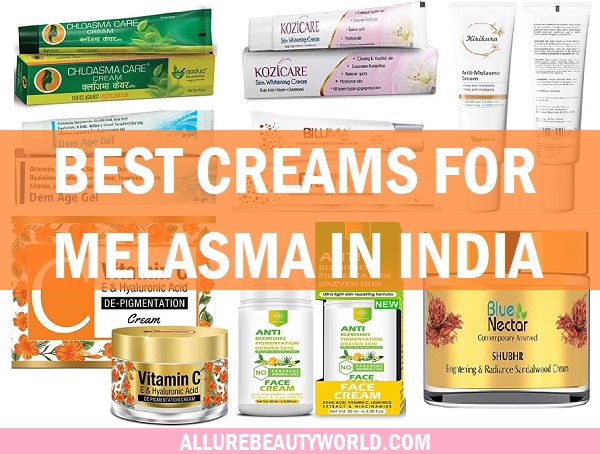 Melasma is brown or dark patches on the facial skin. Melasma or pigmentation is generally seen in women than males. It typically appears on the upper cheeks, forehead, upper lips and chin. It is not commonly seen in males as it is in females. Melasma or patchiness of skin can be because of several factors like birth control pills, hormonal changes, pregnancy, sun damage and more. Mostly this condition is treated with creams containing hydroquinone, kojic acid and arbutin. So in case you are struggling to fade melasma from your skin, we've compiled this list of the best melasma curing creams in India.
Best Creams For Melasma Treatment in India (2022)
We've listed down the melasma lightening skin creams available in the market. These are available online and at discounted process.
1. Chloasma Care Cream Skin For Discoloration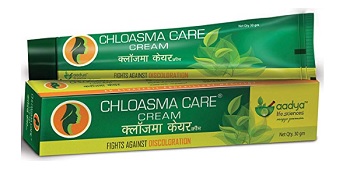 Adya Life Chloasma care cream is made to improve the skin tone by gently exfoliating the skin. By nourishing the skin, it protects the skin from ultraviolet damage and premature ageing. It minimizes the blemishes, hyper pigmentation and even the dark spots. It is a paraben and steroid free treatment cream that does not contain any artificial colorants.
2. AESDER Derm Gel Anti Freckles Whitening Depigmentation Cream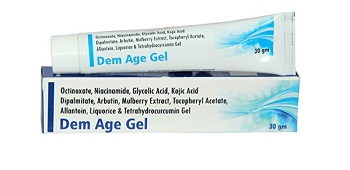 This anti melasma gel contains ingredients such as Niacinamide, glycolic acid, kojic acid, Arbutin,  Mulberry extracts, Parel Acetate, and tetrahydrocurcumin. This highly effective gel reduces the pigmentation and spots along with melasma. Applying it evenly at night gives good results. Moreovre, when you apply it daily at night, it also protect the skin from the harmful UV radiations and minimizes any form of pigmentation seen on the facial skin. Men and women both can try it. As it contains glycolic acid, it increases the collagen and elastin protein synthesis. Kojic acid in this gel helps to prevent dark pigmentation (melanin) and inhibits the tyrosinase activity. Arbutin also blocks tyrosinase activity and also reduces melanin production.
3. Kozicare Kojic Acid, Arbutin and Glutathione Skin Cream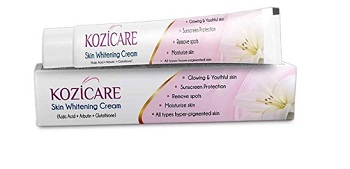 Kozicare cream is the best kojic acid creams in India. It helps you in achieving glowing and youthful skin. It reduces the pigmentation and dark spots. So, clearly it is one of the best pigmentation removal creams in India. Loaded with kojic acid, arbutin and glutathione, this cream shrinks pores and blemishes. When you apply it, twice in a day it lightens the melasma affected uneven skin tone.
4. Mountainor Melasma Light Face Cream Gel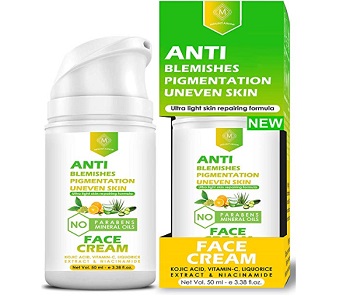 This anti pigmentation cream gel works on uneven skin and melasma. It the light face cream gel that contains Kojic Acid, Vitamin C, Aloe Vera, Green Tea and Niacinamide. It is a paraben-free formula that does not have any mineral oils or Chemicals. With the effective ingredients included in this gel it lighten stimulus and pigmentation of the cheeks forehead. It is one of the best anti pigmentation products in India.
5. Kirikura Anti Melasma Cream with kojic acid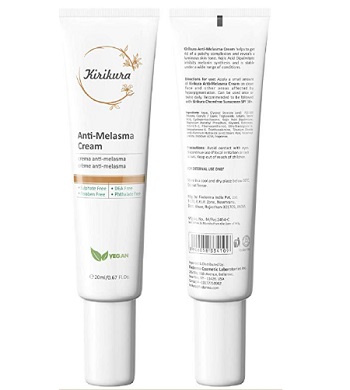 Kirikura Melasma cream comes with kojic acid and arbutin. The best thing about this product is its paraben free and 100% vegan formula which is also dermatologically tested and FDA approved. It is not tested on animals. Being a steroid free formulation, it suits even the long-term usage without causing any side effects. The non-greasy texture is suitable for all skin types including the people with oily skin. It contains the natural de-pigmentating agents which lighten melasma, patchiness and dark spots. It is the best organic melasma treating creams in India.
6. Mamaearth Bye Bye Blemishes For Pigmentation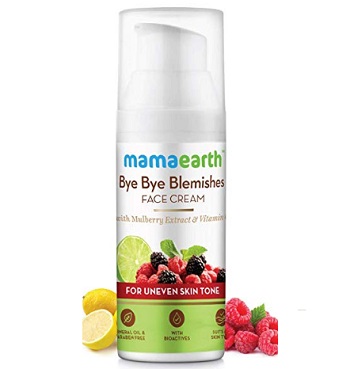 Mamaearth bye bye blemishes pigmentation removal cream comes in a pump pack. With the organic daisy flower extracts, Mulberry extract with Lavender oil, this very effective parabens free cream suppresses the sun damage and decreases the collegen breakdown because of the sun damage. Vitamin C and Mulberry extract helps to reduce the melanin activity and provides even tone facial skin color.
For those of you suffering with melasma and skin pigmentation can try this product. Additionally, it's a Mineral oil, petroleum, SLS and paraben free product. Being light in texture, it's safe even for oily and sensitive skin and the best paraben free anti blemish cream in India.
7. StBotanica Vitamin C, E & Hyaluronic Acid DePigmentation Cream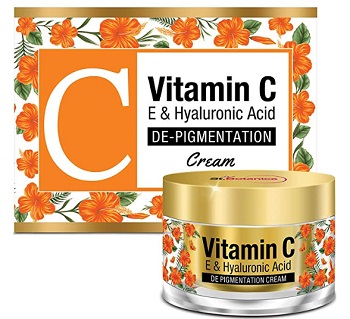 StBotanica de-pigmentation cream is rich in vitamin C and hyaluronic acid. It is suitable for people over 25 years of age who'd like to even out their skin complexion. It improves the complexion and restores pH. With vitamins and natural antioxidants, it fights photo aging and free radical damage. Enriched with the precious essential oils, the cream has skin lightening features as well. So those of you, who're struggling with uneven skin tone and darkness, shall try this daily use cream to combat pigmentation.
By minimizing melanin activity, it brightens the skin tone. The product is free from toxic materials and is suitable for all skin types. It is one of the best vitamins c creams in India for pigmentation.
8. Blue Nectar Ayurvedic Brightening Cream and Lightening Cream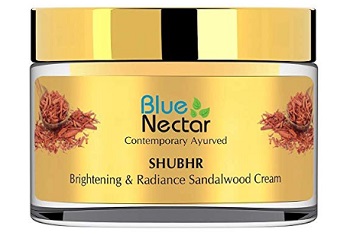 Ayurvedic ingredients in this organic herbal de-pigmentation gel contains cow yoghurt and mashobra wild Honey. The face lightening cream also works on the pigmentation, marks, tanning, melasma and dark spots. It has moisture retaining properties because of yoghurt and honey. Applying it twice in a day, combats the winter dryness. The Ayurvedic brightening cream is a skin lightening cream with goodness of Sandalwood. It is an organic skin cream which does presentation and melasma. It relieves the dark circles and gives you visibility brighter and fresh skin in just 3 weeks time. Made with 100% natural and organic ingredients it is one of the highly recommended products.  It is made on the powerful Ayurvedic recipe to get you bright, fresh and blemish free skin.
9. Biluma Cream for Melasma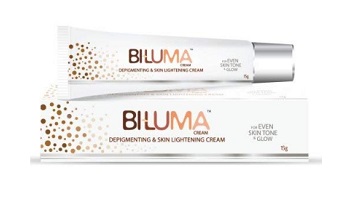 Biluma cream is made for uneven skin tone and discoloration. It's basically a De-pigmentation and skin lightening cream made to work on the pigmentation, dark spots and uneven skin tone. Even if you are struggling with melasma related to pregnancy, it gives good results. It works a bit slow but definitely works to lighten the skin tone.
10. Skin Lite Cream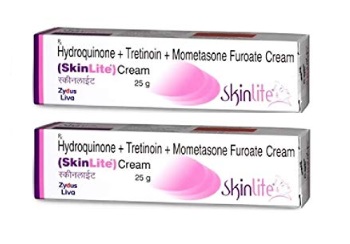 Skinlite cream is a blend of hydroquinone, tretinoin and mometasonefuroate.  You can fade the skin condition called melasma, which are seen as the dark spots on facial skin especially on the cheeks and forehead. So, whether the melasma is because of hormonal changes or pregnancy, it can work to cure that effectively.
Out of these, you can choose the best melasma creams in India. Melasma can be cured with the right products therefore, choosing the right melasma cream is important. Majority of melasma creams contains hydroquinone, Kojic acid, arbutin, hyaluronic acid and vitamin C. This is why selecting the right brand of melasma cream would give you the best possible results. If you'll read the reviews of melasma creams, you will find that most of the customer says that the creams are working but it takes some time for the melasma cream to show some good results. Generally, it take 2-3 weeks.
Other than that there are some useful tips that can help you in curing melasma effectively in addition to using melasma creams.
Ensure you use sunscreen whenever you go out of your house.
Exfoliate your skin thrice in a week because exfoliation helps to get rid of the dark and dead skin layer revealing a new and fresh skin.
Once in a week, apply a paste of Sandalwood and Milk to reduce the sun tan, pigmentation and unevenness of facial skin.
With all these steps and a proper skin care regimen, one can surely fight the melasma and pigmentation showing up on cheeks, forehead and more.