Almost all of us would want healthy and glowing skin. Glow is a sign of not just beautiful but healthy skin that does not have any breakouts, marks, discoloration or blotches. This is why, market is flooding up with face creams for glowing skin. A lot of creams are made for fairness and glow, while some of them are for skin whitening purpose. The best day cream for glowing skin can be your regular skin lightening creams or the creams for summer season. You must use skin creams carefully and depending on the skin type and season. Most importantly, the skin creams should be non-comedogenic, especially when your skin is acne prone and pimpled. However, for your dry and sensitive skin, these creams can be hypoallergenic and moisturizing. So, let's go ahead and check which are the best face creams available in the market that gives you radiant and illuminated skin.
Best Day Creams for Glowing Skin in India (2021)
Let's go ahead and check the best products to make the skin glow that you can use to make your skin tone fresh.
1. Olay Ultra Lightweight Moisturiser Day Cream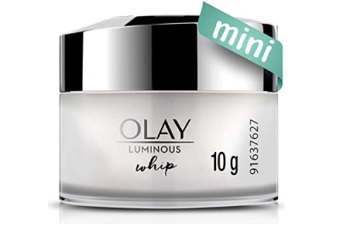 The ultra-lightweight moisturizing cream contains SPF and is suitable for the daytime. It contains vitamin B3 and glycerol. The light-weight formula is a daily face moisturizer, which makes your skin radiant and even tone. While giving your skin smooth finish, it also provides the matte feel, therefore, there is no greasiness. It is a suitable cream for all skin types, like oily skin, dry, combination skin and even the sensitive skin. It can be applied twice in a day and as it does not contain any SPF in it. You can also use it as a night cream.
2. Kaya Youth Oxy-Infusion Day Cream with SPF 15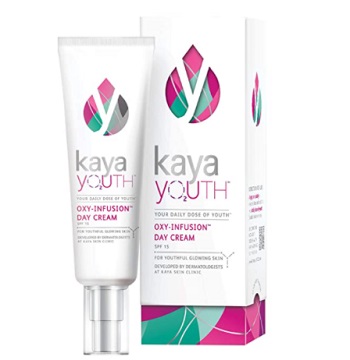 The cream contains SPF 15 and is known to boost the oxygen infusion in your skin layers. The youthful glowing skin product is made by the dermatologists. The product is really very affordable and suitable for dry to normal skin. It reduces the dullness, dark spots and also works on the skin pigmentation. The micro-circulation complex of this cream increases the oxygen supply in the skin layers, therefore the lifeless skin looks radiant and fresh.
3. Rivona Naturals Bright Pink Cream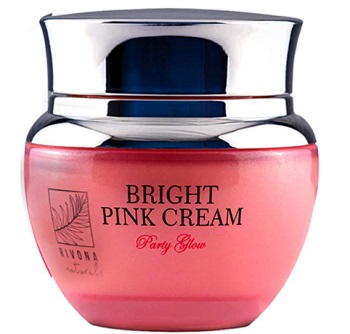 The bright pink cream is a premium whitening and skin lightening products that contains vitamin C and Hyaluronic acid. The product is very mild and is suitable for normal to oily skin. The natural face cream contains the power of plant botanical extracts and herbal ingredients which makes the skin glistening and smooth. By enhancing the fair and natural look, it lightening the skin and gives natural sun protection. Regular application of this skin cream adds in boosting skin resilience and strengthens the skin's natural defence. As a result, the product also restores the firmness on your skin.
4. Bella Vita Organic Glow Cream Gel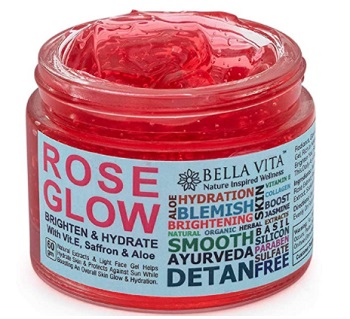 Bella Vita organic glow gel cream is for lightening and brightening purpose. It's one of the best facial gel creams for day time for oily to normal skin and sensitive skin. It gives youthfulness by applying it regularly with slight massaging. It's a formula free of paraben, sulphate and chemicals. This Ayurvedic facial gel is actually a Saffron, Aloe and Vitamin E face gel cream contains the power of Osmanthus too. Using this face gel lotion regularly, on your face give you a brighter glow. Always remember that you should apply this day cream with gentle massage and always use a sunscreen over it.
5. O3+ SPF 30 Whitening Cream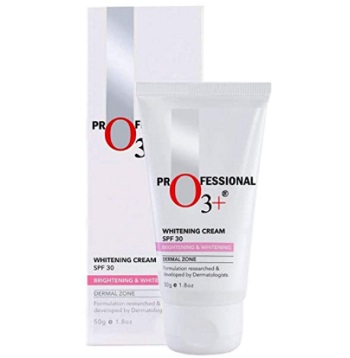 O3 whitening skin cream gives you not just the glowing radiant skin but also a protective shield from the sun with SPF 30. The sun protection cream is formulated and researched by the dermatologist. It gives you increased sun protection up to 8 hours. It works for all types of skin and it's also reasonably priced. While making the skin even tone and free of the blotches and blemishes, this product is one of the best to increase the skin clarity and glow. Apply it before going out in the sun 10 to 15 minutes before.
6. Lotus Whiteglow Skin Whitening & Brightening Gel Crème SPF-25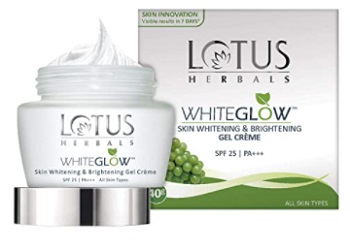 Talking about the best day cream for glowing skin for oily skin, especially during the summer season, this product would top the list. Lotus Herbals whiteglow skin whitening and brightening gel cream comes with a very lightweight and non-greasy texture and formula. With that, it really blends on the skin layers without leaving a greasy sticky residue behind. The face glowing cream for oily skin is made from the multiple natural fruit extracts and botanical elements. It improves the quality of the skin and makes it smoother. The cream also contains SPF 25, which is considered adequate for the day time to safeguard from 99% of the ultraviolet rays. This glow boosting skin cream is suitable for all skin types but because of its light texture, it works really well for the oily skin.
7. UrbanGabru Insta Glow Fairness Cream with Anti pimple and SPF 50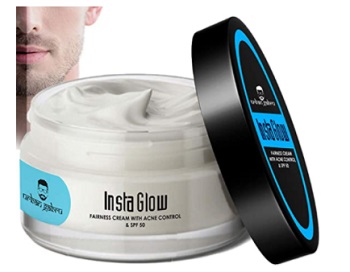 Urban Gabru Insta Glow Fairness Cream is one of the best men's fairness creams, which is available at pocket friendly prices online. The cream comes with SPF 50 and paraben and chemical free formula, devoid of sulphates. This is one of the best selling skin creams for men with oily skin, because it also helps in preventing the acne and makes the skin free of pimples. The sunscreens in it protect the skin from the ultraviolet rays and also deals with the premature aging. One can let their face naturally glowing by applying this skin cream. The face moisturizer for oily skin also balances the oils and extra sebum on your skin, when applied on regular basis.
8. Mamaearth Anti-Pollution Daily Face Cream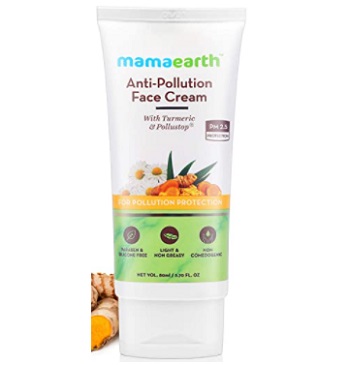 Mamaearth daily face cream is made for all the skin types but works better for dry skin. Even though it is made with lightweight and non-greasy formula, it moisturises really well. It is a non-comedogenic product, which is free of paraben and silicones. Being made with turmeric, aloe vera and daisy flower extracts, this Ayurvedic face cream for radiant skin is a luxurious product available at reasonable prices. Curcumin present in turmeric is known to fight the free radicals and hence, stops the premature aging and the bad effects of the pollution. Antibacterial and antiseptic properties of turmeric also help to keep the acne and breakouts away. The product is dermatologically tested and not tested on animals.
9. Biotique Bio Saffron Dew Youthful Nourishing Day Cream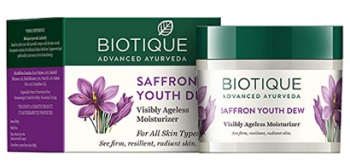 Biotique Bio Saffron day cream is a very luxurious and effective moisturizing product for dry sensitive and normal skin. It is not a product for oily acne prone skin because of the overwhelming moisturization. It makes your skin retain youthfulness and removes the dry lines and wrinkles. Apply it on your clean face and massage gently. During the night time, it can also work as a night moisturizer. Coming with the saffron extracts, along with Ashwagandha and Honey with red Sandalwood, this product is an anti aging face cream for men and women with dry skin. It's one of the face creams for glowing skin in winters.
10. Lakme Absolute Perfect Radiance Skin Brightening Day Crème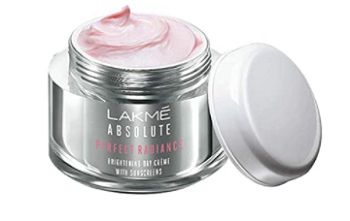 Lakme Absolute Perfect Radiance Brightening cream comes with sunscreens and the texture is really powdery matte kind of which is why, it is suitable for normal, combination and oily skin. During the summer season, it gives your moisturization and radiance. The cream with its sunscreens shields the skin and does not make your skin tanned. You can apply the face cream regularly on your skin. With the presence of high-resolution micro-crystals, it polishes the skin and the vitamin Complex present in this product brightens the skin complexion. Use it twice in a week morning and evening for better results.
11. Garnier Skin Naturals Light Complete Serum Cream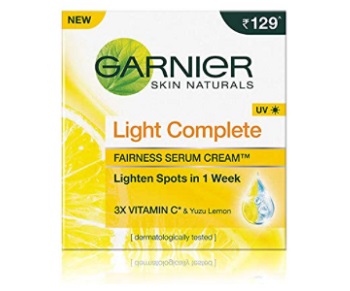 Garnier skin Naturals light serum cream is a lightweight product coming with the power of three times more vitamin C. Working on the dark spots; it lightens them and fades in just 1 to 2 weeks. While reducing the dark spots, pimple spots and sunspots, this product helps to give you spotless skin. It is a brightening face cream for glow for young men and women like the teenagers. The cream is also very pocket-friendly and available at the nearby shops and online.
12. Good Vibes Green Tea Revitalising Face Cream

The Green Tree Revitalizing Face Cream not just adds radiance on your skin, but it is actually a paraben free anti aging skin cream. Improving the skin texture and complexion this cruelty free product makes the skin complexion healthy looking. It also increases the microcirculation making the skin smooth and soft. It refreshes the skin and gives a mild cooling sensation upon application. This cream gets absorbed in the skin layer is nicely therefore is suitable for all the skin types.
13. Dot & Key Illuminating Glow Face Serum SPF 15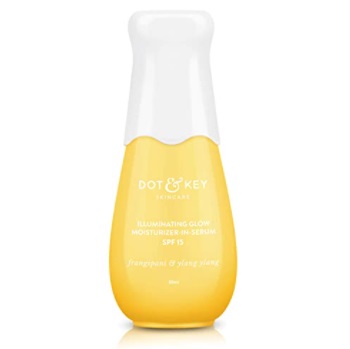 The face serum cream is a brightening product which is paraben free and contains SPF 15. The Ultra lightweight moisturizer product gives you radiant glow, when it penetrates in the skin layers. It contains skin conditioning actives, locking the moisture for multiple hours. It also refreshes the skin and with the tropical fragrance of ingredients like Ylang Ylang and Firangipaani, this gives protection from the everyday environmental stress and damage. It reduces the dullness and then, use the skins clarity. Free from the toxic chemicals and paraben, this serum is gentle and safe for all skin types.
14. Emveta Vitamin C Face Cream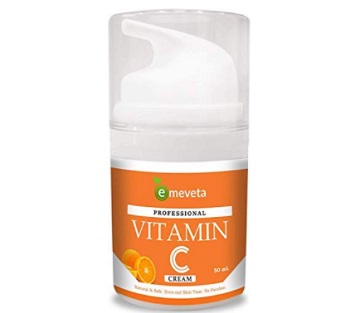 This vitamin C face cream is for glowing skin and radiant complexion. It is rich in vitamin C, Vitamin E and Aloe vera. The day face cream comes in a pump jar packaging and is a paraben-free natural product. It helps to repair the sun damage sunspots, discoloration and dark spots. As a result, the product helps to even out the complexion. Apply it during the daytime and it also reduces the visible signs of skin aging.
15. Mamaearth Day Cream with SPF 20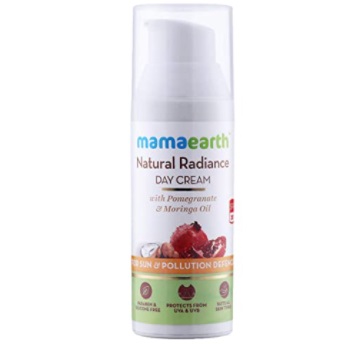 It's a whitening and tightening face cream with Moringa & Pomegranate Oil as the main ingredients. The product is good at moisturisation and gives total moisture. Wondering about its texture? It's a product that works really nicely for all skin types.
These are the best face creams for glowing skin in India. It's really important to pick your skin care products carefully and that should address your skin issues and concerns. But the best thing skin glowing tips that you can do to achieve for a forever glowing skin is to add enough of the water and vitamins in your diet. Apart from that you can also use exfoliating facial mask and face scrubs. Using weekly exfoliation is also one of the most important ways that help to make your skin glowing and get rid of the dullness. No matter whether your skin is dry or oily, facial scrubbing process will still help a lot.